Deciding between buying your kids a Nugget comfort kids couch or a pikler triangle?! We have both! Let's chat about the differences!
The Nugget and the Pikler Triangle are both extremely popular toys for toddlers and preschool aged kids.
And for a good reason – they are both fantastic toys! They let your kids really get their energy out and develop gross motor skills in safe play.
But, both are expensive and large.
So, whether you have budget or space limitations, you might need to pick between the two.
Let's compare the Nugget and the Pikler triangle to decide which is best for your family!
Nugget Vs Pikler Triangle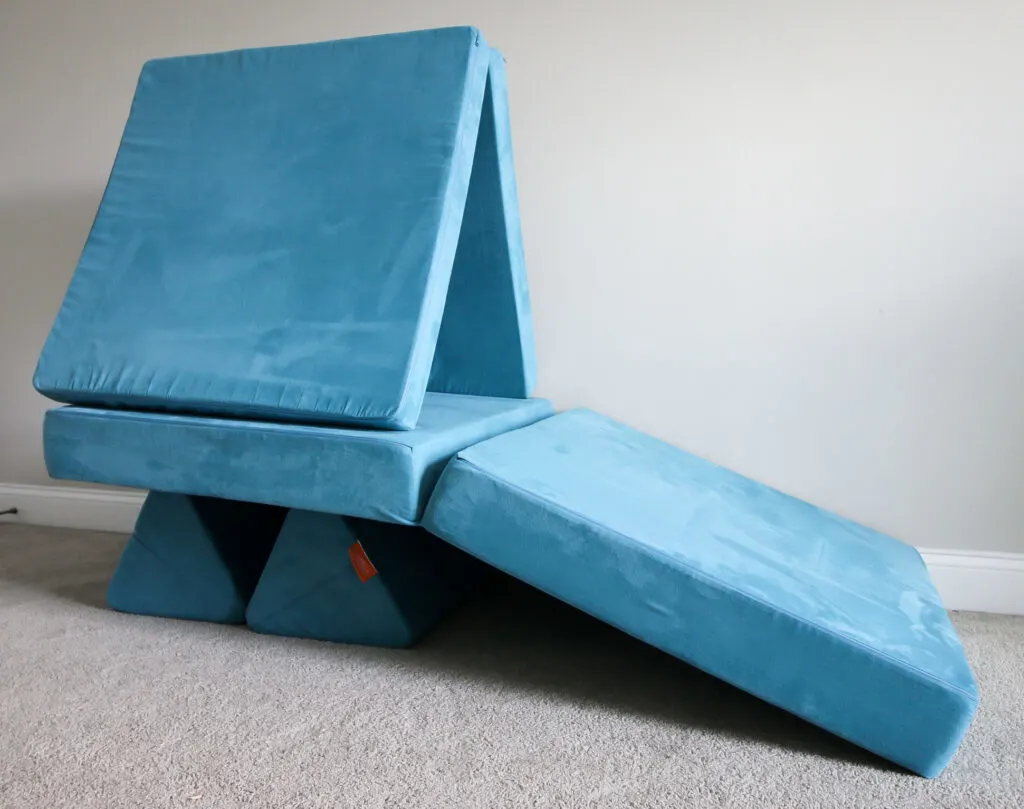 What is a Nugget?
The Nugget is a foam kids play couch with 4 pieces: 2 rectangular folding bases and 2 triangular support pillows.
Here is my complete guide to the Nugget!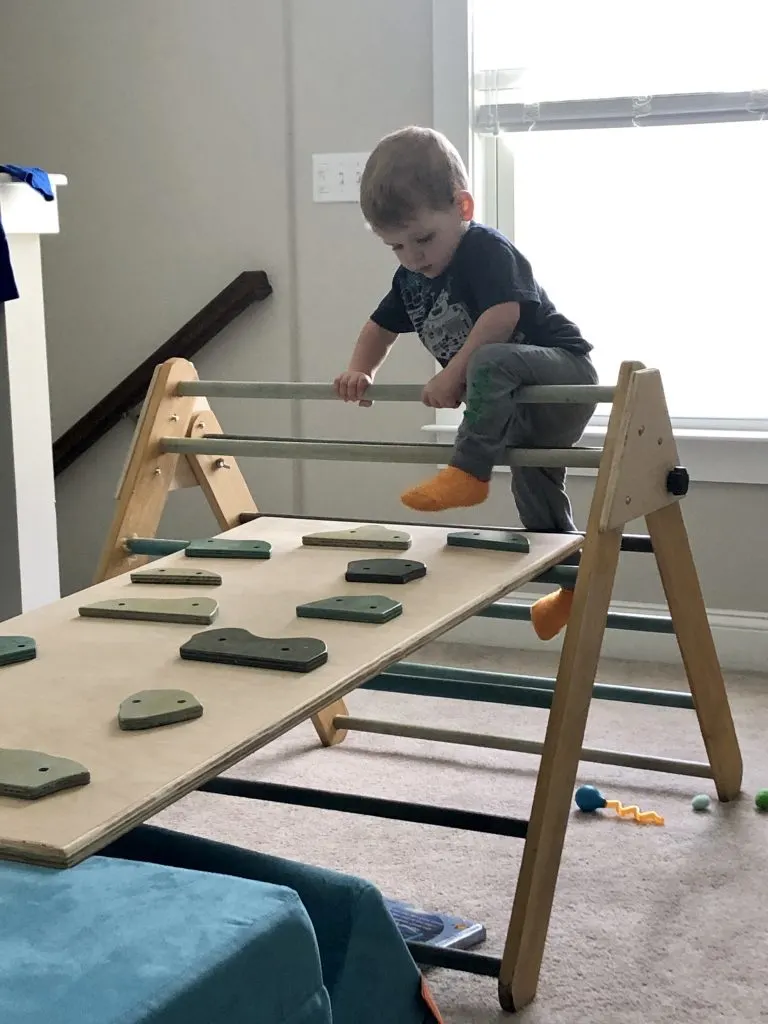 What is a Pikler Triangle?
A pikler triangle is a triangular ladder with wooden rungs that teaches kids to climb in a safe way. It's a montessori toy that encourages climbing and independence.
Here is my complete guide to Pikler triangles and their benefits for kids!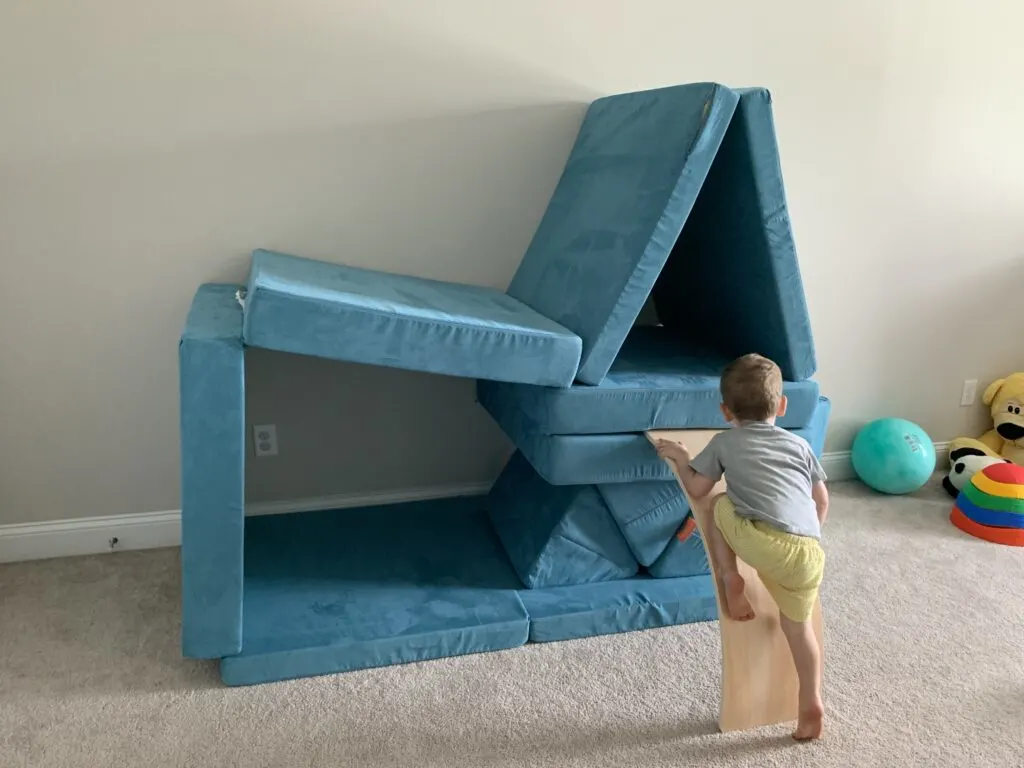 Why the Nugget is better than the Pikler
I would personally choose a Nugget over a Pikler triangle.
I love the versatility – they can be a couch when not in use and are easy to fold to store.
Nuggets are great for open ended imaginative play.
I also think they look more attractive, especially if you play space is open to your living room or the rest of your home.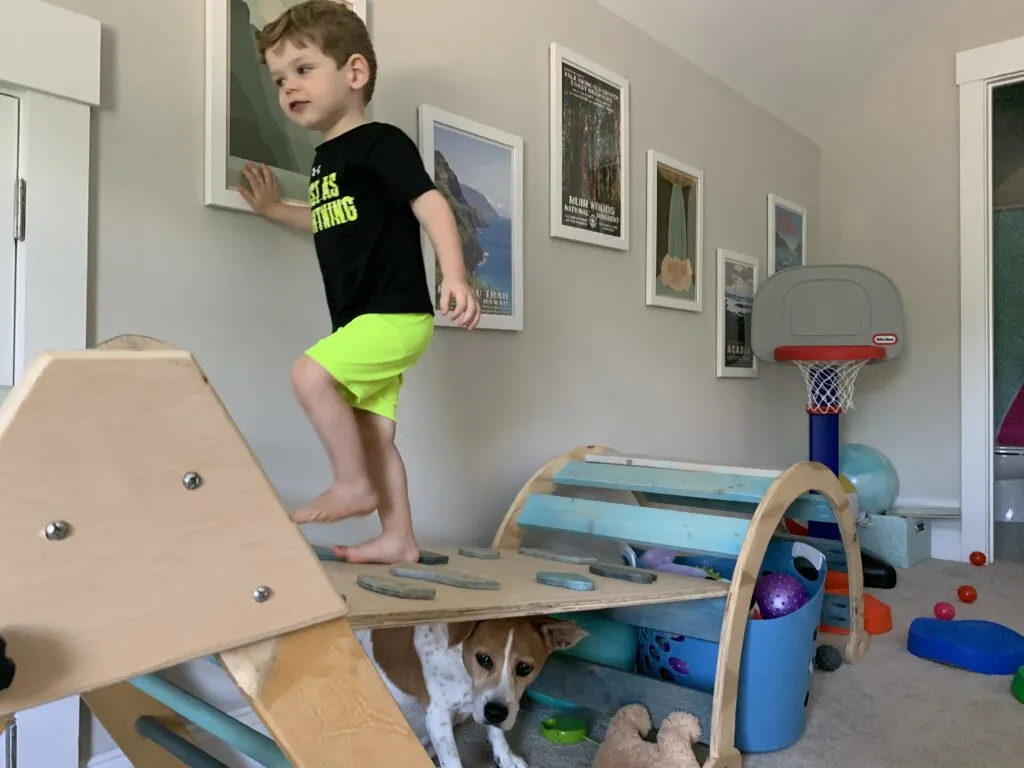 Why the Pikler is better than the Nugget
There are a few benefits of the Pikler over the Nugget.
First of all, a climbing triangle can be used outdoors. It will need an outdoor sealant, but we kept ours outside at our old house and it is still going strong. The Nugget is just for indoor play.
If you want a pure climbing toy, the Pikler is great. It's all about climbing a ladder, and building confidence and strength.
Pikler triangles are more expensive to buy but cheaper to DIY than a Nugget. Here's how we built our climbing triangle!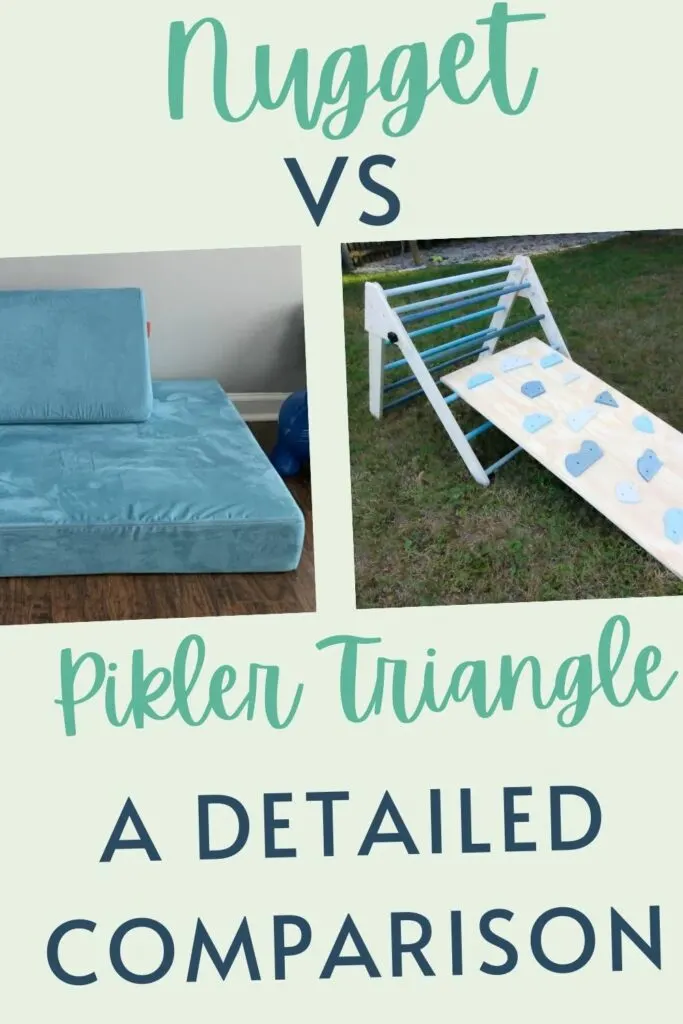 Which is better for toddlers?
I would say from 12-24 months, a Pikler triangle is better. Kids need less direction on a pikler – they just climb and go. It's very self explanatory. They just need supervision for safety.
Which is better for older children?
Pikler triangles definitely have weight limits. The rungs are dowels that will bend and buckle under heavy weight. You definitely don't want anyone heavier than a preschooler on there.
Nuggets are better for big kids as they have no weight limit!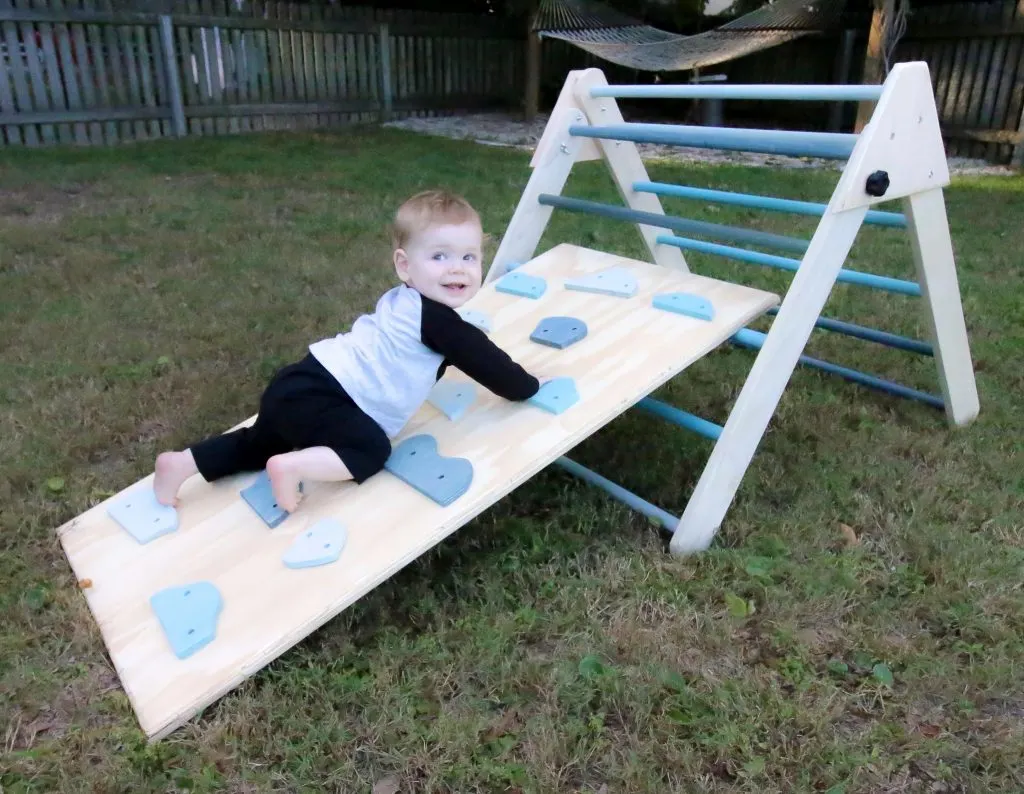 Which takes up more space?
When you play with Nuggets, you need a lot more space to move the pieces around and build. However, they can stack in a small storage area when not in use.
Piklers only need their set floor space, but they are big and bulky. Even folding ones (like ours) are big and cumbersome when not in use.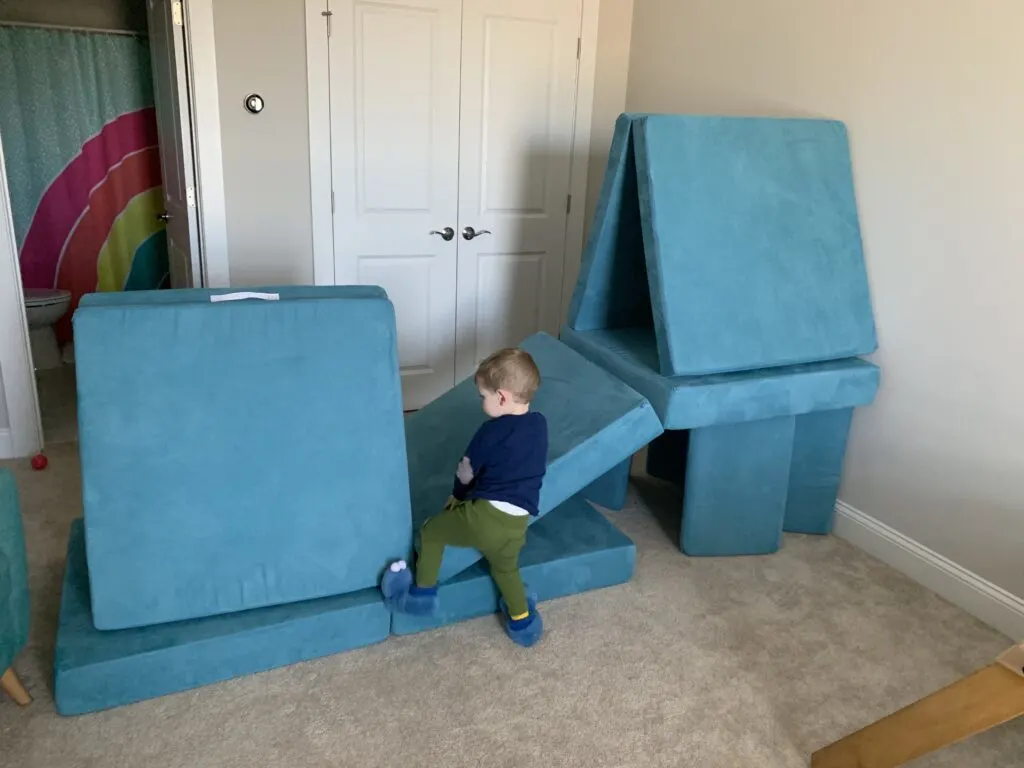 Which gets used more?
Our Nuggets! We play on the Nugget every single day. Our son only touches the Piklers when prompted such as when I build them into an obstacle course.