Pikler triangle shopping? Check out my complete Goodevas Climbing Set 4in1 Review after using it with my 2 and 3 year olds!
Pikler Triangles are popular climbing toys for babies, toddlers, and preschoolers. And that's for a great reason.
Pikler triangles help to encourage babies and toddlers to climb in a safe environment. They help teach kids to develop their gross motor skills. Read my full list of Pikler triangle benefits!
Today we are going to chat about the Goodevas brand of climbing triangle and my experience with the 4in1 set with my 2 and 3 year old kids!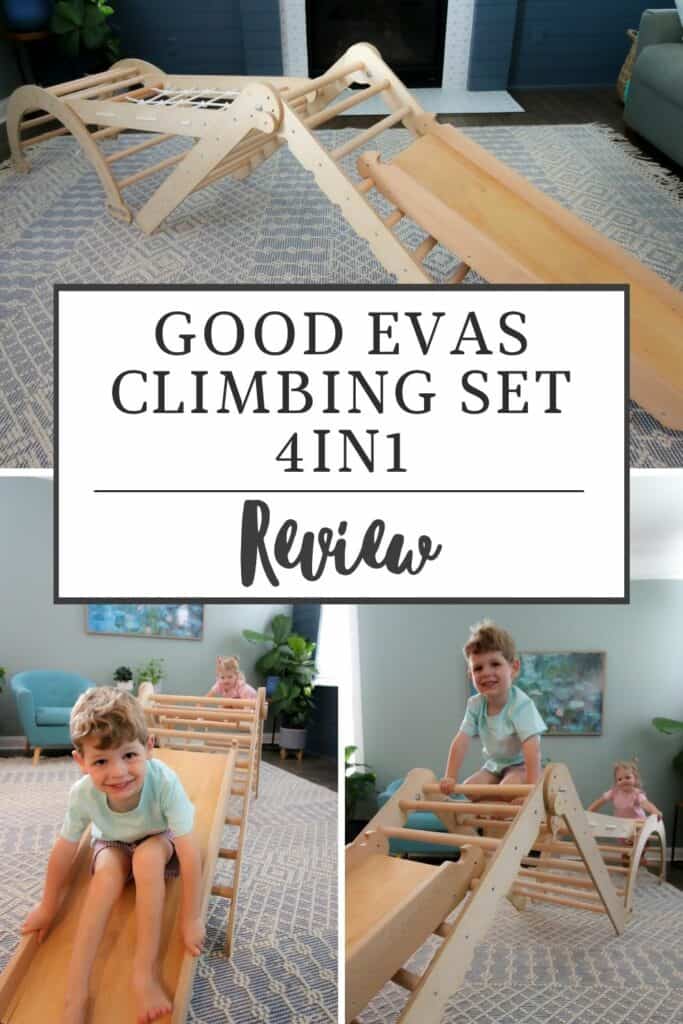 Goodevas Climbing Set 4in1 Review
Goodevas is a brand of wooden kids toys that particularly focuses on climbers and climbing sets. We tried out the 4in1 climbing set that includes a climbing triangle, climbing arch, climbing ramp/slide, and rope climber.
Origins
The Goodevas company is located in Kyiv, Ukraine. It was founded by parents who wanted to promote health, agility, endurance, independence and curiosity in kids. Goodevas controls all of their own production in house.
They have warehouses in the US, UK, and Europe to ensure that shipments can arrive quickly.
Company Values
I have been trying to focus on supporting brands that align with my personal values.
Our Goodevas set came with a flier that states that Goodevas channels a part of the funds from each purchase to provide support to low income families, including orphans and humanitarian aid in the Ukraine.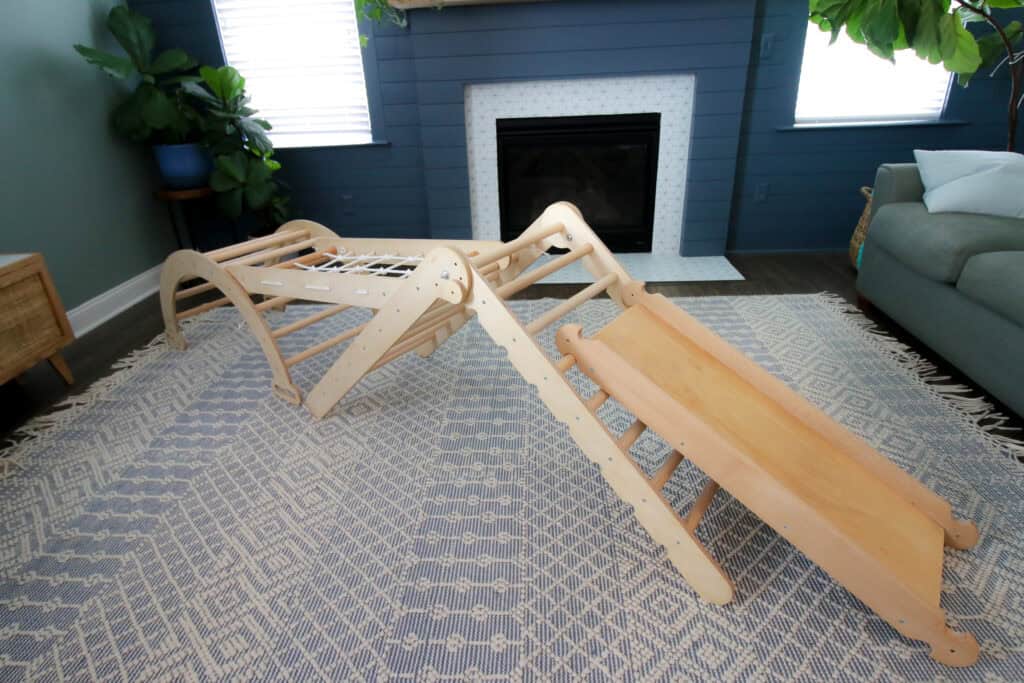 Included components
This is a 4 in 1 set that includes a climbing triangle, climbing arch/rocker, climbing ramp/slide (reversible) and climbing net.
I love that this set has 4 pieces. You can use them independently around a room, together as a couple pieces or, our favorite, connect them all in a line to form a long climbing course.
Climbing Triangle
The climbing triangle can fold in half for storage. It also has an adjustable side so you can choose the angle that you want it secured at.
I love this feature and have never seen it before! You can make it steeper for older kids or flatter for younger ones.
This triangle also has notches all along one side. This is so it can fold very tightly – another feature I have never seen before and absolutely love. Folding triangles are normal, but the Goodevas triangle folds flatter than I've seen with any other brand.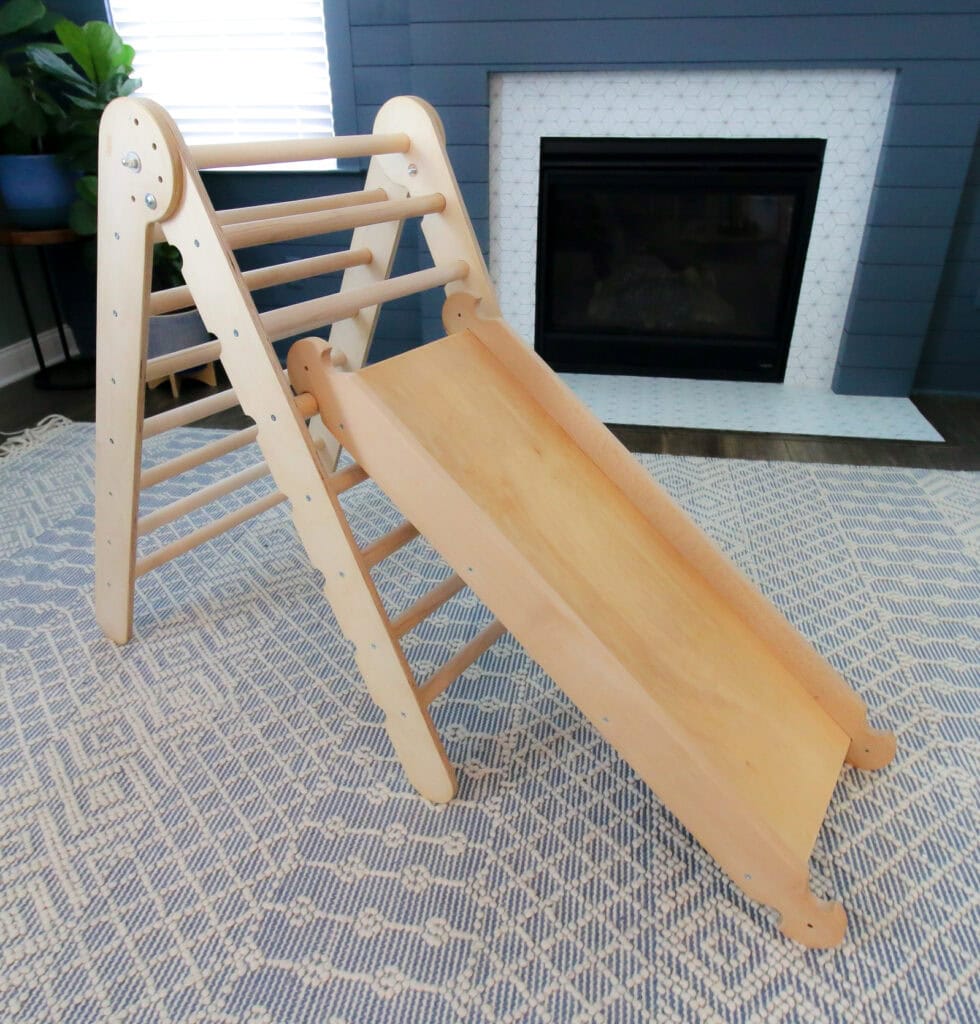 Climbing Arch
The climbing arch can be used for climbing over or flipped upside down and used as a rocker. I actually prefer an arch to a triangle, especially for kids in the 6 month to 30 month age category.
It's super stable, easy to climb, and can serve a lot of purposes!
The biggest negative to the arch is just that it is large and does not fold to store. You just need space for it!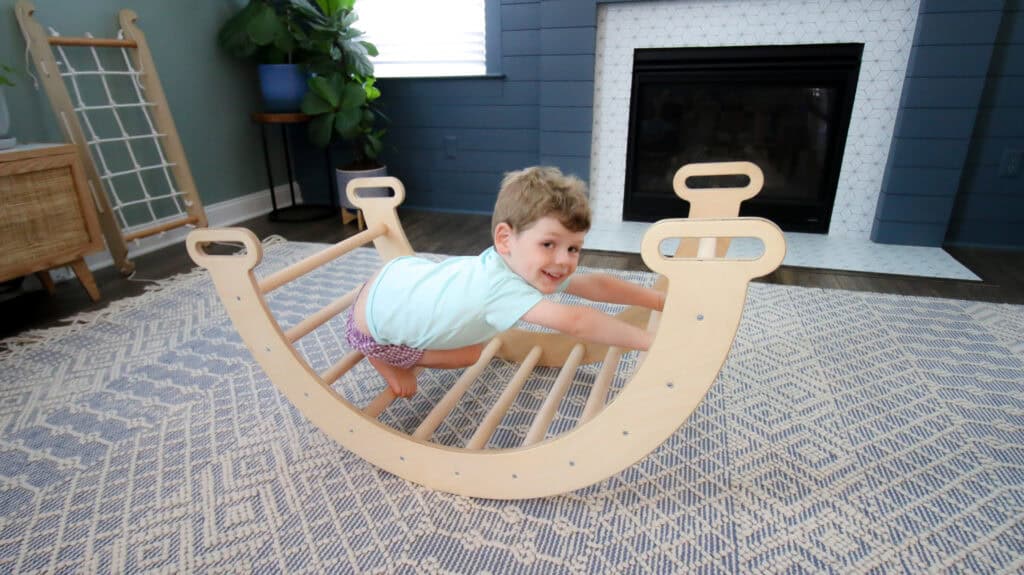 Ramp/Slide
This set also includes a reversible ramp/slide. On one side, it has cross beams to make it like a climbing wall. The other side is smooth to use as a slide.
This can go from the arch or triangle to the floor OR be used as a bridge between the two because of notches on both ends and both sides! You can place it as you want, and make it steep or relatively flat.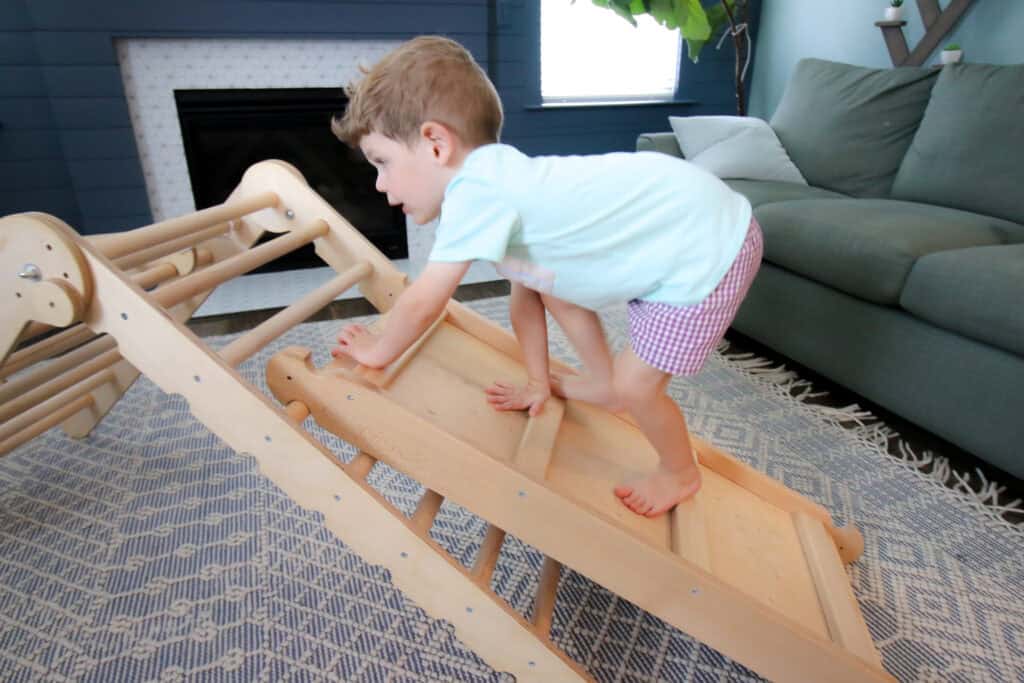 Climbing net
As a bonus, this set also includes a rope ladder climber. This was so fun and something my kids have never used before. You can also choose the placement and angle and have it climb up from the ground or use it as a bridge between the triangle and arch.
My son LOVES the rope ladder section – it's just a bit extra challenging, which is really fun for him! It's a little tough for the 2 year old, but once she figured it out, she was good (with a little help!)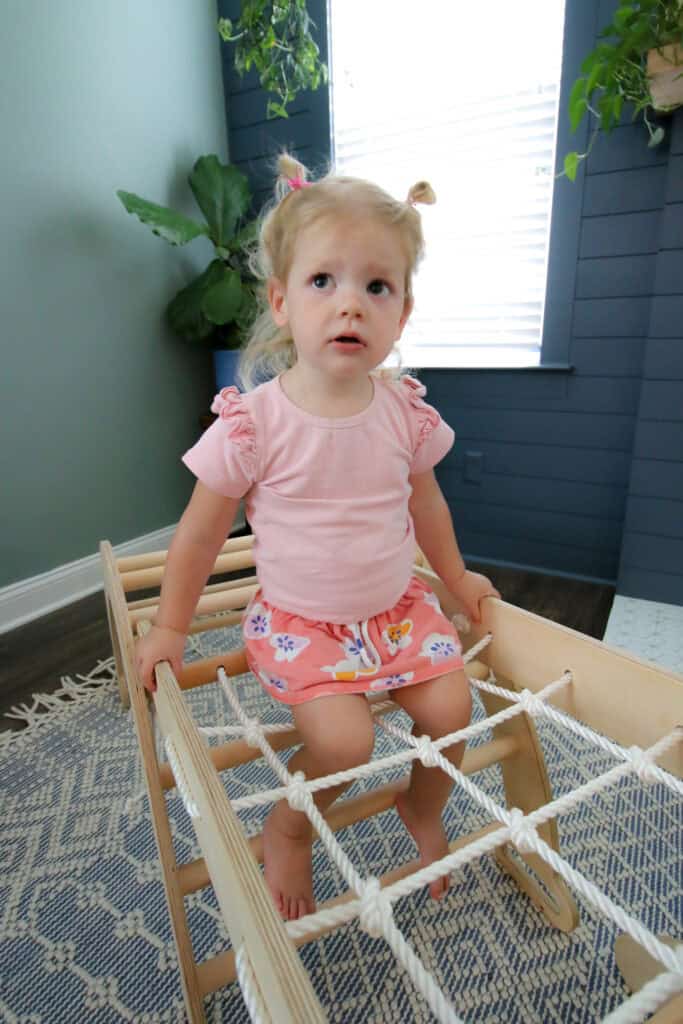 Size
The biggest negative for this 4 in 1 set for me is that it is quite large. Set up all together as an obstacle course, the total length is about 125 inches (over 10 feet long!) Also having that many pieces in your home, even not set up, takes up a lot of space.
But, if you have the space for it, it is a fantastic, high-quality set with lots of room for fun.
Climbing triangle: Max height: 41: Minimum height: 16″, Max length: 72″ Minimum length: 34″, Width: 22″
The triangle has an adjustable angle, at max height it is the shortest length and at the lowest height it is longest length.
Climbing arch: 21″ tall, 21″ wide, 41″ long
Climbing ladder: 16.5″ wide, 40.5″ long
Slide/ramp: 15″ wide, 41″ long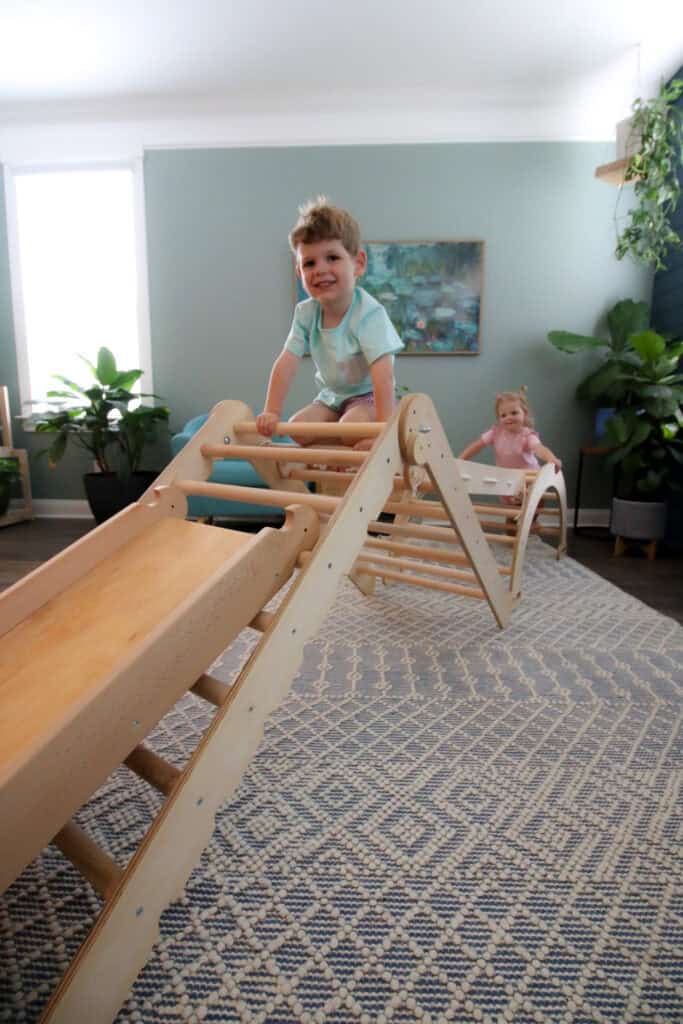 What age is it for?
This set was designed for ages 1-7 with a 110 pound weight limit. I think it's ideal for ages 2.5 to 5 or so.
My just-turned 2 year old daughter can climb the whole thing, but needs a little help on the net ladder. My 3.5 year old son can do the whole thing over and over again quickly and loves his "obstacle course!"
Material Quality
These pieces are made from premium hardwood covered with 100% linen oil with beeswax. Their products are all made from 100% FSC certified Karelian birch plywood and beech dowels. The beeswax oil finish makes them easy to clean with a damp cloth.
Assembly
This set was not difficult to assemble but it did take a while – about an hour total – just because there were 2 big pieces that needed full assembly – the triangle and the arch. The rope ladder did have 4 screws but that took less than two minutes.
The whole set is assembled with screws and an allen wrench that is included. However, that was taking a long time to do by hand. A drill with a hex bit can make assembly go faster but you have to be very, very careful not to over-tighten and strip the screws, which will make them not work.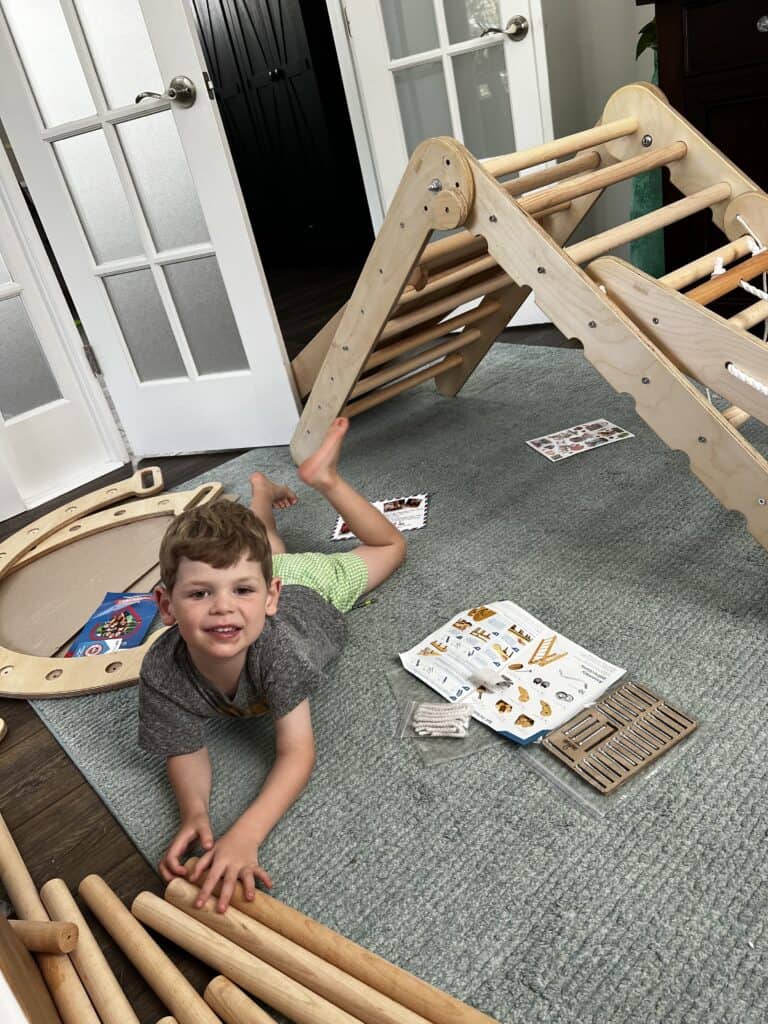 Foldability
The climbing triangle has 2 round wooden knobs that you can unscrew to make the triangle fold in half. One side of the triangle actually has notches in it, making this triangle fold a lot tighter than others I have tried. This is the best/slimmest folding pikler triangle I've ever seen.
The arch does not fold and is pretty massive to store! Be sure you have plenty of space for this piece.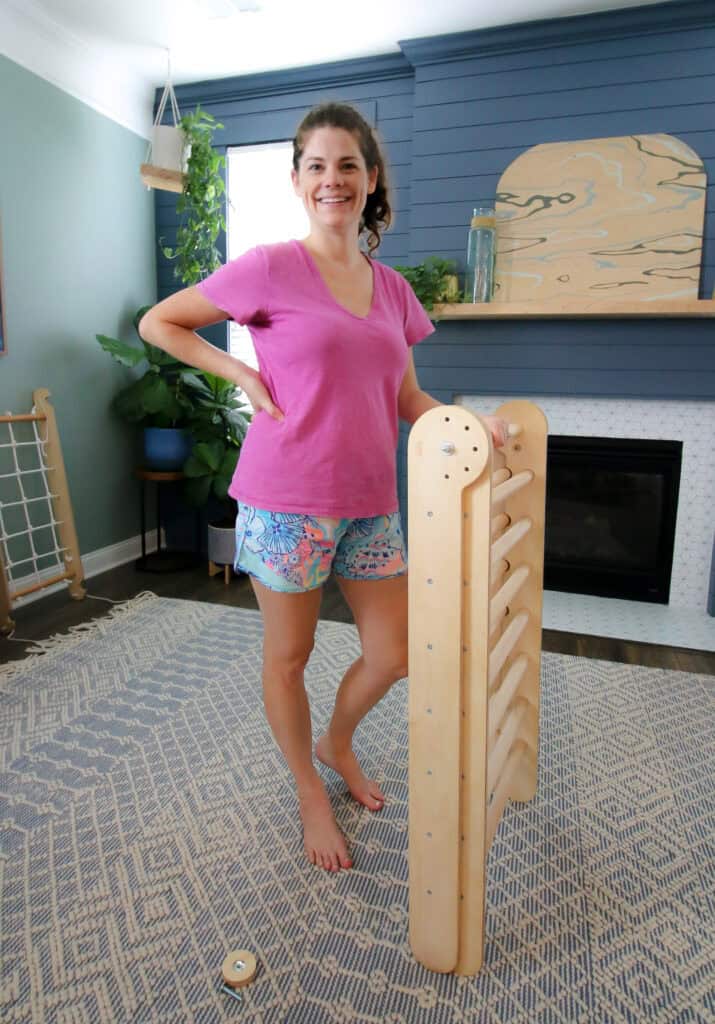 Accessories
This is a 4 in 1 set so it includes the climbing triangle, climbing arch, a ramp/slide and a rope ladder. So, you don't really need to add on any accessories.
That being said, Goodevas sells a lot of other sets including a playhouse as well as a rope swing, trapeze swing, indoor hanging ladder, and gymnastic rings.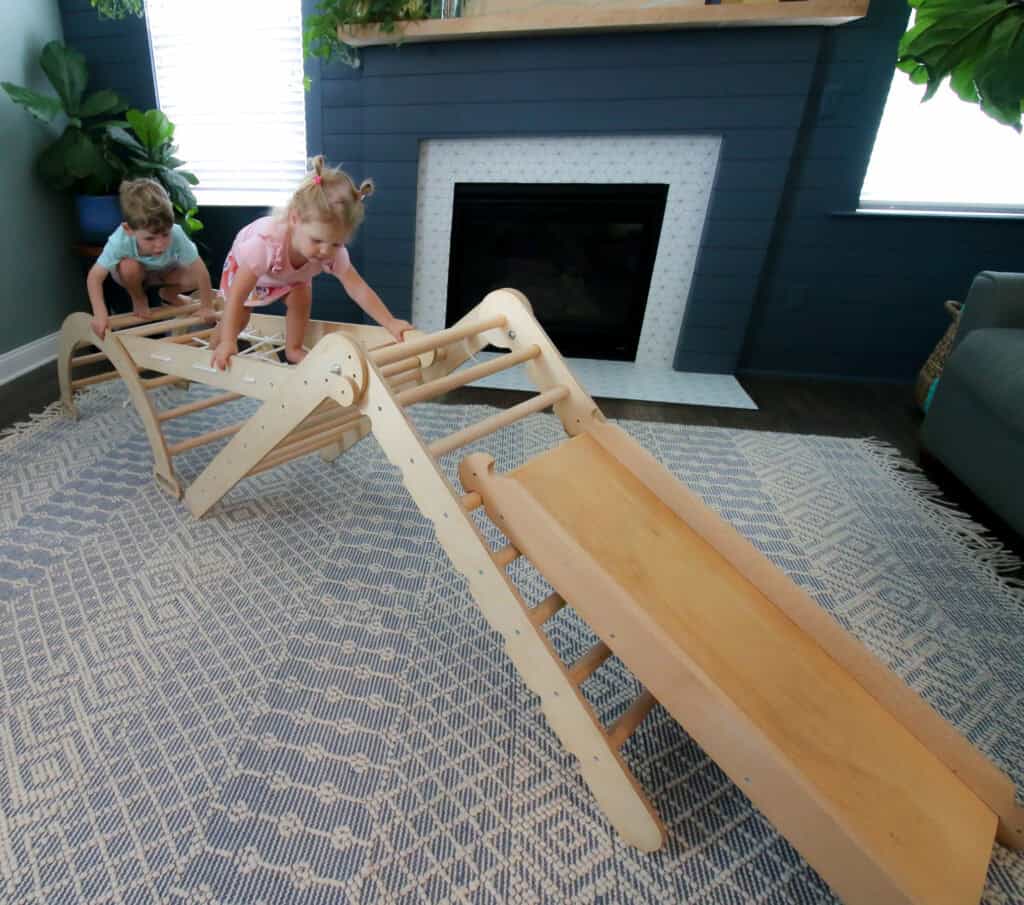 Price
The full price on this set is $390. It seems to frequently be on sale on the Goodevas website. This price includes taxes and free shipping to the UK, US, and Europe.
I think that this is a phenomenal price considering that it includes four pieces. The price is comparable to what many brands charge for just the climbing triangle + slide, so you are really getting a lot for your money.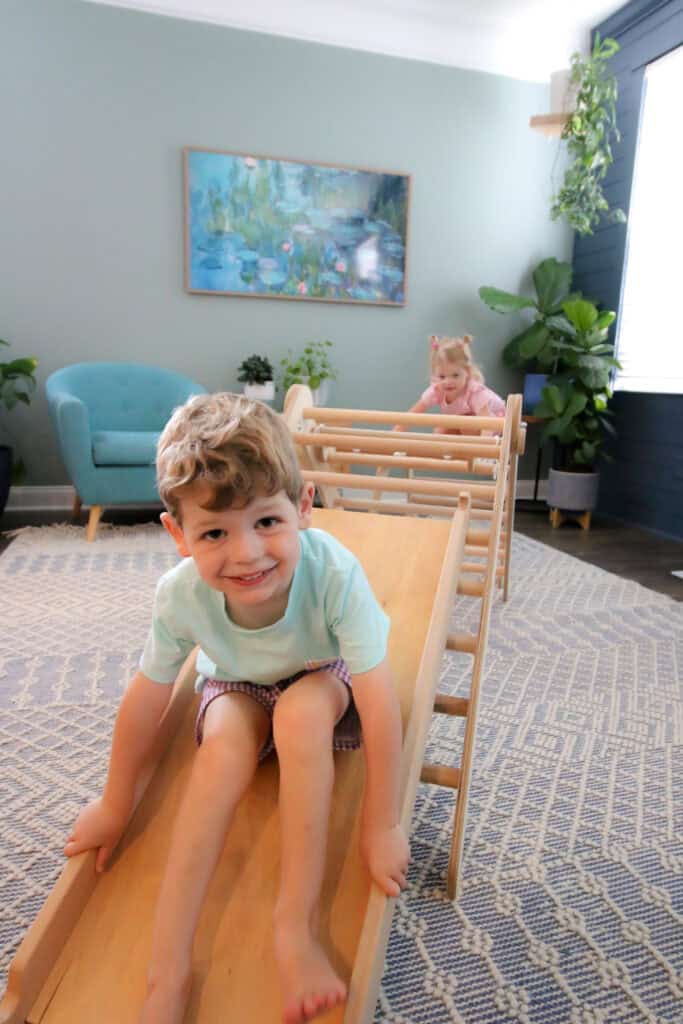 Shipping
Shipping is super quick and we received our set in just a couple of days. It is all bundled in one box that was super heavy, so be prepared to have a helper move it to your assembly area.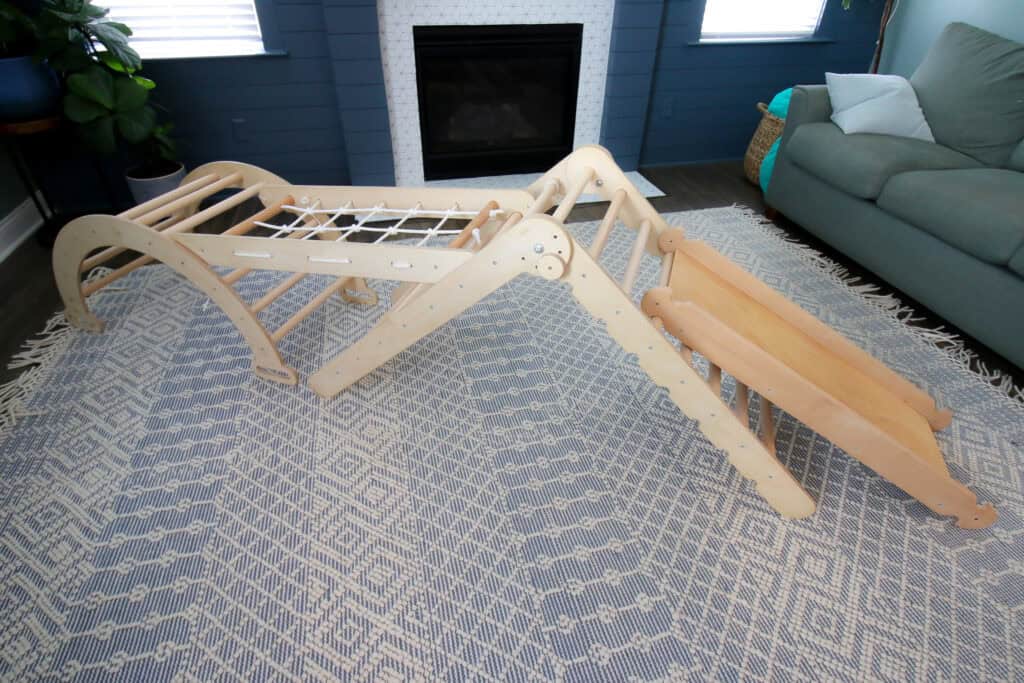 Overall impressions
This is a great value, high-quality climbing triangle set. I love that it includes 4 big pieces – you can use them alone or together for an obstacle course look.
That is also the biggest negative – it's just very large and needs a lot of floor space. If you have a small home without a dedicated playroom space, I wouldn't get the 4in1 set (but just the 2:1 set could be great!)
However, if you have a large play space with room for this set, I think that it is excellent quality and has tons of room for configuration and play for kids!
Any more questions about the Goodevas Climbing Set 4in1?