Pikler triangle shopping? Check out my complete Piccalio Mini Climber Pikler Triangle Set Review after using it with my 1 and 3 year olds!
Pikler Triangles are an awesome climbing toy for babies, toddlers, and preschoolers.
Pikler triangles help to encourage babies and toddlers to climb in a safe environment. They help encourage kids to develop their gross motor skills. Read my full list of Pikler triangle benefits!
Today we are going to chat about the Piccalio brand of pikler triangle and my experience with the folding triangle + ramp set with my 1 and 3 year old kids!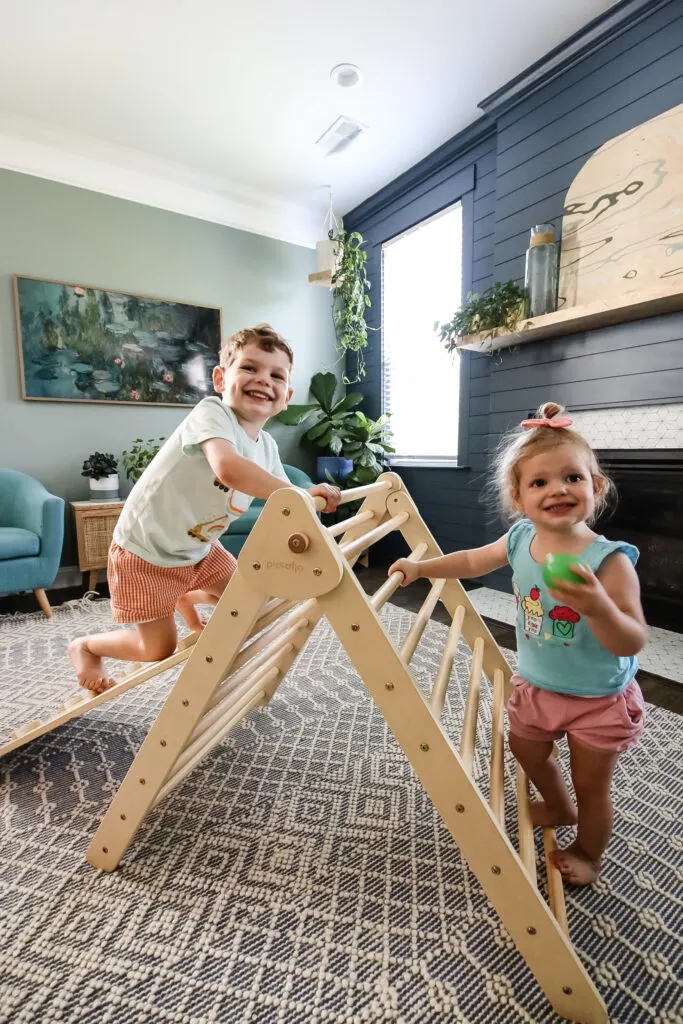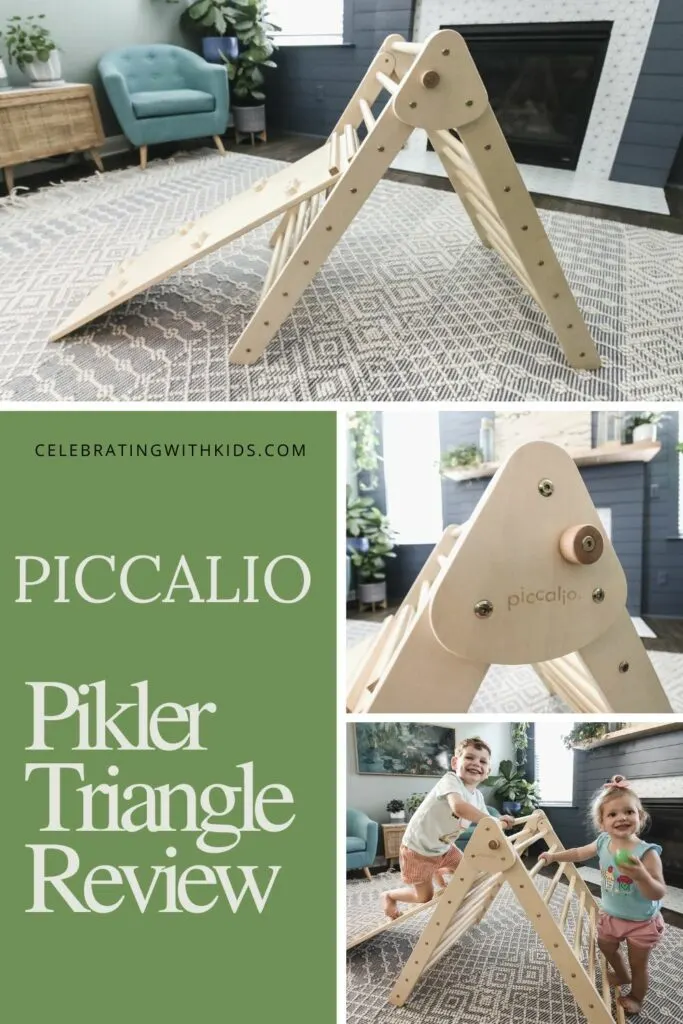 Piccalio Mini Climber Pikler Triangle Set Review
The first thing that I want to point out about this particular Pikler Triangle is that they call it "mini". They, in fact, call everything for sale on their site "mini". I'm not sure I 100% get it but this pikler triangle isn't really mini at all.
The triangle is very standard sized and even a bit taller than many I have seen, so don't let the mini dissuade you!
With that out of the way, let's dive into the details that make the Piccalio Pikler Triangle set so fabulous.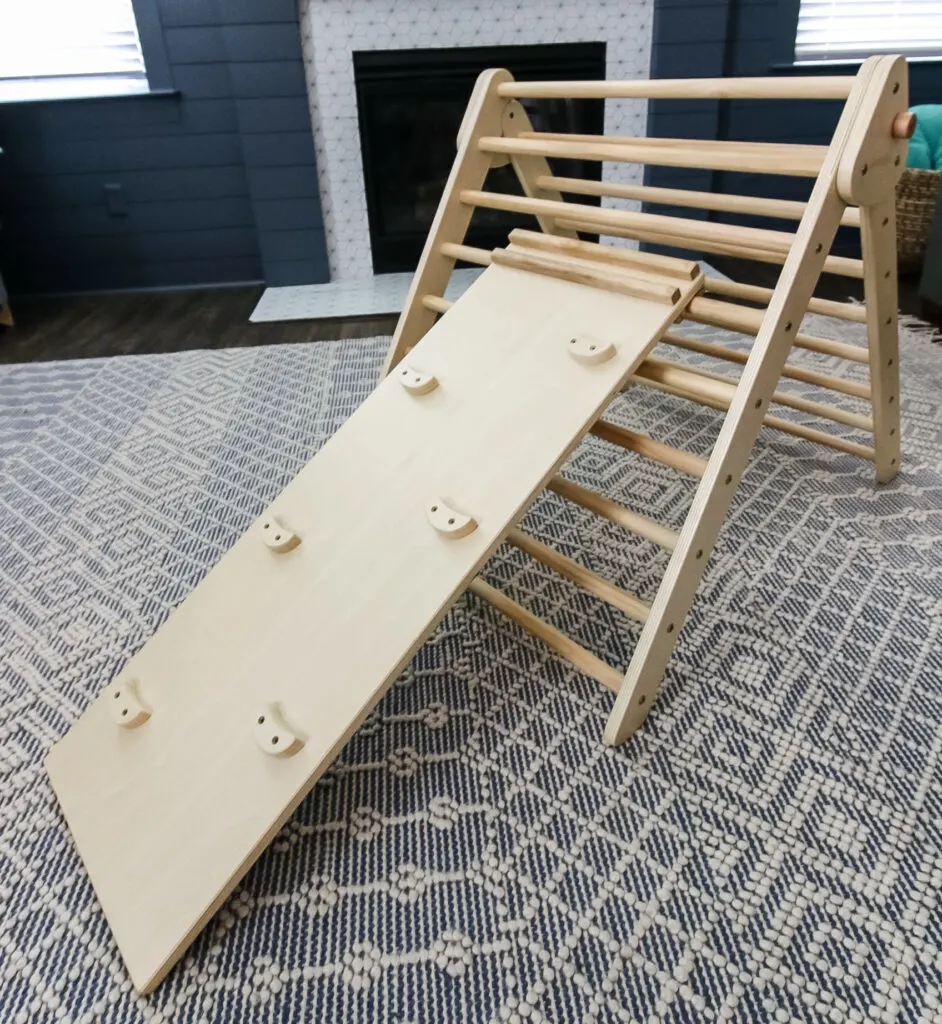 Origin
Piccalio products are designed in Venice, California. They use different types of FSC Certified wood – Birch, Beech, Pine. They import Pine from New Zealand, Beech from Romania and Germany, and Birch from Russia and Baltics.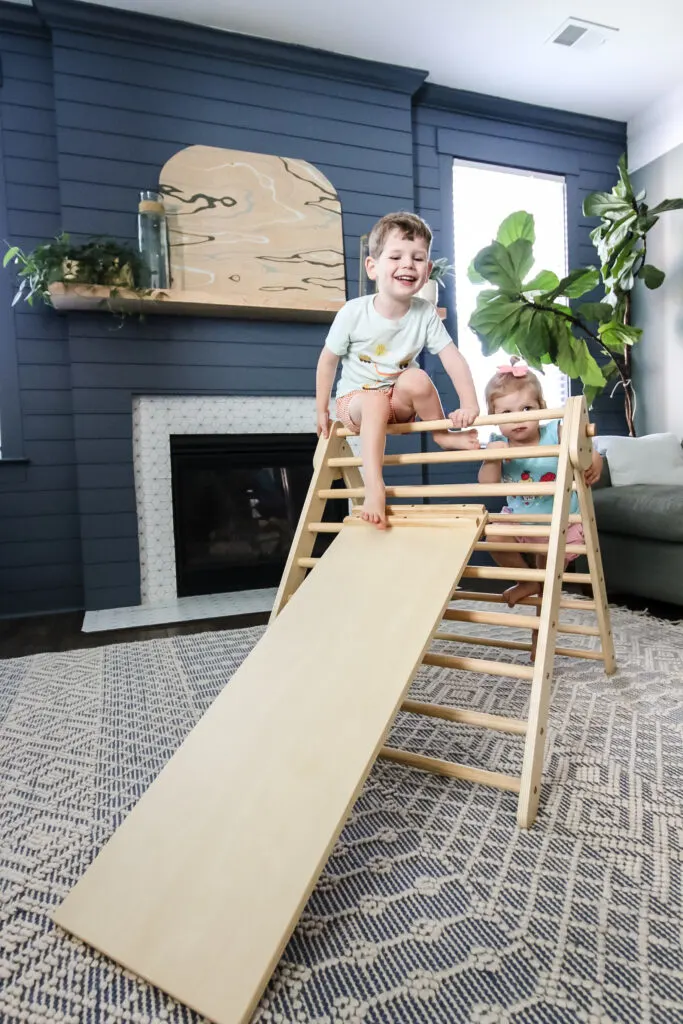 Company Values
I have recently been trying to shift my support to companies whose values align with my own. Here are some reasons that I appreciate the Piccalio brand:
All Piccalio products are made using FSC®‑certified wood
They keep a small inventory in an effort towards more intention, less waste, and conserving energy
They have removed entirely the usage of plastics throughout their supply chain and are on track to have 100% plastic-free packaging for all products by 2024
Piccalio offsets all delivery emissions
Piccalio will donate $1 from every order to One Tree Planted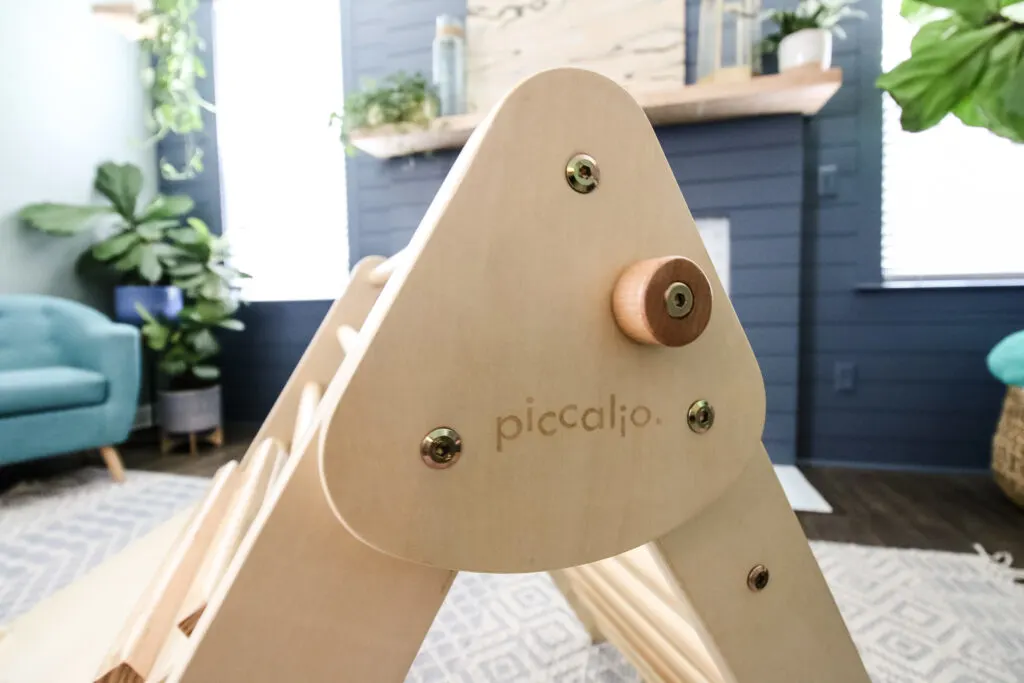 Size
I will say that the Piccalio pikler triangle is slightly taller with a smaller footprint than triangles we have used and owned previously.
I actually love the height – it's more of a challenge for my 3 year old – and think that it will age up nicely.
My one complaint would be that the rock wall/slide is a bit narrow – I think it could go the whole width of the rungs. But, as my husband pointed out, that leaves room to climb up and down beside the ramp if you want to, and the slide is still plenty wide for a child.
Open Dimensions: 30.5"H x 27.5"W x 36.5″D
Folded Dimensions: 35.5″H x 27.5″W x 6″D
Rockwall/Slide Ramp: 40″H x 14″W
Distance between each rung 3.5″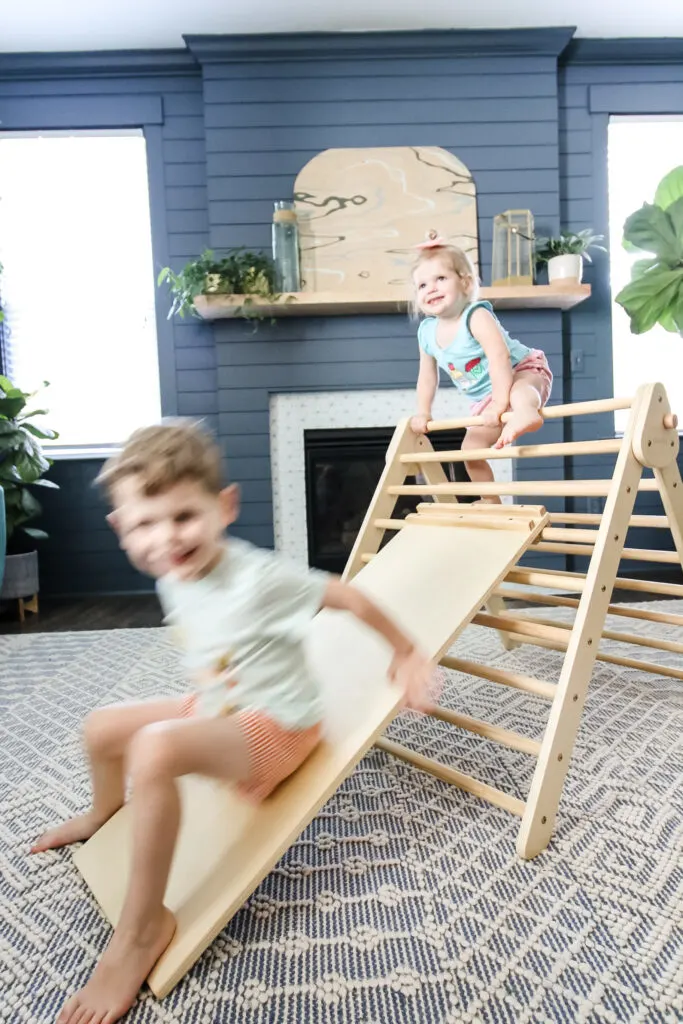 What age is it for?
This pikler triangle is designed for kids age 6 months to six years. I think that the height actually makes it great for taller kids and potentially a little too difficult for anyone under 1.
Maximum Weight Load: 132 lbs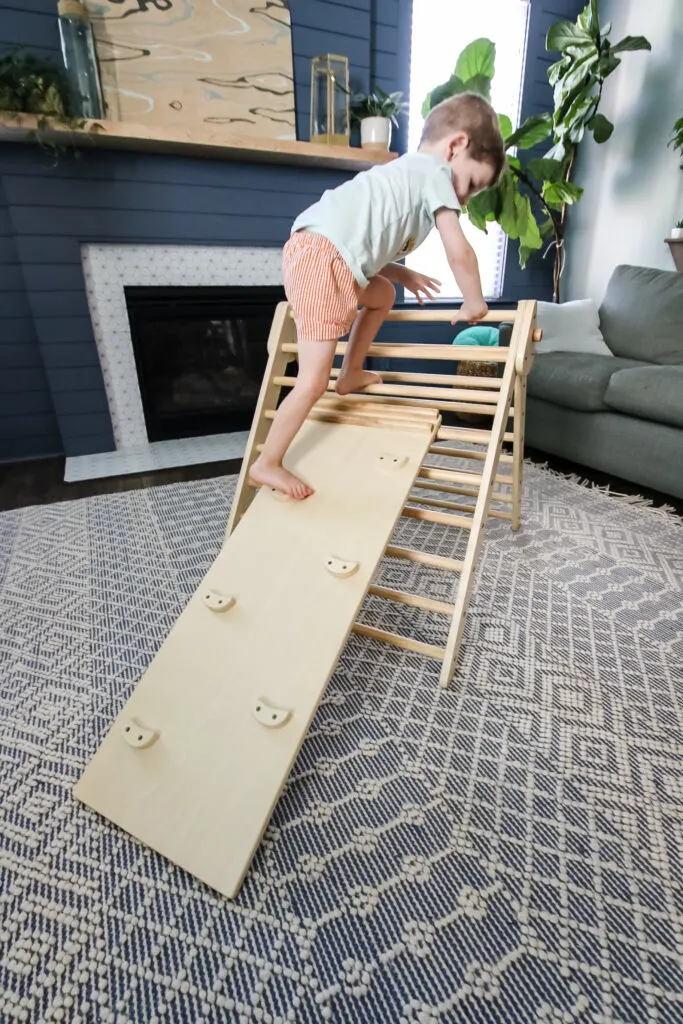 Material Quality
This pikler triangle set is made from Baltic Birch plywood and Pine dowels. According to Piccalio, the materials are completely non-toxic and have earned a Children's Product Certificate (CPC) in accordance with ASTM F963 and California Prop 65 Standards and Regulations.
These triangles are all formaldehyde and lead safe; additionally they use 0-VOC water-based, acrylic, solvent-free and non-toxic paints and stains.
The wood feels very smooth, clean, and strong. My 30-something pound 3 year old climbs on it with zero wiggle or give.
It arrived in great shape with no damage to the wood. I'm super happy with the quality!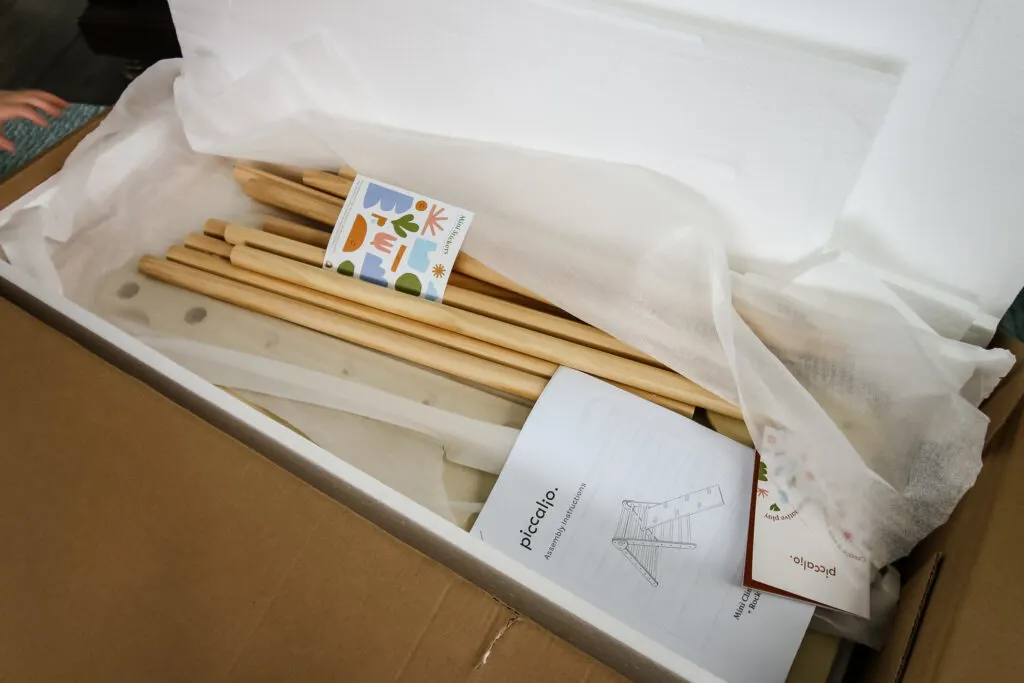 Assembly
Assembly took my 3 year old and I about 1 hour. Yes – my 3 year old did all of the screws (I came in behind him for the final tightening) – he LOVES building things and really enjoyed this project.
You have to attach all of the rods to the support pieces for the ladders and then connect the 2 ladders with the triangle wood pieces. The ramp/slide comes fully assembled.
It was very easy to assemble and very straight forward. No tools are needed, an Allen wrench is included and that's all you need.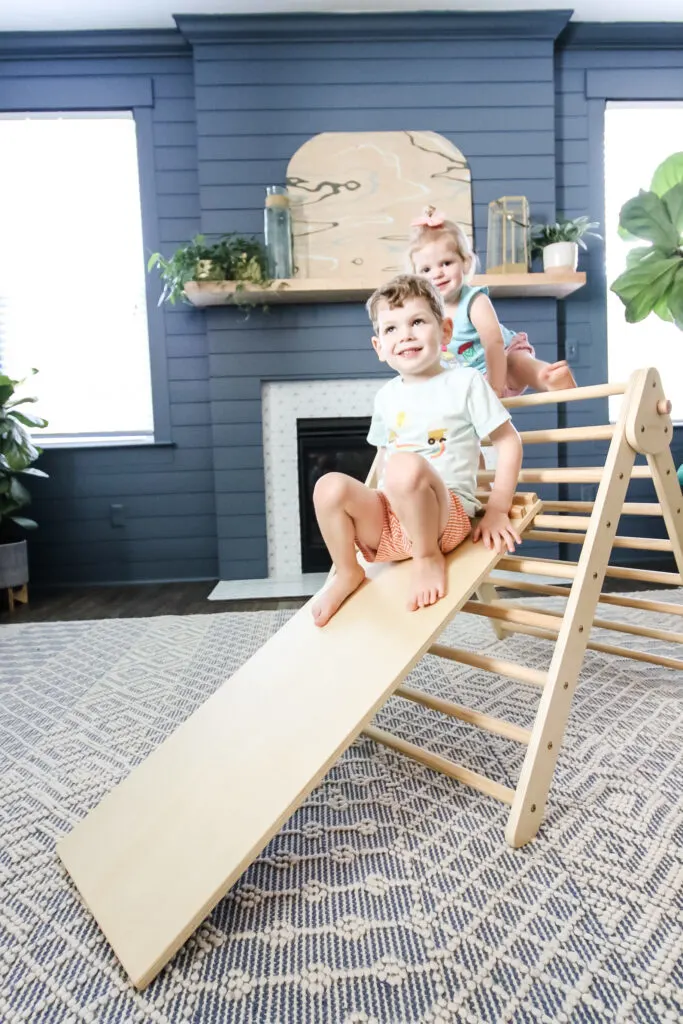 Foldability
The Piccalio pikler triangle folds for easier storage. There are wooden pegs on either side of the frame that you loosen and then fold the two ladders close together.
Watch my video below to see the folding in action!
It's worth noting that this thing is still very large when folded. But, folding it could be a way to get it out of the way if you need the floor space and have somewhere to store it, such as a closet or even under an empty bed.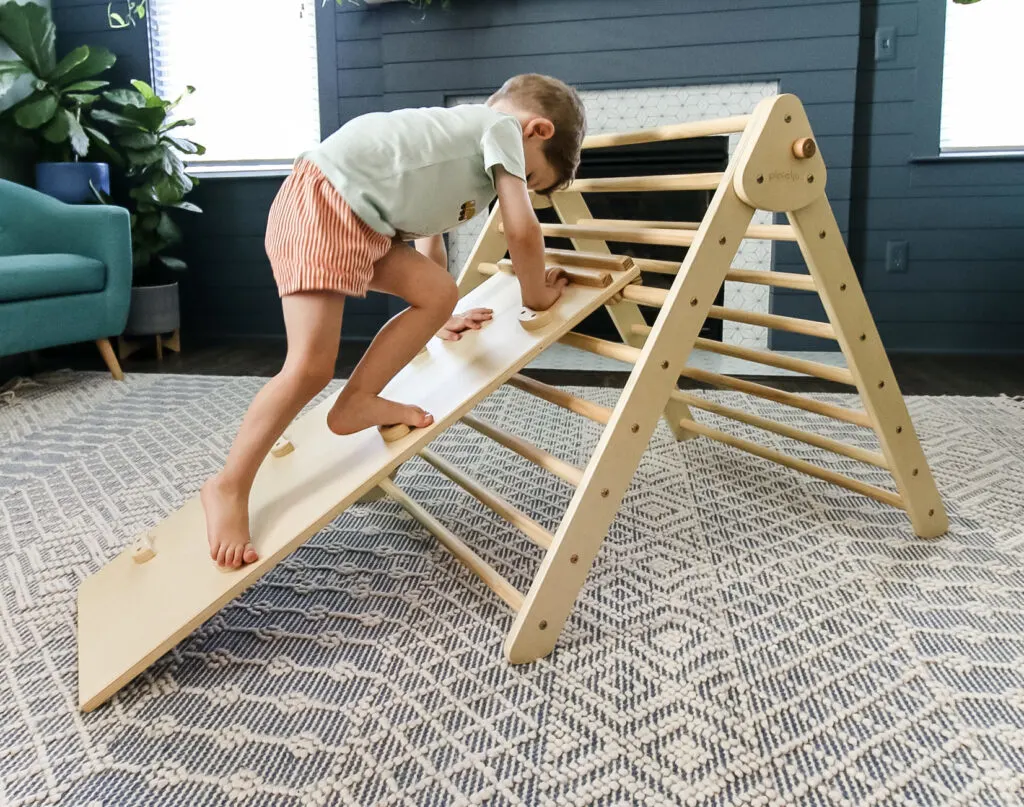 Accessories
The Piccalio pikler triangle comes with a climbing ramp/slide reversible piece. You also have the option of buying an additional ramp if you wanted a second one. Piccalio does not offer add-ons like an arch, but they do sell similar, coordinating:
Helper Towers
Balance Beams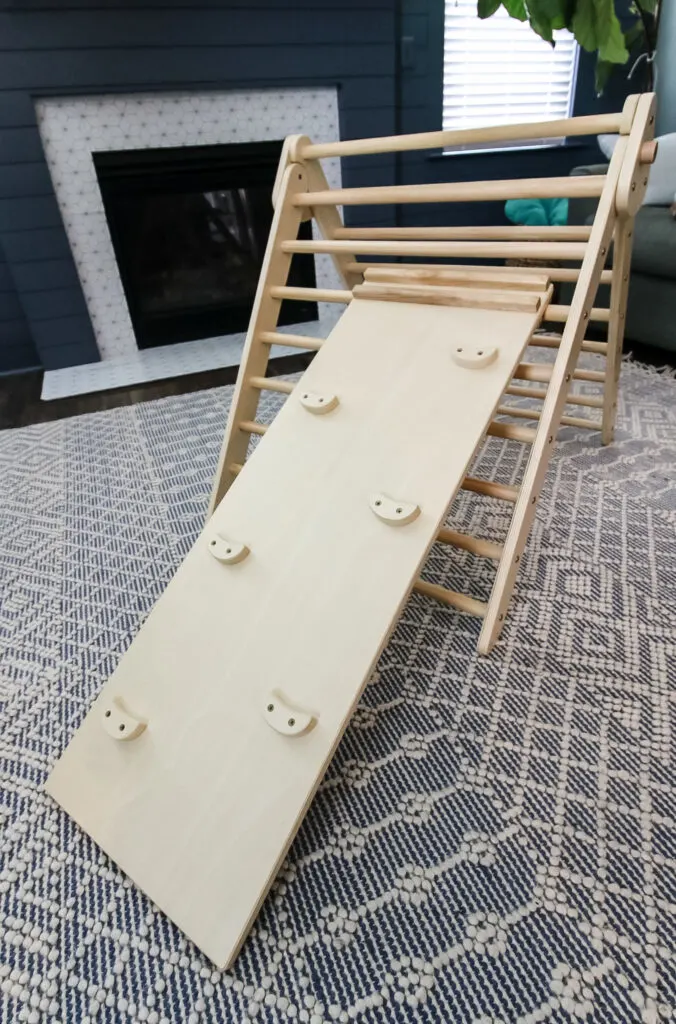 Price
Piccalio pikler triangle sets (triangle + ramp) are priced at $349 with free shipping. I think that this is a very fair price considering the quality of materials and size of the pieces.
Many sets that are priced lower than this one do NOT include shipping, which can be very pricey on sets this large and heavy, so always keep that in mind when price comparing.
It is also worth noting that they offer a 12 month warranty on all of their products.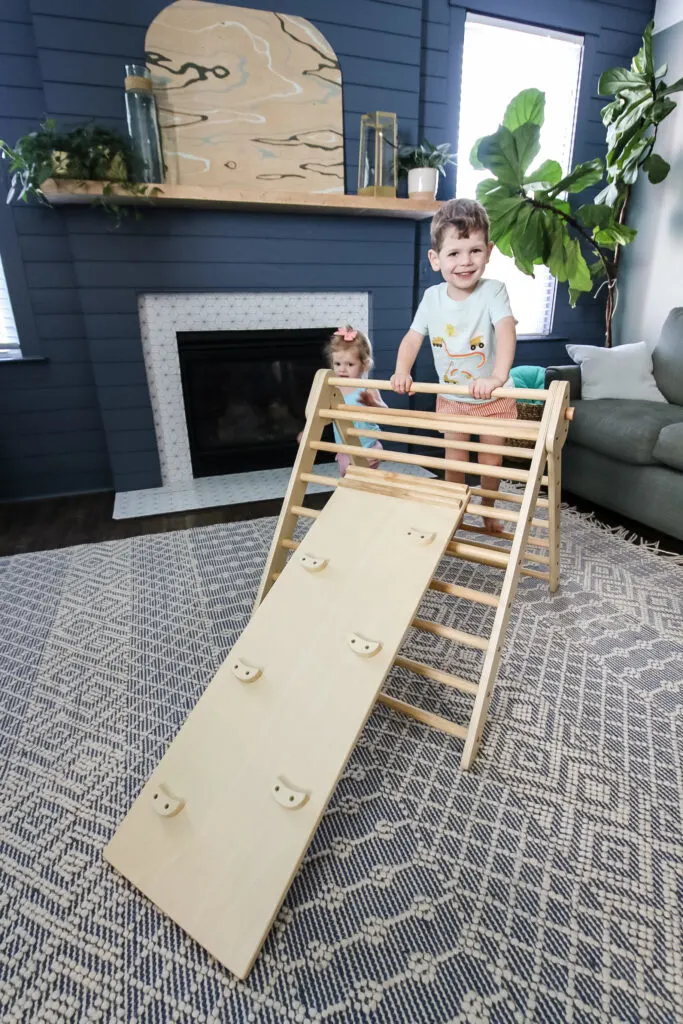 Shipping
The shipping was extremely fast and the Pikler Triangle Set arrived at our home in about 3 days via UPS ground shipping.
Overall impressions
The Piccalio pikler triangle set is a great size, made from high quality materials, and a great value. If you are shopping for a Pikler Triangle set, this is a great buy! The only thing that it lacks in my books is the option to add on a climbing arch, too!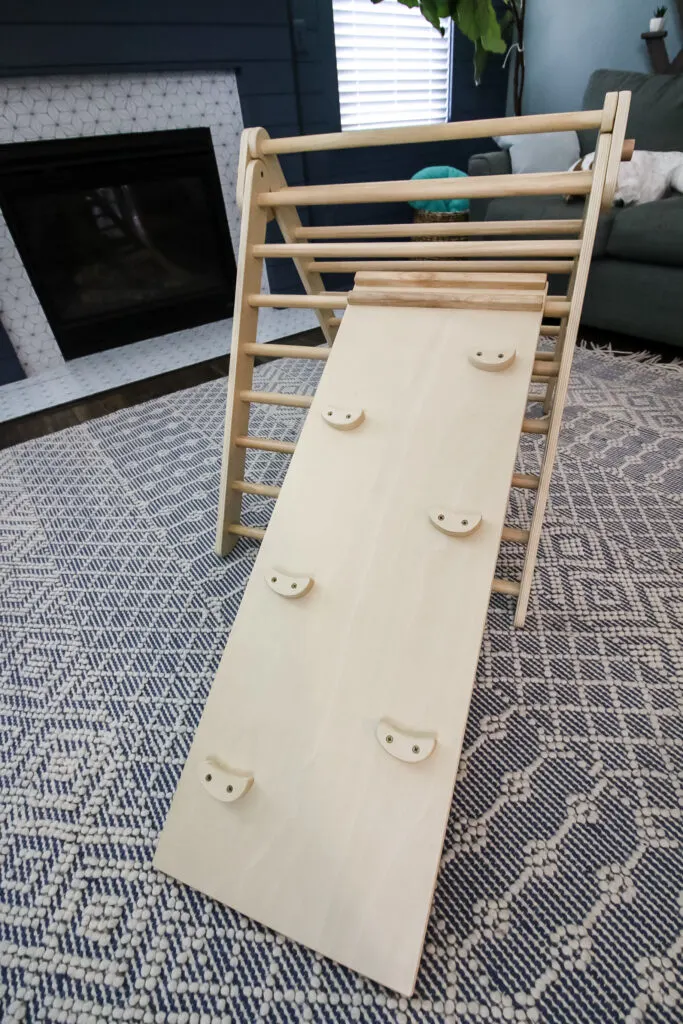 Review Video
Check out our Piccalio Mini Climber Pikler Triangle set in action by watching the below video or hopping over to catch it on YouTube!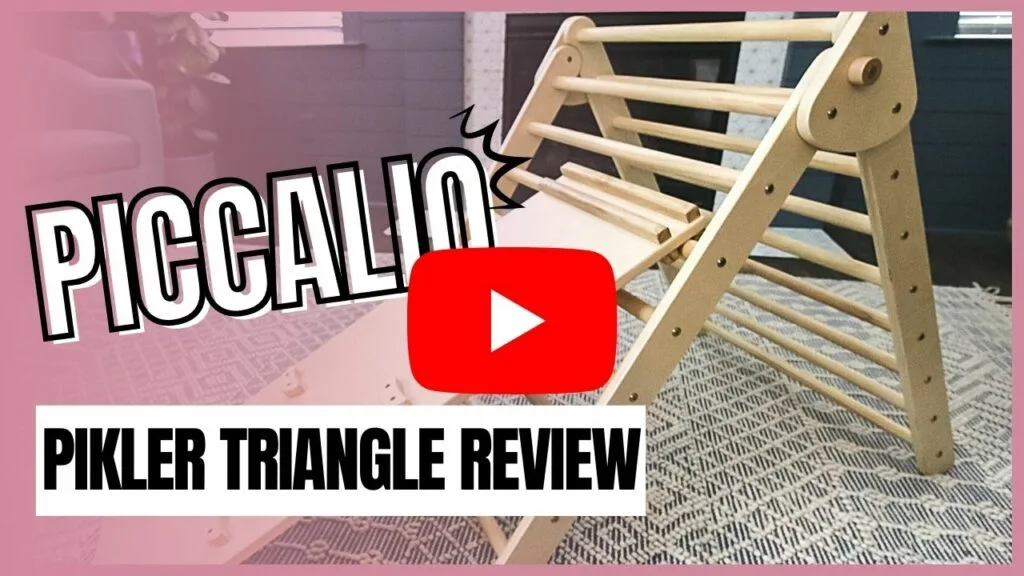 Any more questions about the Piccalio Mini Climber Pikler Triangle Set?