Looking for ideas for how to use a balance board for kids? Here are our favorite ways to use a wobble board!
Balance boards are really hyped up on kids' space facebook groups.
They are touted as essential to a Montessori playroom or for Nugget play.
So, of course I ordered one. We got it black friday 2020 and gave it to my son for Christmas.
They honestly aren't cheap – even the off brands are $60+ – and my son did not care at all.
I blame Christmas overwhelm, but honestly it's still not a super favorite toy in our house.
If your wobble board is sitting unused or neglected or you are even considering buying one, here are some ideas for using a blance board in creative play with your preschooler or toddler.
What is a balance board?
Balance boards are also known as wobble boards and are a great addition to any preschool playroom.
They are common in Montessori style playrooms but anyone can use them!
They help with developing gross motor skills and can be great for imaginative play.
Be sure to read my review of the pikler triangle, too!
What's the best balance board for kids?
This is the balance board that we have and it is fantastic. It is not the official Wobbel brand, but it's more affordable and we are impressed with the quality!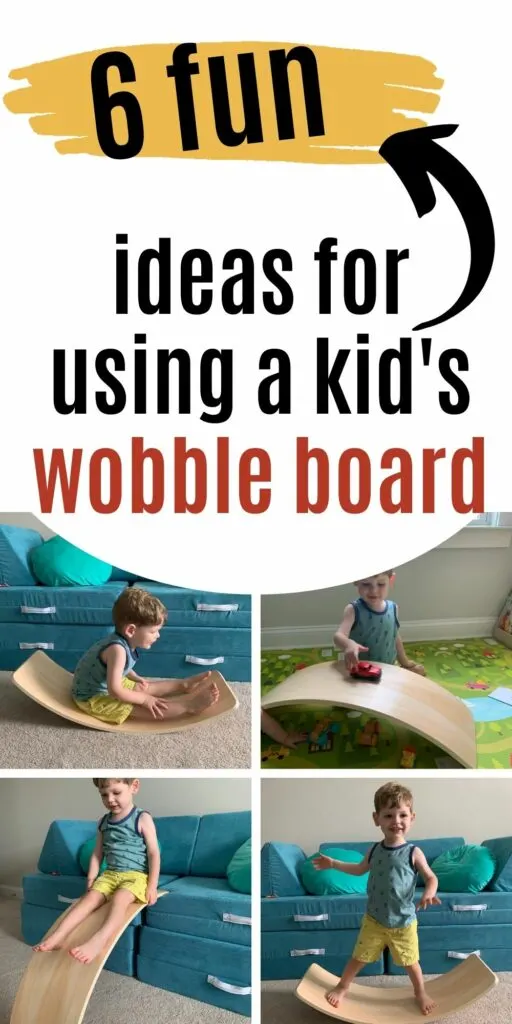 How to use a balance board for kids
Balancing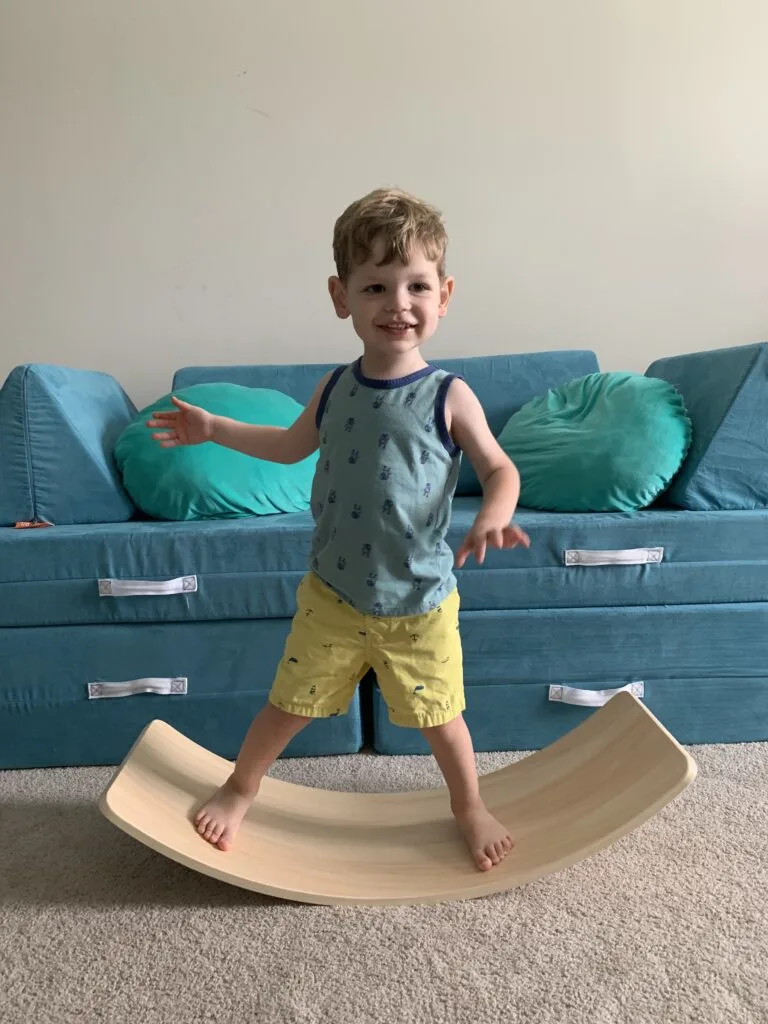 The main advertised use of a balance board is to stand on it and sort of rock back and forth. Honestly, my 2.5 year old doesn't love this use and it's the least used way for us!
Rocker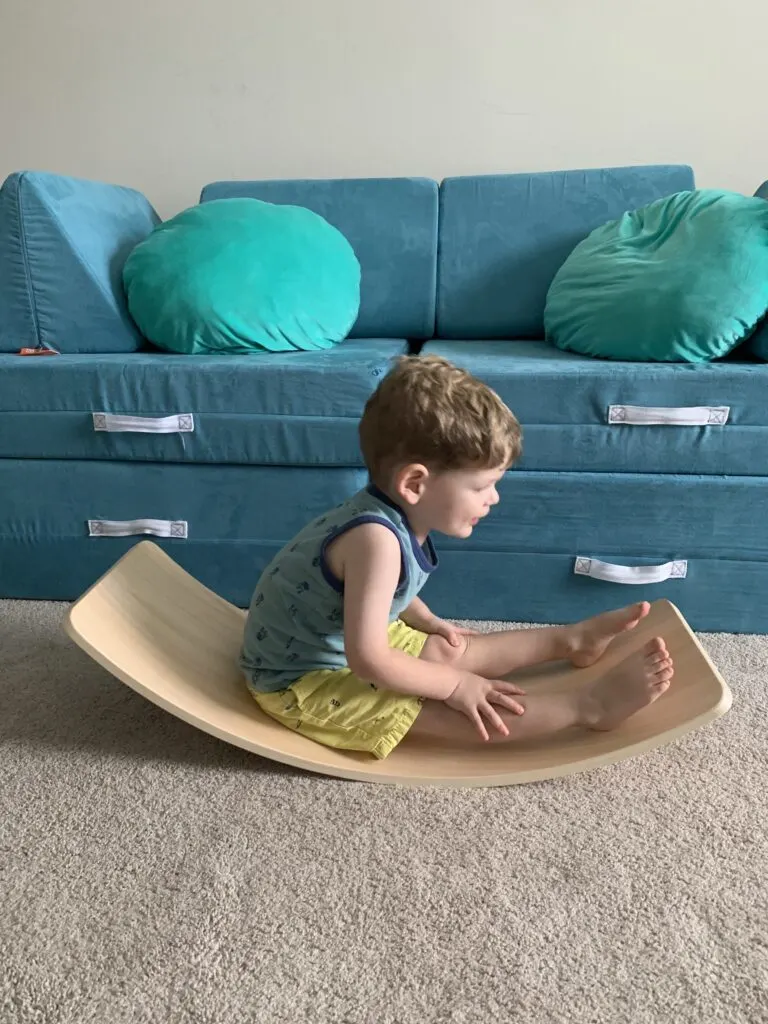 Sit in the balance board and it's a rocker! Great for getting cozy and reading. We also like to use our pikler climbing arch like this, too!
Bridge for toys and cars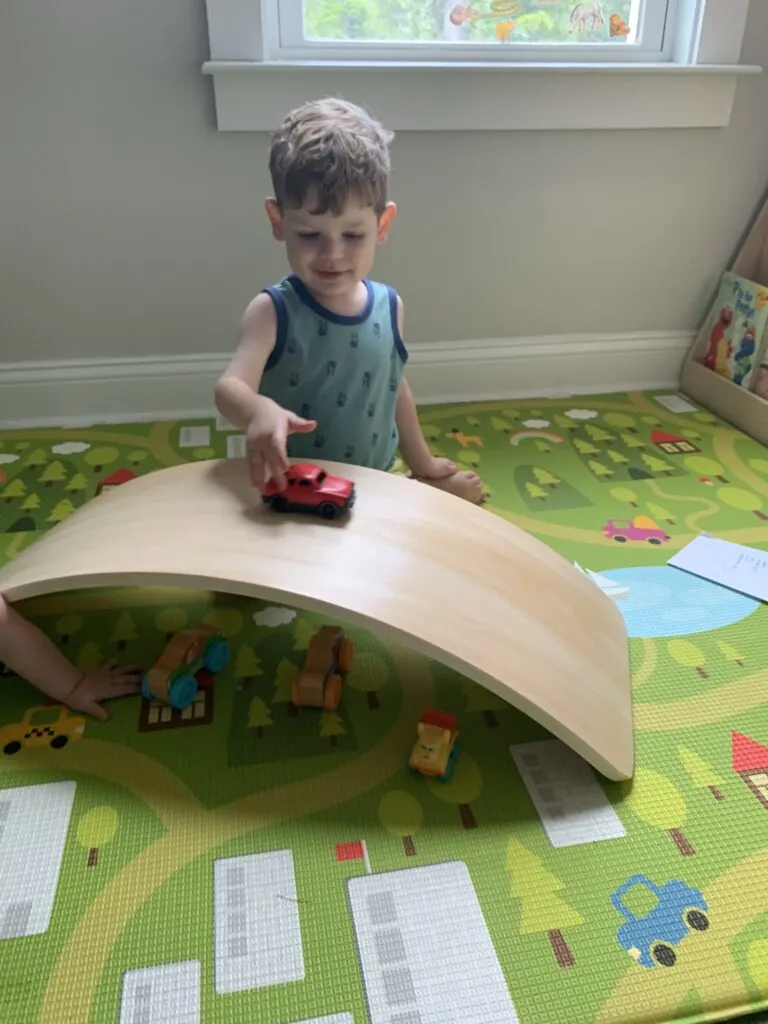 My son's #1 way to use his balance board is for toy cars. It can be a bridge or turn it upside down to be a half pipe for racing cars!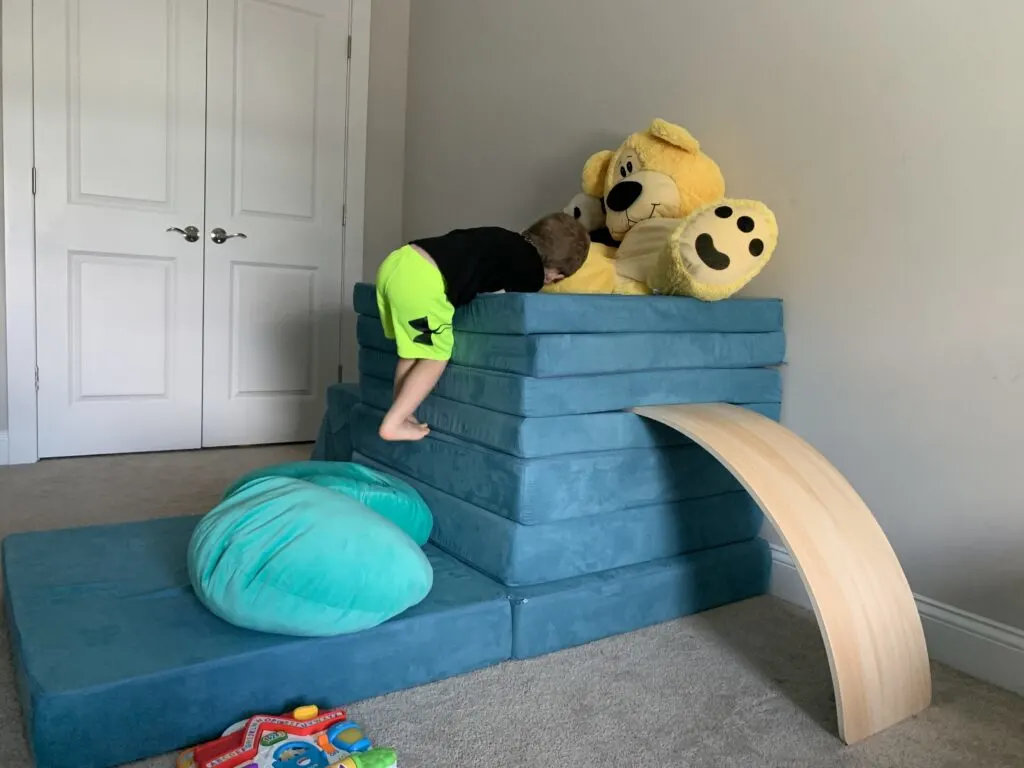 Ramp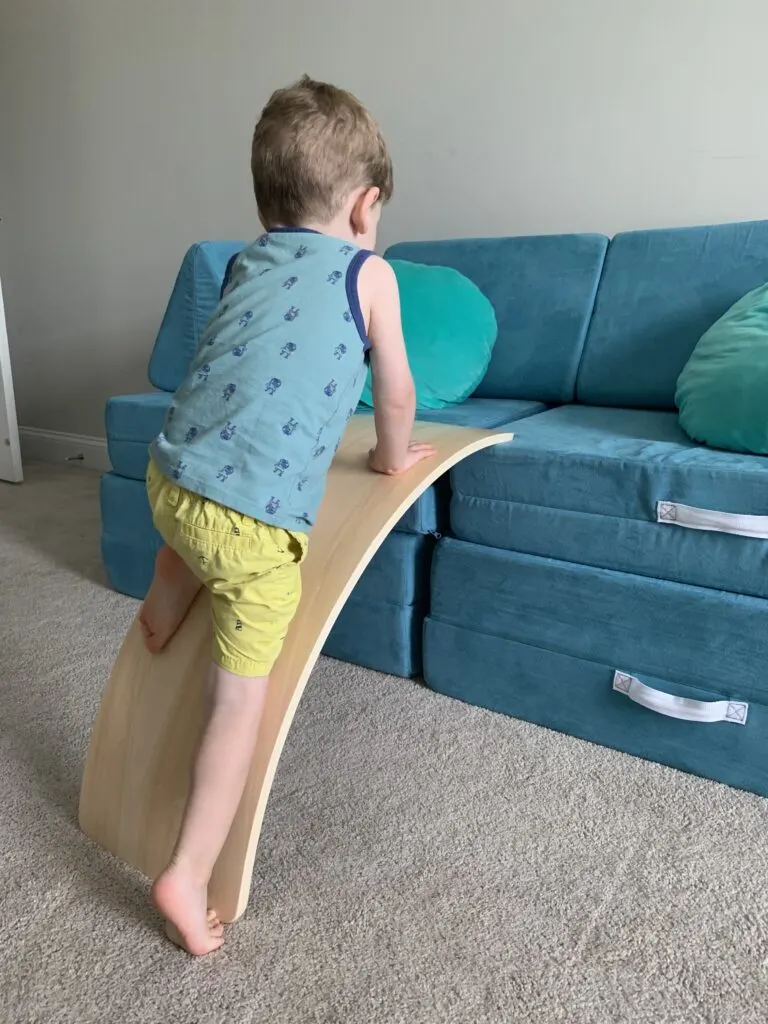 Put one end down on the floor and the other up on a chair, bed, or fort, and use it as a climbing ramp!
Slide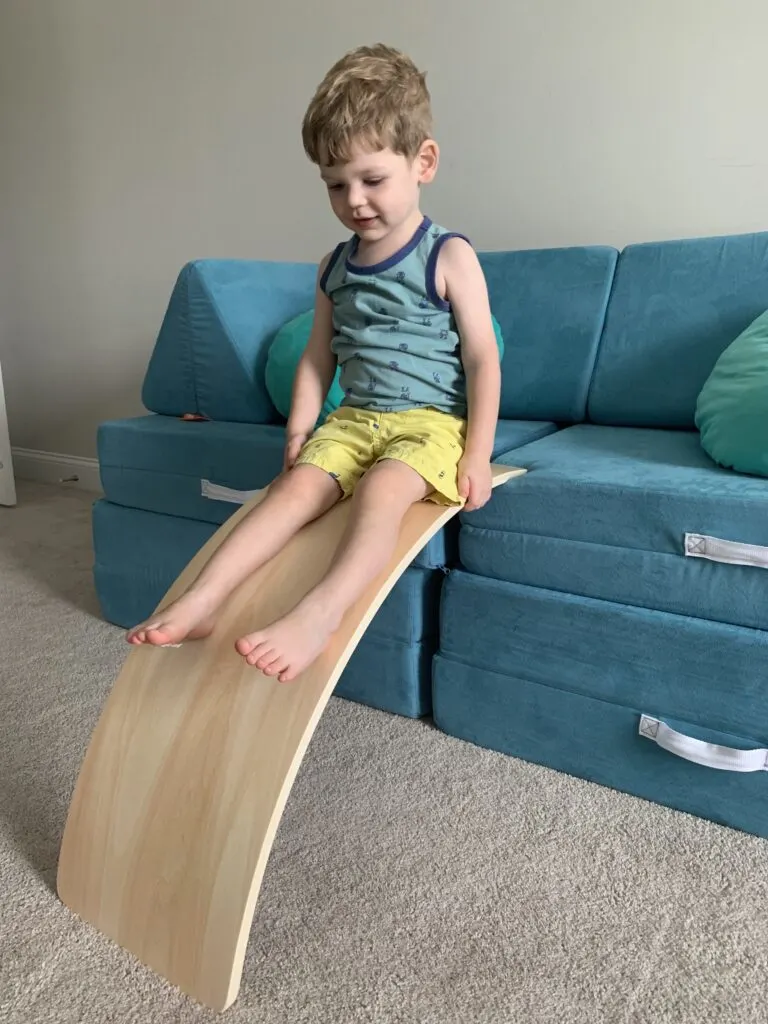 Flip the board upside down and use it as a slide! This works great off a couch, chair, or Nugget build!
Obstacle course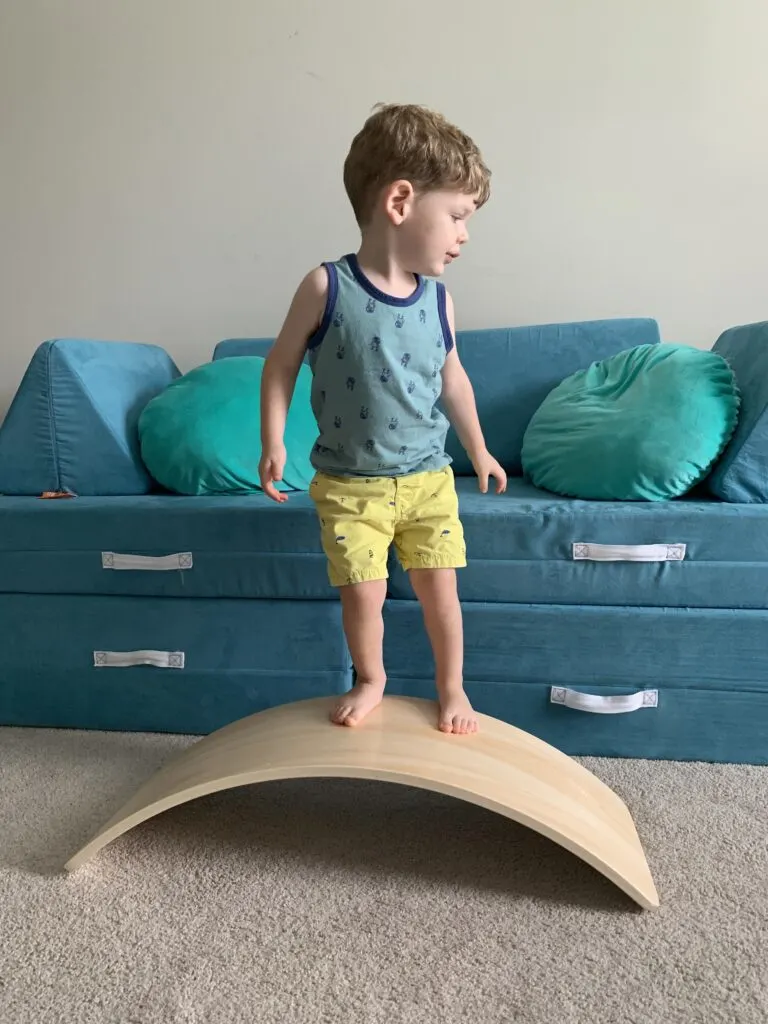 We love using our balance board as a part of an obstacle course. We usually use it as a "bridge", ramp, or slide off of our Nugget!
Here are all of my indoor obstacle course ideas.
What's your favorite way to use a balance board?