Love the idea of a Pikler Triangle but don't actually want one? Whether you want to save money, space, or a little of both, here are the best pikler triangle alternatives for your busy toddler!
Pikler Triangles are an extremely popular wooden Montessori climbing toy for toddlers.
They are triangular, upside down v-shaped climbers with rails like a ladder for kiddos to climb up and over. Read my complete guide to pikler triangles!
Pikler triangles are fun for kids and have a lot of benefits to their development and growth. But, they might not be the right fit for you.
Pikler triangles can be expensive to buy or build. They also take up a lot of space.
So, let's talk about some of the best alternatives!
See my favorite indoor climbing toys for toddlers!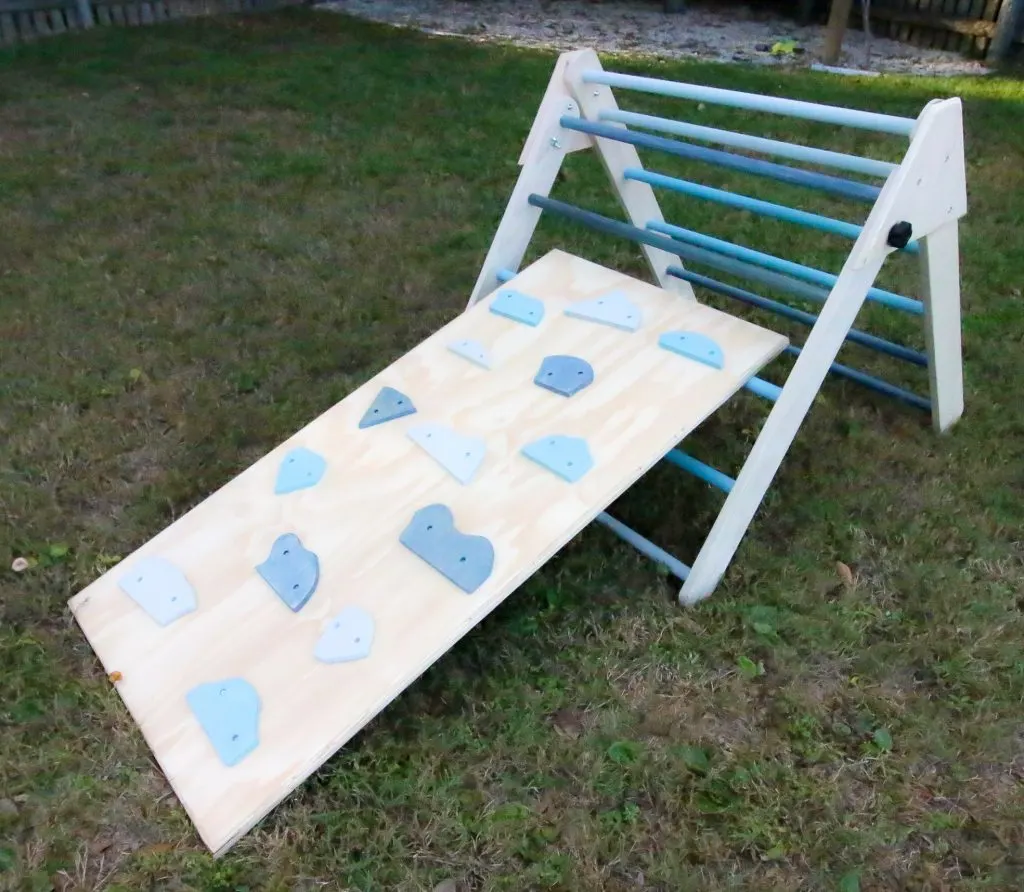 Is the Pikler Triangle worth it?
Pikler triangles cost hundreds of dollars – even if you build one yourself.
I absolutely NEVER advocate spending money you don't have or can't afford to lose. If you have a tight budget, look for a used Pikler or build your own.
If that is still over budget, don't buy one! It is NOT a necessity and has a fairly short lifespan depending on how big of a triangle and how many kids you have.
That being said, if you can afford the cost and have the space for it, Pikler triangles are definitely worth it. They are great for the one to two year old age range, especially, and really help them grow braver and learn gross motor skills!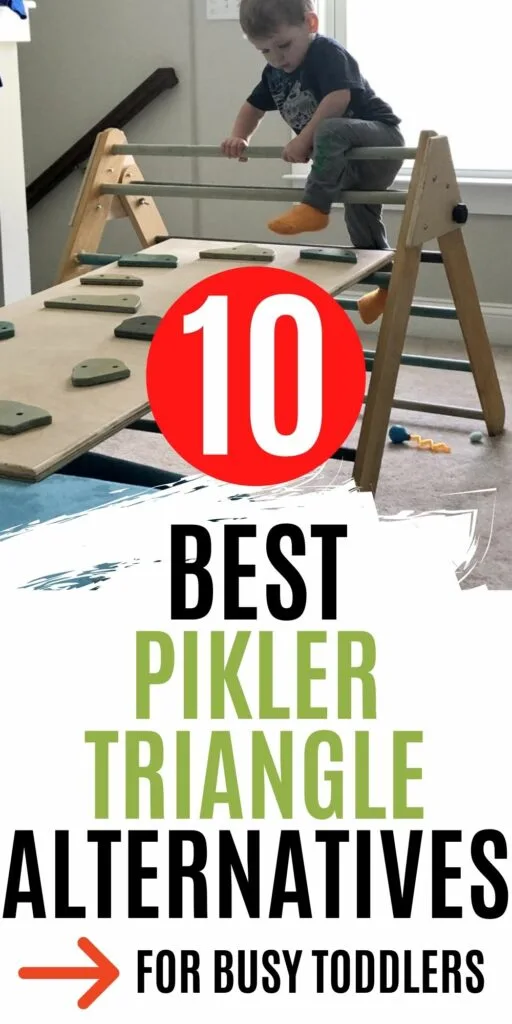 The best Pikler Triangle Alternatives
Looking for a Pikler triangle alternative? Here are my favorites!
If you have bigger kids
People say that pikler triangles work for big kids, but I once had my friend's (admittedly very tall for his age) 5 year old climb on ours and the rungs bent to the point that I thought they might snap and asked him (kindly) to get off.
If you have older kids, I'd stick to one of these options.
Climbing wall
We don't personally have an indoor rock climbing wall but it is a dream of mine! Be sure to do research to build it securely and it will be strong enough even for adults!
Indoor climbing gyms like the EZ play are extremely popular for bigger kids. They can include ladders, swings, slides, and monkey bars!
Outdoor jungle gym
If you really want to go big, get a swing set for your back yard. You can get swing sets big enough for kids of all ages and to accommodate a lot of kids at once.
Be sure to check Costco in the spring for the best deals on high quality swing sets.
Climbing domes can work in a large basement or playroom or outdoors. They allow for big kids to climb and you can even hang a hammock or swing underneath!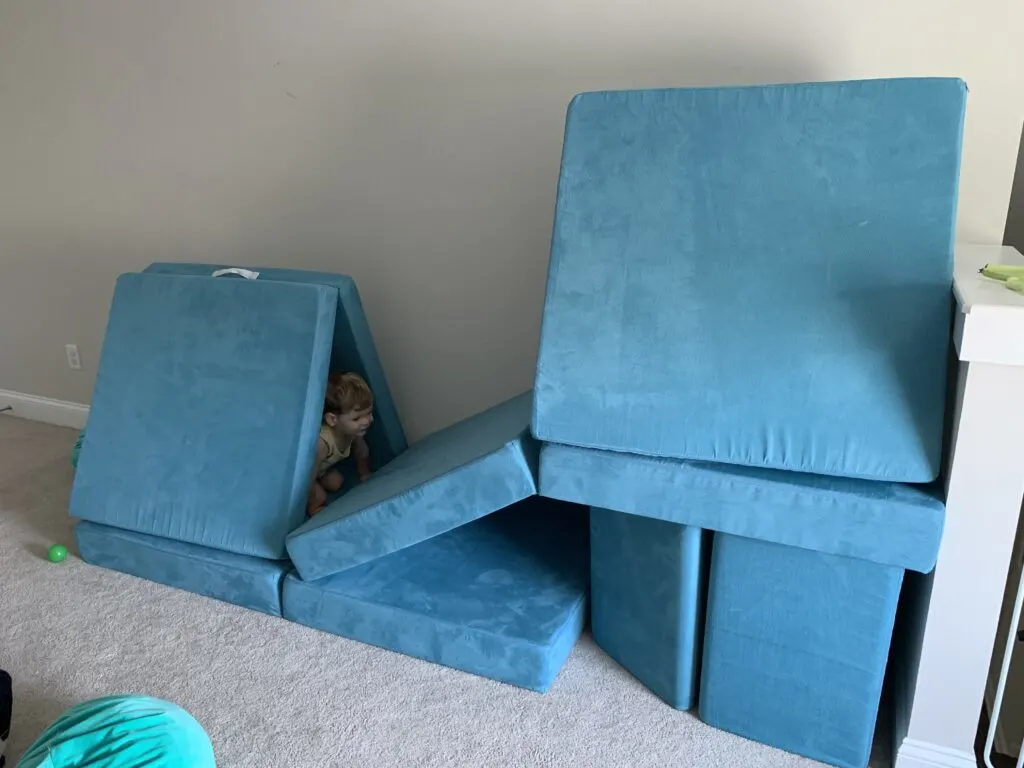 If you have a small space
If space is your big issue, focus on something that can be folded and put away or is multipurpose.
I talk about our Nugget couches a lot, but I'm including them in the small space section because they can be used as seating or even stacked as an ottoman, so they are really multipurpose.
I can't sing enough praises for how much my family loves our Nuggets. Read my full review here!
Stepping stones are a great kid's toy because they all stack within each other and can be stored in about a 12″x12″x3″ tall space.
My son LOVES these for playing "the floor is lava" and as a part of obstacle courses! The plastic ones can go outside, too!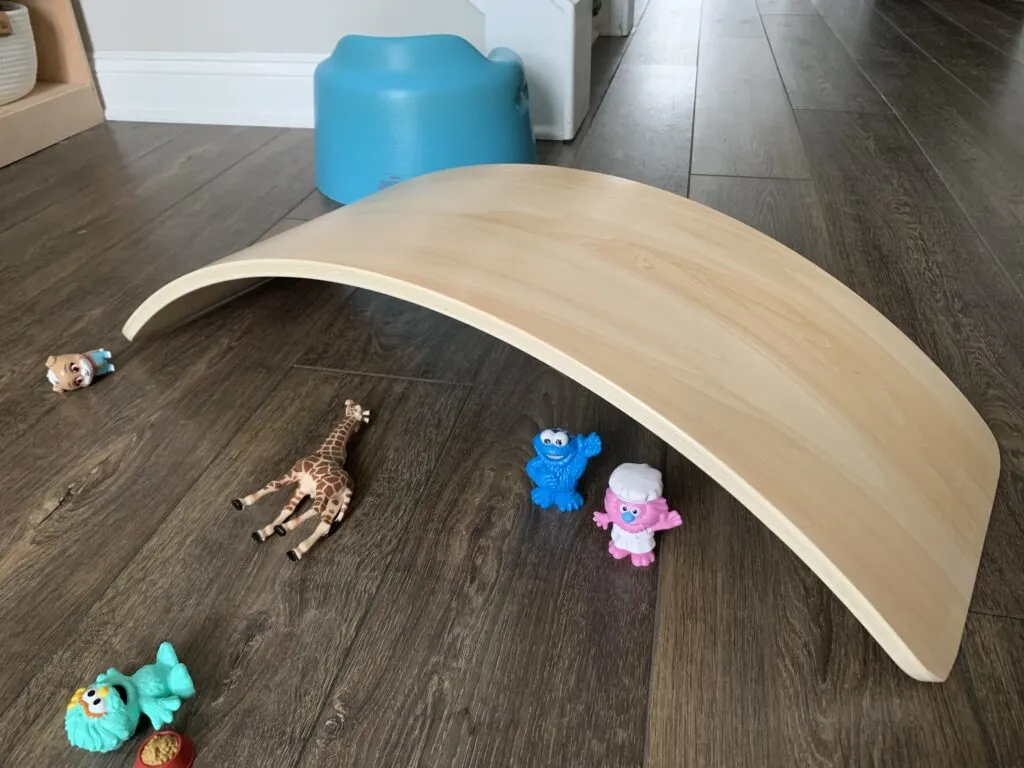 Balance boards are an arched piece of plywood that can be used to stand and balance on or use as a bridge for toy cars. They are easy to flip on their side to store or slide under a couch.
Honestly, our balance board is not a favorite toy around here, but some people claim to use them a lot. This is the exact wobble board we have.
Here are my favorite uses for a balance board!
If you have a small budget
If budget is your main limiting factor, here are a few options that you can do for under $50.
Also, always remember to look on Facebook Marketplace, Freecycle, or your local mom swap consignment stores. A lot of these indoor play toys are outgrown quickly and available for resale is really good condition!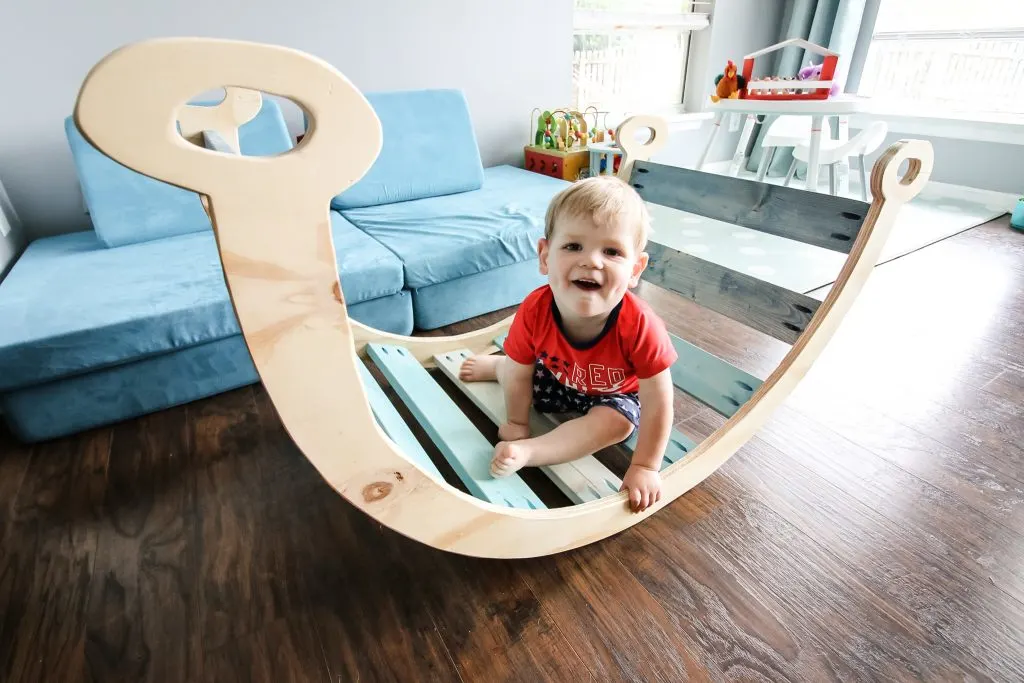 Climbing arches are also known as rocking arches and are very multipurpose. They can be a bridge, they can be climbed like a ladder. They can be a tunnel, lay a blanket over them to be a cave. Or, flip them upside down and rock like a rocking chair!
These arches are actually very inexpensive to build because they use slats instead of dowels for the rungs. Here are the plans that we used to build ours!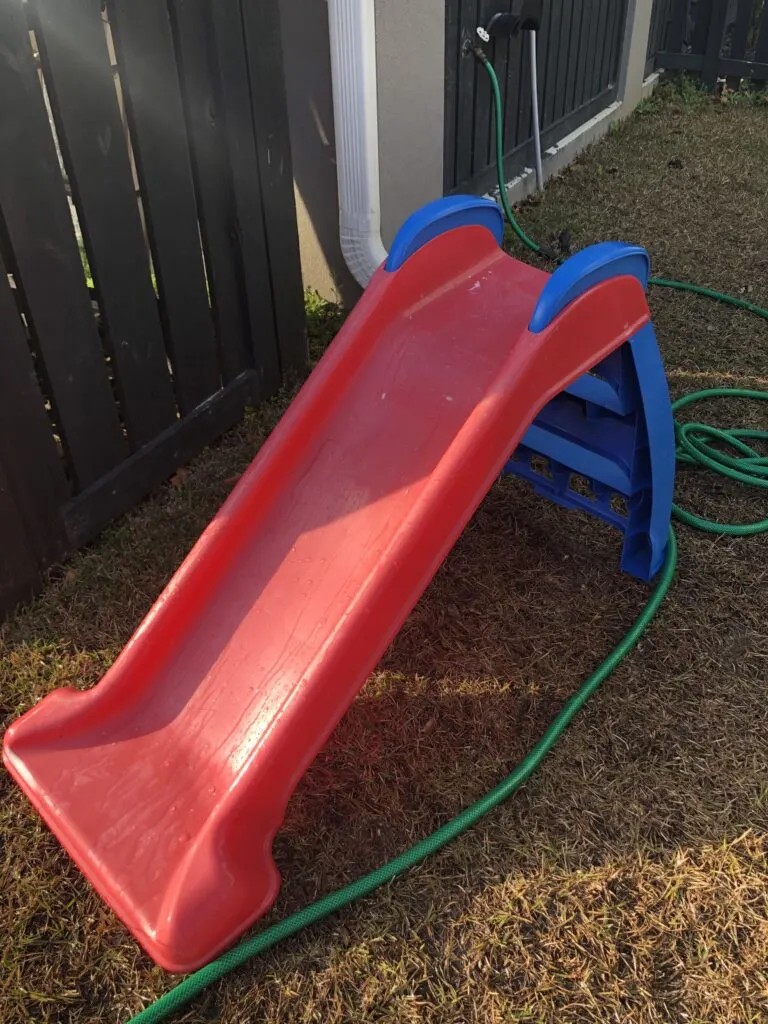 If your kid loves to climb and slide, get a little tikes slide! They are inexpensive and I've seen them at Kohls where you could use Kohls cash in the summer.
These can go indoors or out. We keep ours outside and it has faded a little in the sun. Our friends have theirs in their playroom!
Indoor swings can be as simple as a wood board with holes drilled into it or a more complex fabric cocoon style.
Be sure to hang swings securely in a ceiling joist and to always supervise kids while using them, they can obviously be dangerous if a kid falls or gets caught on a rope.
What's your favorite Pikler triangle alternative?!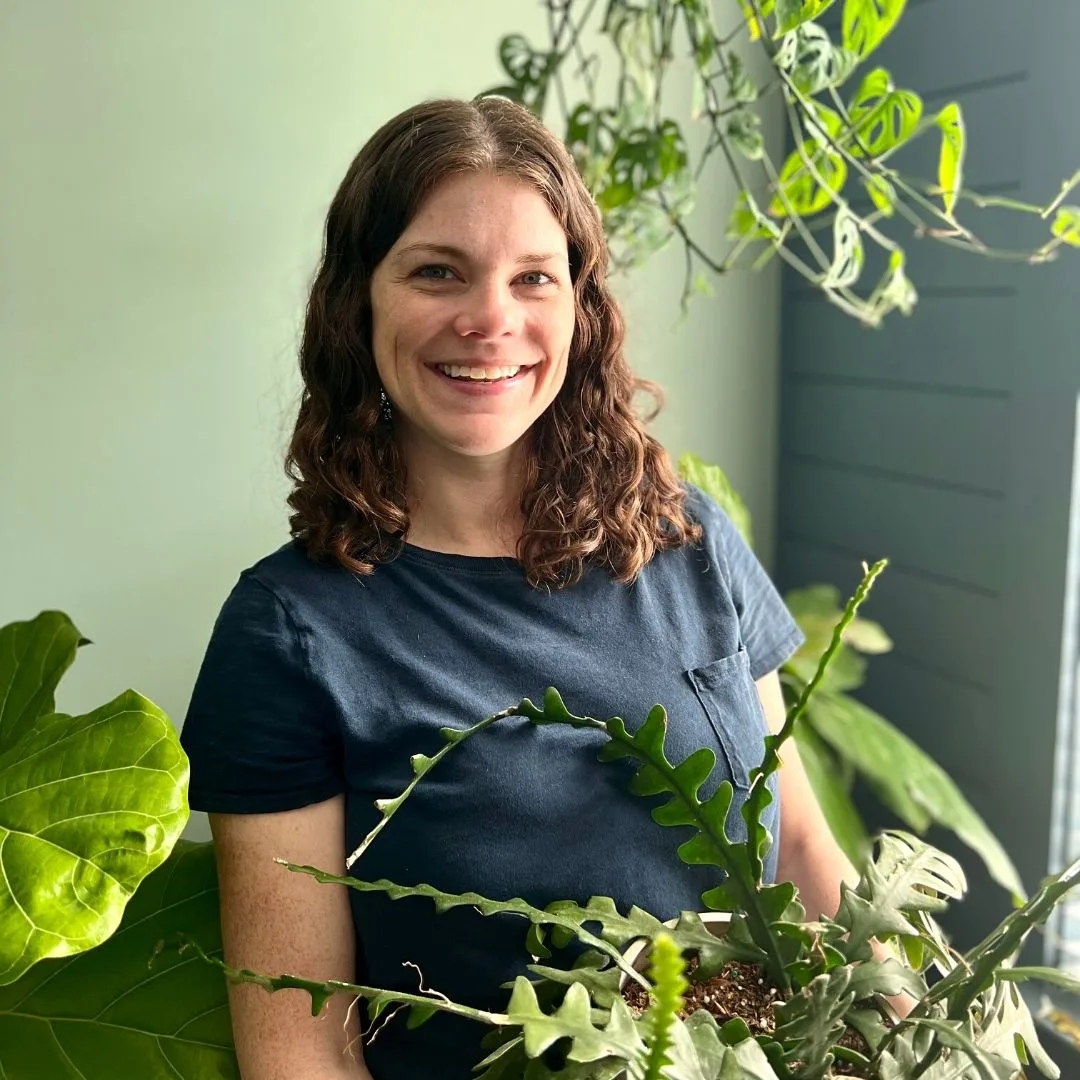 Hey there, I'm Morgan, the creative mind behind CelebratingWithKids.com! As a parent of two lively little ones, I've made it my mission to turn ordinary days into extraordinary adventures, sharing playful activities, thoughtful toy reviews, and delightful printables to help families celebrate every moment together. 🎉👨‍👩‍👧‍👦🎈