Wondering if you should get a pikler triangle for your child? Here are some of the major benefits! Then, consider making your own!
Wooden kid's toys are all the rage currently. They are a bit of a throwback to the good old days, plus they feel more natural, organic, and often blend better with home decor than colorful plastic toys.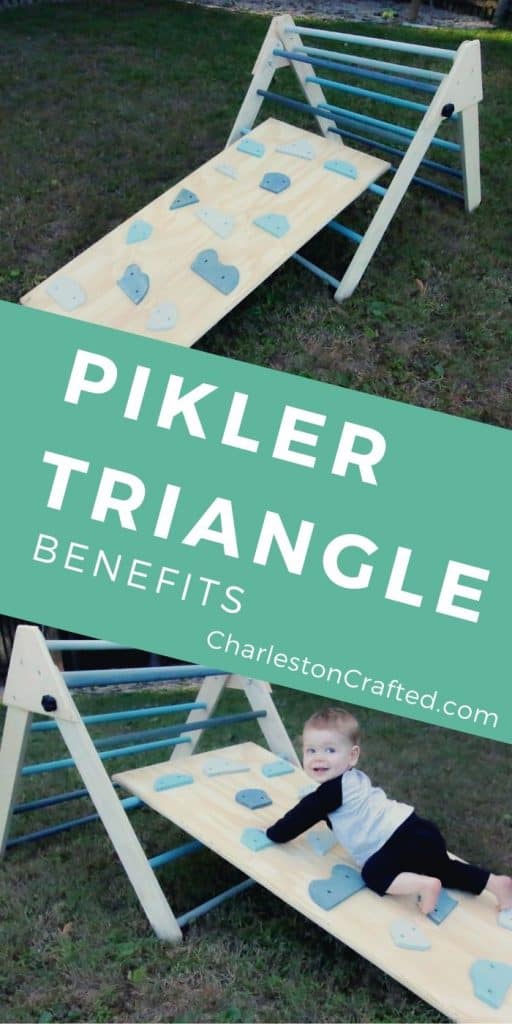 What is a pikler triangle?
A pikler triangle is a wooden climbing frame for toddlers and small kids. It's like a mini jungle gym! You can use it inside if you have a large room or outdoors.
While play sets and jungle gyms are designed for older kids, pikler triangles are specifically designed and made for toddlers and small kids to be their first climber.
Commonly considered montessori toys, the Pikler triangle was actually invented by Dr Emmi Pikler.
These climbers were designed to allow babies to discover their own abilities with a lower risk than, say being placed on full sized playground equipment.
Pikler triangle climbing frames often come with ramps, climbing walls, and slides!
Read my complete guide to pikler triangles!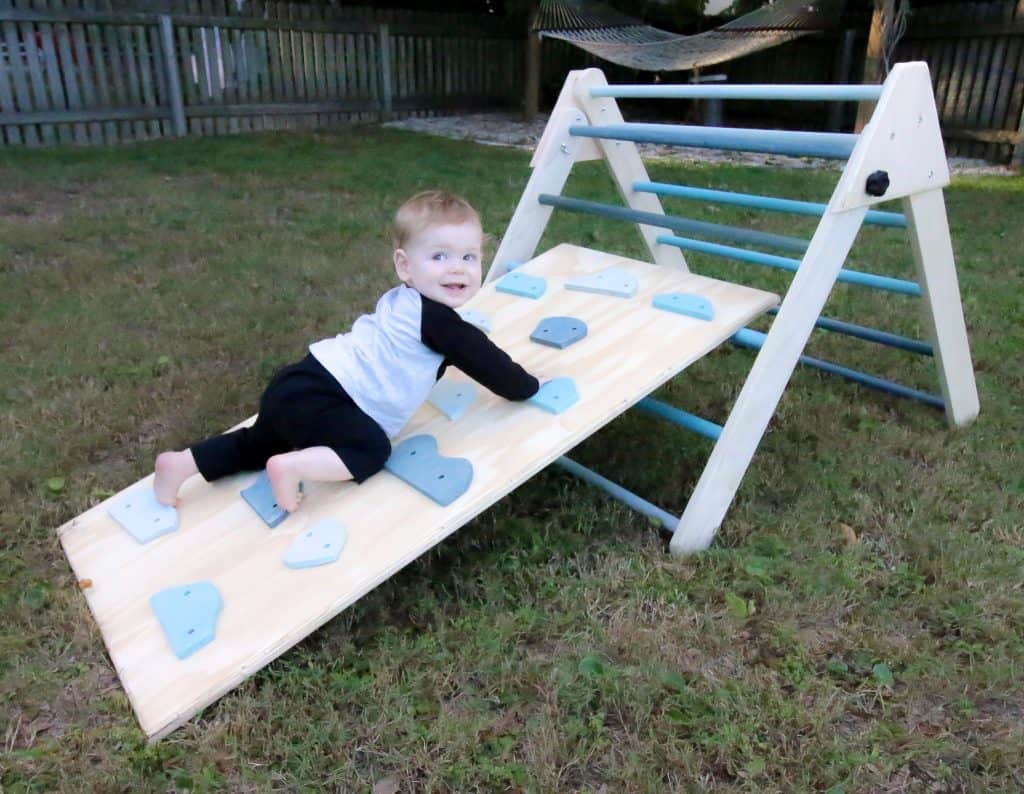 What are the benefits of a pikler triangle?
There are tons of pikler triangle benefits for you and your kids!
The climber encourages kids to develop their gross motor skills. In my experience, it helps them become more adventurous and brave!
Toddlers naturally LOVE to climb! A pikler triangle gives them a safe place to climb and teaches them the fine motor skills and gross motor skills needed to climb safely.
Having a safe place to climb teaches them how to climb safely – so they are less likely to get hurt climbing other things!
Plus, a pikler triangle will keep your kiddo happy and busy, which makes every parent happy!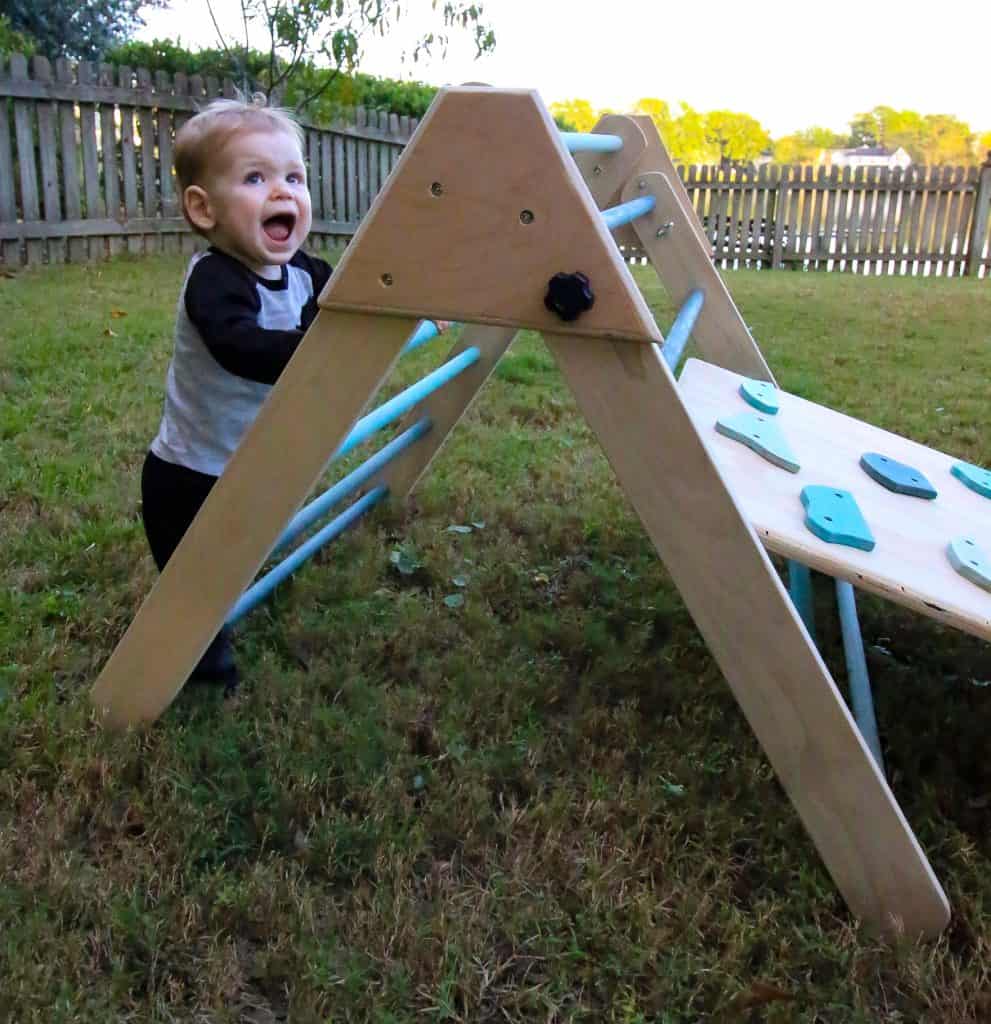 Is the pikler triangle safe?
The pikler triangle was designed to encourage independent play. Kids – especially toddlers – should be supervised. Place the triangle on a soft surface – not concrete. Rug, carpet, or grass is best.
NEVER leave a kid alone on a pikler triangle. They should be supervised – but allowed to climb independently.
Let your kids explore the pikler triangle on their own terms – do not push them to do more than they are ready to do!
Check out my list of the best kids indoor climbing toys!
What age is a pikler triangle good for?
Pikler triangles can be used by babies as small as 6 months and kids as old as 4 or 5 years old, depending on their weight.
My friend's first grader climbed on ours and the wood was definitely bending under his weight. So, no one too heavy for a 1″ wood dowel to hold!
We gave our son his triangle for his first birthday. He did not walk until he was 15 months old, but he was able to pull himself up with the pikler triangle and crawl up the ramp before then.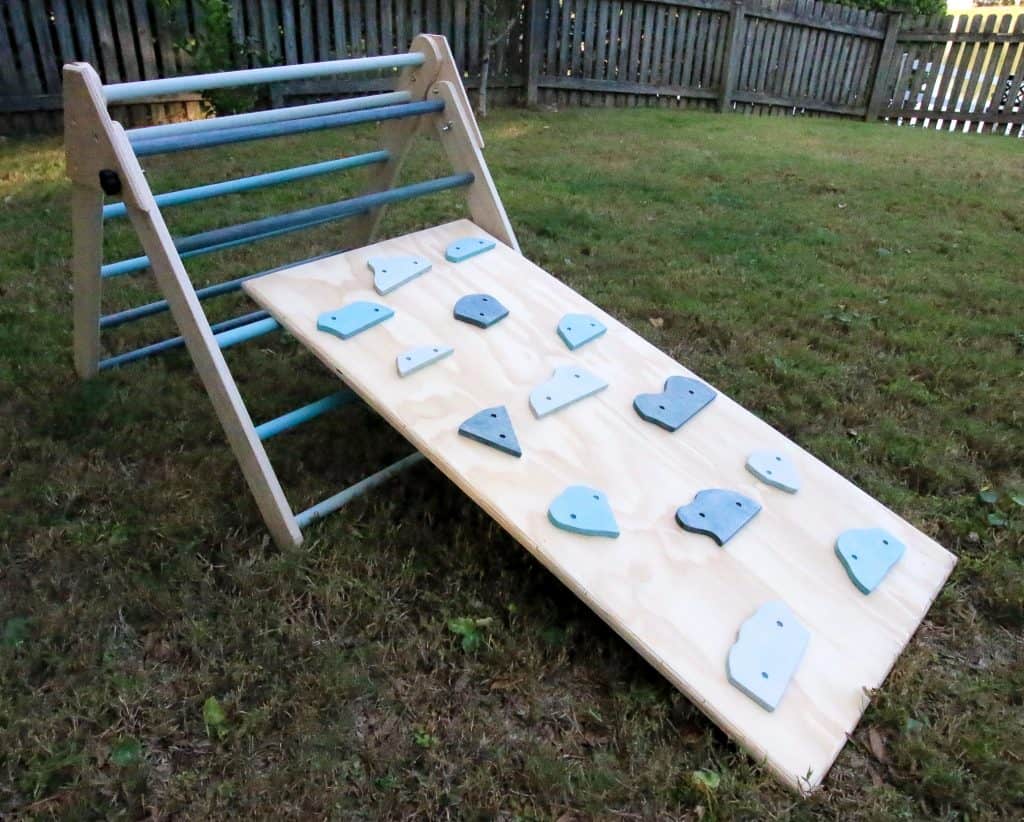 How can I make a pikler triangle?
Building a pikler triangle is a medium-level woodworking project. But, it is very doable and can be made for under $100. We have full printable PDF plans on how to make a foldable pikler triangle!
How much does it cost to make a pikler triangle?
We spent just under $100 on materials to make our pikler triangle + a climbing ramp with "rock climbing" grips. This is assuming that you already have (or can borrow!) a few basic woodworking tools.
How can I build a ramp or climbing wall for my pikler triangle?
Whether you build or buy a pikler, a climbing wall wooden ramp makes an excellent and easy addition to your set up! Here is how to build a DIY Pikler climbing ramp.
Where can I buy a pikler triangle?
We recommend the Piccalio brand! Check out our full Piccalio Pikler Triangle review!
Pikler triangles are also great handmade items. Your best bet for buying one is to shop on Etsy. Beware: you need to select the options that you prefer to see the true price AND add in shipping costs. It's much cheaper to build your own!
SHOP ALL PIKLER TRIANGLES ON ETSY
You can also buy a pikler triangle on Amazon.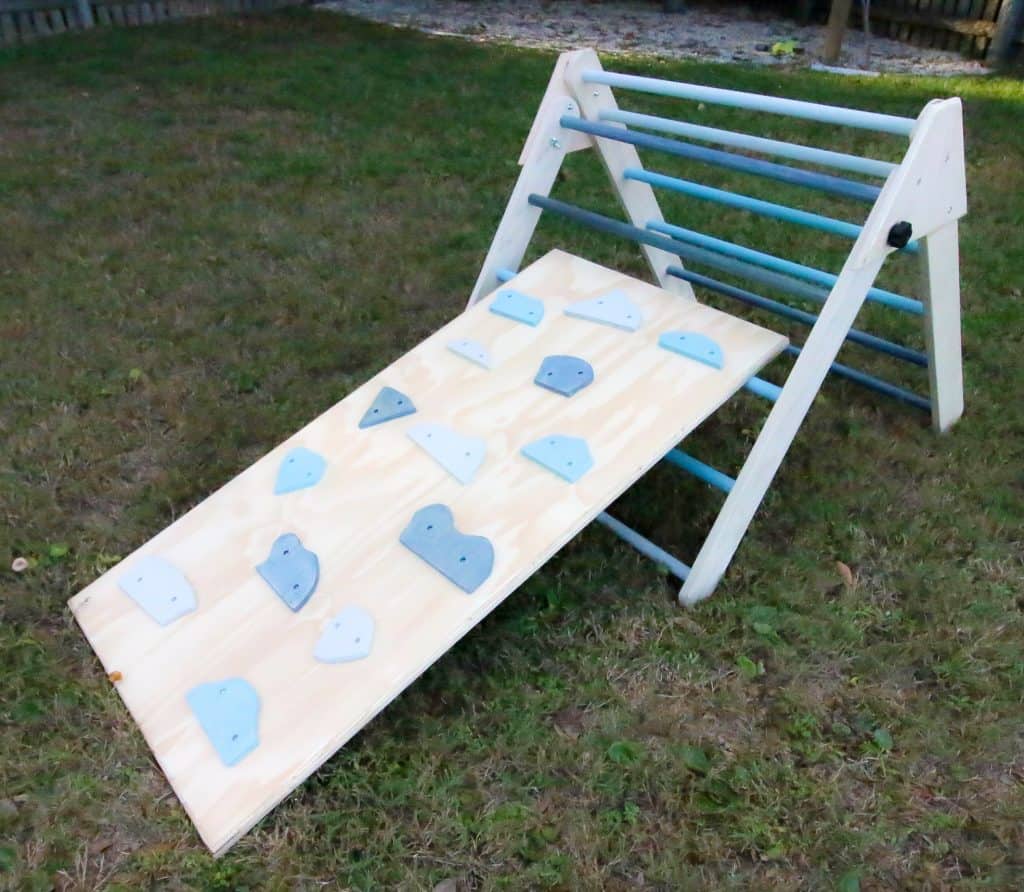 Where can I buy a used pikler triangle?
I would suggest checking your local Facebook Marketplace for a secondhand pikler triangle. Be sure to check out our best tips for buying on Facebook Marketplace.
Any more questions about pikler triangles?