Want a pikler triangle for your kids? But yikes at that price tag! Let's talk about why they are so expensive!
Pikler triangles are a super popular climbing toy for toddlers and preschoolers.
You might see one on instagram and think, oh I need that for my playroom!
Then you hope over to etsy or amazon and get sticker shock.
YIKES! Why are these simple looking toys so pricey?!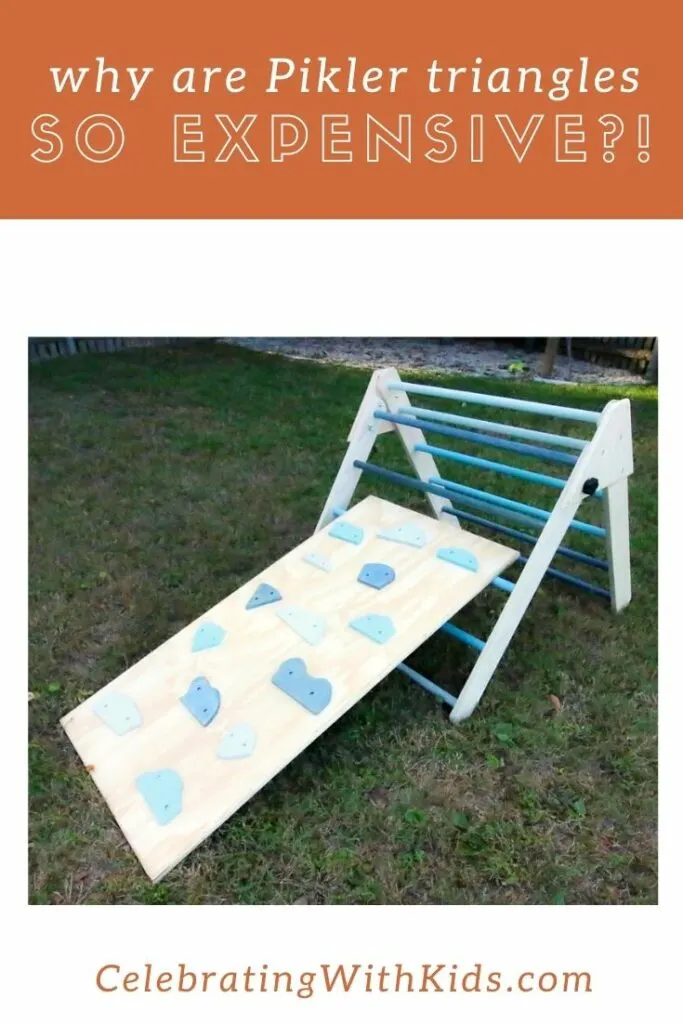 Why is a pikler triangle so expensive?
Pikler triangles are pricey because of material cost, skills to make, and shipping costs!
Material costs
We build our pikler triangle and arch (here is the woodworking plans!) At the time in 2019, it cost about $100 in materials to make the triangle. This didn't include tools or supplies (like glue and wood stain), just lumber!
Since then, the pandemic happened and lumber prices skyrocketed.
Basically, wood is expensive. Big hardwood dowels are VERY expensive.
Skills to make
Pikler triangles are usually hand made and take a lot of time and skill. You are paying for a skilled woodworker's time!
Shipping cost
Pikelr triangles are huge. Even if they fold down, they are large. And, they are made of heavy wood.
It's not unusual to see shipping costs over $100 for a triangle! Even more if you want more pieces!
For this reason, it's cheaper to buy locally from a local woodworker or on Facebook marketplace!