Wondering if pikler triangles are safe for your kids? Here's everything to keep in mind before buying one!
Pikler triangles are an ultra popular climbing toy for toddlers! They help kids develop gross motor skills in a safe way!
If your toddler is already climbing on things – like the couch – then they would probably climb on a pikler!
Here's everything you need to know about Pikler triangles.
Pikler triangles are designed as safe places for babies and toddlers to climb. They are designed to encourage kids to climb there instead of on the back of the couch or other dangerous places.
These are the 4 types of Pikler triangles!
It's important that it be OK for your kid to slip and fall. You want them to learn how to climb – and a part of climbing is falling.
They will learn to catch themselves and climb more carefully and safely this way.
Pikler triangles are really low to the ground, so even if a kid slips and falls off of one, they won't have far to fall. Still, I wouldn't put it on concrete – having a rug underneath definitely is a good option for a softer landing spot.
Here are some great Pikler triangle alternatives!
Younger kids will need more supervision while climbing compared to older kids, who will run right up and climb without waiting for you!
Over-confident toddlers are actually more likely to fall in my experience than very cautious smaller kids! So, be sure to supervise everyone regardless of age and confidence level.
Be sure to check out my Pikler triangle FAQs!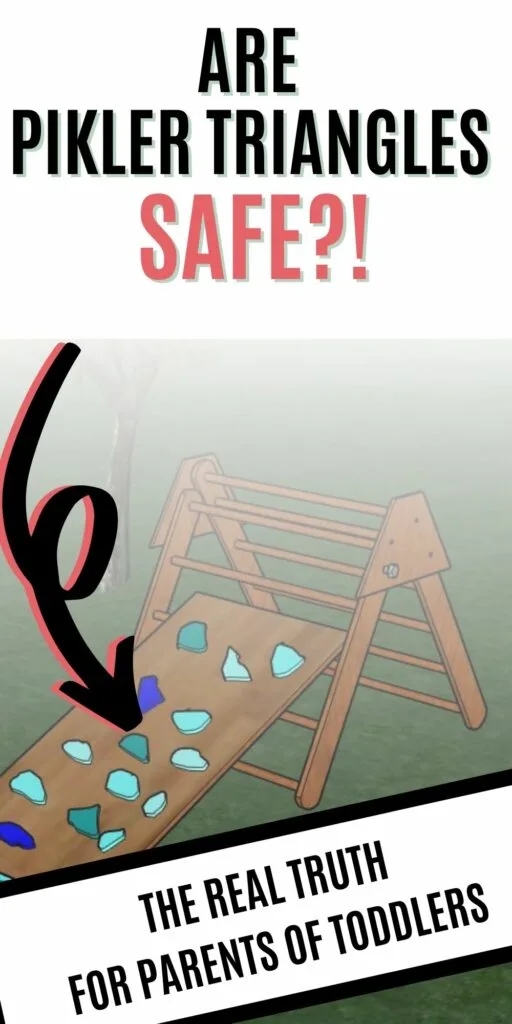 Are Pikler Triangles Safe?
Yes – Pikler triangles are safe when used properly. That means in a supervised situation!
Pikler triangles are meant to foster independent play, but unsupervised play is when most accidents tend to happen.
Here are some Pikler triangle safety tips:
Make sure the triangle is set up on a surface that it will not slide around on
If you have a climbing wall, climbing ramp, or slide, be sure it is securely in place and will not slide
Don't set the climbing wall or slide up too steep!
Remove anything hard or sharp from around the triangle so if someone falls they won't land on it
Warn kids to watch their fingers if rocking on a climbing arch
Place a soft surface under the pikler climbing frames – such as a rug. Crash pads and Nuggets can be tempting, but are dangerous if the climbing triangle can't sit securely.
Barefoot is best – socks can be slippery
Always wipe it dry if it is damp (such as for use outdoors)
Don't let big kids or adults climb on the triangle – they are not meant for people of large size and the bars can break
Never force kids to do things they don't feel comfortable or safe doing!
Any other Pikler safety tips?