Happy Halloween! Here are a ton of Halloween sensory bin ideas to make for your kids this spooky season!
I am here for making Halloween into a full month celebration.
One of my favorite ways to celebrate holidays is with fun sensory bins! My kids are 1 and 2, so sensory bins let them dig in, get messy, and laugh a lot.
I really enjoy watching both my kids play with these bins.
My 2 year old son amazes me with how smart he is getting – counting, sorting, and really understanding what's going on!
My 1 year old is starting to really enjoy playing and sensory bins are one of her first opportunities to explore in a safe and controlled way.
Anyways, if you want to plan weekly – or even daily – Halloween activities, keep scrolling for a ton of ideas to put on your calendar!
How do you make a sensory bin for Halloween?
To make a sensory bin for halloween you need to combine a filler base with spooky Halloween mix ins in a bin or tray!
Halloween sensory bin filler ideas
Filler is the base of your bin, that add ons are mixed into. Spooky Halloween sensory bin fillers include:
Black beans*
Water beads*
Cooked spaghetti
Dry dyed rice
Dry dyed pasta*
Spider webbing
Pumpkin seeds
Kinetic sand
Play doh
Water
Jello
*Beware that these items can be choking hazards for mouthing toddlers and should be very well supervised or saved for older kids
What do you put in a Halloween sensory bin?
You can mix anything spooky into your sensory bins, but some ideas include:
Plastic spiders, snakes, bugs
Eyeball balls
Letters or shapes
Witch finger toys
Googley eyes (large)
Coiled pipe cleaners
Wooden shapes
Candy
Glow sticks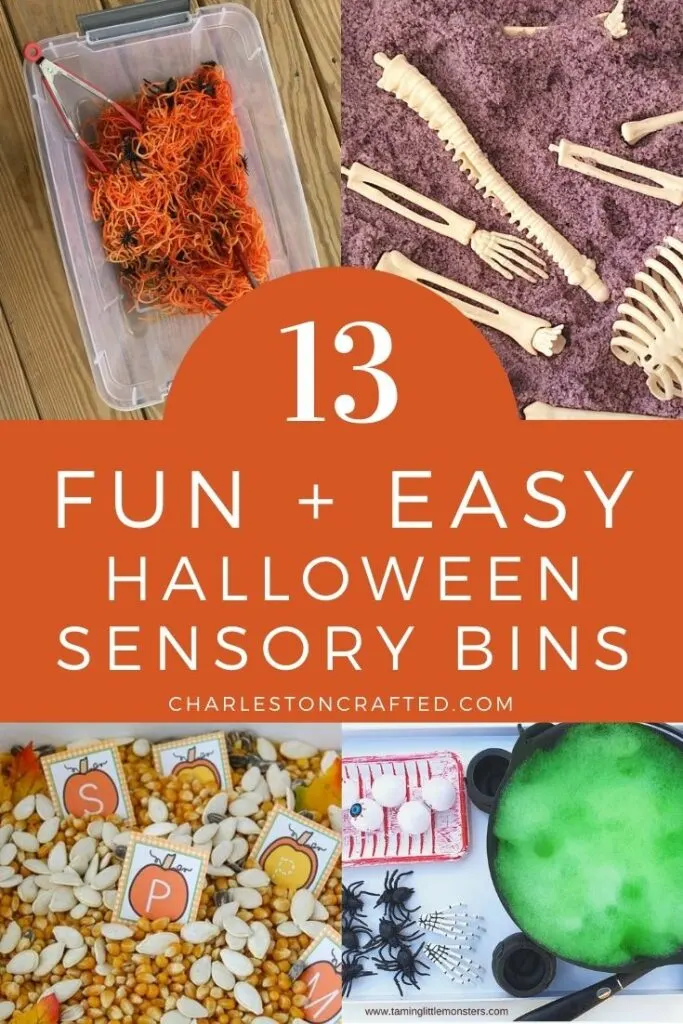 What makes a good sensory bin?
A sensory bin is any container filled with fillers for babies, toddlers, or preschoolers to play with and explore. A good sensory bin is large enough for kids to play in without pushing the contents out of the bin!
Sensory activities help kids:
Develop fine motor skills
Learn to use their imagination
Practice skills like sorting and counting
Here are some great halloween ideas for sensory bins!
Halloween Sensory Bin Ideas
Looking for fun Halloween sensory bins? Here are a ton of ideas to inspire you!
What sensory play are you doing for Halloween fun?!
More Halloween ideas: