Looking for halloween boo basket ideas for toddlers and preschoolers? Here are some ideas for non-junky things your kids will love!
Halloween is one of my favorite holidays precisely because it's not all about gifts, but instead all about fun. So, I feel like I should be anti-boo basket.
Maybe I am! But I love the idea of surprising my kids with things. For me, little treats are somehow different than feeling pressured or obligated to bring presents.
What I'd say about Boo Baskets is that I would NOT deliver them on Halloween.
Halloween is enough. There is enough candy and excitement and sensory overload.
But, if you want to turn halloween into a month long affair, you could have a basket for each kid and occasionally have a special halloween treat for each of them in their baskets.
Maybe most days it's one piece of candy, but occasionally you can pepper in these extra special treats.
Treat your boo basket like more of an activity advent calendar to make it extra fun for your kids and keep them busy on these long fall mornings!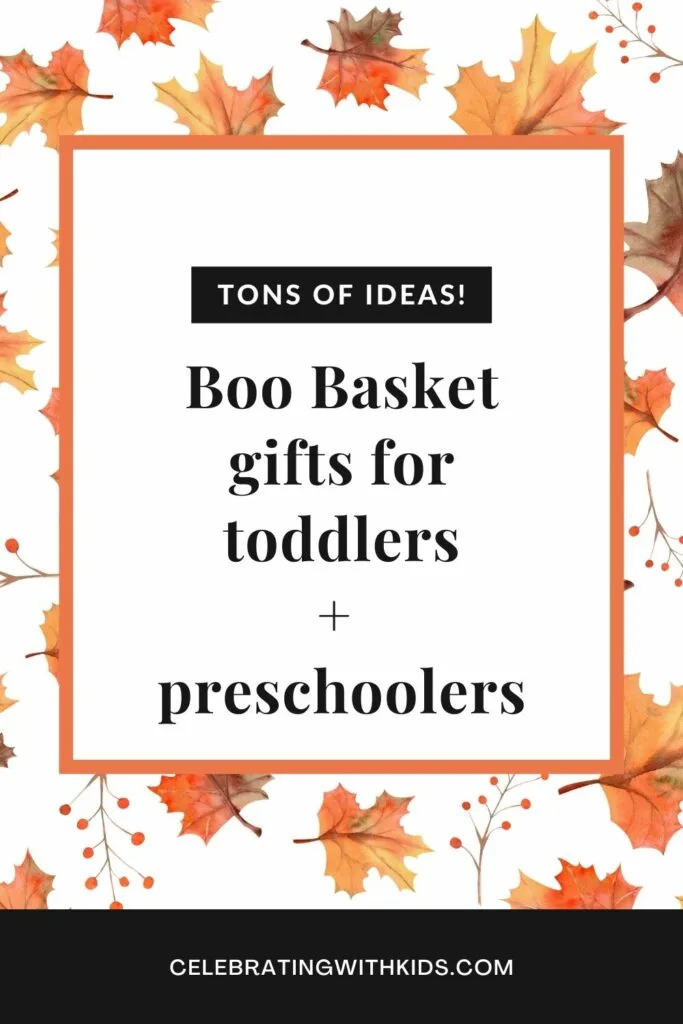 Toddler Halloween boo basket ideas
Halloween baskets for kids
You can use any simple bowl or basket for a boo basket. Or, use their halloween trick or treating candy baskets. Make them double as halloween gift baskets to get your moneys worth.
If you want to be extra, you could get pumpkin shaped baskets.
Halloween candy
I'll just say this – you can surely give your kids candy. But they are going to get SO MUCH. I dunno, I'm not anti-sugar by any means, but I don't feel the need to pile on any additionally.
Halloween figures
If your kids are into imaginative play, consider getting some Halloween play figures. You could put them in one big basket or space them out daily over a few days!
Halloween books
Another great option is books! We do a book a day for our Christmas Elf on the Shelf advent calendar, so I think that would be a cool option for Halloween, too!
We use the same books every year and then pack them up into the attic until the next year!
Halloween movies
Get your favorite halloween movies out and use them as a gift!
Or, if you are more of a streaming family, write down the name of a movie or halloween special and put that in the basket to watch!
Halloween play doh or sensory gifts
Halloween craft kits
My 2 year old LOVES little craft kits. Places like Michaels, Joann Fabrics, and Target Dollar Spot have them this time of year for usually a dollar or two each.
His favorites are the wooden cut out that you color with markers or the fun foam characters that you peel and stick to assemble!
Check your favorite craft store for small, cheap crafty items that will seem special to them! Bonus if they can double as halloween decor for your playroom or home for the rest of the month.
Clothing
I dunno if your kids get excited about clothes (mine most certainly do NOT) but consider adding halloween themed t shirts, pajamas, hair bows, or anything they might enjoy!
More Halloween ideas: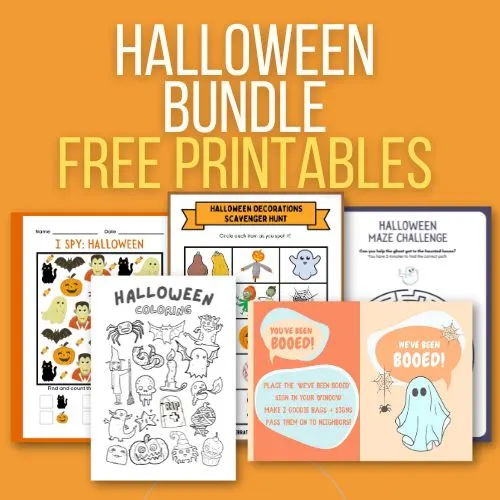 Any good ideas for fun Halloween boo baskets?