Looking for candy-free halloween treat ideas? Whether you have kids with allergies, a low sugar diet, or are just sick of candy, here are a ton of candy alternatives for Halloween!
Halloween is my favorite holiday and often it turns into an entire month of fun. That can mean a LOT of Halloween candy.
Maybe your kids have allergies, maybe they are low sugar. Maybe you are just trying to cut down on the candy halloween treats.
Personally, we let our kids eat candy (in moderation) but I understand that many people want or need candy alternatives for Halloween.
So, I have rounded up a lot of non-candy halloween options for a fun halloween – with less or no candy!
Have Halloween candy you don't want? Here's ideas for where to donate Halloween candy!
What can you give for Halloween instead of candy?
Your basic options for candy free halloween ideas include:
Small toys
Candy free baked treats
Glow sticks
Be sure to check out my DIY Halloween gift ideas for crafts you can make and use for neighbor gifts, non-edible halloween treats for school, or something similar.
Let's get more into it!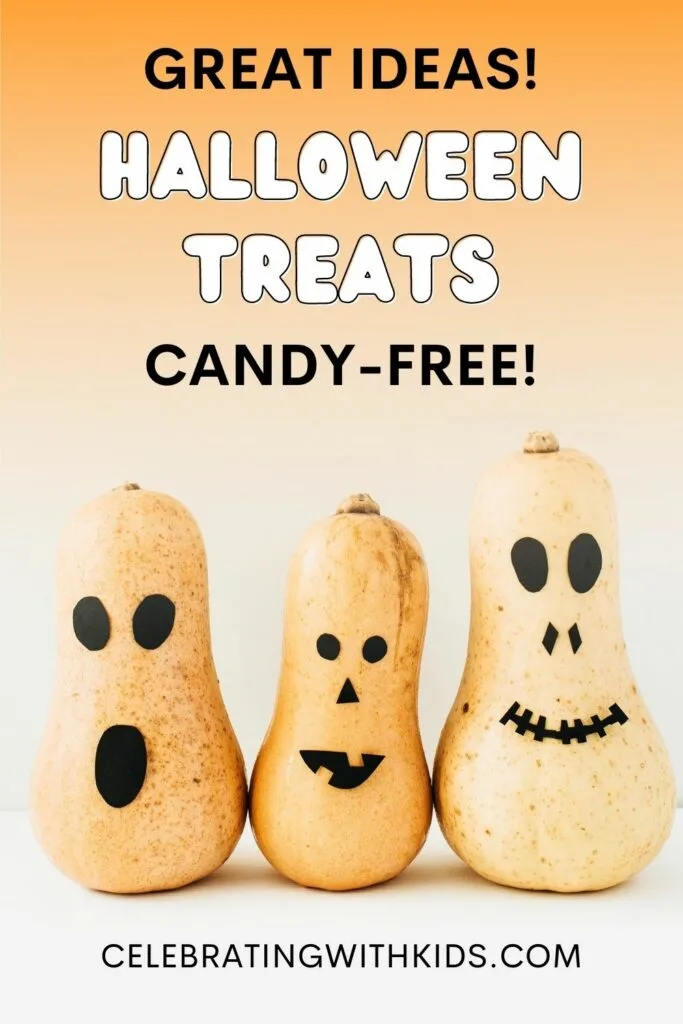 Candy-Free Halloween Treat Ideas
Stickers and tattoos
Kids go wild for stickers and tattoos. Plus, they are extremely cheap. You can buy big packs and separate or cut them apart to make them really go a long ways!
Craft kits
Look at craft stores – Michaels, Joanns, etc – for little craft kits. I love the wooden characters that you color with markers. My 2 year old LOVES these and would be thrilled to get them as a Halloween treat.
Mini play doh
You can also buy play doh in bulk and the little containers would be great for trick or treaters.
Play doh sensory jars
If you have a smaller group to get treats for, consider play doh sensory jars or kits! These are more expensive than you'd spend on random trick or treaters.
You could also DIY these kits – if you want to make a bunch, shop the small items in bulk for a good deal!
Wooden toys
Wooden toys are another thing that would be great if you need just a couple of special non-edible halloween treats. Here are my favorite wooden halloween toys!
Finger puppets
Finger puppets are super cute and perfect for toddlers! Go for halloween characters or spooky witch fingers!
Halloween crayons
Make molded halloween crayons or purchase them on Etsy! Perfect to pair with a coloring book for a larger treat or bundled in treat bags as a candy-free trick or treat alternative!
Bubbles
You can get lots of little bubble packs and they would be huge hits for younger kids or as a party favor or in a treat bag!
Mini-Legos
Mini lego figurines would be a huge hit for Halloween, especially if you just had a few, older kids trick or treating!
Light up toys
Anything that lights up will be a hit on Halloween night. You can buy light up necklaces, bracelets, and rings in bulk.
Mini coloring books
Coloring books will last way longer than a piece of candy. These mini coloring books are a great deal!
I love coloring books because kids use them then you can recycle them so they don't turn into plastic junk on the floor of our playroom.
My favorite candy-free treats to hand out to trick or treaters:
Juice boxes
Rice crispy treats (wrapped)
Prezels, chex mix, etc
Beer for the parents 🤣
Ways to get rid of your kid's candy
Let them trade it in with you for big or small toys or something that would excite them
Tell neighbors in advance and give them non-food treat to give your kids (great for kids with allergies, if you are just anti-candy this could be weird or if you don't know your neighbors)
More Halloween ideas: