Have leftover Halloween candy that you don't want to eat? Here are some ideas for where you can donate it to put it to good use!
I love Halloween and a big part of it is candy.
I always go to Walmart and buy WAY TOO MUCH. It's just a fact that our house doesn't get thaaat many trick or treaters. Not 3 big bags worth. But every year I buy it!
And the problem with those big bags of candy is that they are always mixed together with candies you love and candies you don't really want to eat.
At least as an adult, I'm not gonna waste my time eating candy I don't like.
If you have a similar problem and end up with leftover Halloween candy, you might feel bad throwing it in the trash. I know that I do!
So, instead, you can donate it!
Here are the best places to donate leftover Halloween candy!
Here's my guide on where to donate Halloween costumes!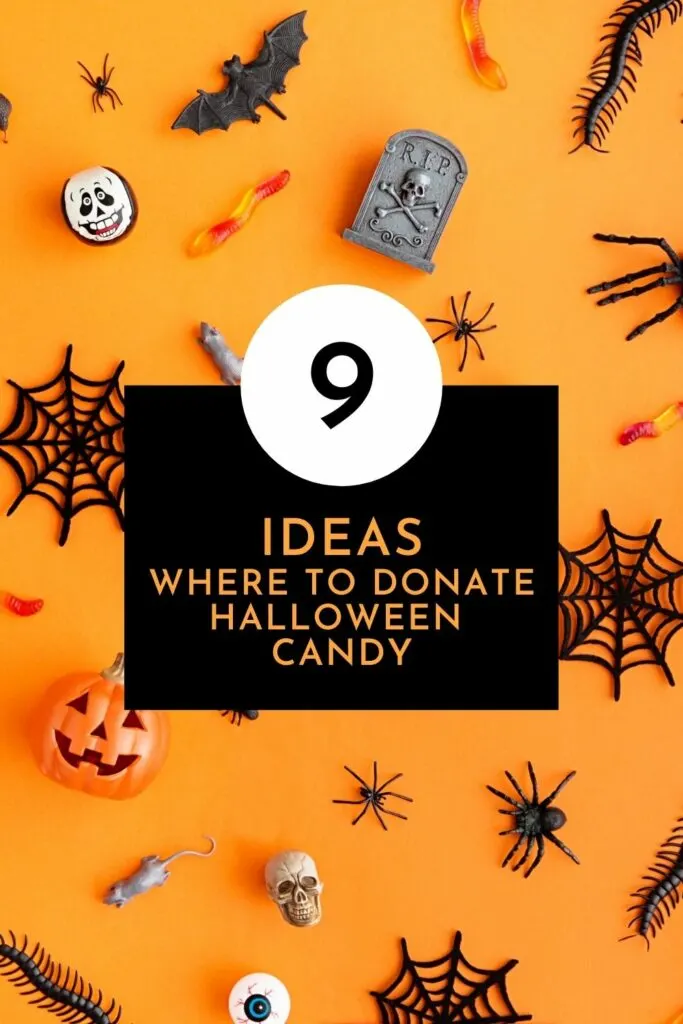 Where to donate Halloween candy
Teachers
Teachers, especially elementary school teachers, often have treats that they use as behavior rewards in their classrooms. Leftover candy can be perfect for that!
If you don't know a teacher, post on NextDoor or a neighborhood Facebook group and ask if anyone is collecting candy!
Fire stations
My neighborhood actually has a fire station in it and the neighbors love giving leftover candy to them. I would call first, but definitely check and see if they'd like your candy!
Food pantry
Some food pantries might take individually wrapped candies. Once again, call first, but it could be great for your trick or treating extras to go out with food packages.
Ronald McDonald House
Many Ronald McDonald houses accept excess Halloween candy from kids. Consider volunteering to prepare or drop off a meal and bringing the candy when you do so.
College Campus
This is random, but consider taking candy to a college campus. The library, or a a dorm or school would work. I lived in a sorority house and alumni occasionally dropped stuff off and it always got eaten!
Treats for Troops
Treats for Troops is a program that sends candy to deployed service men and women.
Halloween Candy Buy Back
Halloween Candy Buy Back is a program of dentists offices who "buy" Halloween candy from kids. They don't pay you for it but trade it for toothbrushes or little treats from their treat stash.
This could be cute if you are trying to teach your kids about oral hygiene.
Operation Shoebox
Operation Shoebox sends shoebox sized care packages to soldiers overseas. They actually accept candy all year long!
Operation Gratitude
Operation Gratitude sends packages to troops stationed overseas. They provide candy (and other care package type items) to Deployed Troops, Local Military Units, Veterans, and First Responders.
Where else have you taken candy donations?