Wondering where to donate old Halloween costumes? Here are 10 ideas to keep those gently used costumes out of the landfill!
Halloween is SO FUN. But, if you have growing kids, you might have an overflowing storage bin of too small costumes.
Because what kid wants to be the same thing two years in a row?
Ok, I might have been the pink power ranger twice. But most of the time, kids want a brand new costume each year.
Once you wear that costume trick or treating, it's old news.
But, you don't want to throw it in the trash to sit in the landfill for generations to come.
If you have great costumes, in good working shape, with no missing parts or damage, you should absolutely donate them.
Here are some ideas for organizations that accept donated halloween costumes!
Here's my guide on where to donate left over Halloween candy!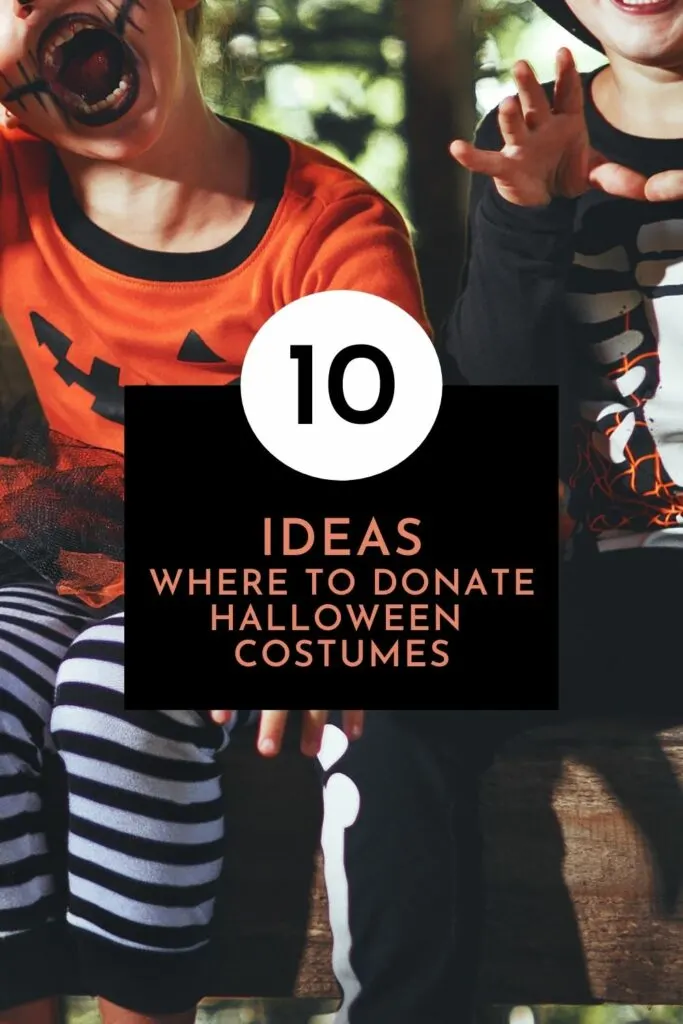 Where to donate Halloween costumes
Offer to friends or family
An easy answer for old costumes is to pass them along to someone with a kid slightly younger than yours. It's so fun to see photos of kids you know in your old costumes, too!
Post in a neighborhood facebook group
If you have a neighborhood facebook group, post a costume for free (or sale). Free stuff for kids goes FAST around here! A great way to keep it out of the landfill!
Religious organizations with childcare rooms
Churches or synagogues that have childcare rooms might be interested in costumes or accessories that could be used for kids to play with!
Daycares or preschools
Daycares or preschools might be interested in costumes for dress up boxes or creative play!
Goodwill or other clothing thrift stores
Most thrift stores that sell clothing accept costumes, though some may have restrictions about what time of year they accept them in.
Ween Dream
Ween Dream is a non profit organization located in New Orleans that accepts donated costumes. The costumes are donated to children with special needs or without the financial means to purchase a costume.
You do have to pay to ship costumes to them (unless you are in New Orleans, then you can drop them off), but you know they will go to a wonderful cause.
Halloween Helpers
Halloween Helpers is another organization that accepts donated halloween costumes for kids. They are located in Pennsylvania. Their site has great information on how to set up a costume drive in your own community and partner with local businesses and organizations to distribute them.
Children's Hospitals
Some children's hospitals might accept kid's costume donations to be shared with children who are stuck in the hospital for Halloween. Definitely call – there are lots of cleanliness protocols for sick kids – but it is worth an ask.
Elementary Schools
Elementary schools might want kids' costume pieces for drama class or classroom playtime. The guidance counselor at a school might also be able to pass costumes to kids they know wouldn't have one otherwise. Call your local principal's office to see if they have a need.
Local Theaters
Small local theaters might be interested in old costume pieces or accessories for use in their shows. Call or message them on Facebook to see if you might have what they are looking for!
Selling old Halloween costumes
You can sell old halloween costumes on Facebook marketplace, eBay, Mercari, Poshmark, or any similar site. Know that they will mostly sell in the beginning of October and you are unlikely to make costume sales right after Halloween!
Any other ideas for where to donate Halloween costumes?