Great grandparents are so special! If you are looking for the perfect great-grandma name, here are some ideas to inspire you!
Becoming a Grandma is special. Becoming a Great Grandma is really something else! What a gift to be able to get so many generations together.
If you are becoming a great grandma, you probably already have a grandma nickname. You've used this name for decades now and everyone is comfortable calling you that.
You could use that same nickname for your great-grandkids, or you might want a new nickname, or one that is slightly adjusted, just for them.
Honestly, not a lot of people have the opportunity to get to know their great grandparents, so it's really special and I think you should have your own special nickname!
Be sure to check out all of our nickname ideas for a Grandma!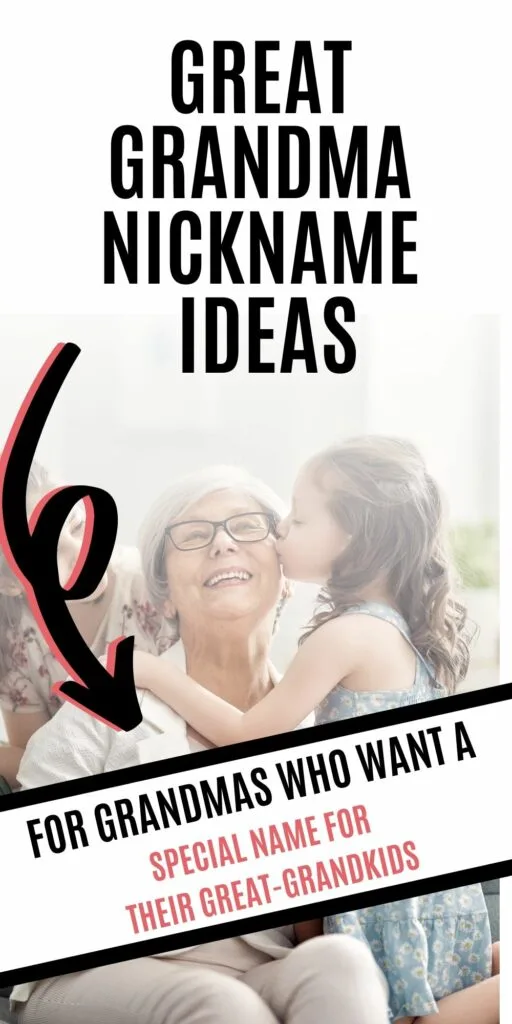 Nicknames for a Great Grandma
Here are some ideas for great nicknames for great grandmas!
G-G-ma (what my grandmama uses with my kids!)
Granny (what my granny uses with my kids!)
GiGi
GaGa
Great Gram
Great Gran
GreatMa
Grandma-ma
Mommom
Great Grandma
MuMu
G
Geema
Great Maw Maw
Big mama, Big nana, or big + your grandma name
Other ways to determine your great grandma name
It's easy to add on the word "great" to any existing grandma name. This is a classic and lets you still be the name you've been using, but shows off the special relationship.
Doubling up any aspect of your grandma name is also away to add that distinguishing feature.
Another awesome great grandma name is to see what your great grandchild ends up calling you the first time. You could tell them your grandma name and see how they actually start saying it when they learn how to talk. It's how my grandma became Grandma GiGi, because I called her GiGi when first learned to talk.
What's your favorite great grandmother nickname? I'd love to add it to my list!
Be sure to check out the best nicknames for grandpa!