Great grandparents are so special! If you are looking for the perfect great-grandma name, here are some ideas to inspire you!
Becoming a Grandma is special Becoming a Great Grandma is really something else! What a gift to be able to get so many generations together.
If you are becoming a great grandma, you probably already have a grandma nickname. You could use that same nickname for your great-grandkids, or you might want a new nickname just for them.
Honestly, not a lot of people get to know their great grandparents, so it's really special and I think you should have your own special nickname!
Be sure to check out all of our nickname ideas for a Grandma!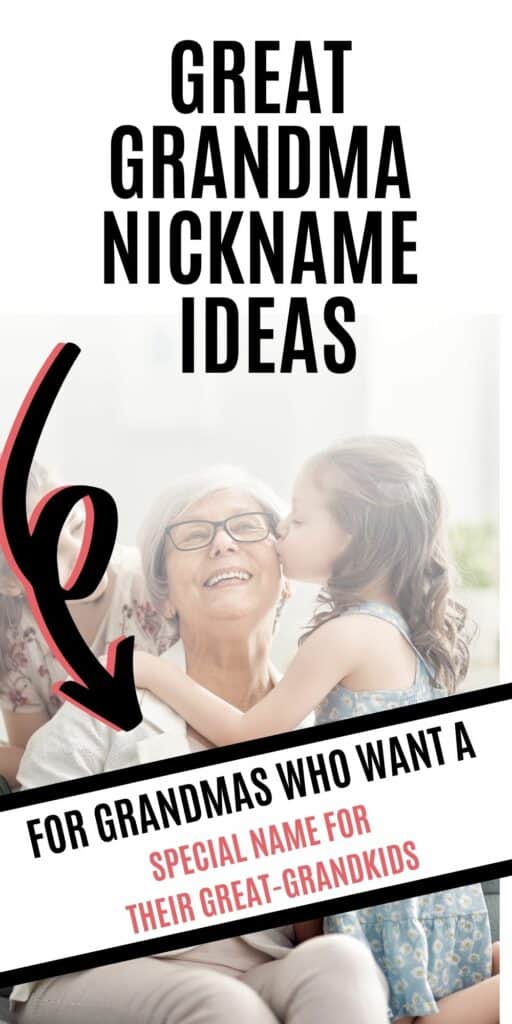 Nicknames for a Great Grandma
Here are some ideas for great nicknames for great grandmas!
G-G-ma (what my grandmama uses with my kids!)
Granny (what my granny uses with my kids!)
GiGi
GaGa
Great Gram
Great Gran
GreatMa
Grandma-ma
Mommom
Great Grandma
MuMu
G
Geema
Great Maw Maw
Big mama, Big nana, or big + your grandma name
What's your favorite great grandmother nickname? I'd love to add it to my list!
Be sure to check out the best nicknames for grandpa!