Looking for cute and unique nickname ideas for grandpa? Here are a ton to get you inspired!
Becoming a grandfather for the first time is so exciting! A new batch of kids to play with, spoil, and enjoy. Plus, you get to give them back to their parents at the end of the day!
One exciting thing about becoming a grandfather for the fist time is deciding what the kids will call you. Coming up with a nickname for grandfathers can be overwhelming if you don't know where to start.
Here are some of the best Grandpa names!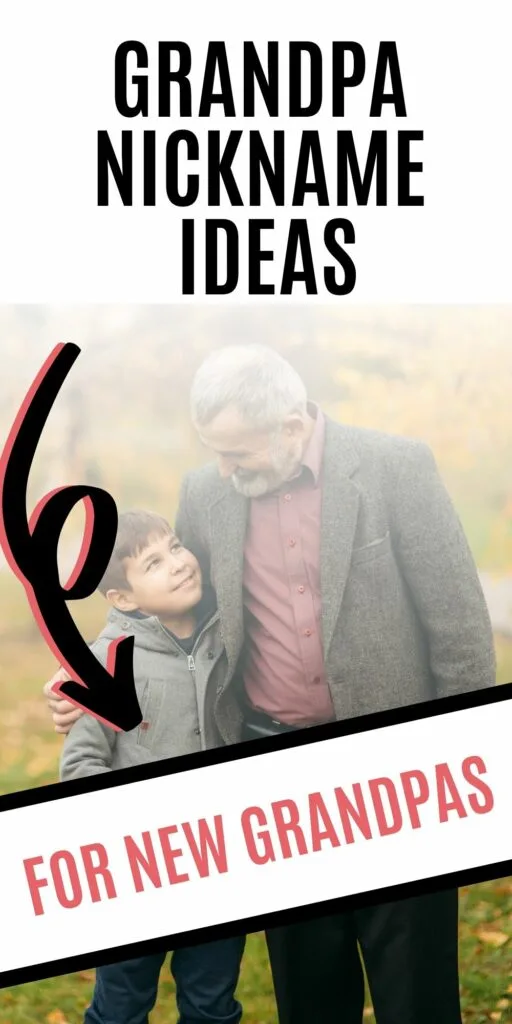 Nicknames for Grandpa
Here are some popular nicknames and the best grandad names!
Traditional Grandfather names
Grandpa
Grandaddy
Granddad
Grandfather
Gramps
Grandpappy
Modern Grandpa names
Big Daddy
Grampa
Grandpop
Pop Pop
Pops
G-Daddy
Grandpa names from other cultures
Note: It's best to stick to Grandpa names from your own heritage or culture.
Abuelo – Spanish
Grand père – French
Grand papa – French
Nonno – Italian
Ojiisan – Japanese
Dedushka – Russian
Pépé – French Canadian
YehYeh – Chinese
Lolo – Filipino
Bompa – Flemish
Haraboji – Korean
Avô – Portugese
Opa – German
Pappoús – Greek
Tutu kane – Hawaiian
Saba – Hebrew
Zayde – Yiddish
Other Grandpa nickname ideas
G-pa
PawPaw
Papa
Grampy
Grandpapa
Poppy
Boppa
Captain
Ace
Boss
Chief
Geepa
DaPa
Popsi
Bubba
Champ
Umpa
G-Dog
Granda
Grandy
Popster
What do your kids call their grandfather?
Be sure to check out my favorite grandmother and great grandmother nicknames!