Looking for cute and unique nickname ideas for grandma? Here are a ton to get you inspired!
Becoming a grandparent is a big deal. A part of that is choosing the name that your grandkids will call you!
This was a hot topic and one of much contention in our family. Our mothers both delayed picking a name until our son was over 1 year old – they just couldn't decide.
Eventually he got old enough to talk and recognize names and they were forced to pick.
I get it – you don't really get to pick a name as a mom, and your actual name isn't picked by you either. Its not often you get to name yourself!
Here are the best nicknames for a Great-Grandma!
Here are some great ideas for Grandma nicknames to inspire you as you go on your Grandmother name picking journey!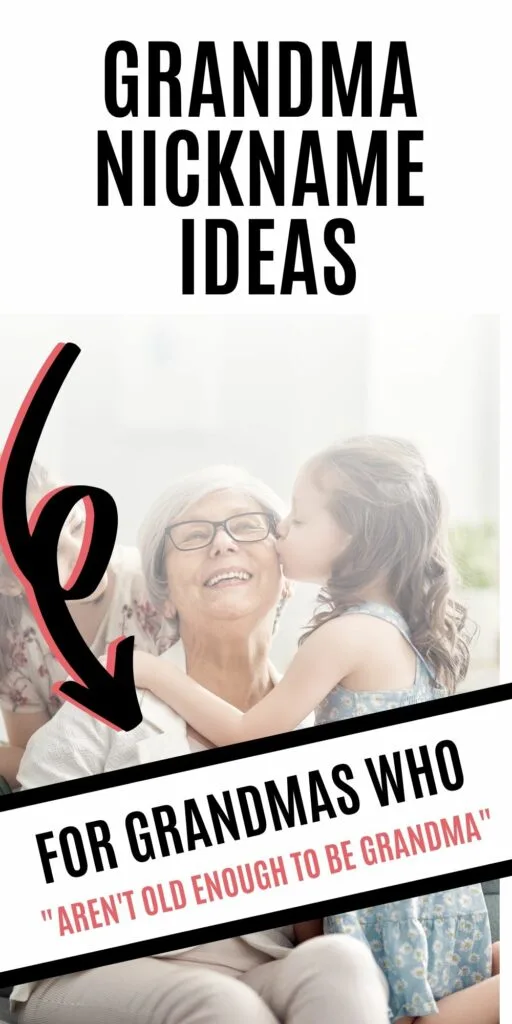 Nicknames for Grandma
Traditional Grandma nick names
Grandma
Grandmama
Granny
MawMaw
Grams
Nana
Modern "Cool" Grandmother names
Mimi
Gigi
Gramma
Gama
Gran
Glam-ma
Grandma names from other cultures
Note: It's best to stick to Grandma names from your own heritage or culture or that you have a specific connection to.
Yiayia (Greek)
Nonna (Italian)
Grand mère (French)
Abuela (Spanish)
Farmor (Swedish)
Bibi (Swahili)
Obaasan (Japanese)
Oma (German)
Vovo (Portugese)
Babcia (Polish)
Bubbe (Yiddish)
Halmoni (Korean)
Babushka (Russian)
Nai Nai (Chinese)
Tatik (Armenian)
Tutu (Hawaiian)
Lola (Filipino)
Other Grandmother nickname ideas
Grammy
Mema
Bunny
Mammy
Marmee
Big Mama
Honey
Mom mom
Lovey
G-mom
MayMay
LaLa
Gabby
Grammers
Grancy
Grand nana
Meems
Birdie
Giggy
Kitty
Nonnie
Yammy
Coco
Cookie
Gam Gam
Glamma
Mumsy
Zaza
Minny
Nan
Be sure to check out the best nicknames for a grandfather!