Planning a trip with your kids? Surprise them with a travel journal to help remember the trip by! Here are our favorites!
We are finally getting brave enough to travel with our kids. While it's stressful, we sure are making some wonderful memories.
Sean and I have always kept a travel journal – ever since the first trip we took when we were first dating! What can I say, I am sentimental.
I dove in and found some of the very best travel journals for kids. I am hoping that we can start using one with Luke very soon!
You can use a travel journal at the end of each day as a wind down activity. Encourage your kids to sit down and reflect on the day!
Of course – model the behavior you want your kids to follow. If you do a kids travel journal, you should keep one for yourself, too.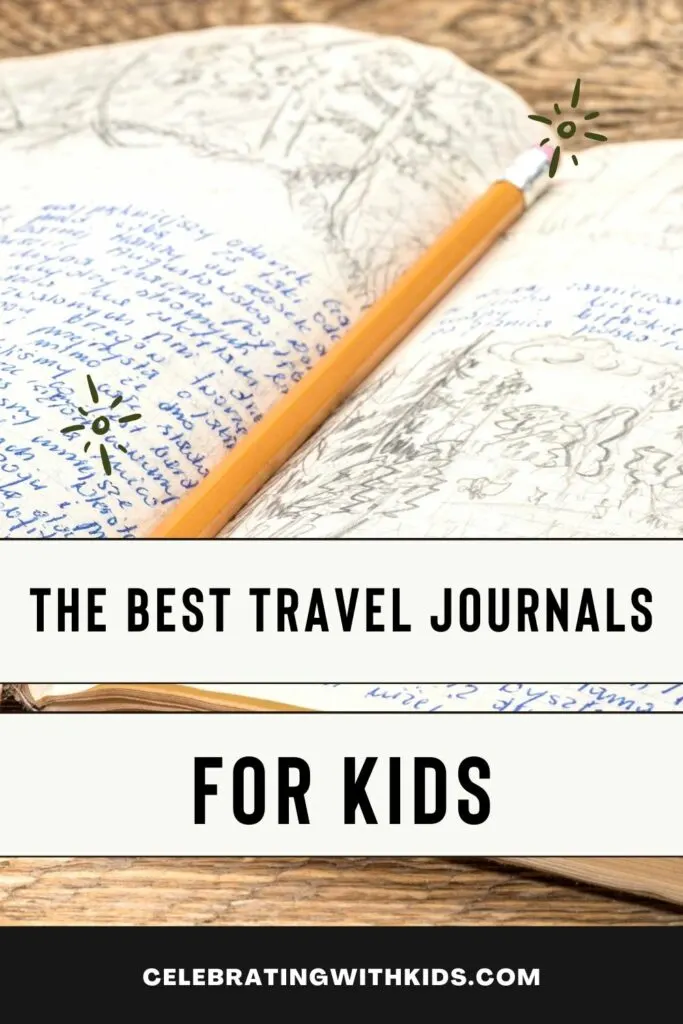 How do you make a travel journal for kids?
You can make a simple DIY travel journal for your kids from any blank notebook. Simply present it to your kids and say it's a travel journal!
What should a kid write in a travel journal?
Give them loose guidelines – to write down what they want to remember from your trip – but really let them decide what to write. Also let them decide if they want to share it or not!
How can a toddler use a travel journal?
Toddlers and non-writers can still have travel journals! They can color pictures of the trip. And, collect things like clovers or flowers, ticket stubs or snack wrappers, and tape them in place!
The best travel journals for kids
Looking for the perfect travel journal for your kids? Here are some great options!
This journal is heavy on the prompts, with a lot of fill in the blanks and road trip style activities.
This journal has a mix of prompts and free space. It has spots to track the daily weather, your mood, and activities.
This journal has a lot of activities in it, making it more of a busy book for in the car. It also has space for journaling about your trip.
This journal is targeted after kids who plan to visit all 50 states, with pages and questions and prompts for each. Super super cute if that applies to your family!
I love that this book is spiral bound! It still has prompts, but a lot more space for writing, making it great for older kids.
This is by Lonely Planet, a very popular travel brand. It once again has some prompts and fill-in pages but over all a lot more space for writing, making it great for kids who like to write.
This journal has a mix of activities (like a word search), pages wit specific fill in the blanks or circle options, as well as some blank pages for writing or taping in keepsakes.
This journal allows two pages per day with lots of space for writing or drawing!
This is a super simple journal with blanks for daily what you saw, ate, did, and are grateful for. A good option for kids who might not want to write too much!
This book is targeted at younger kids (who can read) with lots of fun illustrations and simple games and activities for a boring car or plane ride.
This book just has simple blanks and small places for kids to fit in, great for kids that might not be ready to write whole journal entries.
This kid's journal has a lot of beautiful, colorful pictures, making it great for younger kids.
I love this spiral bound journal for older kids. It has a lot of free space for kids that have a lot to say.
This notebook has blank and lined pages, with no prompts. Perfect for little writers who need no prompting.
This is more of a kit that has a lot of coloring pages and includes markers! Great for younger kids!