Ready for a fun – and messy – Halloween toddler activity?! Make this Halloween Jello sensory dig and get ready to laugh!
Happy spooky season!
If you are looking to make a month out of halloween treats, fun activities, and kid friendly crafts, you are going to want to add this one to your calendar.
It doesn't get much simpler than Jello – but let's get real – kids love it.
I have a 1 year old and a 2 year old and they both LOVED playing with this! Jello is a real sensory experience – it makes gross sounds, feels cold and squishy – and it's edible, too.
This is a really fun idea for sensory play and it's perfect for halloween parties or any time you want to get kids in the spirit of the season.
Want something slightly less sticky? Check out this idea for Halloween playdough!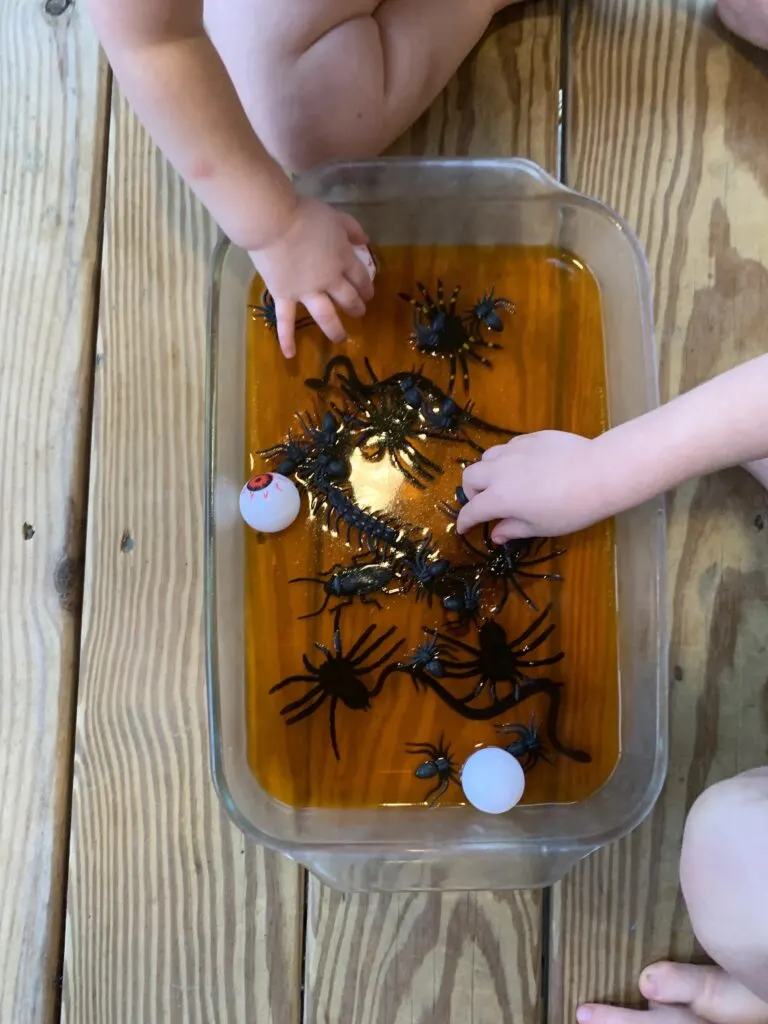 I used a mix of plastic spiders and bugs (super cheap to get bags of this stuff at Target or Walmart!) but you can feel free to mix in any mix of guys!
Here's how we did this Jello sensory bin for Halloween!
Check out all of my Halloween sensory activity ideas!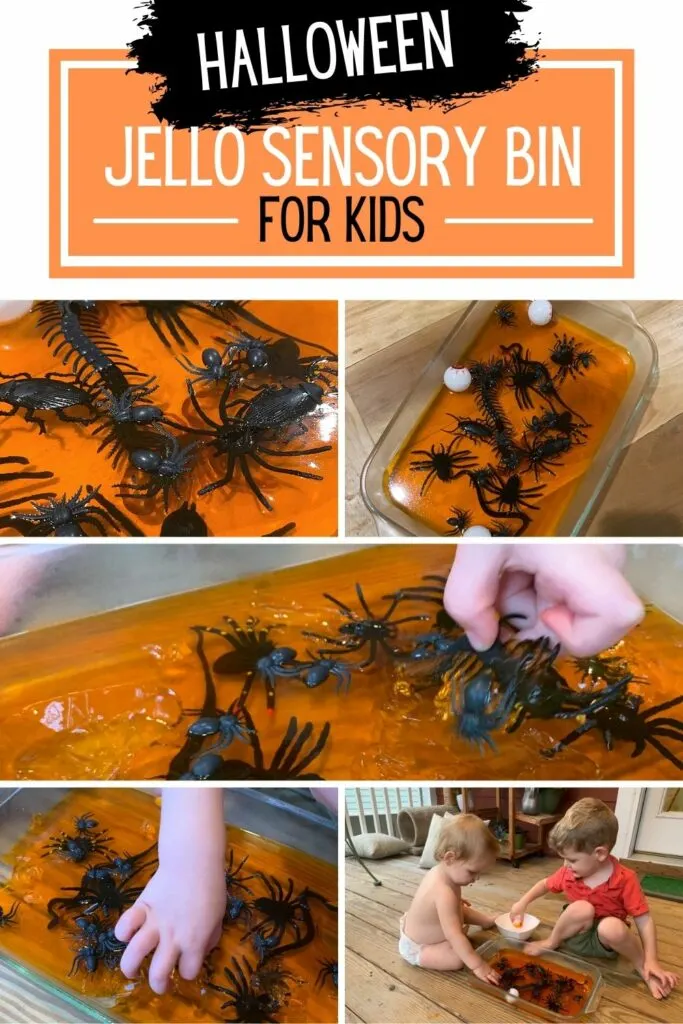 How to make Halloween Jello for kids
Supplies needed:
Large jello (6oz) orange OR use clear unflavored gelatin + food coloring if you are sugar free
Water – as needed to prepare jello
3 quart casserole dish or pan of choice
Plastic spiders, snakes, insects, etc
Bowl for putting spiders in
What you do:
STEP 1: Prepare jello
Prepare jello according to box directions. For most, mix 2 cups boiling water with the gelatin powder until the gelatin is completely dissolved, then add 2 cups cold water.
Pour into casserole dish.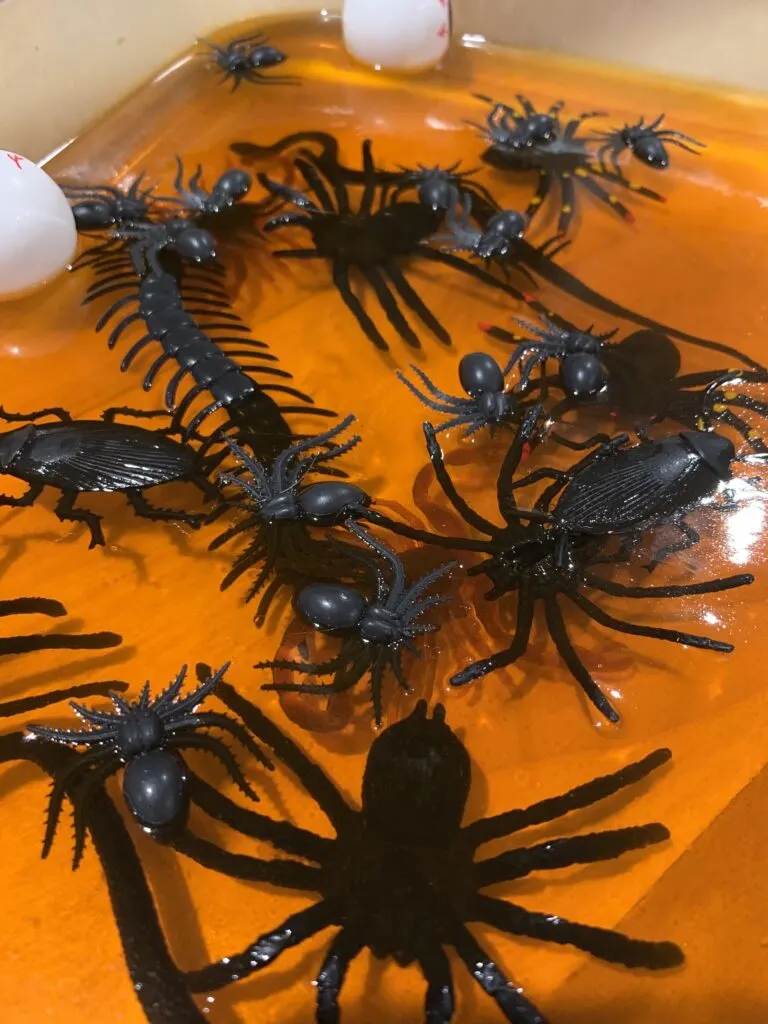 STEP 2: Add spiders
Add plastic spiders or insects. Use your finger to press them so they are submerged.
My *hot tip* is to add WAY more bugs than you think you need. My kids loved digging them out, but the more you have, the longer the fun will last.
STEP 3: Let sit
Place in the fridge and let set overnight.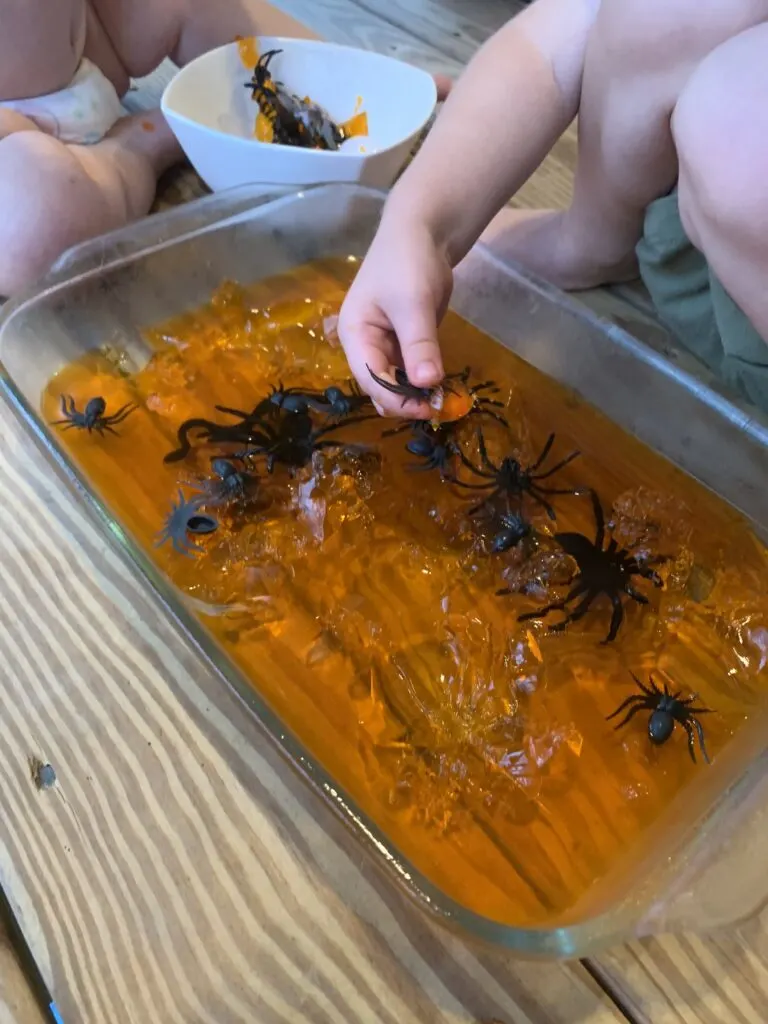 STEP 4: Play!
Let your kids go wild! We played on our screened porch – where we can get messy – and put baby sister in her diaper only.
I didn't use any tools for this dig and just told them to reach in with their hands.
I had ping pong eyeball son top, which is what they both started with. I think it's good to have something really poking out so they can ease their way in!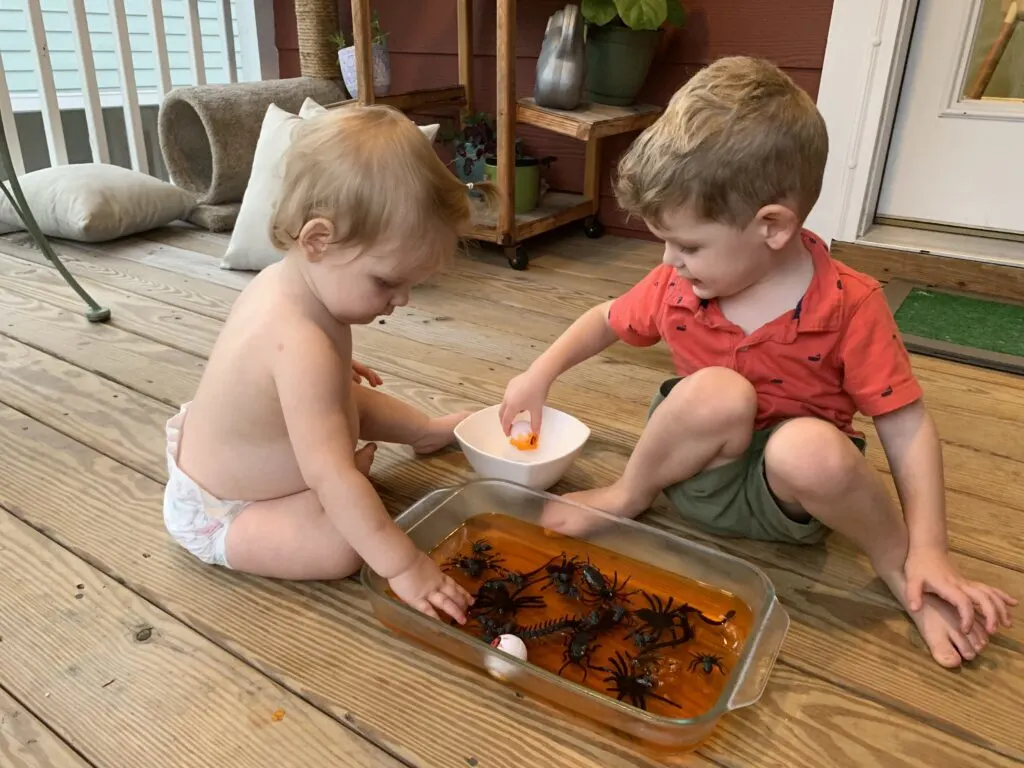 My 2 year old wanted to "save" all the bugs so we put them in a bowl.
When there was only jello left, he loved squishing it and saying "shhh every body. can you hear that sound? That's squishy stuff!" 😂
This was a super fun sensory bin for Halloween and one we will certainly be doing again!
More Halloween ideas: