Looking for an easy Halloween sensory bin idea? Here's a spaghetti worm and spider bin that's super easy to make and even good for mouthy babies and toddlers!
Halloween is almost here and I don't know about y'all but we are making a month of it!
One thing that I love doing with my kids is sensory bins. Basically, a big tupperware filled with things they can dig around in and explore.
Sensory bins keep my 1 year old busy for about five minutes but my almost-3 year old (!) can play for thirty minutes and occupy himself! He's really getting into imaginative play and I am here for it.
I decided to use spaghetti for this sensory bin for a few reasons.
First of all, it's edible and not-chokey. A lot of people use black beans or similar for halloween bins, but that won't work with my 1 year old who puts everything in her mouth.
Spaghettis also has a creepy crawly vibe. My son called it snakes, I called it worms, either way, it's super spooky.
If you haven't dyed spaghetti before, it's quick and easy! And cheap, too!
Be sure to check out all of my favorite spider activities for preschoolers and spider snacks for preschoolers!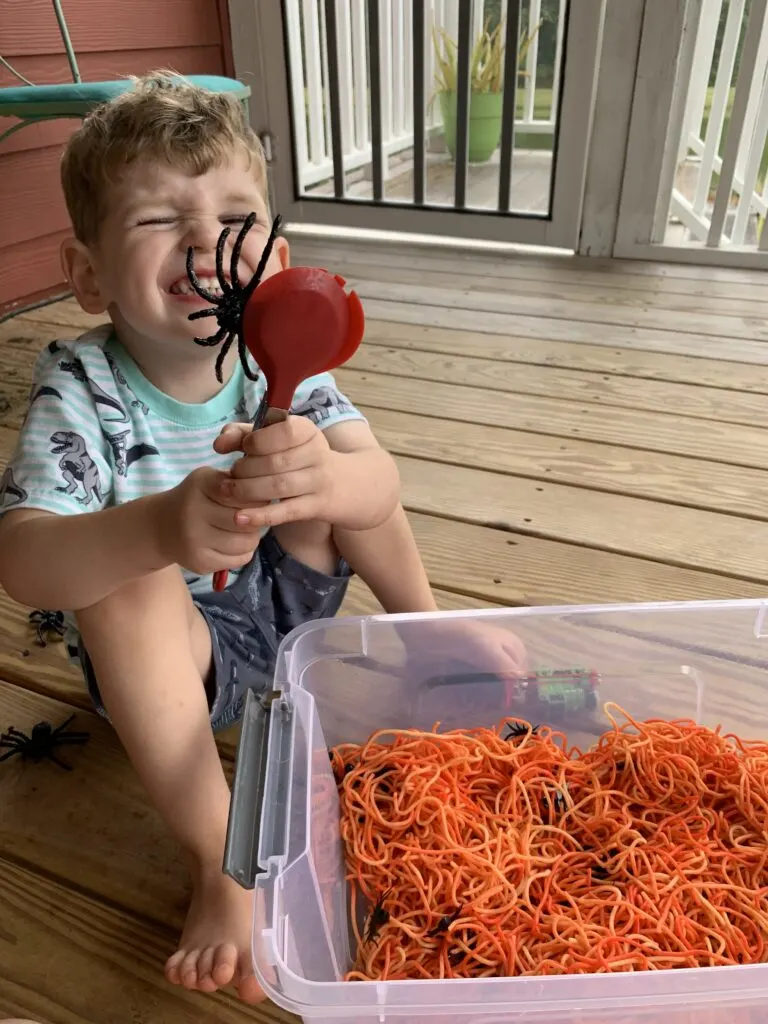 Skills for toddlers + preschoolers
There are a lot of skills that kids can work on using this sensory bin! Think about:
Pincher grasp
Fine motor skills
Using tools like tongs or tweezers
Sorting, such as sorting spiders by size
Singing itsy bitsy spiders
Counting spiders or counting the legs on spiders
Pair it with a spider themed book
Team work (if multiple kids)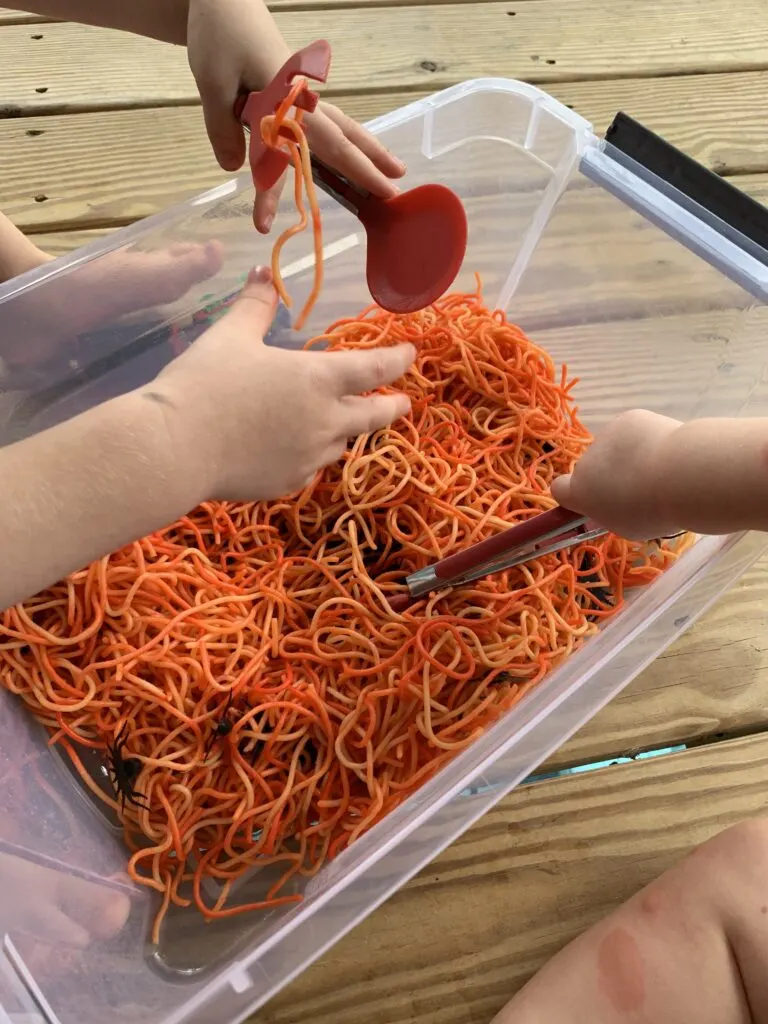 How do you make sensory spaghetti?
You can use any spaghetti for sensory play. My daughter plays with leftovers at the table! I like to use dyed spaghetti just for fun.
How do you dye spaghetti noodles for sensory play?
In a small bowl, mix 1 tablespoon oil of choice with a LOT of drops of food coloring. Like, 20 drops!
Mix with the cooked spaghetti in a plastic bag or bin with lid.
Shake vigorously to mix.
Let dry in the open, stirring every few minutes, for 30 minutes to let the oils dry out a bit and make the dye less transferable to your hands.
How long does sensory spaghetti last?
Cooked spaghetti gets crunchier and more brittle every day. If you keep it in an air-tight container in the fridge, it can be re-used for about one week, but after that it's pretty crunchy.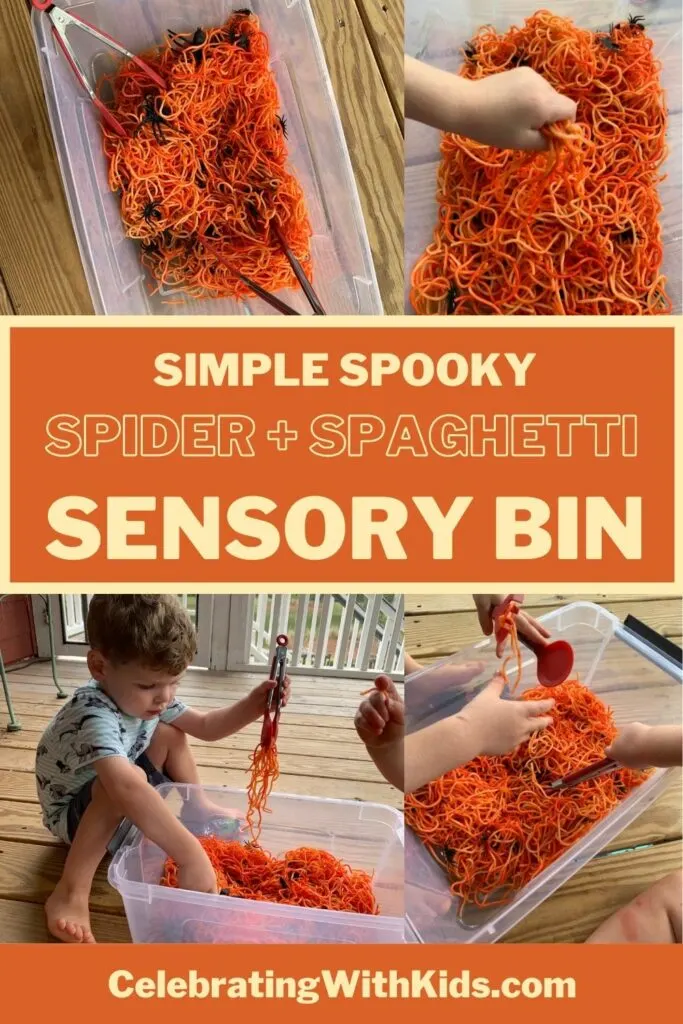 Rainbow spaghetti + spider spooky sensory bin
What you need:
Bin of choice
Dyed colored spaghetti (see above)
Plastic spiders
Tongs, tweezers, or any other pincher tools
What you do:
Fill bin with spaghetti. Add spiders and shake or use spaghetti stirrer to mix.
Add tongs or other small tools and let your kids dive in and explore!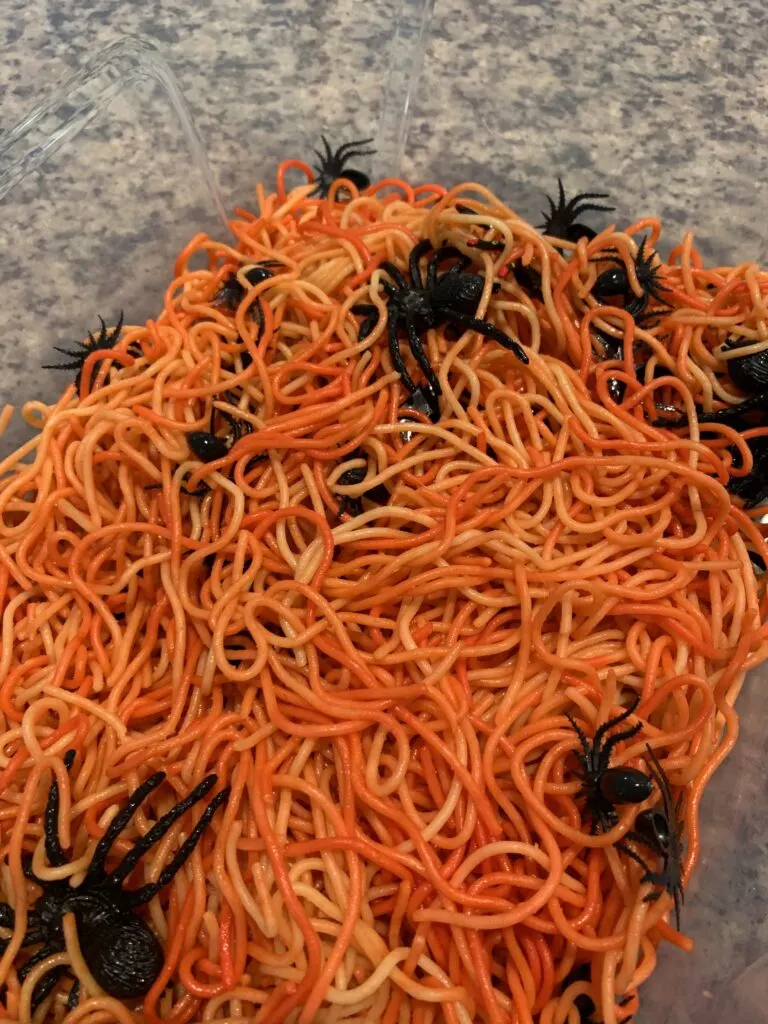 Other spider sensory bin ideas
If you don't want to use spaghetti, fill your bin with:
Spider webbing
Cotton balls
Dyed rice
Uncooked pasta
Shredded paper
Play doh
Slime
What spooky sensory activities are you enjoying?!
More Halloween ideas: