Looking for a fun spider themed snack for Halloween that toddler and preschoolers can make themselves?! Here's how to make these easy mini chocolate donut spiders!
Halloween is my very favorite holiday – and I am excited to see my kids get excited about it, too~
We are trying to turn Halloween into a whole month of fun activities.
I saw inspiration for these spider donuts for kids in an old craft book from the 90s! I knew that they would be super fun for my kids to make AND eat.
These easy Halloween donuts are doable to be made by 2-2.5 year olds and up. Luke is a month away from turning 3 and really did the whole process himself.
Rory, on the other hand, just turned one, and when presented with a dipped donut, ate it and clapped.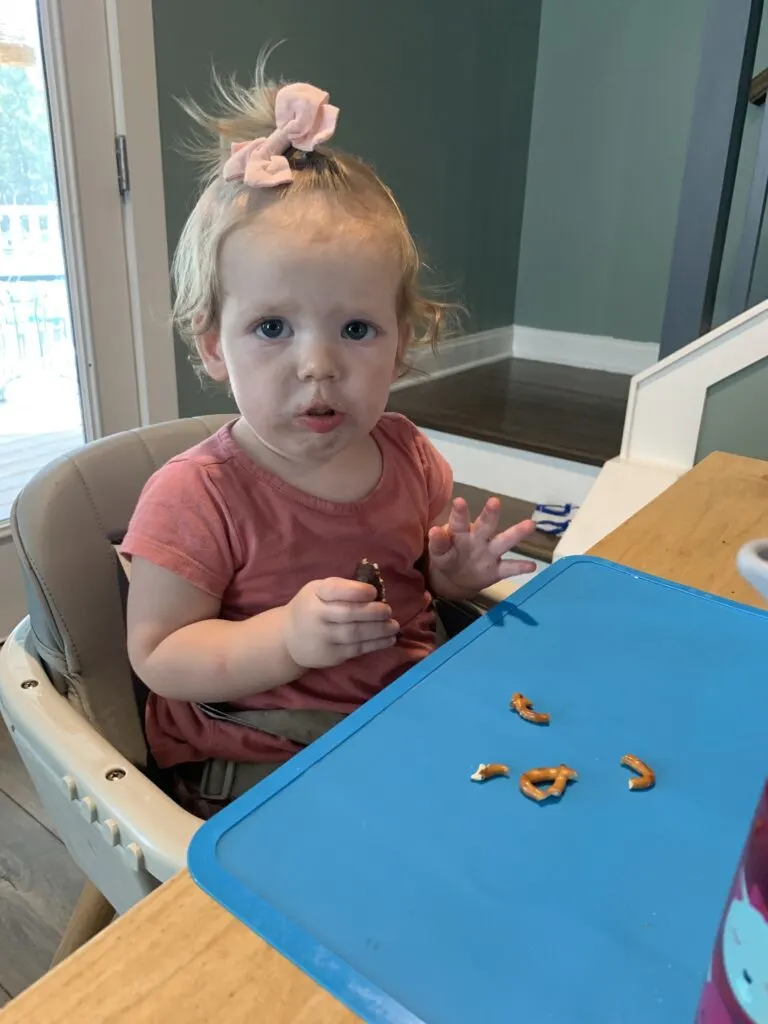 What can I say, the mini spider never made it to her plate, but she doesn't seem to mind!
This spider donut recipe uses pre-made mini donuts, pretzel legs, and m&m eyes.
You could sub in glazed donuts or cake donuts or whatever your family prefers.
You could also use mini m&ms, big sprinkles, or chocolate chips for the eyes!
Work with what you got and the most important thing is for your kids to have fun!
Check out all of my spider snack ideas!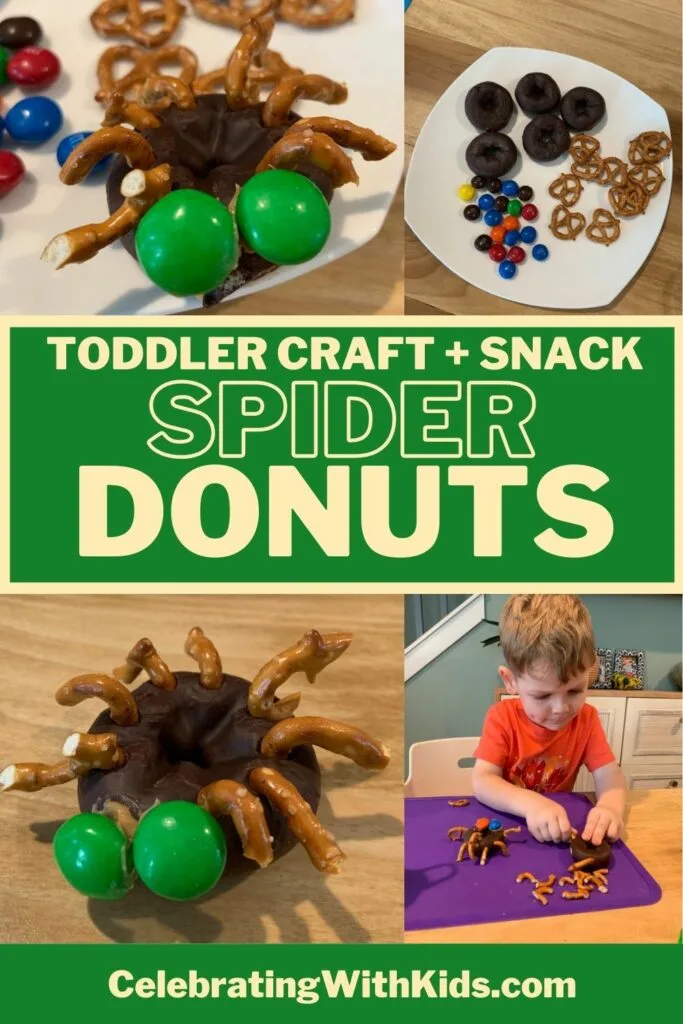 How to make Mini Chocolate Donut Spiders
Ingredients:
Store bought mini chocolate donuts
Pretzels
Peanut butter (or chocolate frosting)
M&Ms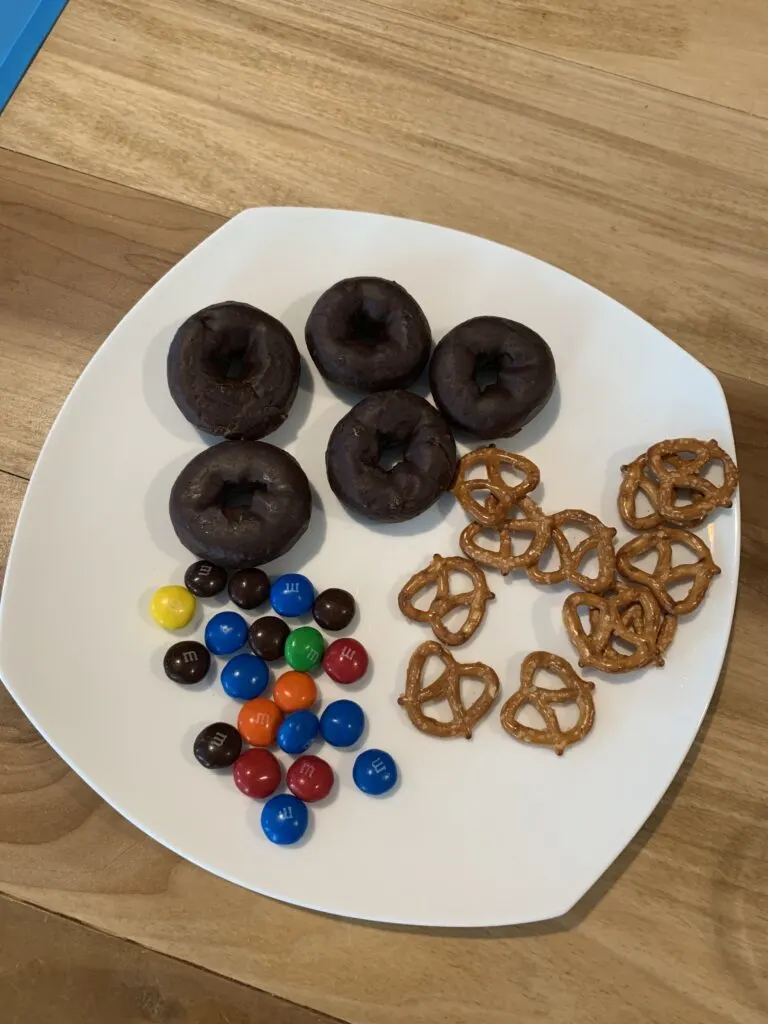 Steps to make spider mini donuts:
The first step to make these spider donuts for Halloween is to break the pretzels.
Ideally you will use only the arc from the top of either side of the pretzel.
For better or worse, my 2 year old wanted to break the pretzels "all by myself". Since this was for him and not for me, I let it go and let him lead.
Once you have your pretzel spider legs, you simply stick them into the donut. You don't have to push very hard! It's super easy, even for kiddos.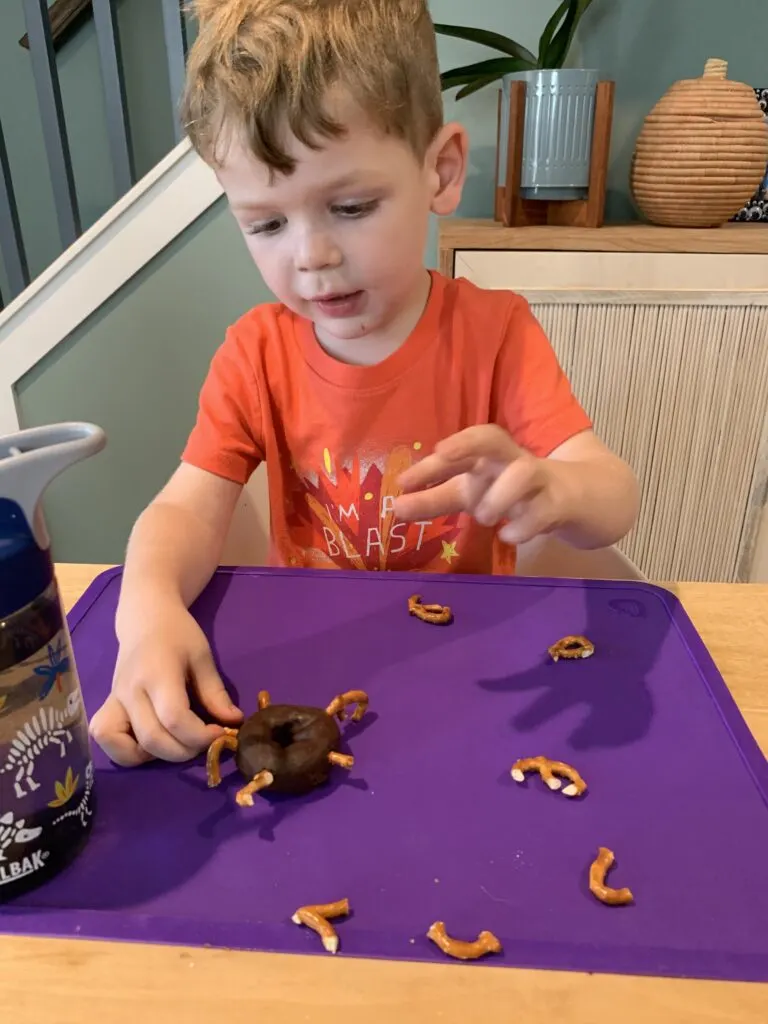 Then, add the eyes. I will note that I requested mini M&Ms and my husband got big peanut butter ones instead (because "peanut butter M&Ms are the best"). So, my candy eyes look a little woobly.
I dipped the M&Ms in peanut butter then handed them to my toddler to stick in place. Older kids would be fine to dip their own!
If you have a peanut allergy, you could use frosting as your glue instead!
Then, your mini donut halloween treats are done and ready to eat! Eat right away or they will get stale!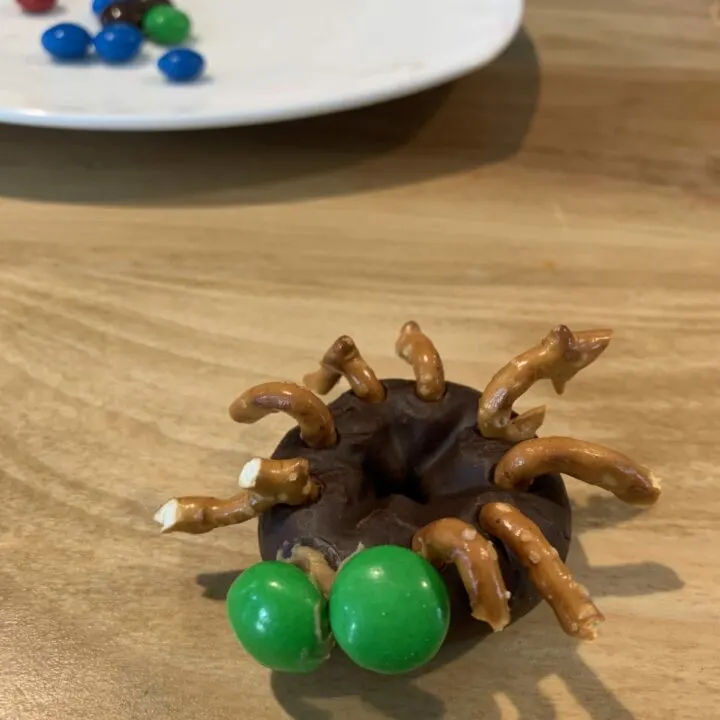 Easy Mini Chocolate Donut Spiders
These mini donut spiders are easy enough for toddlers to make and yummy for everyone to enjoy!
Ingredients
Pretzels
Mini chocolate donuts
M&Ms
Peanut butter
Instructions
Break up pretzels to create pretzel legs
Stick pretzels into the donuts gently to attach legs
Dip M&Ms into peanut butter glue
Stick to donuts as eyes
Eat with your mouth
Nutrition Information:
Yield:

12
Serving Size:

1
Amount Per Serving:
Calories:

72
Total Fat:

4g
Saturated Fat:

1g
Trans Fat:

0g
Unsaturated Fat:

2g
Cholesterol:

4mg
Sodium:

59mg
Carbohydrates:

9g
Fiber:

0g
Sugar:

5g
Protein:

1g
What's your favorite halloween treat?!
More Halloween ideas: