Love your Nugget (or Nugget alternative)?! Your kids will love it even more with the right accessories! Here are the best accessories for your Nugget couch!
We have 2 Nuggets and love them because they are so versatile.
A Nugget can be a couch to lounge on, a bed to nap on, or an amazing fort to climb.
Nuggets are perfect for open ended and independent play for toddlers and kids. They are popular in montessori playrooms because they are so open ended.
But, having the right accessories to add on can take them to the next level and make them even more fun to play with!
Here are our favorite accessories to pair with our Nuggets!
The best Nugget couch accessories
Pillows
Throw pillows are the perfect accessory for a Nugget. I love squishy pillows especially.
These from Walmart are a super great deal for the price. You can also often find them at Costco, Walgreens, CVS, and stores like that!
Also, check out Squishmallows! Here's where you can buy squishmallows locally.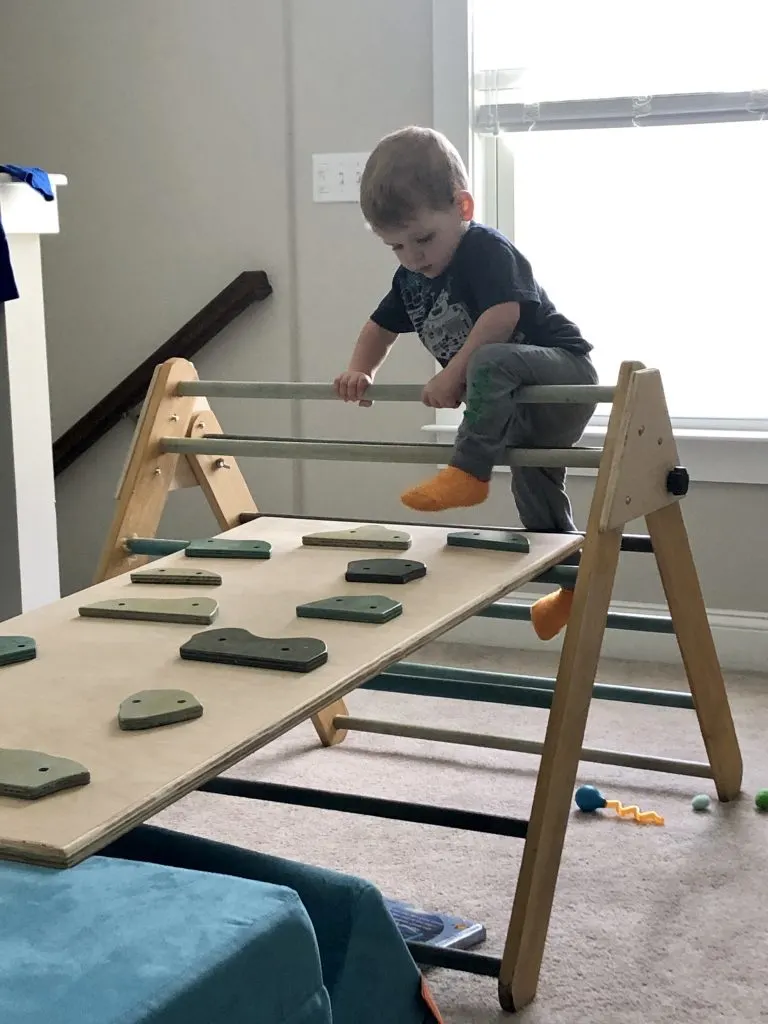 Climbing triangle or arch
If your kids love to climb, seriously consider a climbing triangle! We built ours for way cheaper than you can buy them.
I love the pikler triangle & arch, especially for obstacle courses!
Be sure to check out all of my favorite climbing toys for toddlers.
Stepping stones
Stepping stones are another really cool toy to pair with the Nugget. Kids love jumping from one to another and then crash landing on the Nugget.
Stepping stones are best for kids age 2.5 and up in my experience!
A big pro of these stepping stones is that they can be picked up and easily stored in a bin or drawer!
Here's my complete guide to using stepping stones with kids!
Pet steps
Foam pet steps are great for kids who love to build forts and towers. We sometimes use the Nugget triangle pieces for steps, but having dedicated steps lets the triangles be used for build support.
These are great, especially for little kids, to help them climb up and into their big tall builds!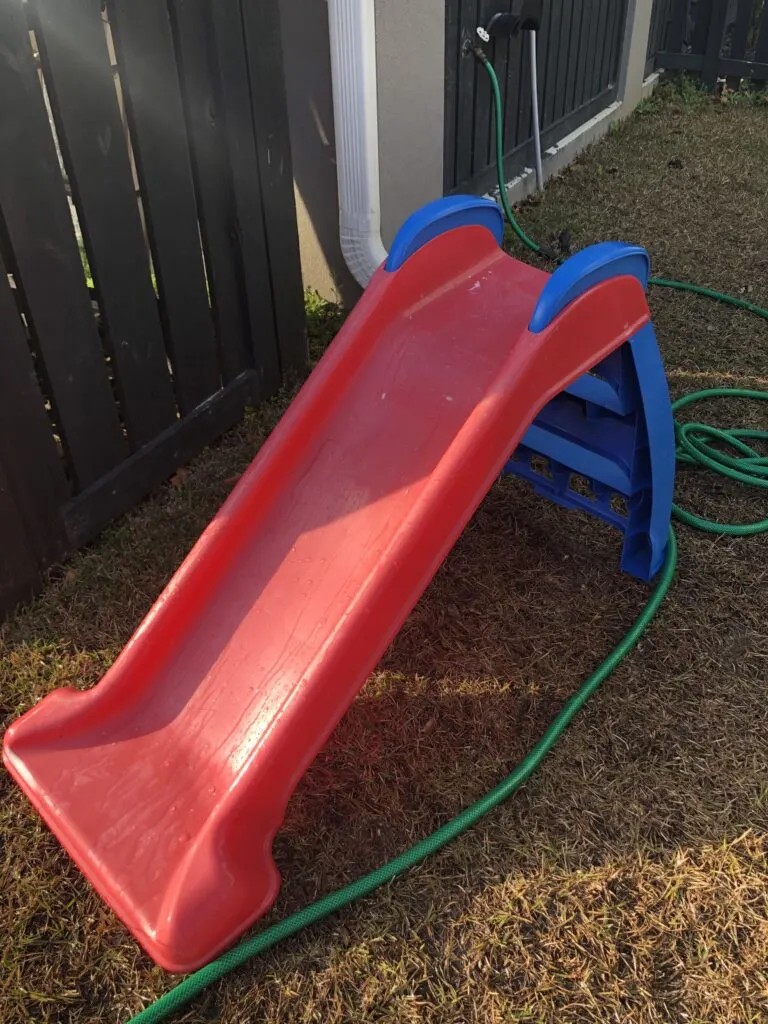 Toddler slide
A toddler slide is great to pair with Nuggets! This Little Tikes one is a classic and a great deal.
You can use it like a regular slide OR push the ladder right agains a stack of nuggets to make it a part of a Nugget obstacle course!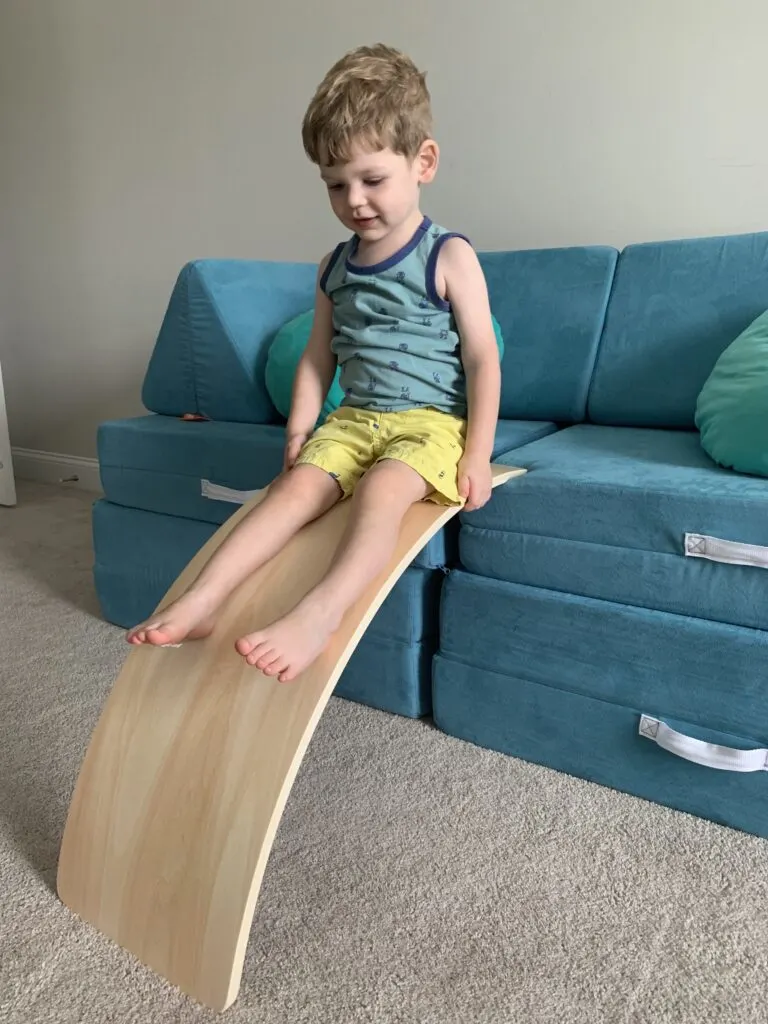 Wobble board
Wobble boards are very popular with Nugget parents. This is the wobble board that we have!
The work as a great slide off of a nugget tower or an arc-bridge up onto a small stack!
Check out all of our ideas for using a wobble board!
Felt pieces
Did you know that felt sticks to a Nugget?! Super cool! You can cut felt with a Cricut or buy pre-cut felt shapes.
Way to play flexible road
If your kids love cars, check out the way to play flexible road pieces! These tracks let you set up and re-set up streets in tons of different layouts, up and down nugget ramps, and all around the playroom!
Faux camp fire
If your kids love camping, set up the Nuggets like tents and add this faux camp fire! It's super cute and can make a great sleepover toy.
Blankets or play silks
Let's throw it back to the original kid's forts by throwing blankets over top and making an old school fort!
People love play silks for forts, but I like using plain flat bedsheets!
String lights
You can also hang string lights over your nugget forts! I suggest not having them plugged in while in play or while unattended. Basically just put them up for the instagram pic!
Huge stuffed animals
Much to my dismay 😉 my son's favorite thing to bring to the Nugget is the gigantic yellow bear my grandmother gave him for Christmas last year.
This thing is huge, it's floppy, and it often lives in a Nugget cave or is the king of a Nugget castle. Big stuffed animals are fun to snuggle, wrestle, and just have fun!
Ball pit
Ball pits are always fun. These foam ones are popular, or you can use an inflatable baby pool. Beware that the foam pits are pretty big, so be sure you have space for them and a nugget or two!
Balls of any kind
Our son's favorite thing to do is climb a Nugget tower and throw balls down. We have a laundry basket full of ball pit balls, these bumpy balls (my fave), beach balls, and every other ball you could imagine.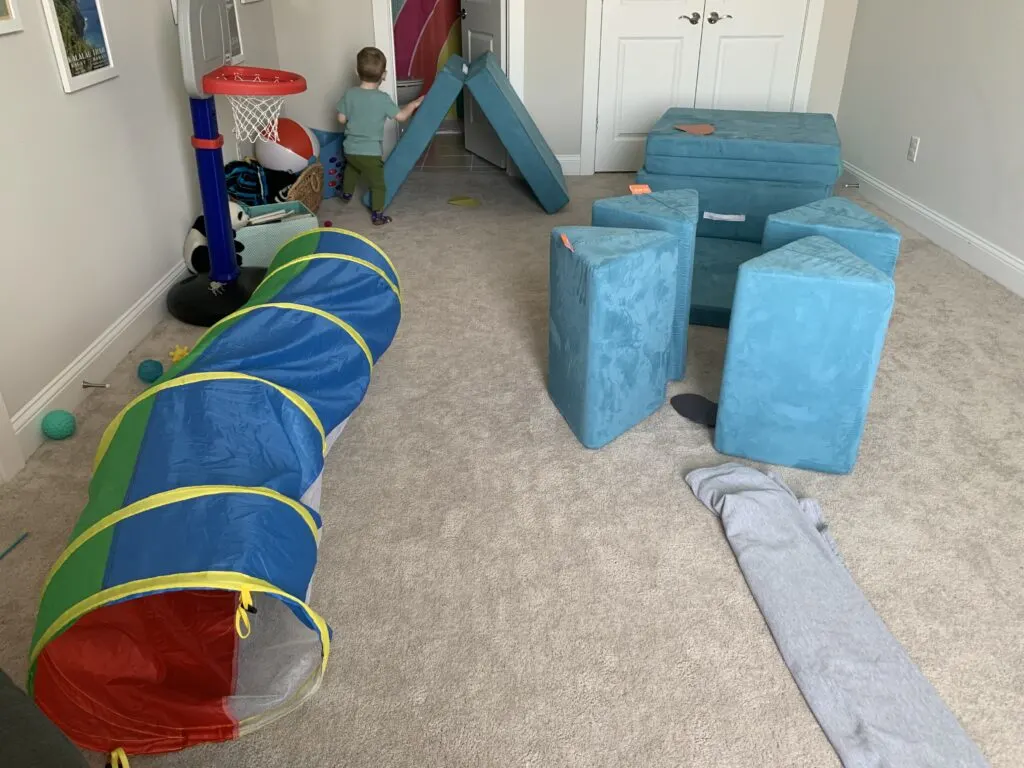 Collapsable tunnel
I rolled my eyes when my mom first brought this collapsable tunnel to our house, but it has become a favorite. You can put it down a nugget ramp as a slide or a ball chute, or of course climb through it.
My son loves to wear it and run around standing up!
Foam play mat
If you keep your Nuggets on a hardwood floor, a foam play mat makes a great crash pad. This is the one we have – it's super plush and is double sided with a neutral side and fun car roads on the back!
Christmas tree decorations (felt)
Set up your nugget like a Christmas tree! Then add felt ornaments and real or faux christmas lights! So fun for a Christmas card photo idea!