Considering buying balance stepping stones for your kids? Here are the ones we love and other popular options!
We have been slowly collecting gross motor toys to use in our playroom. It's been so fun to find things that really excite our kids!
It gets really really hot here in the summer, and rainy a lot of the time, so our playroom works hard for us.
I've been (mostly) focusing on items that are big fun – but easy to pack up into the closet when we are done playing with them. (the exception to that being Nuggets and Pikler triangle + arch).
One of our favorite additions are stepping stones! These are awesome indoor stepping stones that can be used for gross motor development and are a huge hit with our two year old.
I feel like stepping stones are often overlooked, but I love them. They are great even if you have a small home or no playroom because they easily pack up and can be put away.
Anyways, I'm super hype on stepping stones and am excited to talk about them today!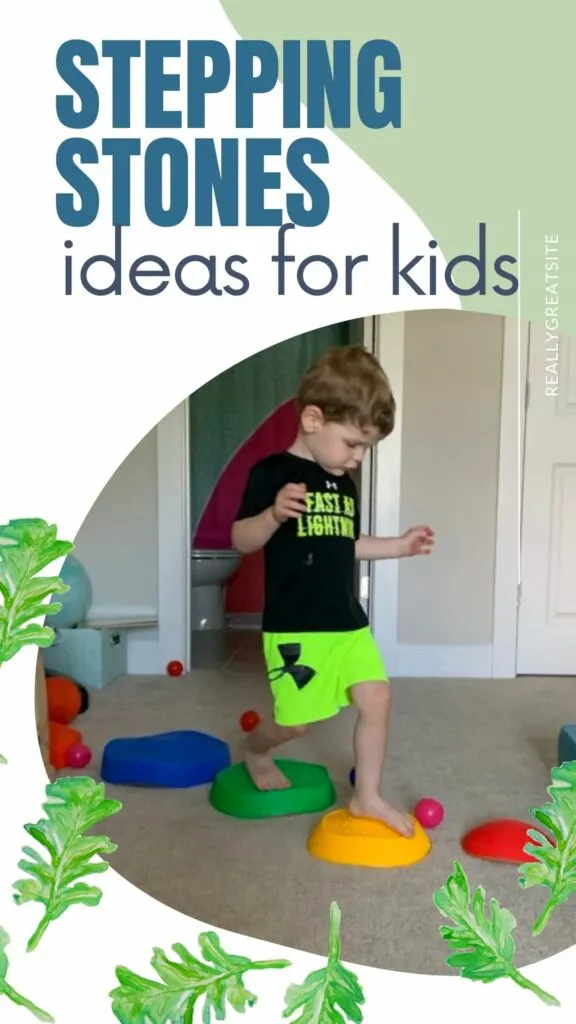 Benefits of stepping stones for toddlers
Stepping stones help your kids learn balance, coordination, and gross motor skills! I credit stepping stones with teaching my toddler how to jump.
They also promote physical activity and running around having fun with active play.
They are a great open ended play option and a fantastic option for toddlers, preschoolers, and elementary aged kids.
Stepping stone activities for toddlers
There are lots of activities that you can do with balance stepping stones for toddlers, indoors and outdoors!
Stepping stones indoor play
We love to use our stepping stones for an indoor obstacle course. They are great to connect two major obstacles.
You can also use them to play the floor is lava!
Finally, they are great for imaginative play. You never know what your kids will imagine and invent!
Stepping stones outdoor play
If you use stepping stones for outdoors, use plastic or a water-proof sealed plastic.
You can set the stepping stones up to create an obstacle course or almost hopscotch in the yard.
If you have a swing set, set them up strategically as a path between the slide and the ladder.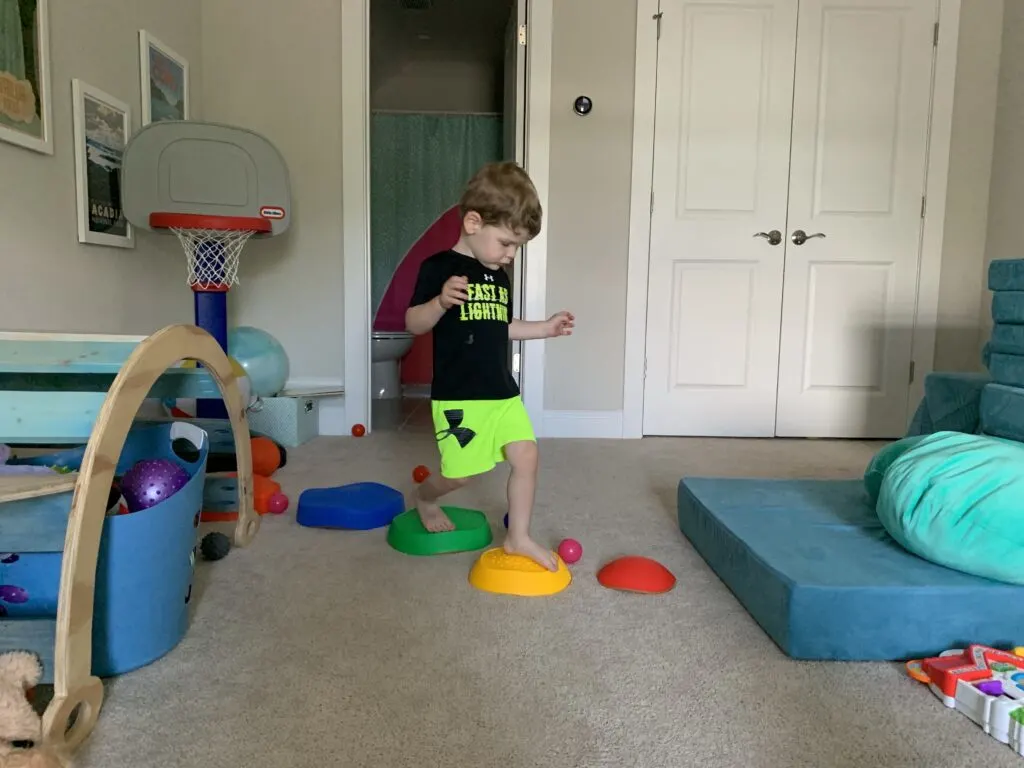 The best balance stepping stones for kids
There are basically two options for stepping stones: wood or plastic.
Plastic stepping stones
Plastic stepping stones are durable and solid.
Plastic balance stones come in many styles – we have this tiered set that stacks neatly for storage.
They often have rubber grip on the bottom to keep them from sliding.
Plastic is waterproof so they can be left outdoors.
Wooden stepping stones
For those who prefer a wooden toy aesthetic, there are options of wooden stones sets.
They are typically a set of wooden circles, all the same size, with a grip on the bottom.
They can be natural wood or painted brightly colored colors (or any colors).
The main benefits are looks, and the wooden toy aesthetic (and if you avoid plastic for various reasons).
If you want to use them outdoors, you will need to bring them inside between used.
Concrete stepping stones
Alternatively, you can always use concrete stepping stones outdoors! These can be a fun craft, too.
Just use your judgement and be careful jumping/running around them.
DIY balance stepping stones
If you'd prefer to make your own stepping stones, it's an easy DIY.
You can use wooden rounds, or squares of wood, wood slices, or anything flat!
Many people paint the top, but you can also add felt.
Finally, add carpet grip tape or a rubbery rug pad cut to fit the bottom to help prevent skidding.
Why are stepping stones good for kids?
Stepping stones are perfect for building gross motor skills, balance, coordination, and having fun! They are great for obstacle courses and imaginative play, too.
What age are stepping stones for?
Stepping stones are great for any kid who is old enough to walk! Even my non-walking daughter likes to play on them, even if she can't fully use them. Plastic stepping stones are sturdy enough to hold an adult, too.
Any more questions about balance stepping stones?