Need help with Thanksgiving this year? Here is a list of organizations that can help provide free food and resources for your family this holiday season.
Thanksgiving is a great time of year. It brings friends and families together. It reminds you to be thankful. And the food!
But, if you are hard up for cash, it can be extremely stressful.
Especially when you have kids, it feels like there is a certain expectation of things you will do and have.
Kids talk to other kids – especially at school – and they do compare. They don't always understand why they can't have certain things.
If possible, plan in advance when reaching out to these organizations. Some may have wait lists or limited resources. Call early to be sure to secure a spot for your family.
There are many organizations that are able to help with Thanksgiving resources. Here are some to check out!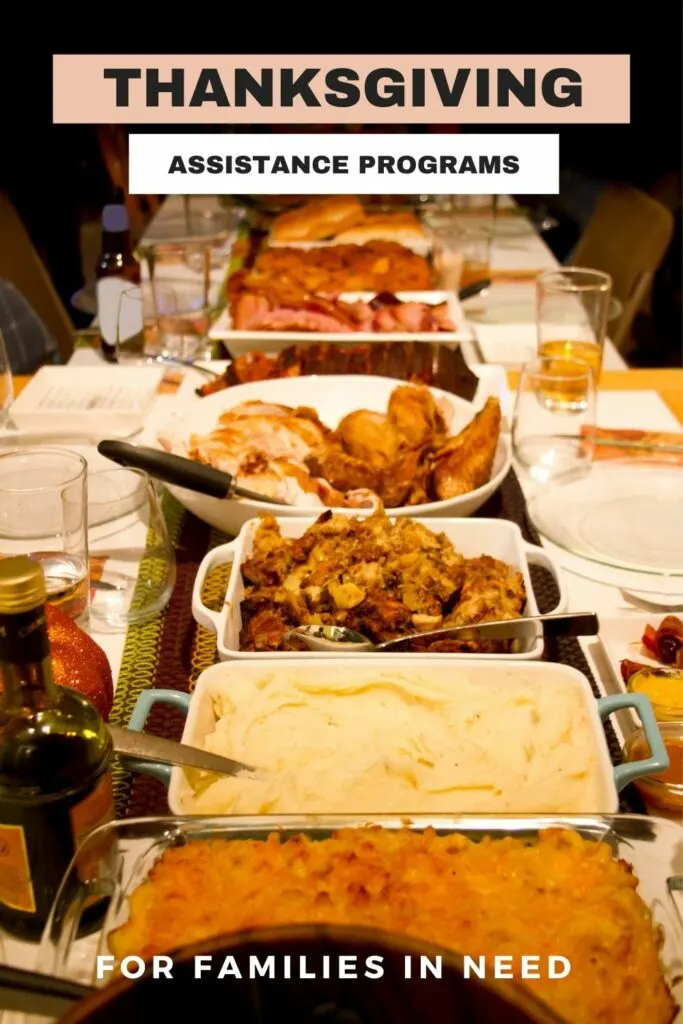 The best Thanksgiving Assistance programs for families
Food banks
Food banks are hubs for the community and are often the center for many assistance programs at Thanksgiving. Not only do they provide free food and resources, but they specialize in connecting you with other resources in the community.
These can include Thanksgiving food baskets, hot meals, or uncooked turkey giveaways.
Reach out to your local food bank to see what they offer. Also ask to speak to a resource coordinator to see if they can direct you to any other programs in your community.
You might be able to figure out a hot meal on Thanksgiving as well as a food box from another organization, so you can eat well for a few extra meals.
Learn more about year-round free food pantries for families in need.
Religious organizations
Churches, synagogues, and other religious organizations often do food giveaways for Thanksgiving. They could have a food pantry, give out food boxes, or serve a hot meal.
These might be available on Thanksgiving or in the week leading up to the holiday.
Call around or do a quick google search to find some organizations near you that might provide Thanksgiving dinners.
Salvation Army – hot meals, food baskets
The Salvation Army is nation wide but has local offices all over the country. They often serve a free hot meal on Thanksgiving.
Many Salvation Army locations also pass out Thanksgiving baskets, which can include a turkey as well as sides to go with it. If you have access to a kitchen, this can be a great resource that can turn into several meals.
Call in advance to see what your area has to offer, and how your family can benefit.
Meals on Wheels
Meals on Wheels delivers hot meals to the homebound. If you or a relative are alone at home, definitely sign them up. Call in advance to be sure to get a plate for Thanksgiving.
In addition to food, Meals on Wheels also offers companionship and conversation during the meal. This can be especially helpful to people who can't get out of their homes and are extra lonely at Thanksgiving.
Grocery stores
Depending on your circumstance, this may or may not be helpful. However, many grocery stores run turkey giveaways leading up to Thanksgiving.
They usually require that you spend a certain amount of money each week for 4 to 8 weeks leading up to the holiday and accumulate points to redeem for turkey.
It may be possible to work with a family member to try to earn enough points.
Are there any other organizations that provide free food at Thanksgiving?
Be sure to check out all of our community resource pages: