Do you need help paying your rent ASAP? Here are some resources to keep your family in your home, and some ideas for long term help.
The rental market is out of control and housing costs are a huge percentage of most household incomes.
Many people are just one emergency or unexpected bill away from not being able to pay their rent.
And the thing about rent is, it doesn't wait around and it keeps coming around month after month. If you need help paying your rent ASAP, here are some places to turn for financial assistance.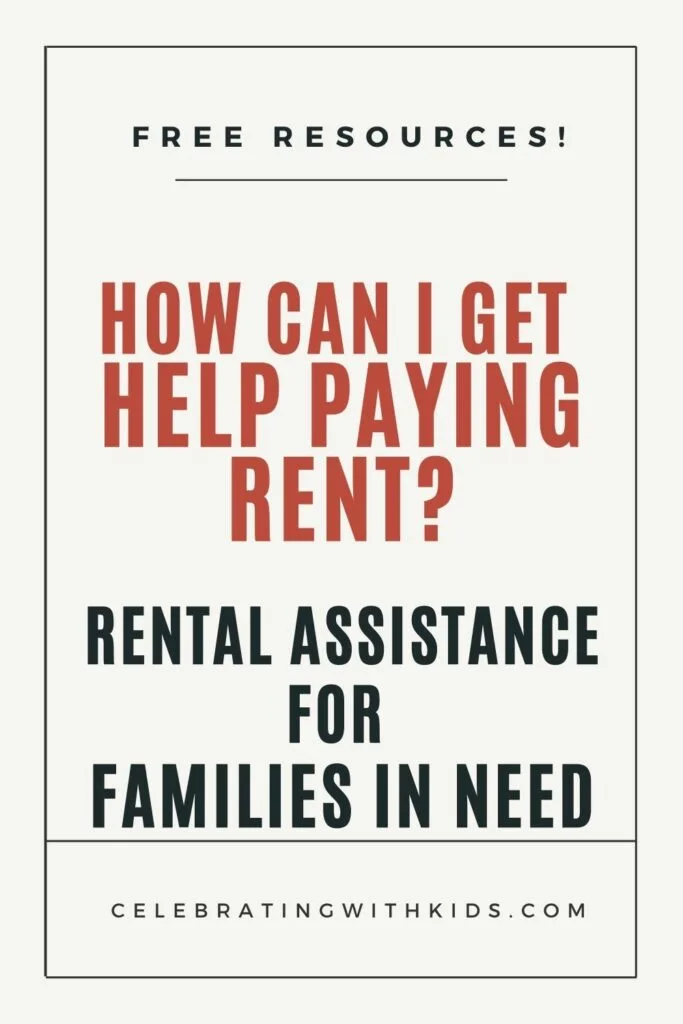 Things to keep in mind if you need help paying your rent today
Read your lease
Read your lease agreement carefully to see what the terms are for non-payment. At what point is rent considered late? At what point do they actually evict you?
Usually it takes at least 90 days to be evicted. You might have a little more wiggle room than just the first of the month.
Talk to your landlord
When I was in college, I had a hard time paying my rent for a while. I had a very understanding landlord who let me pay the rent in two halves, on the first and 15th of the month. It might sound small, but it made it a lot easier for me to keep up when I started to fall behind.
Rental Assistance Programs
Rental assistance programs generally come in the form of:
government agencies
non-profit organizations/charity programs
Government Agencies
The federal government does not typically help with rental assistance but instead will refer you to HUD for their affordable housing programs.
However, many states and local governments have a rent assistance program. This is the best list of local and regional rental assistance programs.
COVID Rental Assistance programs
The Federal government did release some rent assistance programs for renters and landlords due to COVID19. You can read the latest on those programs here.
Non-Profit and Charity Organizations
In my opinions, United Way and their 2-1-1 program have the most comprehensive listing of local programs (type in your zip code for options near you). This is my #1 place where you should start if you need rental assistance fast.
Call 2-1-1 or visit their website to see what United Way has to offer in the form of housing assistance. They offer:
Finding affordable housing
Information on public housing
Transitional housing
Rent assistance programs
Utility assistance programs
Winterizing your home
Down payment assistance
Homebuyer educations
Salvation Army
Many Salvation Army locations have an emergency financial assistance program. These programs may help with rent payments on a one-time basis. You will need to apply and possibly meet with a counselor.
Contact your local branch of the Salvation Army to learn more about their application process.
Catholic Charities
Catholic Charities are located around the world and one of their top missions is affordable housing. They own and operate affordable housing across the country.
They also run an Angel Fund which may be able to help you with an emergency rental assistance program.
Find your local branch and reach out to see what they can offer.
Other ways to get help with rent ASAP
Create a go fund me
OK, so this is not everyone's first choice and you don't want to be doing it all of the time. But, if you need cash assistance for rent, you can create a go fund me or post in various online groups asking for assistance.
I see people all of the time on TikTok and facebook dropping their cashapps asking for money.
It might not work, but what do you have to lose?
I would say that these are most effective if you have some storytelling to go with it. Not a lie, but paint the picture of what you have been through. It makes your situation more human and relatable and people more likely to want to help.
ModestNeeds is exactly that. It is a site where you can create a post sharing what you have been through and your short term and long term needs and people can choose to make a donation.
This is better than Go Fund Me or Facebook because this is exactly what the website is for – people asking for help with rent and bills. There is zero shame and no one will call you out on anything because it's the entire purpose of the site.
That being said, it has a lot less traffic or people looking on it compared to other social media, so it won't be a huge windfall. It once again cannot hurt to try.
Affordable housing alternatives
If you already have a home and don't want to leave, this might not be what you are looking for. But, these are organizations that might be able to work with you to secure more affordable long term housing.
U.S. Department of Housing and Urban Development
HUD offers listings of apartments with reduced rents or that accept rent vouchers. This will not help you stay in your current home.
Click here to check listings near you.
This organization helps people find affordable housing. Their focus is on seniors, veterans, and people with disabilities. They have buildings with specifically affordable housing, but they will not help pay the rent where you already live.
Rent Assistance Near Me
Many rent assistance programs are local, so you have to find one in your area.
Click this website to go directly to a spot to type in your city and state to find rent assistance programs in your area.
Be sure to check out all of our community resource pages: