Are you looking for a free turkey for Thanksgiving? Whether you are looking for a charity give away or just a good deal, here are all the best options!
Thanksgiving is a favorite holiday for a lot of Americans – and usually that's because it's food-centric (and family focused).
However, all that food can get expensive. The turkey is an especially important – but pricey – part of the thanksgiving meal.
So, here are some ideas for getting a free turkey for Thanksgiving dinner.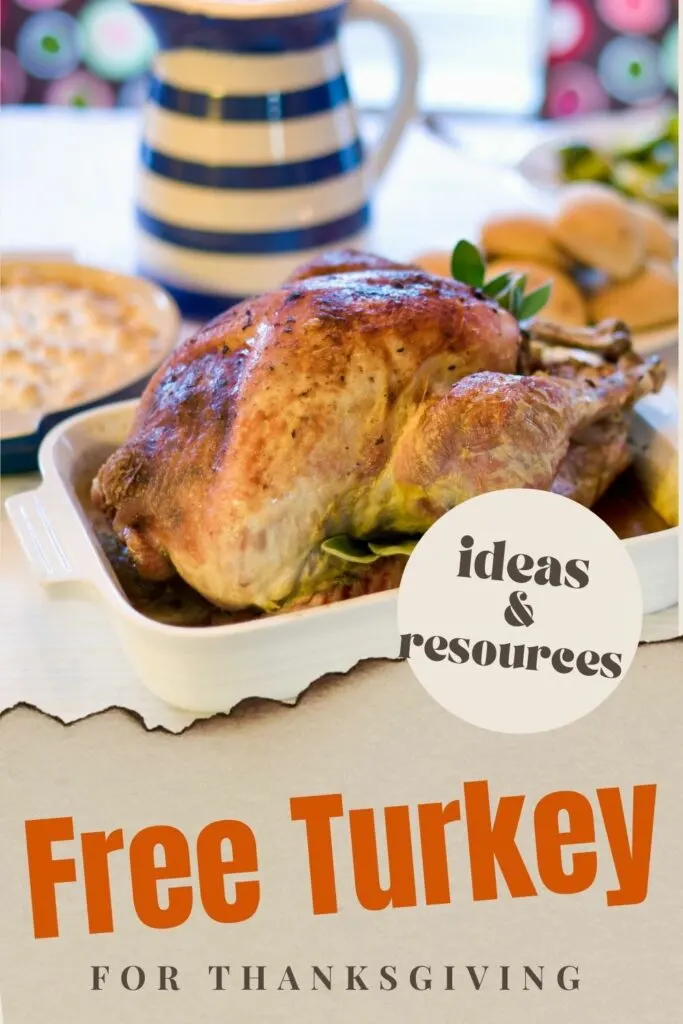 How can I get a free meal on Thanksgiving?
Organizations that give free turkeys to those in needs
There are many organizations that give away free turkeys. Some may require you to demonstrate need, while others will take your word for it.
These organizations are super local, so you will have to do a little investigation to find the best program near you.
Be sure to check out my list of all of the best Thanksgiving assistance programs.
Food pantries
Food pantries often offer Thanksgiving boxes for the needy. They can include turkeys (that need to be cooked) as well as side dishes.
Food pantries are an excellent resource as they often serve as a hub of the community. They should have bulletin boards or coordinators who can help to point you to any other resources available.
Reach out early to ensure you are able to get a turkey.
Churches
Many churches or religious organizations do turkey give aways at Thanksgiving, and some serve hot meals. Ask around (food pantries might be able to help guide you) to find the best program in your area.
Meals on Wheels
Meals on Wheels provides meals to those who are home bound. If you or a family member are homebound, give them a call.
They offer plated meals as well as some companionship while eating.
Salvation Army
Salvation Armies usually offer hot dinners for Thanksgiving. Definitely call ahead to see if there is any kind of registration or sign up requirement to make sure you secure a seat at the table.
Free turkeys for couponers and deal-seekers
If you aren't in need of a free turkey per se but just trying to get a deal, there are a few options.
Turkeys usually go for $1.25 a pound, making a 20 pound turkey about $25.
Here are some programs that have offered free turkeys in the past.
Ibotta + Walmart
This app allows you to track grocery receipts and redeem points. In the past, they've had a free turkey and sides from Walmart as a redemption option around Thanksgiving.
Grocery Stores
Most grocery stores with points programs allow you to accumulate points leading up to Thanksgiving and redeem them for a free turkey, and sometimes sides, too!
Free turkey promos usually begin in October and run through Thanksgiving.
What other ways are there to get a free turkey?
Be sure to check out all of our community resource pages: