Christmas is a special holiday to celebrate with your kids. However, if you need help making this Christmas special for your kids, here are some charities that help kids at Christmas.
Christmas is a magical time to have kids. However, there are a lot of social pressures to spend-spend-spend.
Gifts, food, and so many activities. It can really add up.
If you need help or support to make Christmas special for your kids, there are a lot of organizations with Christmas assistance programs to do just that!
Here are some of the Christmas charities to look into this year.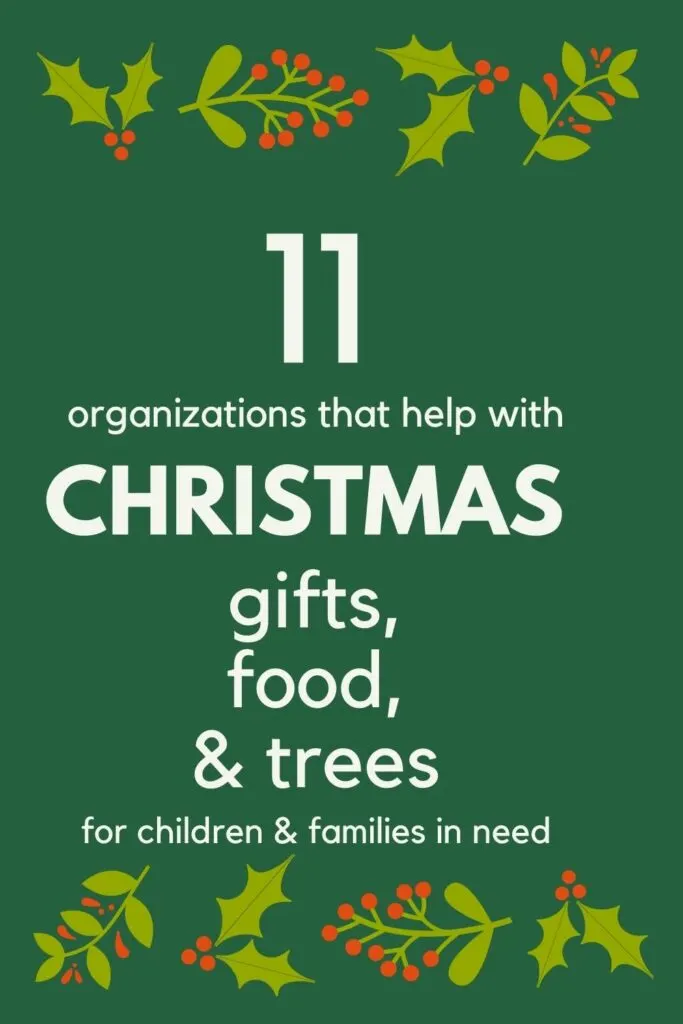 Free Christmas Gifts
Toys for Tots
Toys for Tots was started by the Marines and distributes toys to kids all over the country. You can apply to receive toys for your children here.
Prison Fellowship Angel Tree
Having a family member incarcerated is extremely traumatic and can be especially upsetting during the holiday season. This organization helps to provide gifts to kids in this horrible situation.
Salvation army angel tree
Salvation Army has one of the most wide spread angel tree programs in the country. To qualify, you will need to find your local branch of the Salvation Army (google your city + "salvation army").
There should be an application form or email to contact to get set up with someone who can help you.
Here's my guide on where to find free clothing for families!
Free Christmas Meals
Local religious organizations
Many local churches and synagogues offer hot meals or food basket giveaways during the holiday season. I suggest reaching out to your local food bank to see if they can help direct you to organizations that might offer something.
Meals on Wheels
If you or a family member are homebound, Meals on Wheels will deliver a hot meal. They also provide a bit of companionship and conversation while delivering food.
Salvation Army
The Salvation Army often has a hot meal on or around Christmas. Call ahead – you may need a voucher or to qualify in some way to reserve your spot.
Local food banks
Local food banks often do food basket or box giveaways around the holidays. These can be great for a big holiday meal or to help you fill the time when kids are out of school and need extra food at home.
Food banks are also the best place to go to as they tend to be a hub for the community. Reach out to a coordinator there to see if they might know of any other offerings in your area that you qualify for.
Learn more about year-round free food pantries for families in need.
Grocery store programs
OK so these aren't free and this may or may not be helpful in your situation.
But, many grocery stores that have customer loyalty cards do points around the holidays. If you shop five out of six weeks for example you can get a free ham and sides.
You might be able to work with a friend or family member to combine your spending and qualify.
Free Christmas Tree Programs
Christmas Tree Santas
This organization partners with the Home Depot to distribute Christmas trees to those in need. To get a tree, you need a voucher from one of their partner agencies. Click here to find one near you.
The Christmas Tree Project
This organization gives out trees to those in need. They are based in Colorado but do have some offshoots in other locations across the country and worldwide.
Trees for Troops
Trees for Troops is the biggest nationwide tree distribution program. It does require that your family member be in the military.
Did I miss any charities that provide help for the holidays?
Be sure to check out all of our community resource pages: