Looking for free school supplies? Here are the best ways and resources to get free school supplies for your kids this school year!
School supplies are EXPENSIVE. If you have multiple kids, it can really add up.
My kids aren't school aged yet but my sister is a middle school teacher so I have seen how much she spend on supplies and what her kids have to buy.
I know that most parents want their kids to have all of the supplies that their kids need to succeed. They just might not have the extra cash at back to school time!
However, there are many resources to help your kids get free school supplies. This helps you as a parent be less stressed, helps your kids be more prepared, and takes a little burden off of teachers who have to spend their own money on supplies for kids who don't have them.
Let's talk about free school supplies and where to get them!
How can I get a free backpack?
Backpacks are actually really easy to get for free on Facebook – join a Freecycle or Buy Nothing group. Many, many people are getting rid of backpacks in great shape!
Does target donate school supplies?
Target does donate school supplies, but they exclusively distribute them through the Kids In Need Foundation, they don't just hand them out.
Where to get free school clothes
Need school clothes? Kids grow so fast! Here are the best places to get free clothes.
Where to get free books for kids
Need reading books for your kids? Here are the best places to get free books!
How can I get school supplies for free?
The best way to get school supplies to free is to find a school supply drive in your area and get on their distribution list. You can check out the organizations below or just reach out to your kids' school counselor!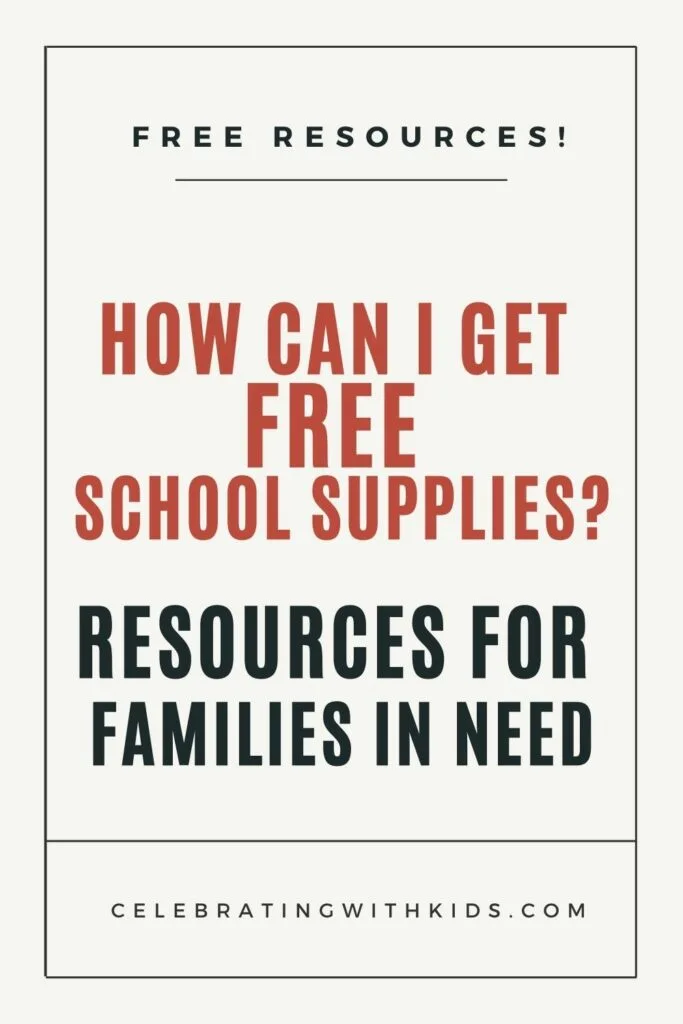 Where to get free school supplies
Your child's school counselor
The best place to start when looking for school supplies is with your child's school counselor. They will have every possible resource at their hands to help you.
There are going to be lots and lots of kids at your school looking for help with supplies. They probably have all the information in a copy-and-paste email this time of year. Do NOT hesitate to ask.
Operation Homefront's Back-to-School Brigade
The Back to School Brigade offers backpacks of school supplies to the children of military personnel.
If you have a military connection, check out their website and click GET HELP NOW to connect!
Boys and Girls Clubs are all over the country. They run many programs that are great for kids, but one program that is great is the Back2School program.
This program helps to ensure that all kids have access to school supplies by partnering with schools to distribute supplies to those in need.
Reach out to your local Boys and Girls club to see what they are doing on this initiative!
Feed the Children has school supply closets in 5 cities across the country:
Elkhart, Indiana
Oklahoma City, Oklahoma
Bethlehem, Pennsylvania
Lavergne, Tennessee
Chandler, Arizona
They provide books, school supplies, and teacher supplies to those in need.
The kids in need foundation supplies pre-packed backpacks of school supplies to kids and teachers in need across the country.
They distribute backpacks themselves but also have a program to help those who want to arrange backpack drives and distributions around the country.
Salvation Army
Salvation Army runs many events across the country, some of which include a back to school supply giveaway.
Find a Salvation Army location near you.
Local religious organizations
Churches and synagogues often do giveaways for school supplies. If you aren't a member of one, ask friends or relatives who might be. Even neighbors can help you connect!
Your local food bank
Food banks are a real hub for community resources. They might not have school supplies (or they might! You never know!) but I can almost guarantee you that they can connect you to an organization that can help.
This is an organization local to me in Charleston, South Carolina, but they collect school supply donations and allow teachers and students in need to shop their shelves. Check them out or search for something similar in your area!
Post on Facebook
This may or may not be for you, but I see posts on Facebook all the time of people looking for help. The key is not to post in a random place but look for boards where people are looking to give things away for free.
Look for a local Freecycle or Buy Nothing group. There is usually a weekly ISO (In Search Of) post where you can list exactly what you are looking for.
These are groups of people wanting to get rid of stuff for free. I have had huge success getting brand new or like-new items that people just felt guilty trashing. If you have transportation to pick it up, this is a great way to do it!
Be sure to check out all of our community resource pages: