Looking to get inspired for Thanksgiving? Here are the best Thanksgiving side dishes for kids to mix up your menu this year!
Thanksgiving is a time to bring the family together for a big meal.
And don't get me wrong, the meal is great. But, it can also be stressful to get that many dishes on the table.
Add kids or picky eaters to the mix and things get really complicated.
So, I'm excited to round up some fun Thanksgiving sides for kids to inspire your menu this year.
Thanksgiving Side Dishes for kids
There are lots of traditional and creative Thanksgiving sides.
The classics include:
Bread or rolls
Mashed potatoes
Sweet potatoes
Green salad
Roasted vegetables
Green beans
Cranberry sauce
Gravy
Stuffing or dressing as my Granny calls it
Don't forget the pumpkin pie, apple pie, or pecan pie – and vanilla ice cream!
Keep scrolling for a list of fabulous Thanksgiving side dish recipes!
Thanksgiving side dishes for picky eaters
With picky eaters, I have found that it is best to ask what they like. Some kids only eat fruit, others won't touch it. I had a cousin request mac and cheese only, then find out it was the wrong kind of mac and cheese.
If you are attending a big family meal and your child is very picky – I highly suggest bringing them something they will eat and possibly supplementing if there's anything they'd try. It will save a lot of drama and no chef will be offended.
Here are some of my favorite kid friendly Thanksgiving sides!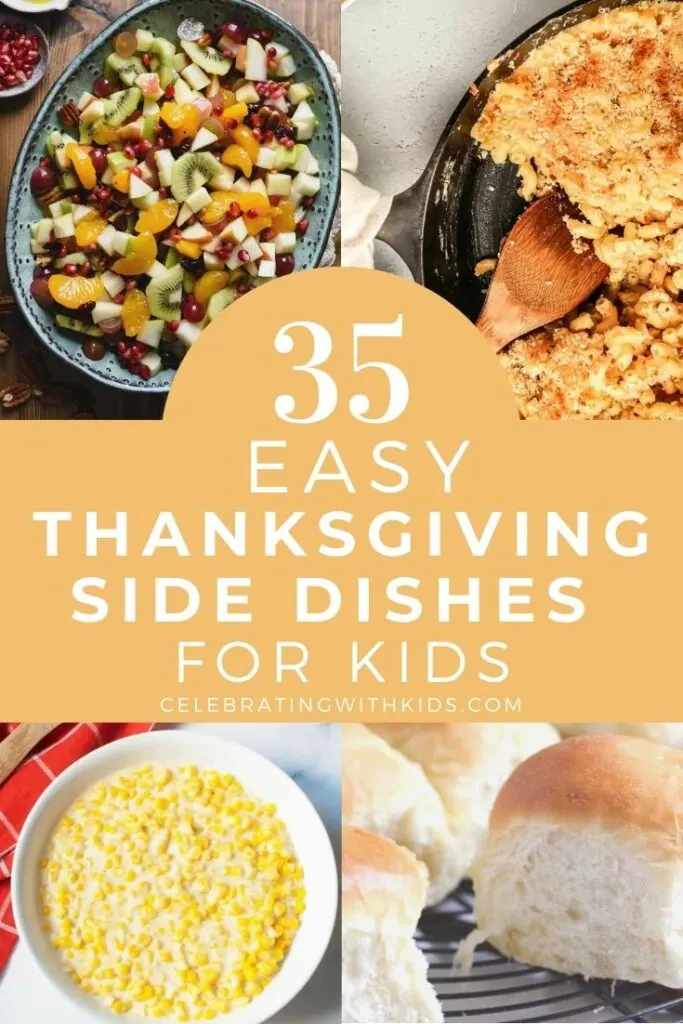 Thanksgiving side dishes for kids
Looking for Thanksgiving menu inspiration?! Here are some fantastic recipes for Thanksgiving side dishes for kids!
What are your favorite kid friendly side dishes for Thanksgiving?