Looking for details about the Nugget couch? Wondering if a Nugget is worth the hype? Here's my review after owning two Nuggets for three years!
One of the hottest kid's toys at the moment is the Nugget Comfort kids couch.
These modular sofas went viral during quarantine and for a good reason – these play couches can be a place to lounge, a thing to climb, a fort to build – and will keep even the most bored kids entertained!
We have 2 Nuggets and have owned them since 2018. I will sing their praises loudly, to anyone who will listen!
I'm so excited to bring you a Nugget couch review today to see if a kids Nugget couch might be the right fit for your family!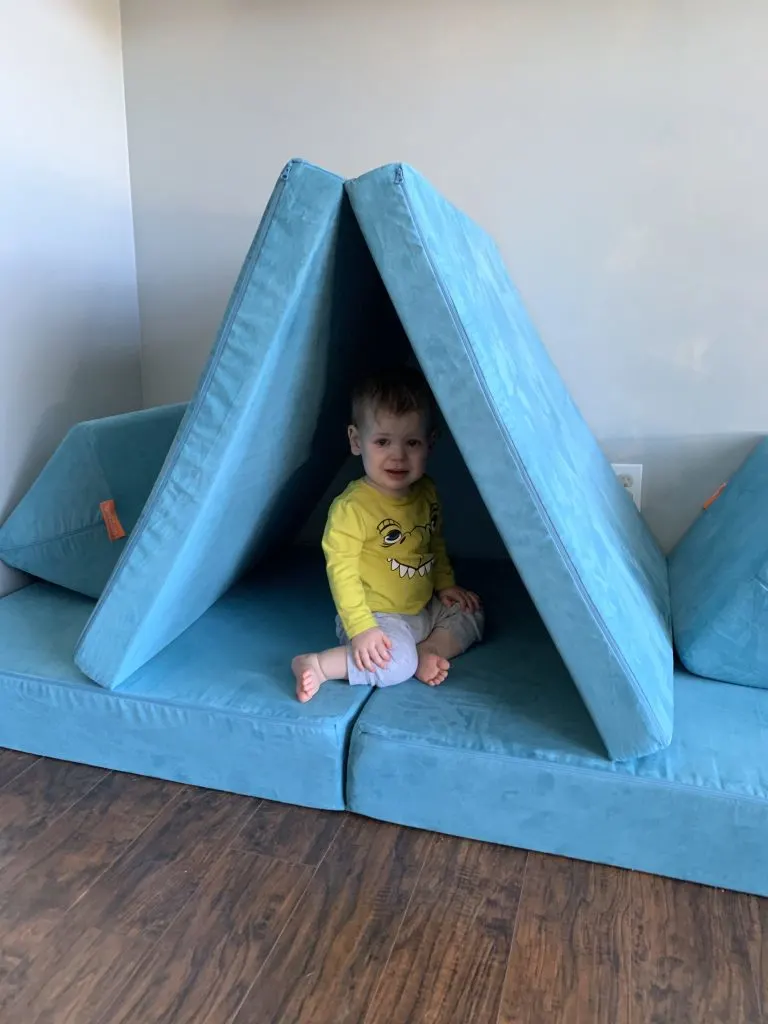 What is a Nugget?
The Nugget is part furniture, part toy.
It is a modular play couch for kids that can be used for lounging, building, climbing, and infinite imaginative play.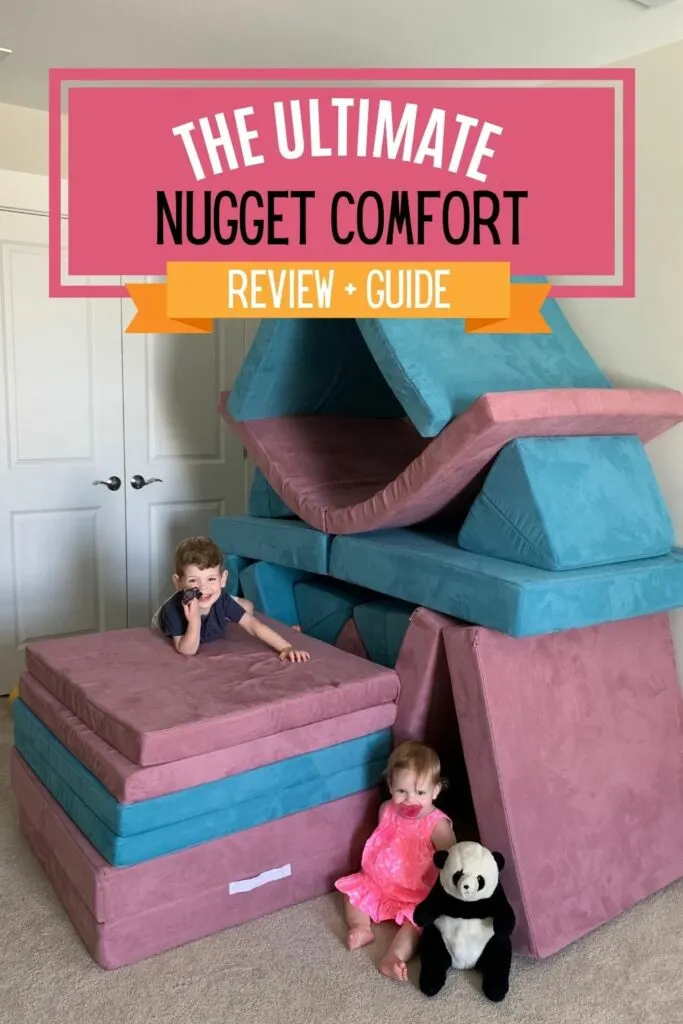 What is so great about the Nugget couch?
The Nugget is great because it is a toy that keeps kids active and busy.
I also particularly like that they are attractive, in nice, trendy colors. They don't look like giant plastic kid's todyas.
Nuggets can also be folded up like a couch or chair for storage when not in use playing!
What are the parts of a Nugget couch?
Each Nugget includes:
A thick foam piece (firm foam)
A thin foam piece (softer foam)
Two triangle pillows (firm foam)
A Nugget cover (comes on all the pieces, not a separate thing, though it is removable)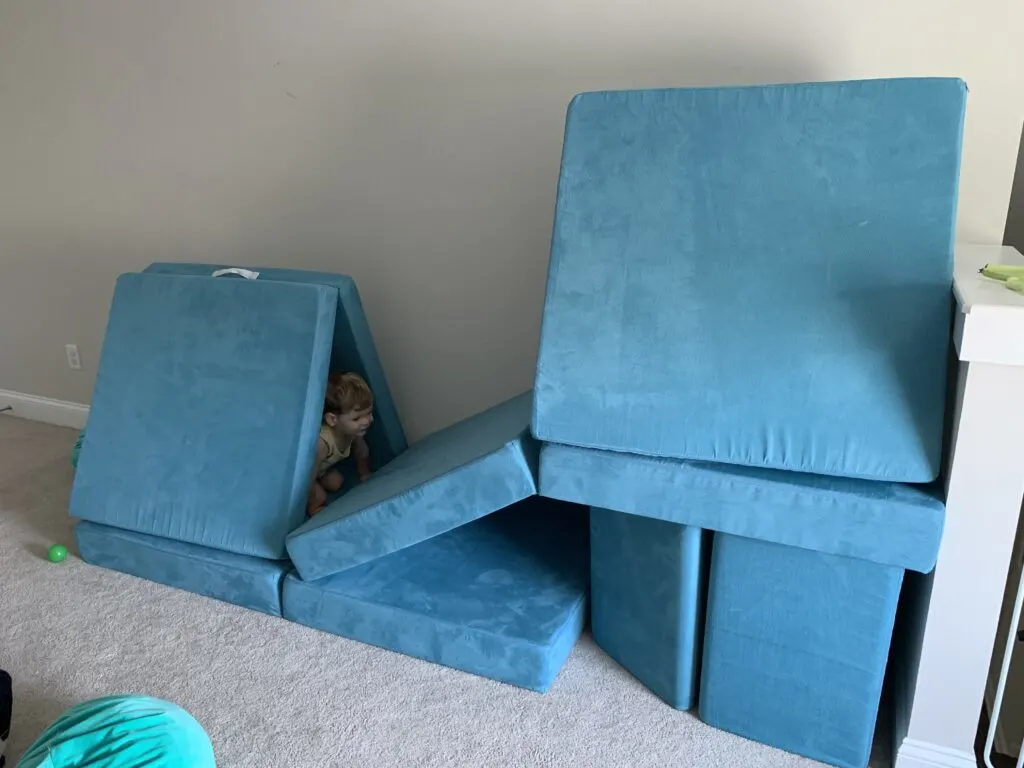 What is the Nugget Comfort made of?
The Nugget is made of open-cell polyurethane foams, cloaked in soft and durable microsuede fabric.
Is the nugget couch toxic?
It's CertiPUR-US certified to exceed safety standards. It's mercury, lead, and formaldehyde free, and VOC's are minimal to protect indoor air quality.
What are the dimensions of the Nugget?
The Nugget is 33″ deep and 66″ long in its standard configuration.
The seat is 8.75″ above the ground, and it's 22.25″ high to the top of the pillows in the standard configuration.
The Nugget box measures 15″ x 15″ x 34."
How much does a Nugget weigh?
The whole Nugget weighs 27 lbs.
That's the sum total of the base (12 lbs), the seat cushion (9 lbs), and the two triangle pillows (3 lbs each).
Where are Nuggets made?
Every Nugget is made in Hillsborough, North Carolina at Nugget HQ.
We love this because it is very close to Cary, North Carolina, where I grew up – and not too far from Charleston!
We love supporting local small businesses.
The fabric is sourced from China and El Salvador, and foam produced in Mt. Airy, North Carolina.
Nugget colors
Nuggets have 3 permanent colors – blueridge (navy), koala (gray), and harbor (dark gray).
There are then a rotating slate of seasonal colors or patterns! There are currently 20 limited edition colors and patterns so there are options for everyone!
You can get one color of Nugget or try different color combinations.
There are also limited edition print patterns, some even with well known and loved characters. Past collaborations include Sesame Street, Pixar, and Hello Kitty.
Nuggets come in microsuede, double brushed microsuede, and corduroy fabrics, which vary by color availability.
Here are all of the retired Nugget colors!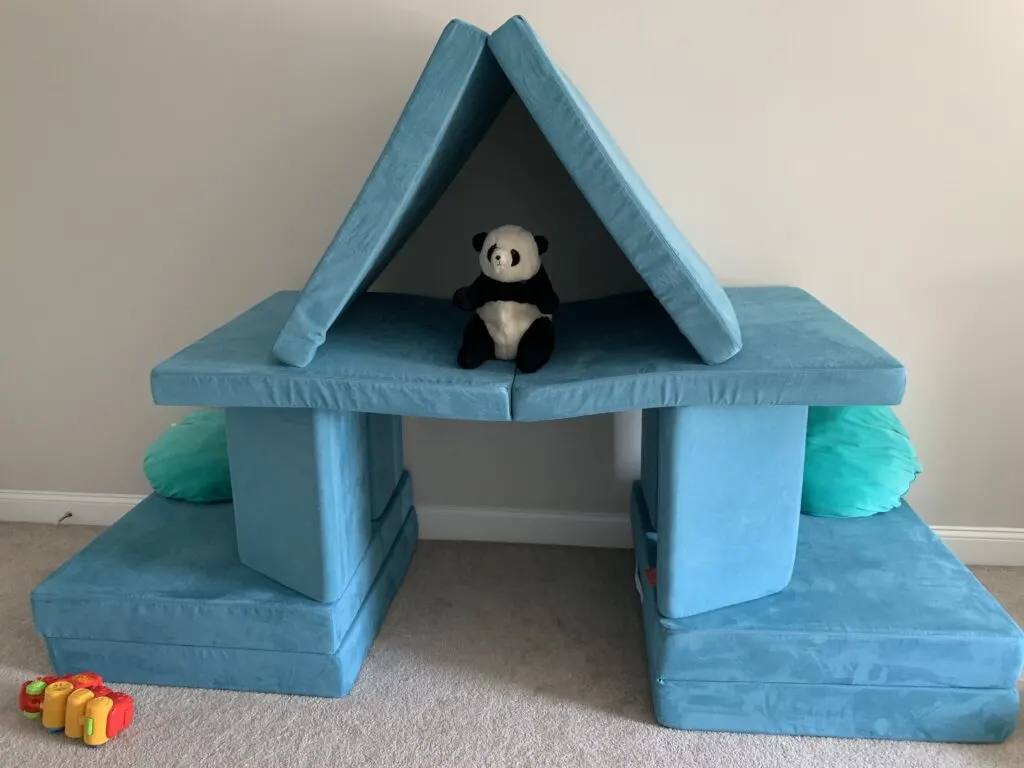 What is the Cost of The Nugget?
A standard Nugget costs $249 with free shipping in the USA. A Nugget with upgraded double brushed suede fabric costs $269 and corduroy is $279.
Limited edition printed patterns vary in price and are usually priced at a premium.
Is the Nugget couch worth the price?
I think that Nuggets are priced very fairly. If you have ever purchased foam, you will know that it is very pricey. Plus, consider the high cost of shipping such a large box. Finally, everything is made in the USA, which adds to the labor costs compared to toys made overseas.
Does the Nugget couch go on sale?
No, Nuggets do not go on sale. As long as demand stays high, I can't imagine they will. They are actually priced low compared to the competition!
Your best bet for getting a discounted Nugget is to shop on Facebook Marketplace or in a Nugget Facebook group.
Are there any competitors to the Nugget?
The biggest competitor for the Nugget has always been the Foamnasium Blocksy. There are a lot of new Nugget alternatives, though!
There are also lots of great non-Nugget options for indoor climbing toys for toddlers!
Is there a Nugget coupon code?
No, they don't do sales on the Nugget. The only coupon codes I have heard of is when there have been longer shipping delays than anticipated, they sent out individual coupons to those effected. They were tied to purchasing emails so couldn't be shared.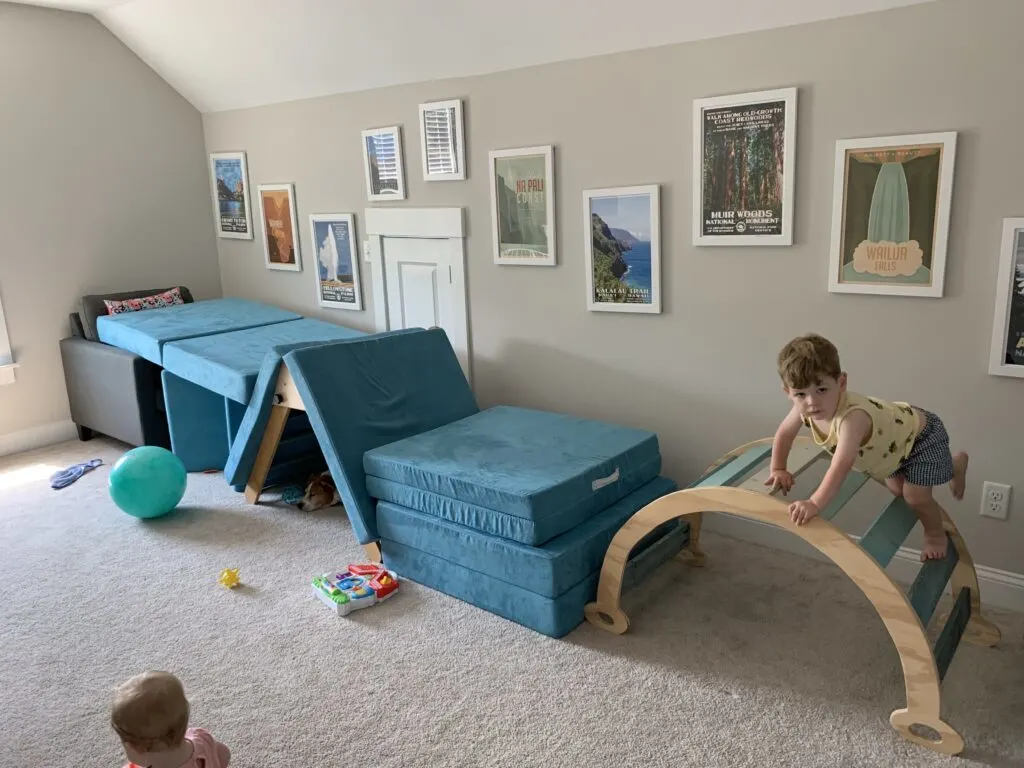 Using the Nugget
Are Nugget couches only for kids?
Nuggets can be used by anyone! They were actually originally designed for college kids as a futon alternative.
Adults have grown infamous for using the Nugget for… adult purposes. Read all about Nugget After Dark!
What age is the Nugget good for?
We got the Nugget for our son's first birthday. I'd say he started really playing with it at 18 months. But, you could get it any time before that for baby to crawl or sit on.
Older kids, you know them best. If they are too old to "play" they still might use it for lounging, watching movies, playing video games, etc.
There is no maximum age for the Nugget because there is no weight limit. It really just depends on your kids and if they would be interested!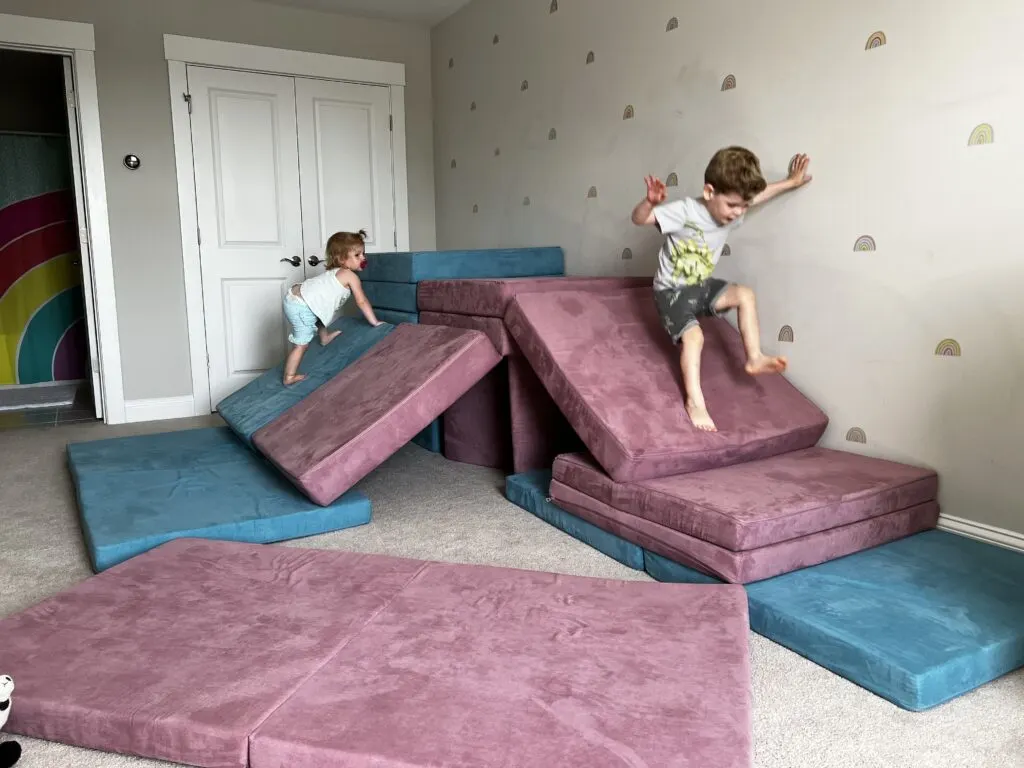 Is the nugget comfortable?
The soft foam piece of the Nugget is comfortable to sit on! Not like, best couch ever, but not uncomfortable at all.
Can you sleep on a Nugget couch?
This is such a popular question. The answer is that you COULD sleep on it.
However, it's not as comfortable as a standard mattress. It's not going to be super supportive.
Also note that it is shorter than a twin bed – so tall people will NOT fit.
I think it's fine for kids to sleep on occasionally – sleepovers and things like that.
We gave my brother in law the choice of sleeping on 2 stacked nuggets or an air mattress and after testing both he chose the air mattress!
Can you use a Nugget as a couch?
Once again, you COULD. But here are a few things to keep in mind.
You need 2 Nuggets stacked to make the height of a normal, adult couch.
There is no back for the couch. The angle of the triangle pillows is REALLY awkward for using like a couch back.
I think that Nuggets are great for a playroom. But remember – if kids are building and playing with them, they won't be available for seating!
What are the best Nugget configurations?
You can use the Nugget as a couch, a slide, a fort, an obstacle course, or any kind of build! There are tons of Nugget configuration ideas!
Be sure to check out my Nugget build ideas:
Is the nugget waterproof?
No, the Nugget is not waterproof. The foam can get moldy from moisture so it needs to be dried (with a towel, then laid in the sun) ASAP.
If you want to protect your nugget foam, I highly suggest grabbing a waterproof liner! Nugget makes them and there are a few other brands that do, as well!
Does the Nugget couch clean well?
The cover is fully removable and washable! It is very easy to clean – though getting the cover back on can be a beast. Read my complete guide to cleaning a Nugget!
Pet hair can easily be cleaned with a lint roller!
How does the Nugget couch fold up?
The two rectangular pieces fold in half "hamburger style" (do kids still say that?) to make a super thick square. Stack them and put the pillows on top. Here's my favorite way to stack a nugget when not in use!
What is the Nugget couch durability like?
Our 2 year old is rough and we have a cat and a dog and we have had 0 durability issues. We rarely wash them and the fabric still looks great.
I have seen issues on Facebook with holes in the fabric, and they can be sewn or patched with an iron on patch.
Our Nuggets are heavily played with and the foam is still good as new.
Remember that Nuggets come with a 1 year warranty. So, if there are any issues with the covers due to manufacturer defect (like, ripping on the seams), you can contact Nugget for a replacement within one year.
What are good accessories to pair with the Nugget?
If your kids already have a Nugget, or they are getting one for a gift, you might be looking for accessories that pair well with a Nugget! I suggest a wobble board, pet steps, or a pikler triangle! See all my suggestions here!
Any more questions about Nuggets for me?!