Considering buying either a Nugget comfort couch or a Fort? Let's compare them!
I'm a big Nugget couch lover (since 2019!) but there have been a lot of new comparable products put on the market lately.
I'm a member of a few facebook groups where people share their set ups and I've been really intrigued by some of the Nugget alternatives.
So, today I wanted to compare the Nugget Comfort kids couch to the Fort kids couch! Let's see how they stack up!
Here are my 12 favorite indoor climbing toys for toddlers!
Note: I own a Nugget but not a Fort, but I have nothing against Fort! Click here for my full Nugget review.
What are the differences between a Nugget and a Fort?
There are a few key differences between the Nugget and the Fort, but the most obvious is the different pieces.
The Nugget features 2 rectangular folding foam pieces and two foam triangle "pillows".
The Fort includes 12 pieces – 2 half moons, 2 arches, 2 triangles, 4 rectangles and 2 squares.
The Fort pieces have magnets in the cover that is supposed to make them stick together for building.
My main conclusion is that if you want a couch, the Nugget is 100% better for lounging. If you want to build, the Fort is designed to make more intricate builds. However, at over double the price!
Cover Material
Nugget
Nuggets are made of a microsuede material. There are a few "premium" nuggets with a double brushed microsuede, which is supposed to be easier to keep pet hair and debris off of.
Fort
The Fort covers are a polyurethane "leather". This means they will be more wipeable than the Nugget fabric, but also slick materials can be harder to build with or climb. The covers contain magnents to make them stick together better.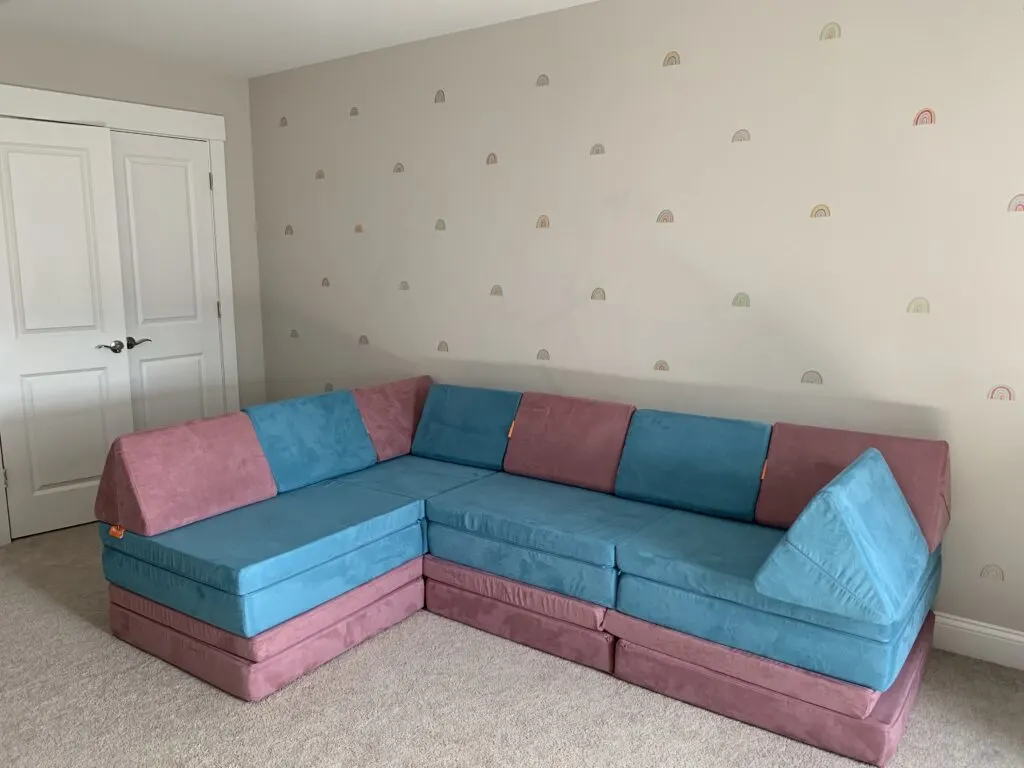 Washability
Nugget
Nugget covers are removable and washable.
Fort
Fort covers are removable, though it is unclear from their website if the covers are machine washable. The covers have magnets in the covers.
Colors
Nugget
Nuggets currently come in 3 classic colors (gray, navy, and black) and then a rotating slate of limited edition colors. There are currently 15 limited edition colors, ranging the full rainbow.
Fort
Fort says that they will offer 3-7 colors, but does not say what they are.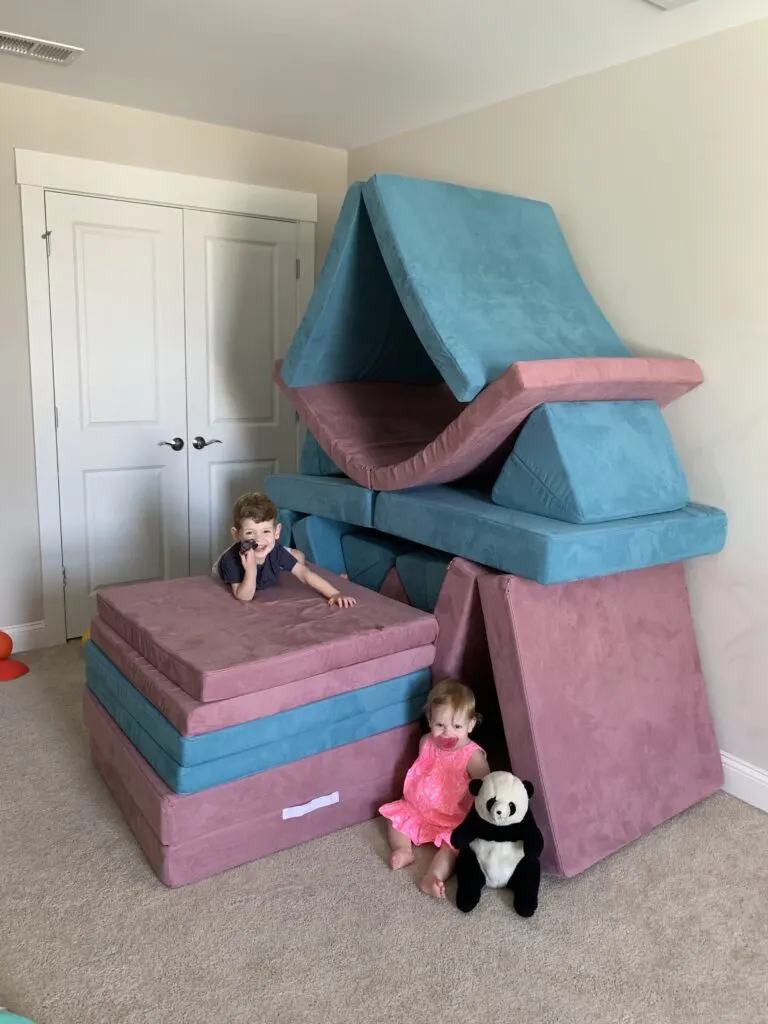 Size
Nugget
Rectangular cushions are 33″ x 66″.
Fort
Fort cushions are all 5″ deep with varying dimensions between 13″ to 26″ and stack to make a 26″ deep, 26″ wide and 30″ tall tower.
Ease of purchase & delivery time
Nugget
Nuggets are available to order now, with a lead time of 6 to 8 weeks.
Fort
Fort is a Kickstarter and currently you can get on a waitlist to hear when they announce that they are available for purchase.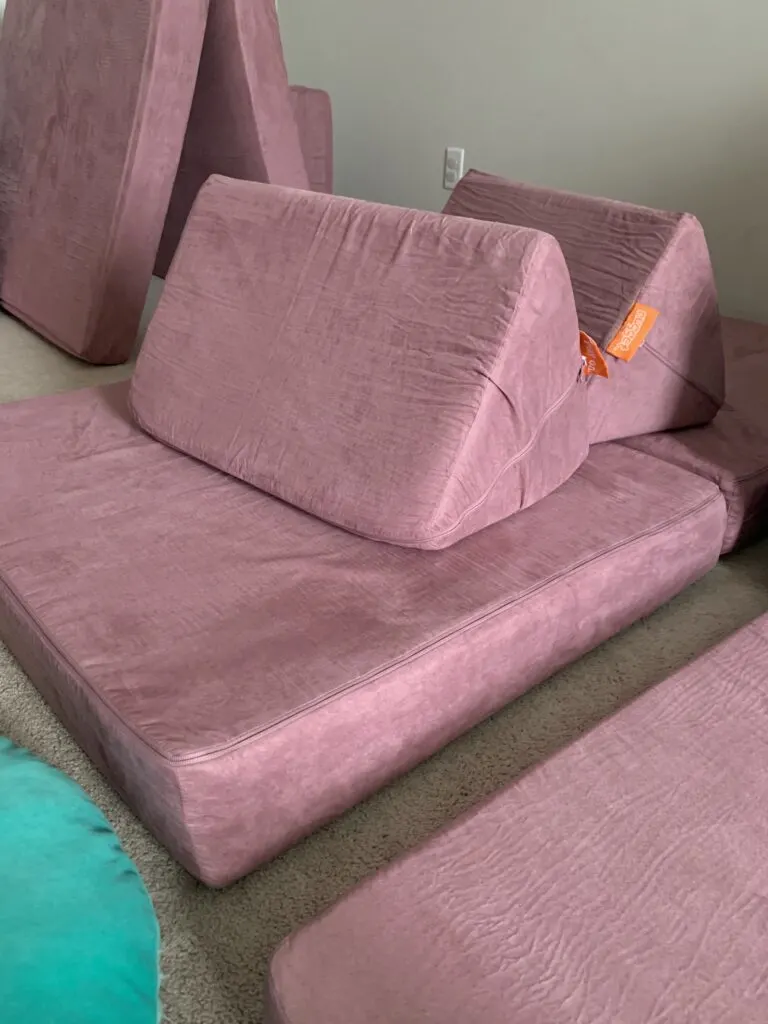 Price
Nugget
The price for a Nugget is $229
Fort
Fort will sell for $499.
Summary of differences
Here are all of the differences summarized in a handy table!
| | | |
| --- | --- | --- |
| | Nugget | Fort |
| Cover Material | Micro suede | Faux leather |
| Washability | Machine washable | Unknown |
| Colors | 18 colors | 3-7 colors |
| Size | 33″ x 66″ | 26″x26″x30″ |
| Delivery Time | 6-8 weeks | Waitlist only |
| Price | $229 | $499 |