Deciding between a Nugget couch and a Figgy? Let's compare the two kids couches to see which is better for your family.
We have 2 Nugget couches and they keep our two year old BUSY! He loves climbing, sliding, and building forts.
In the past year, a bunch of Nugget alternatives have popped up. I'm comparing them all to the Nugget to see if we might want to get one to try.
Today I am chatting about the Figgy. The Figgy is by Shenanigan kids and is visually very similar to the Nugget. But they aren't identical!
Here are my 12 favorite indoor climbing toys for toddlers!
Note: I own a Nugget but not a Figgy, but I have nothing against Figgy! Click here for my full Nugget review.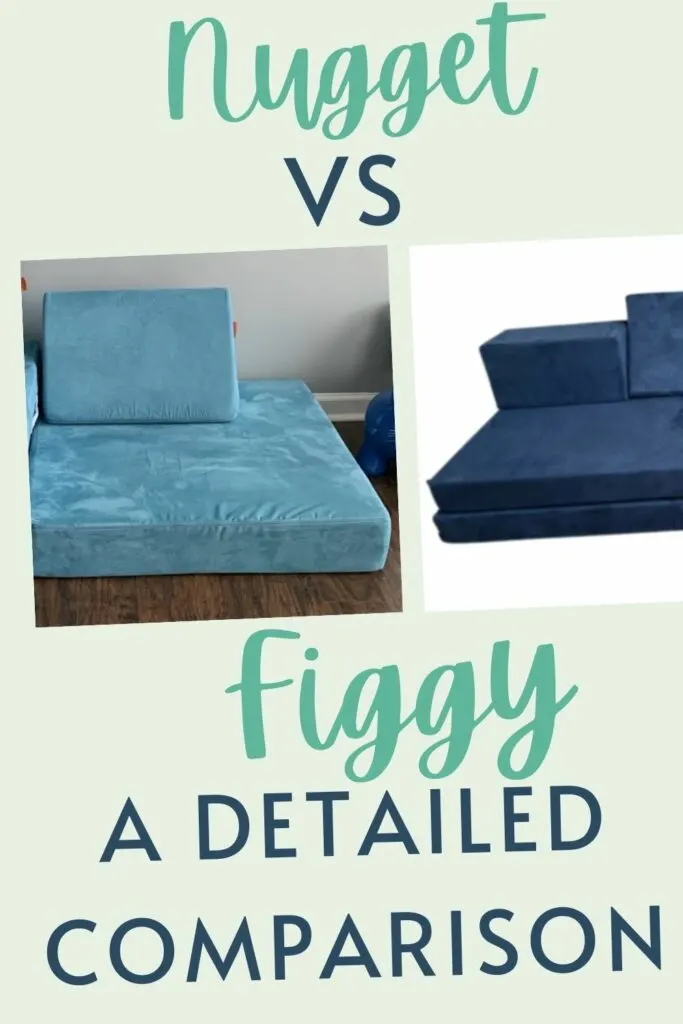 What are the differences between a Nugget and a Figgy?
The biggest difference is in the shape of the cushions. The Nugget comes with 2 base pieces and 2 triangle pillows. The Figgy comes with 2 rectangular pillows and you can add on a "wedge" triangular piece.
The figgy also comes with waterproof liners to help protect the foam in case of spills or accidents.
Cover Material
Nugget
Nuggets are a microsuede or double-brushed microsuede that is soft and comfortable.
Figgy
The Figgy comes with microsuede covers but also includes a waterproof liner to help protect the foam from spills and accidents. The figgy also has velcro covers that cover the zippers, which is great if you have kids that like to unzip things!
Washability
Nugget
Nugget covers unzip and can be washed (not dried) in the washing machine!
Figgy
Figgy covers are recommended to be hand washed on cold only.
Colors
Nugget
Nugget comes in 3 classic colors (gray, navy, black) and a rotating slate of limited edition colors. Currently there are 15 colors, ranging the whole rainbow!
Figgy
Figgy comes in 4 colors: gray, navy, mint, and magenta.
Size
Nugget
Rectangular cushions are 33″ x 66″.
Figgy
Rectangular cushions are 33″x33″. It's 4 square pieces instead of 2 folding rectangles.
Ease of purchase & delivery time
Nugget
Nuggets can be ordered anytime and have a 6-8 week delivery wait.
Figgy
Figgy is available to purchase and will be delivered within one month.
Price
Nugget
The Nugget sells for $229.
Figgy
Figgy is $279 for the standard set and $329 including the extra wedge piece.
Summary of differences
Here are all of the differences summarized in a handy table!
| | | |
| --- | --- | --- |
| | Nugget | Figgy |
| Cover Material | Micro suede | Micro suede + waterproof liner |
| Washability | Machine washable | Hand wash only |
| Colors | 13 colors | 4 colors |
| Size | 33″ x 66″ | 33″ x 33″ |
| Delivery Time | 6-8 weeks | 1 month |
| Price | $229 | $279 |