Trying to decide between a Nugget couch and a Joey for your kids? Let's compare them line item by line item to see which is right for you!
I live and die by my kids' 2 Nuggets, but we are decided whether we should get 2 more when my daughter turns one or try one of the new competitors that has popped up recently!
I have been doing a lot of research comparing the options and am excited to talk about the Joey with you here today.
The Joey is by Chew Chew Baby Roo and is another option for a kids' play couch!
Here are my 12 favorite indoor climbing toys for toddlers!
Note: I own a Nugget but not a Joey, but I have nothing against Joey! Click here for my full Nugget review.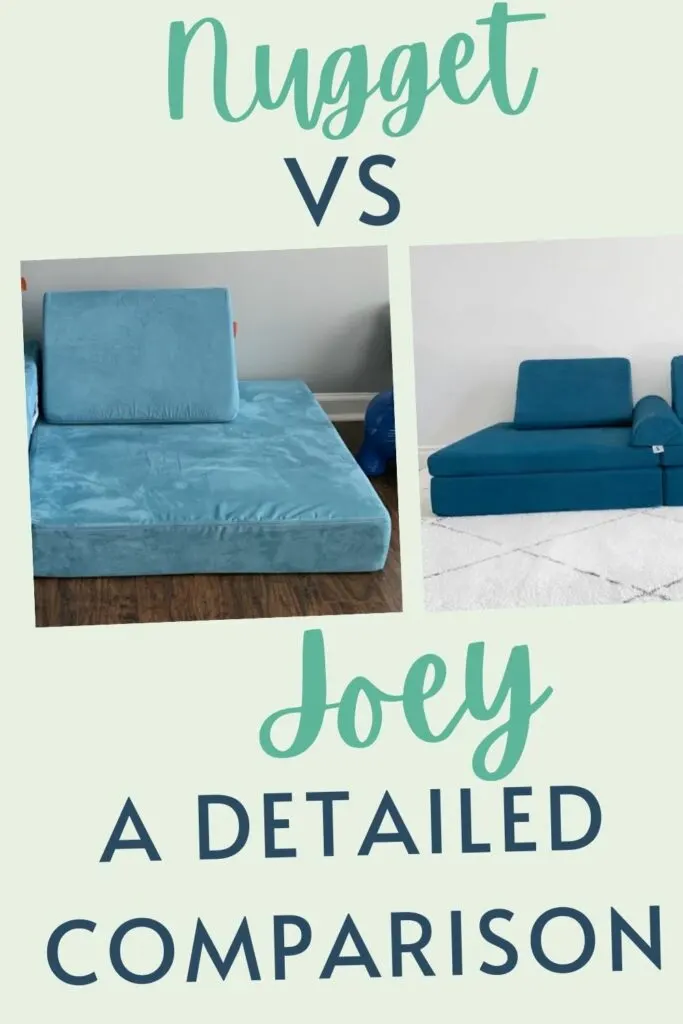 What are the differences between a Nugget and a Joey?
The biggest unique factor of the Joey is that there are a TON of add-on pillow options. This is cool for building and great for configuring as a cozy lounge, too!
Pillows include:
Modular ball pit
Semi circles
Trapezoids
Wedges
Long rectangles
Stepping stones (circles)
Joey is a more affordable option for Canadians. The add on pieces are cool, but get expensive quickly.
Cover Material
Nugget
The Nugget comes in a microsuede and a double brushed micro suede, which is said to be better for resisting pet hair.
Joey
The Joey has a single brushed micro suede cover and an additional waterproof liner to protect the foam.
Washability
Nugget
The Nugget covers zip off and can be washed in your washing machine.
Joey
Joey covers are machine washable as well.
Colors
Nugget
Nugget comes in 3 classic colors (gray, navy, and black) and a set of rotating limited edition colors. Currently there are 15 limited colors!
Joey
Joey has 13 colors, though some of them have been discontinued.
Size
Nugget
Rectangular cushions are 33″ x 66″.
Joey
Rectangular cushions are 33.5″ x 67″.
Ease of purchase & delivery time
Nugget
Nuggets can be ordered online and currently have a 6-8 week delivery timeline.
Joey
Joey is available to buy with a 12-14 week shipping window.
Price
Nugget
The Nugget sells for $229.
Joey
The standard Joey is $253 and includes the base pieces, two triangles, and a long semi circle sphere. All other pieces are additional add ons. To get the Joey and all add on pieces would be $755.
Shipping is free only in Canada. It is $60 to ship to the USA.
Summary of differences
Here are all of the differences summarized in a handy table!
| | | |
| --- | --- | --- |
| | Nugget | Joey |
| Cover Material | Micro suede | Micro suede |
| Washability | Machine washable | Machine washable |
| Colors | 18 colors | 13 colors |
| Size | 33″ x 66″ | 33.5″ x 67″ |
| Delivery Time | 6-8 weeks | 12-14 weeks |
| Price | $229 | $253 |