Easter is right around the corner, and I want to make an Easter basket for my baby! I am well aware that he won't know what is going on, but it is still his first Easter. I am excited to start these holiday traditions with him, and there is no time like the present to get them going!
I came up with some ideas for his Easter basket, and then I posted on Instagram stories about it. Y'all had so many more ideas for me! So, I had to round them all up in one spot.
Here are the best Easter basket ideas for babies + toddlers! Shop these ideas all in my Amazon Storefront here.
Easter basket ideas for babies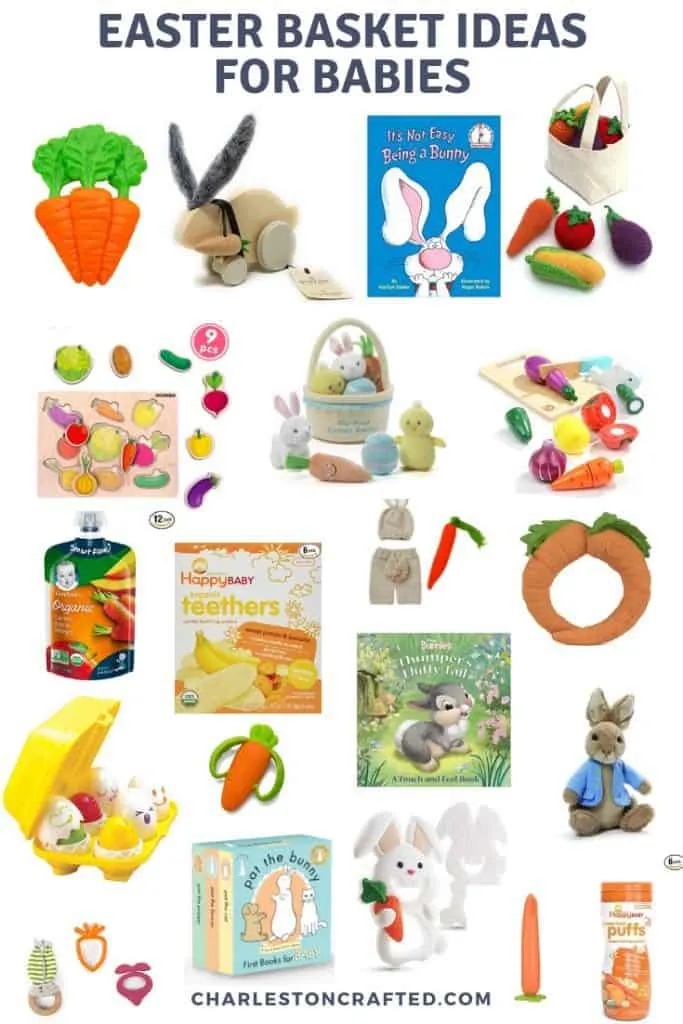 Easter themed teethers
If I have learned anything about babies, it's that they will put everything in their mouths. I like having lots of silicon teethers around because they feel safe for Luke to chew on and are really easy to sanitize. Luckily, they make tons that are Easter themed!
Wooden Easter toys
Wooden toys are really popular for babies, especially amongst parents trying to go plastic-free. They make tons of Easter-appropriate wooden kid's toys featuring veggies and animals! Anything spring or nature themed could work well, too! Here are all of my favorite wooden Easter toys!
Plush Easter toys
Of course kids love plush toys. It should be no surprise that there are tons of stuffed animal options for you baby's Easter basket.
Bunny crib or stroller hanging toy
Plastic Easter toys
Kids love colorful, noisy, plastic toys. I tried to resist them, but they seem to be Luke's favorites! Here are some great ideas for Easter baskets.
Easter clothing
Any excuse to buy a new outfit, right? It's hard to resist these teeny tiny Easter onesies and pajamas!
Easter baby books
We read books to Luke every morning and every night. So, I don't feel guilty about bringing more books into the house. Here are some really great choices for Easter!
The Berenstain Bears and the Real Easter Eggs
Here are all of my favorite bunny rabbit books for kids!
Edible baby Easter basket gifts
When in doubt, edible gifts are great. They get used up, appreciated, and don't add clutter to your home. Babies vary greatly in what they can eat, but here are some edible baby gifts that fit an Easter theme!
I hope that this post gives you some great ideas for what to put in you baby's Easter basket! If you use any of the ideas – take a picture and tag me on social media! I'd love to see it 🙂