Love your Nugget kids couches and want to protect them? Let's compare the Nugget brand liners to the alternatives. Here are the best waterproof liners for Nuggets!
We love our Nuggets so very much. I don't want them to get ruined!
But, if you have a spill on the Nugget and it gets to the foam, it can definitely get moldy and gross.
Be sure to check out my guide on how to clean a Nugget cover (with a free printable cheat sheet!)
Some of the top Nugget competitors biggest benefit over the Nugget is that they include waterproof liners.
Well, starting January 20th, 2022, Nugget now offers their own waterproof liners!
Click here to see all of the best Nugget alternatives!
You can choose the Nugget liners or to go with an outside brand. Here are your options!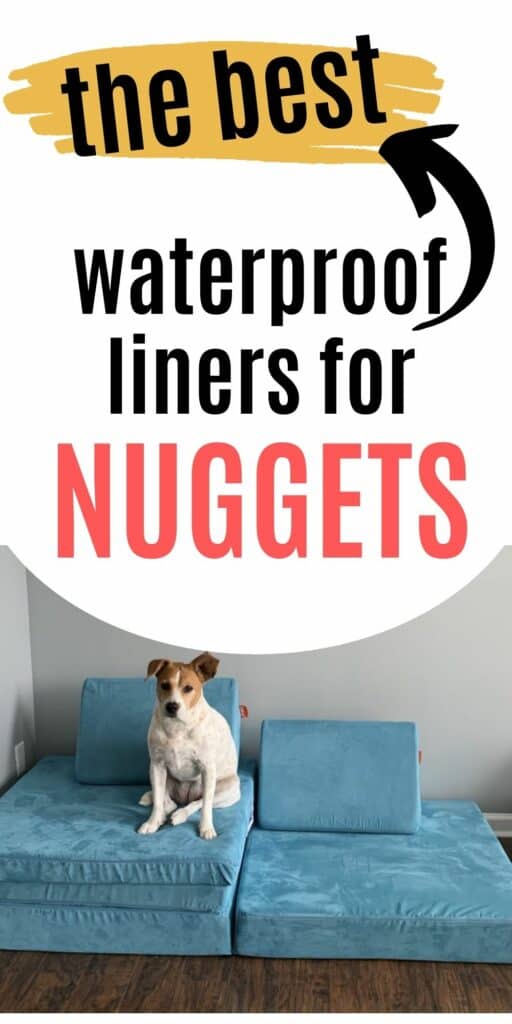 The best waterproof liners for Nuggets
Your options for Nugget liners are:
Nugget Liner Set
On January 20th, 2022, after much demand, Nugget released a liner set!
A set includes 6 pieces (2 triangles, and 4 squares, 2 each for the rectangular pieces.
The liners are made from OEKO-Tex™ Certified, non-toxic waterproof materials.
These liners cost $99.
Goodnites Pads
Goodnites Pads are basically pee pee pads. They are designed to put under the sheets of bedwetters.
This is the least expensive option, they are disposable, and if they get wet you just replace them.
They will not however cover 100% of your Nugget.
Never Nudes
Never Nudes are an extremely popular option for lining your Nuggets. They are a full cover that goes under the Nugget cover and completely protects your foam.
They cost just under $100 (which is pretty significant, relative to the Nugget cost) and take a week or two to ship.
Never Nudes are very popular and work great to protect your foam. If you have a messy family and the extra cash, it might be worth it!
Nugget alternative covers
As I mentioned earlier, there are several Nugget alternatives that include waterproof liners.
The following brands allow you to purchase waterproof liners that will also fit a Nugget:
These are more expensive than the pee pee pads, but less than the Never Nudes. All great options!
What's your favorite Nugget waterproof liner?