Looking for three Nugget couch configuration ideas? Here are some of our favorite triple Nugget couch builds!
We are obsessed with our Nugget comfort couches! They are our favorite place to play, hang out, build, and play rough and tumble with our two kids.
We have 4 Nuggets, and it is honestly so much more fun to build with two than with one! If you have the space, go for a second! If you love having 2, go for 3!
I honestly think that 3 Nuggets is the perfect number. I just like even numbers and balance, which is how we ended up with 4 – 2 lagoon and 2 mayberry!
I think that I may bring one of our Nuggets downstairs into a different room to make a reading nook, leaving just 3 in our playroom.
My hot tip is to build these builds yourself, take a photo of each, and save them as an album on your phone. Then your kids can scroll that and look for ideas!
Be sure to check out our Nugget obstacle course ideas!
I will say that I often have extra triangles with my triple builds. You can stack them horizontally beside any build (alternate right side up and upside down) to create a ramp/steps up to any platform!
Click here to get a FREE printable PDF poster of these 3 nugget build ideas!
Here are my favorite builds using 3 Nugget comfort kids couches!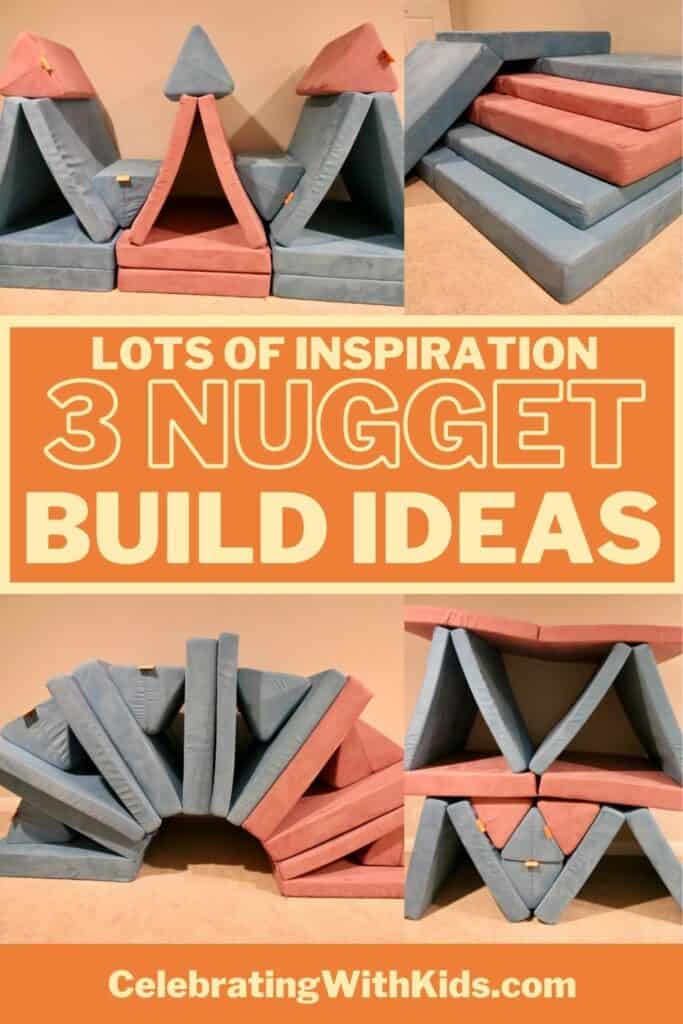 Three Nugget configuration ideas
The Couch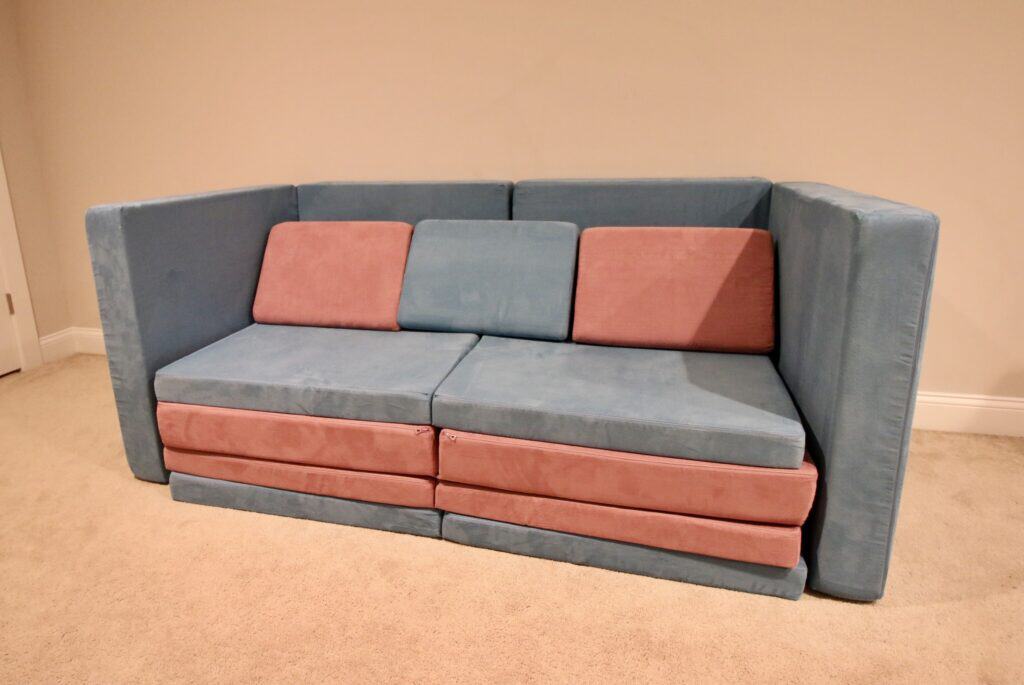 The couch is the Nugget classic. This is a great answer to how to store a Nugget when not in use.
You can mix this up with the softer pieces as the backer, if you prefer! So many options!
The Stairs + slide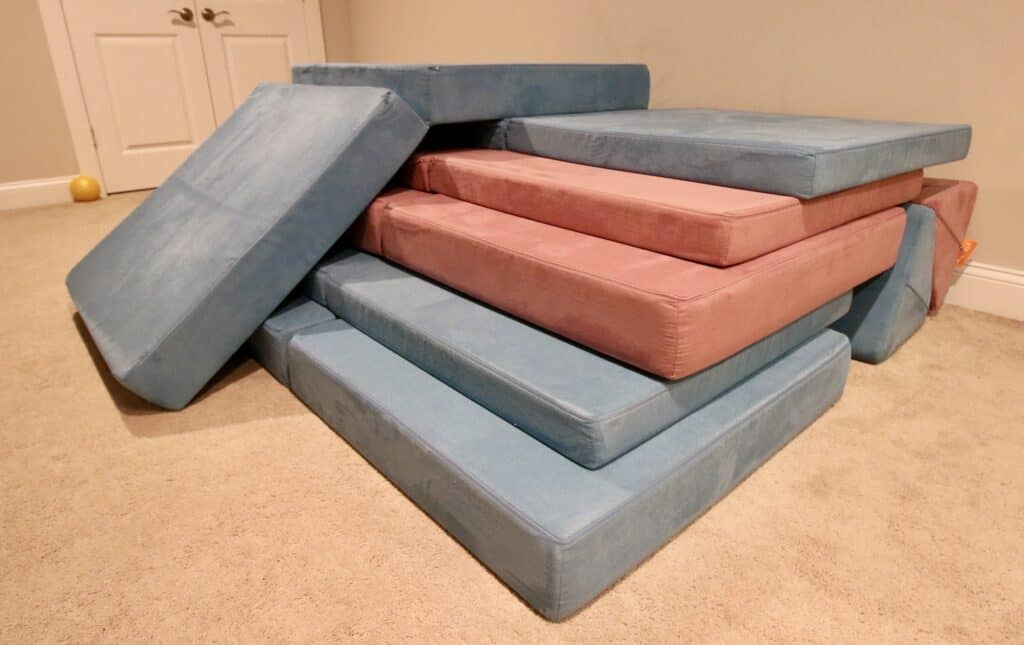 Nugget stairs are super popular and easy to build with 3 Nuggets. Here's my guide to building nugget stairs. I love to use 1 firm piece as a slide on one side!
You use all the triangles here as supports in the back.
Bump bump bumps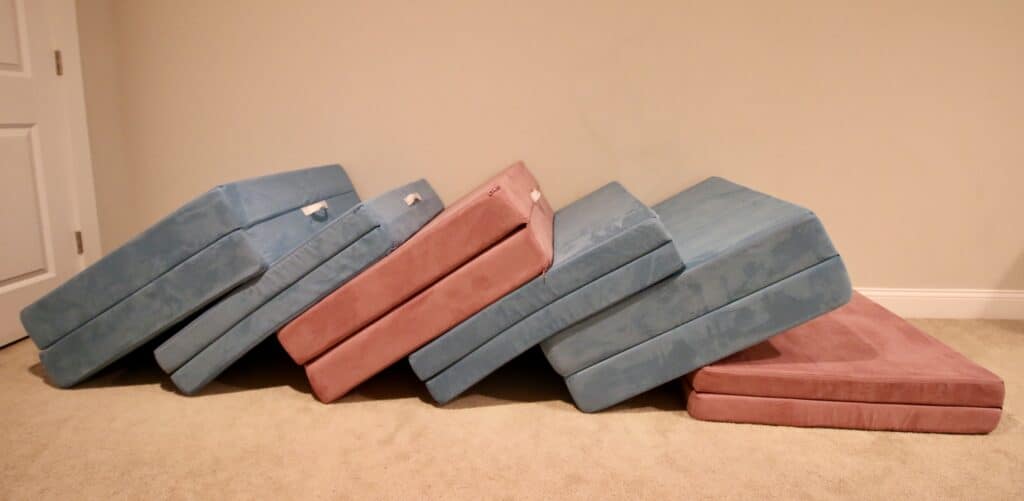 We love using Nuggets in obstacle courses. I call these the bump bump bumps, and they are a perfect climbing obstacle that will have your kids laughing and laughing by the end!
Triple tents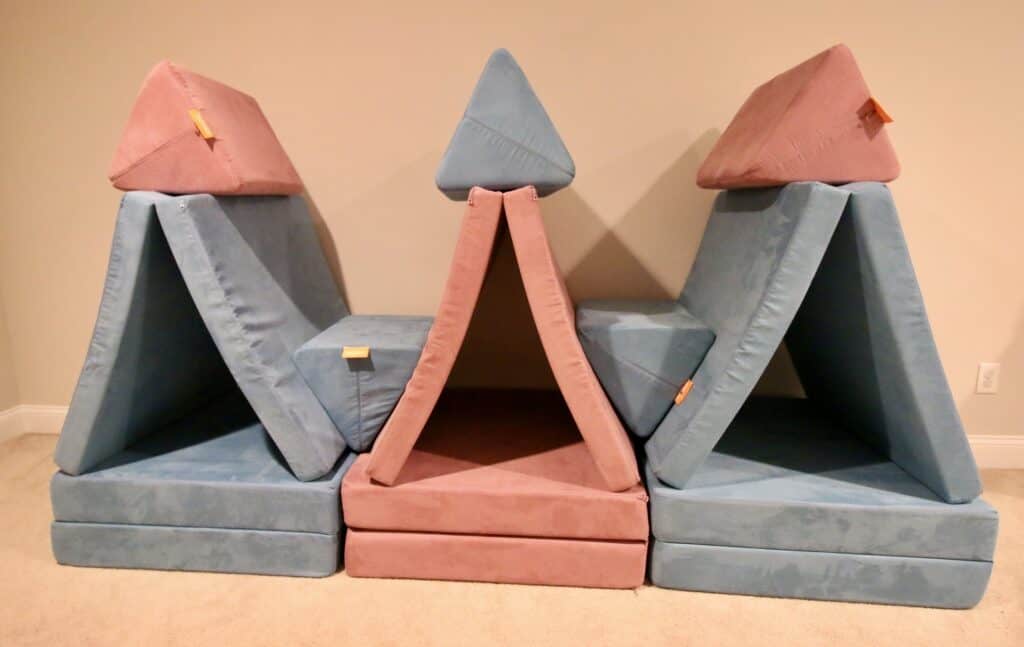 The classic nugget tent is one of my favorite builds. I love this triple set up! You can alternatively put the triangles in front to create foot rests.
This is cute for taking photos or even watching TV. Perfect if you have 3 kids!
House with a rooftop patio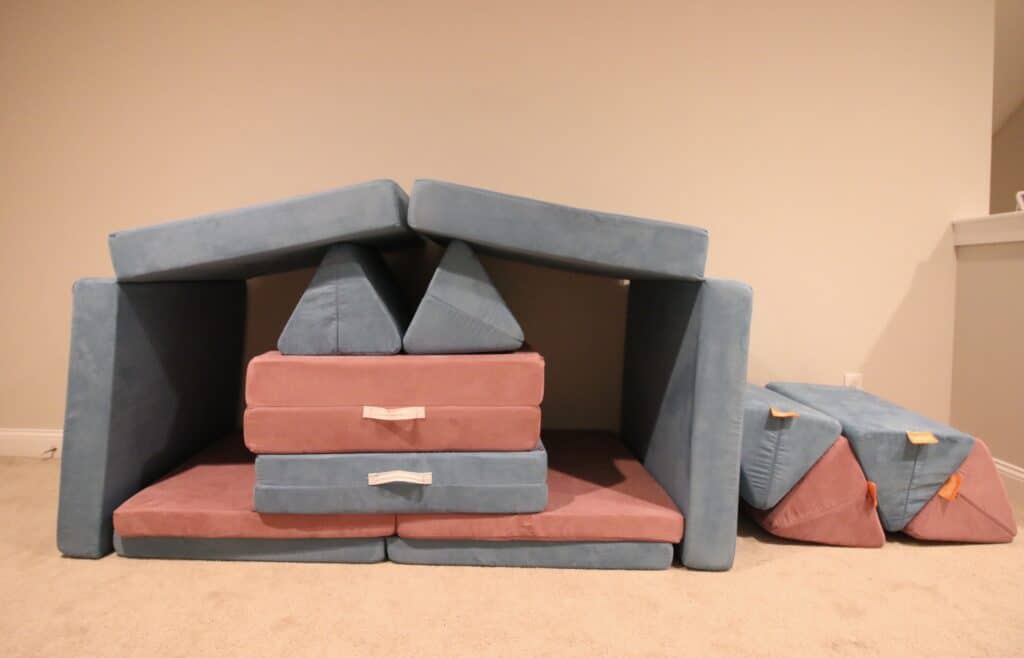 This picture lets you get an idea of what I mean by using extra triangles to create steps on the side. These are perfect for boosting my two year old up on top of builds.
This build is impressively sturdy (for kids – not adults. the steps build is best for adults!) Kids love climbing on top and under!
Treehouse + ramp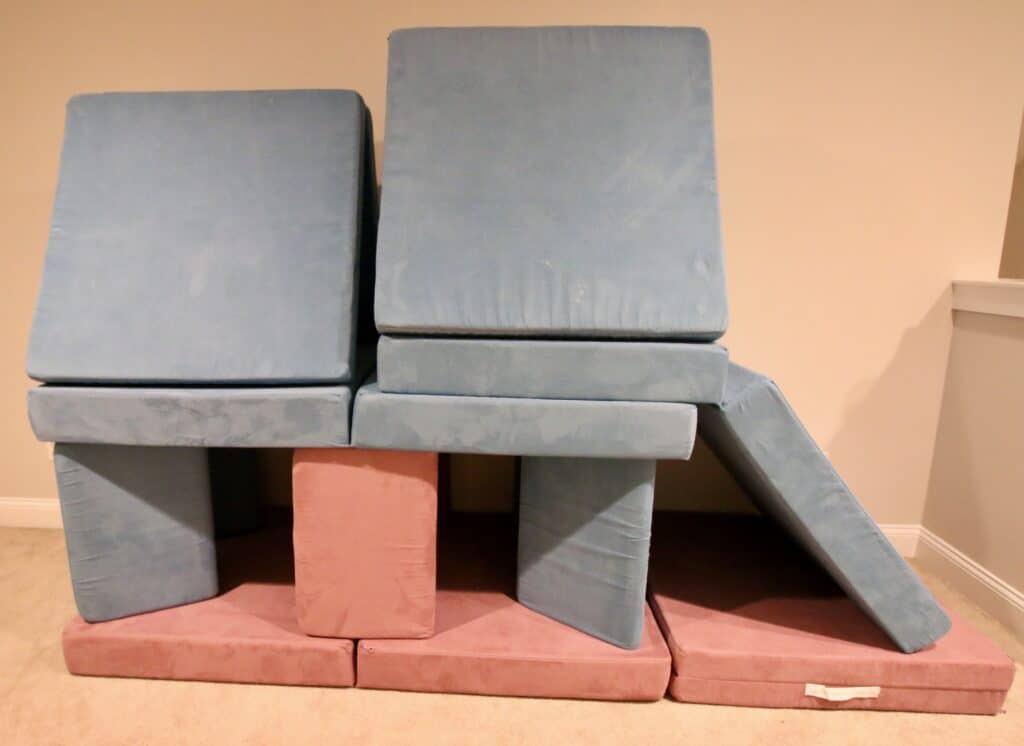 Treehouses are our favorite type of build. My son likes to throw balls down the ramp. I show a few different tree houses in my 2 nugget build ideas. Most of those can be modified to work with 3 nuggets!
I like the double wide top section since my 1 year old now wants to be involved. 2 kids in a single square tree house with a triangle tent style roof is just asking for an airborne wrestling match.
The arch/rainbow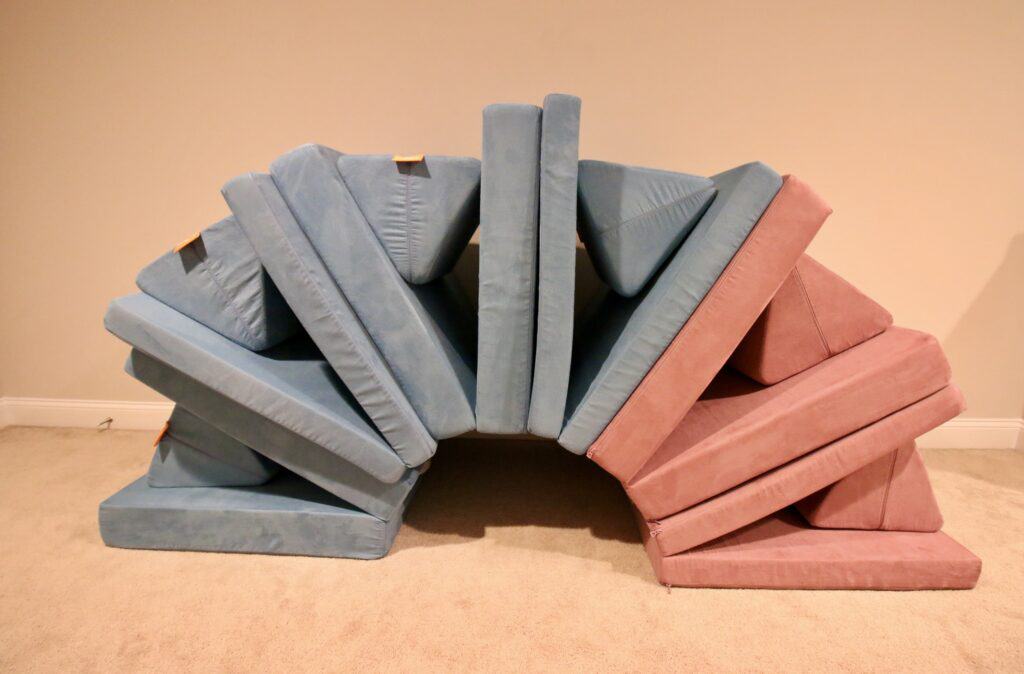 This rainbow arch is a favorite build in the Nugget facebook group. It's more dramatic if you have more nugget colors (lol) but it is pretty and another good one for climbing, just center the triangles more for a sturdy climb.
The stacker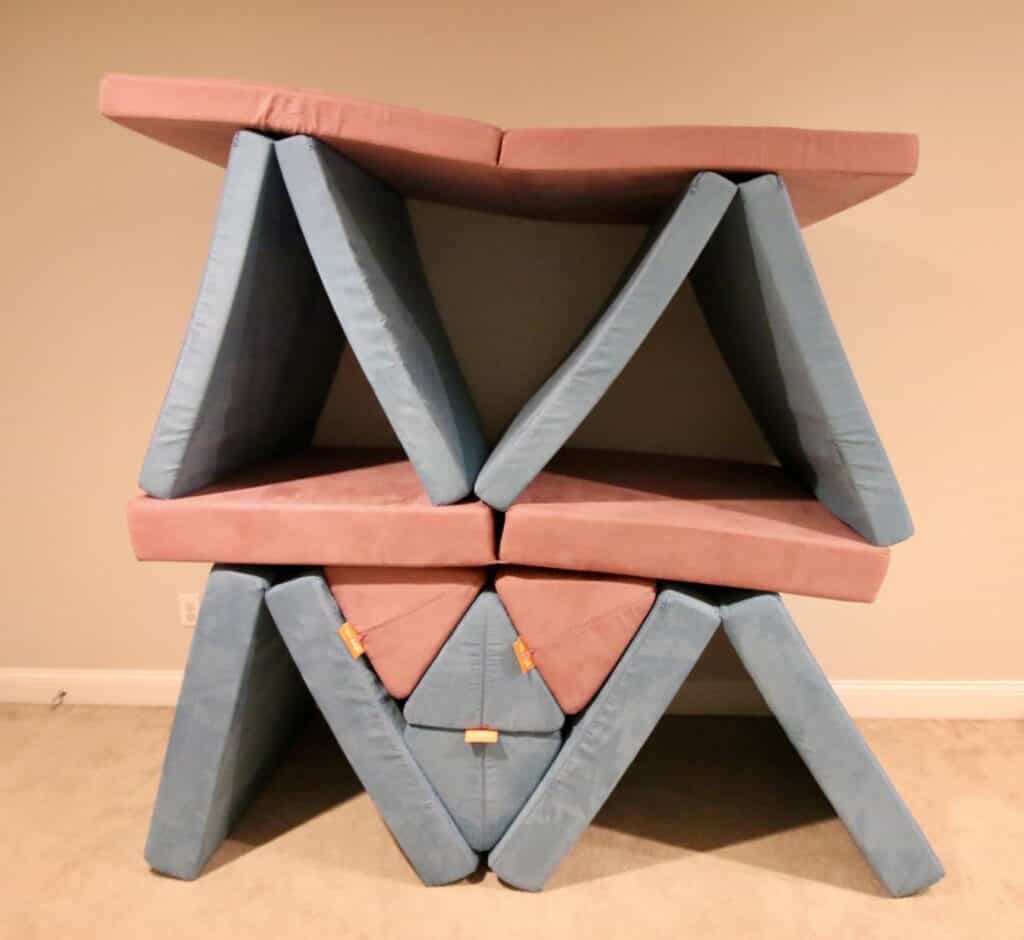 Stacked triangles are a super popular nugget configuration. You can sit underneath or climb up top. Pair with pet steps or a piece of furniture to climb up top – of do like me and ball on the ground to make "mom steps". 🤣
The stacker house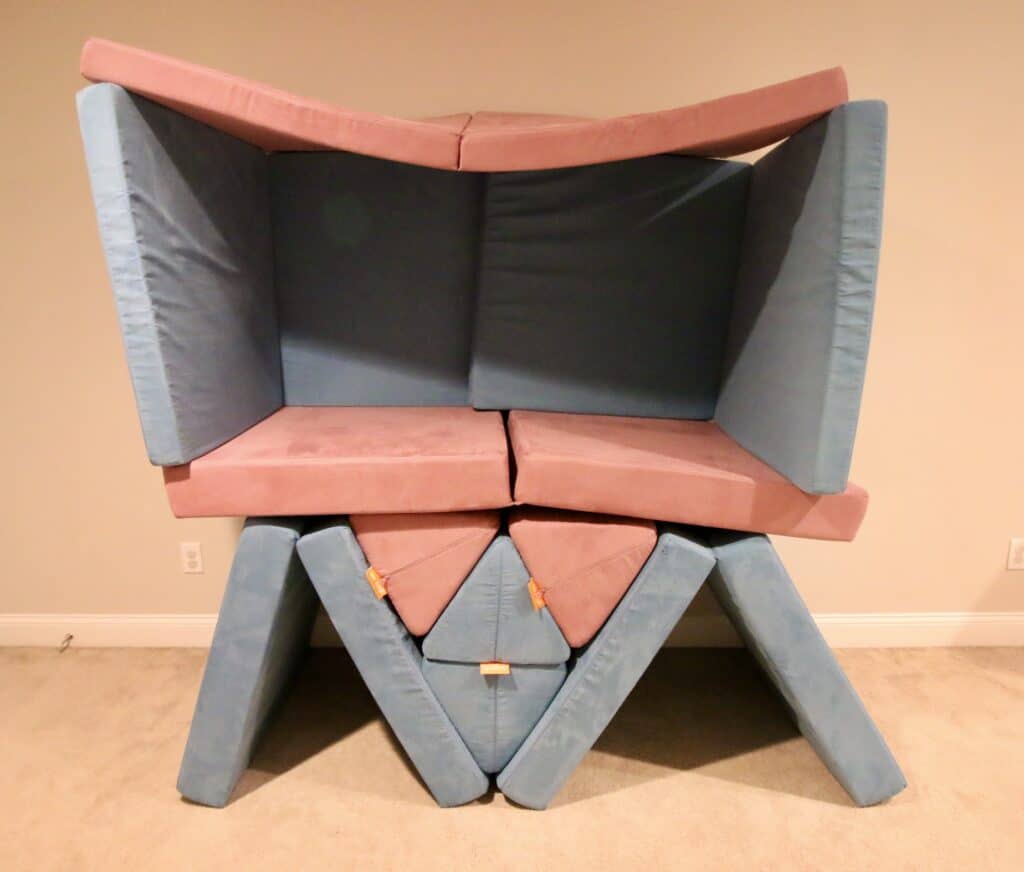 This is the same build but with a rectangle top instead of triangles. I am sharing it because I see it a lot but I think the triangles are MUCH more stable. I get that this is more spacious for bigger kids. Use with caution lol.
The double car port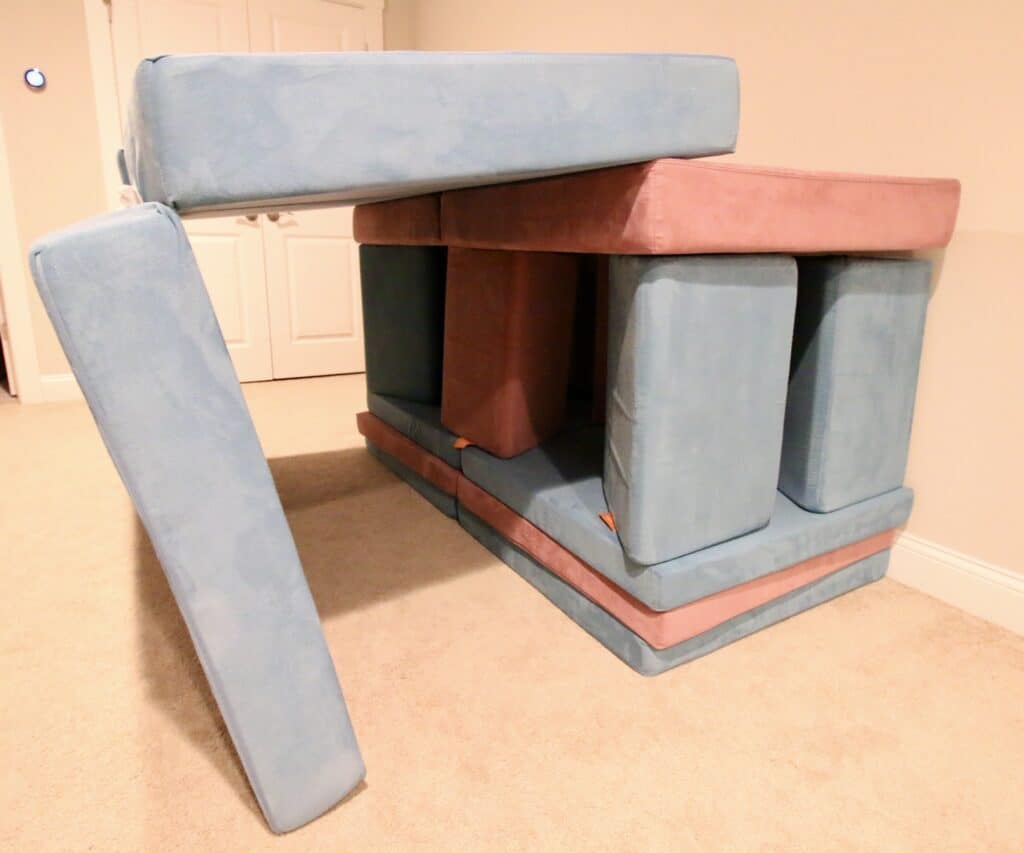 My son loves builds with a lean to/car port on the side. You can throw a parachute or blanket over top to make it fort-y.
Small kids can crawl between the triangles, and using all 6 triangles makes the build super sturdy for sitting on top of!