Want to turn your Nugget Comfort kids' couch into a slide? Here are a ton of build ideas!
Nuggets are a super fun toy for toddlers and kids. You can use them to build forts, obstacle courses, stairs, and of course, slides.
Slides are fun for kids of all ages. If you use the thick pieces and support them properly, they are actually pretty strong!
We've made a few different Nugget slides. Here are our favorites!
**always slide at your own risk and monitor kids for safety. lots of injuries happen on nugget slides!**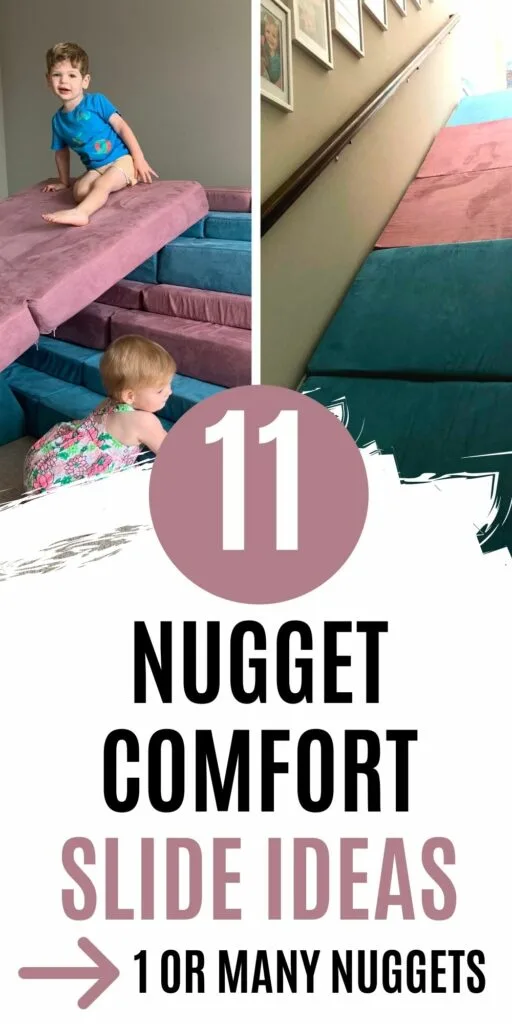 Nugget Comfort Slide Ideas
Here are some ideas for building slides from your Nugget!
One Nugget Slide Ideas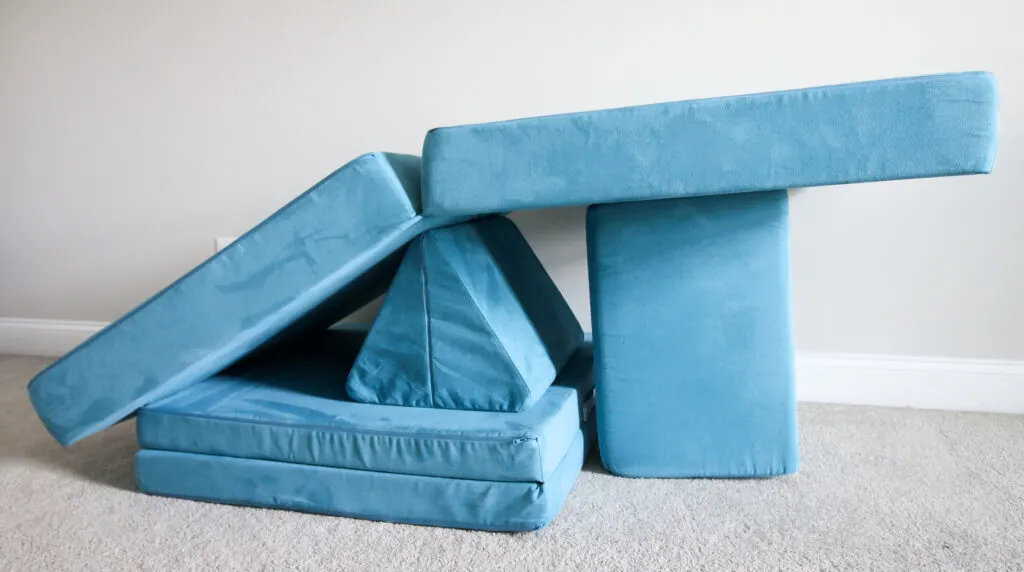 This build isn't super stable as-is, honestly, but if you place the far end on a couch or chair, it's great!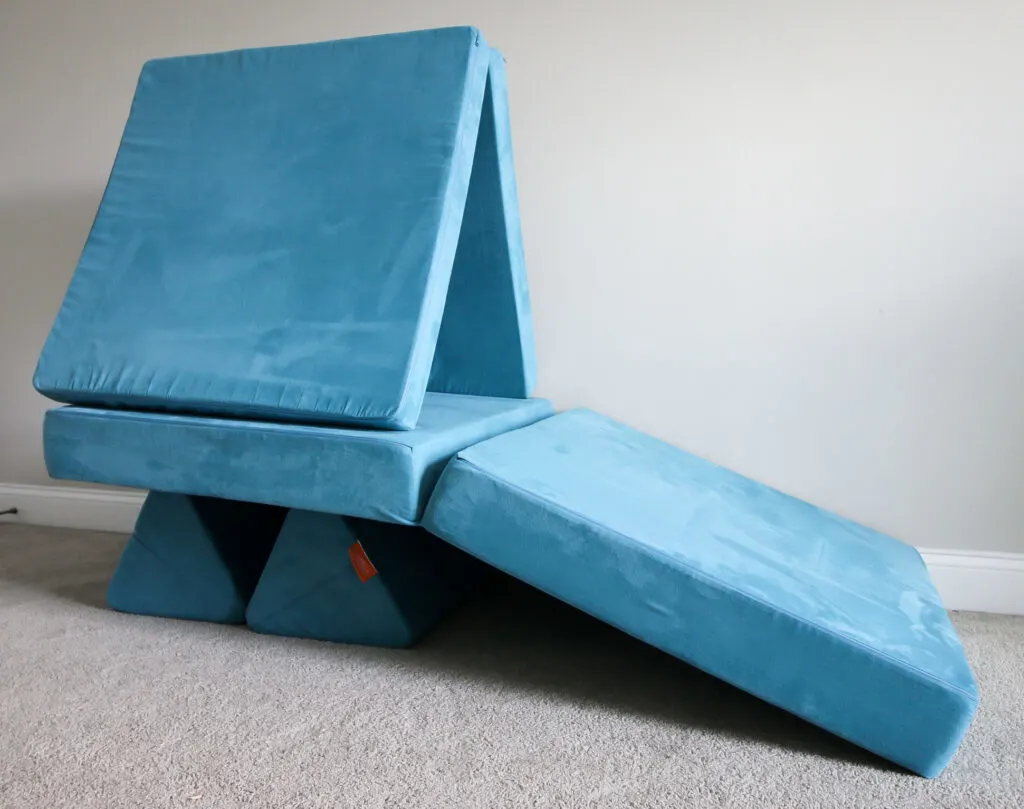 This is a simple one nugget build with a built in slide!
It is more stable than the previous slide but still best built against a wall. Consider adding additional pillows underneath it for stability.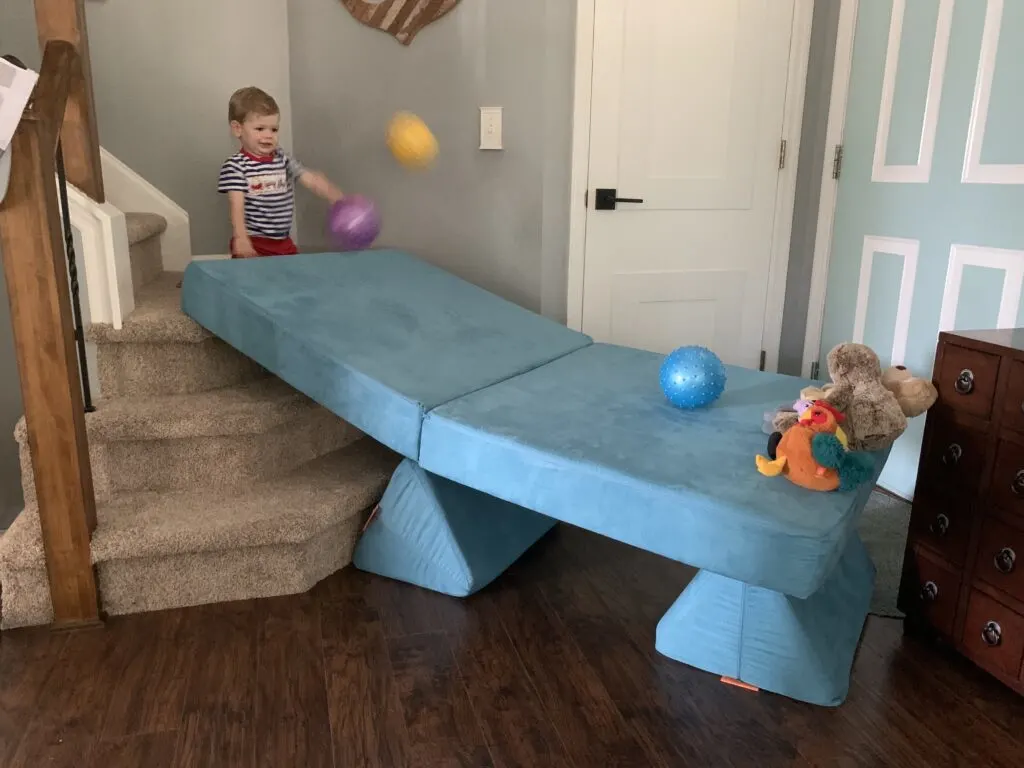 This is a really shallow slide, but could be made steeper without the second triangle. We like to use it for stuffed animal bowling, but you can also also slide down it.
You can do this off the back of a couch, too.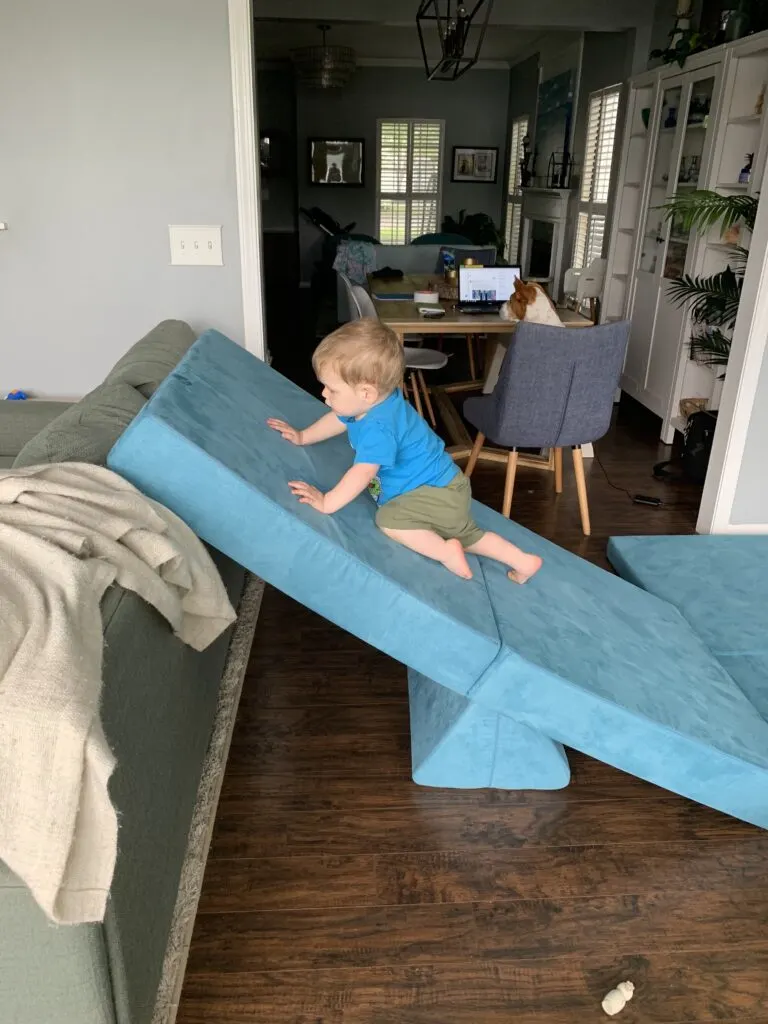 Pair one firm nugget piece with the back of a chair or couch and a triangle for support. We use the soft rectangle as a crash pad at the bottom.
My son was under 18 months here and LOVED climbing up this – heavily supervised, fo course.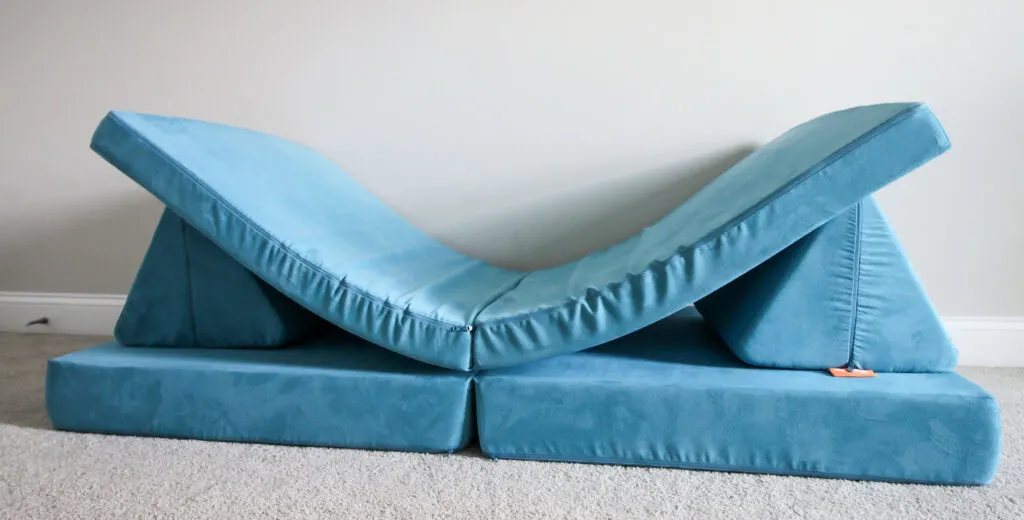 This is more like a half pipe than a slide, but we use it in obstacle courses and roll down and then climb up. It's fun with a running start!
This is also great for forward rolling down, it is sure to make kids laugh.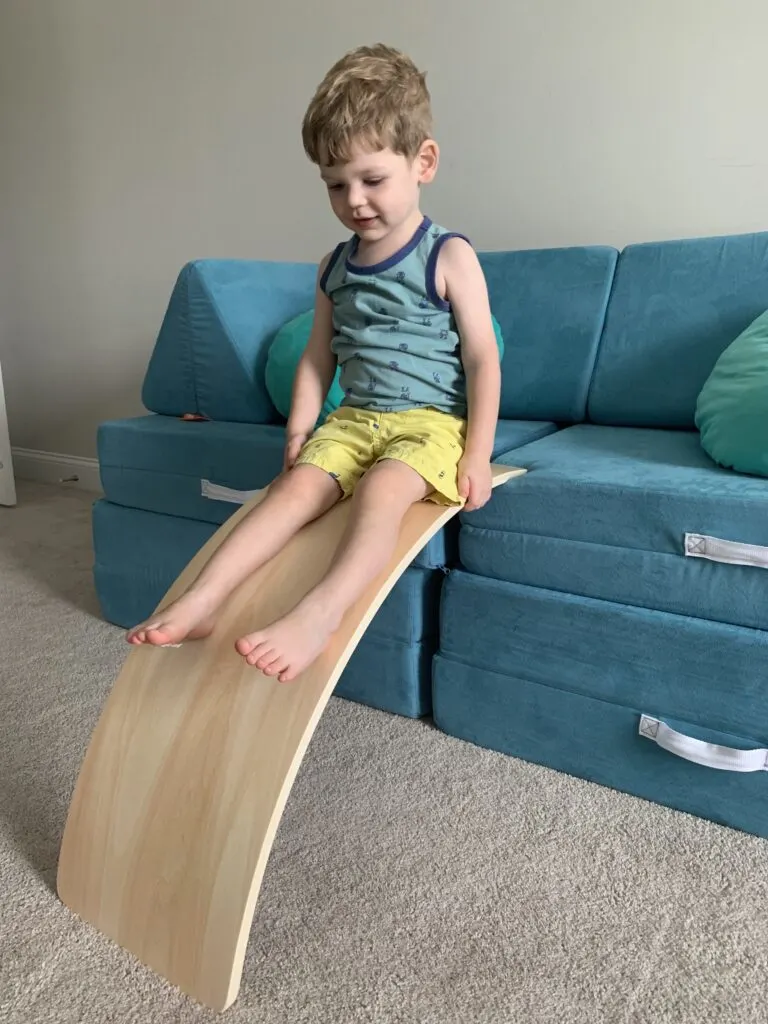 You can always pair a nugget with a wobble board for an instant slide! The wobble board is one of our favorite Nugget accessories!
Two+ Nugget Slide Ideas
Of course, the more Nuggets you have, the more possibilities.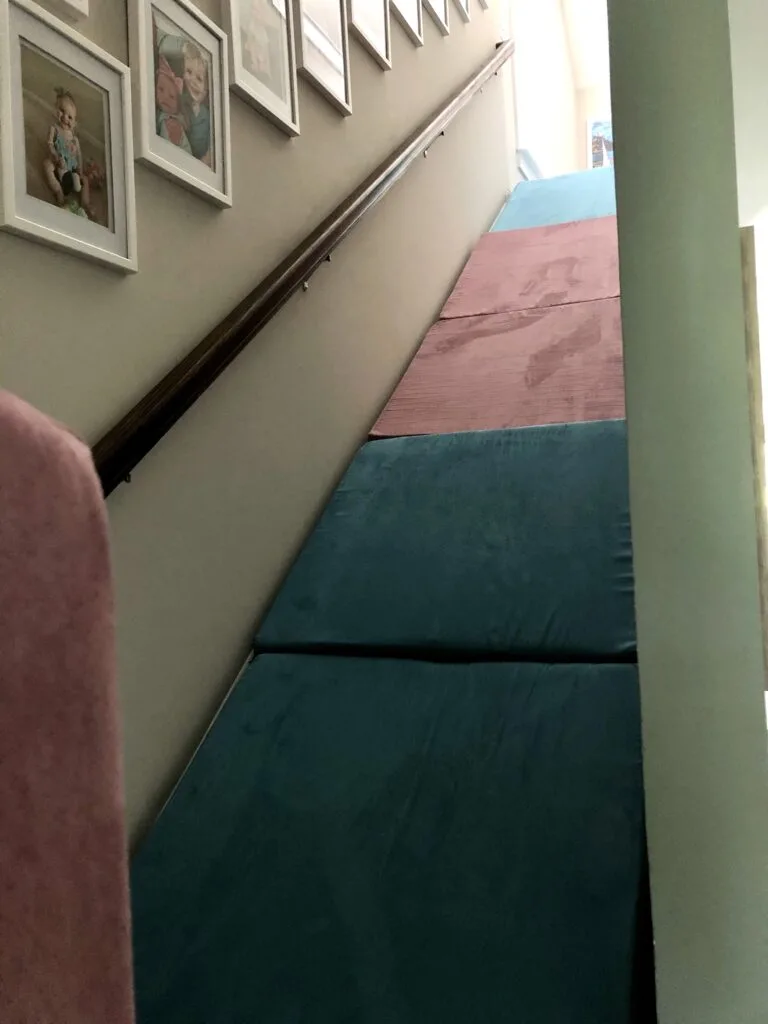 The number of Nuggets needed to slide down the stairs depends on the length of your stairs. We use 3 firm pieces.
Beware, adults tend to push the pieces down (at least for us) so it's best for lighter weight kids.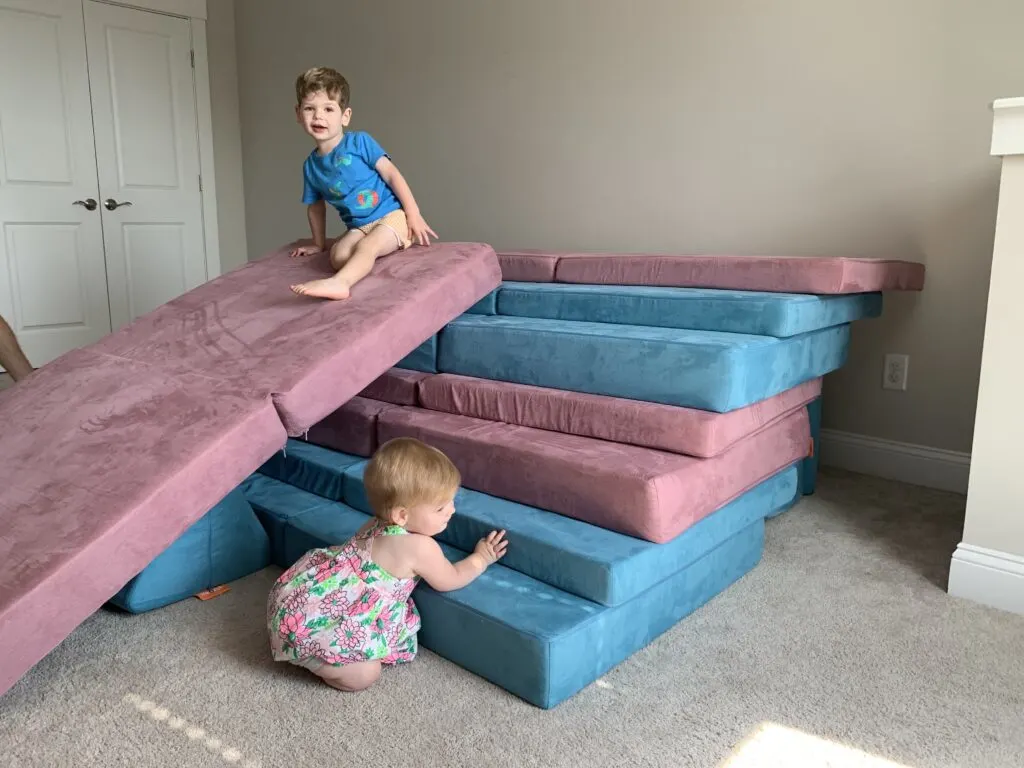 The nugget step + slide combo is a favorite of ours. This build is so stable it can hold our whole family of 4 no problem!
You can see some side angle shots here.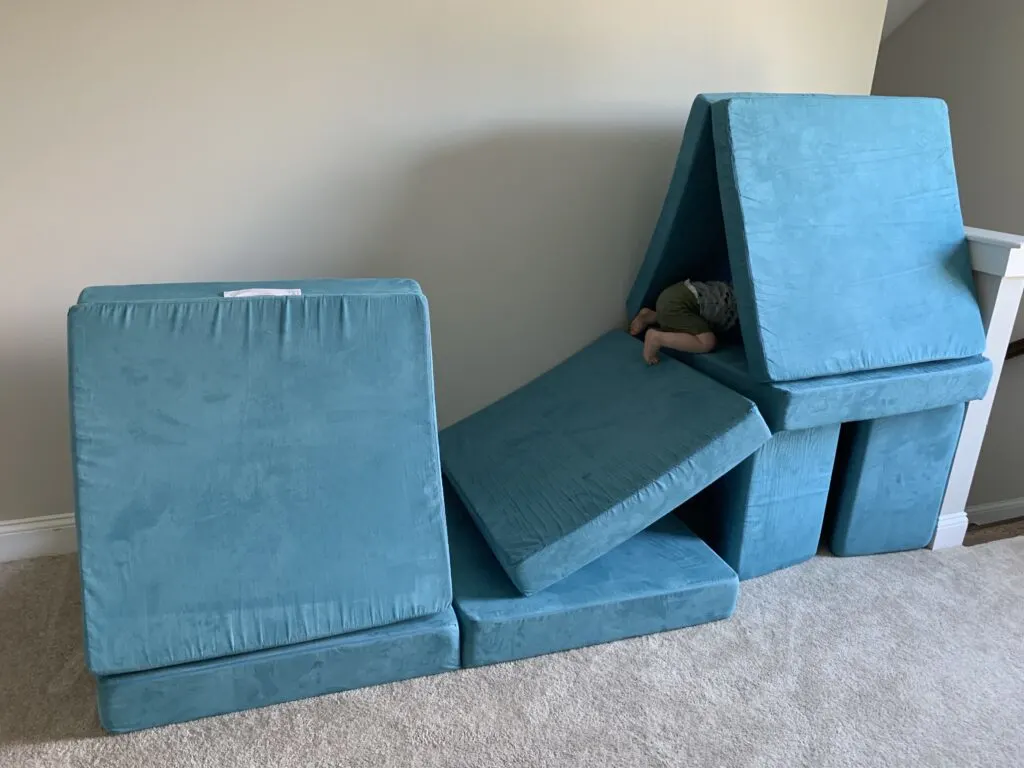 Luke loves this 2 nugget build. You can climb it up as a ramp or go down as a slide.
It's also great paired with a tunnel for chucking balls down!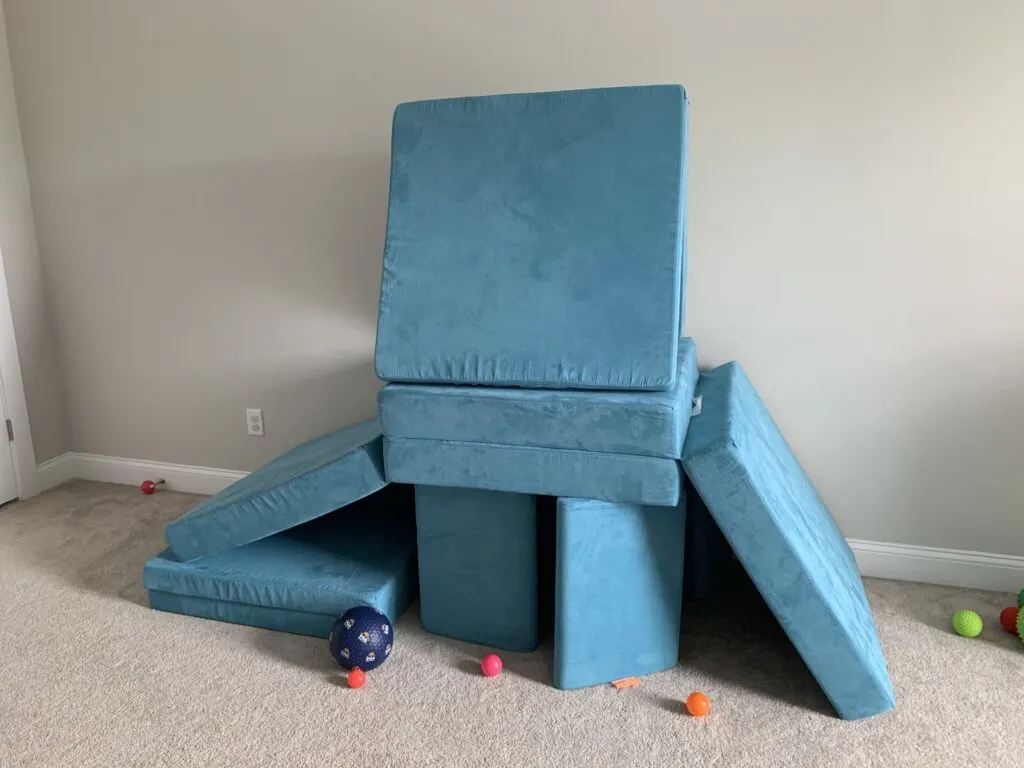 Here's a similar favorite. We use the one steep side as a climbing wall and then slide down the other way!
My kids even crawl through the "cave" below!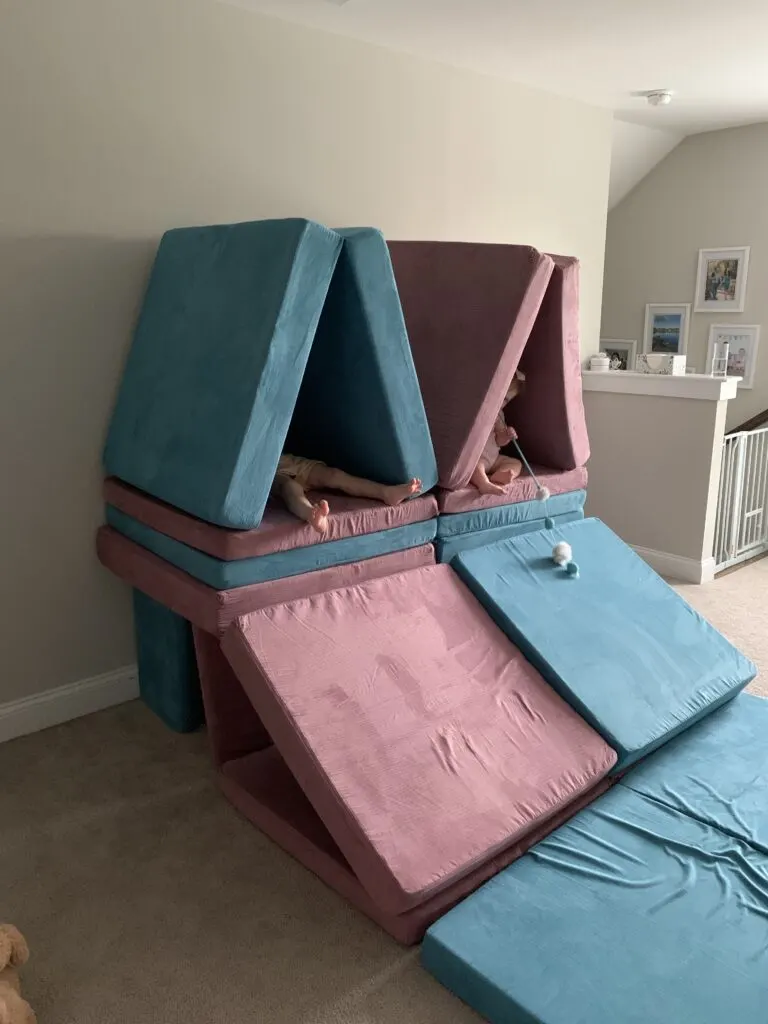 We love this double-wide build with one slide for each kid!
Perfect for when your kids need just a bit of separation 😀