Want a Nugget kid's couch but live in Canada? Here's the deal with ordering them – and some Canadian alternatives!
Nuggets are a wildly popular kid's modular couch that can be used for building, lounging, and imaginative play.
You can read my full Nugget review here.
Let's talk about your options for getting a toddler couch to Canada!
Also check out our favorite Nugget alternatives for the UK and Australia!
Shipping a Nugget to Canada
The easiest thing you can do is order an actual Nugget!
They can be shipped to Canada for an additional fee.
Shipping costs $59 per Nugget, $49 per Pillow Pack, and $39 per Cover Set. This includes shipping and completely covers the Taxes/Duties/Brokerage fees. All prices are in US Dollars.
It's delivered directly to your door.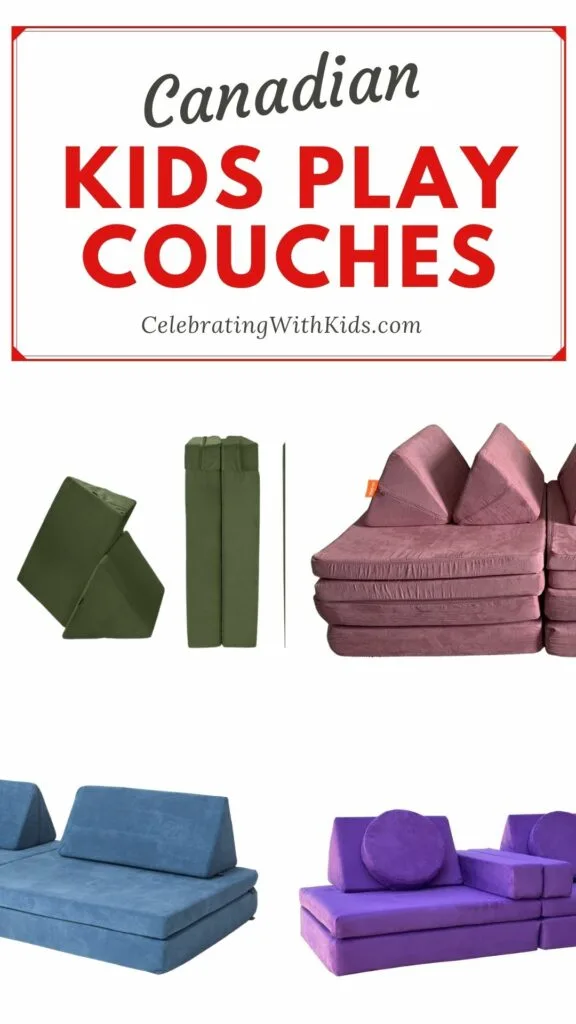 Nugget Couch Alternatives for Canada
Whether you want to save money or buy Canadian, there are options for baby couches from Canada, too.
You can see our complete Nugget alternative comparison here.
Epic Kidz
Epic Kidz is a Canadian-based brand that offers a variety of kids toys including three different play couch sets.
They offer a variety of uniquely shaped pieces for really fun fort builds.
Their basic play couch set is great – and it's an especially good option for Canadians due to price and ease of shipping.
Where the Epic Kidz sets really shine in my opinion are in their fun cushion shapes that can be used independently or as an add on to basic play couches for lots of fun! These are shapes you don't see with other brands and are very unique!
See my complete review of the Epic Kidz play couch here!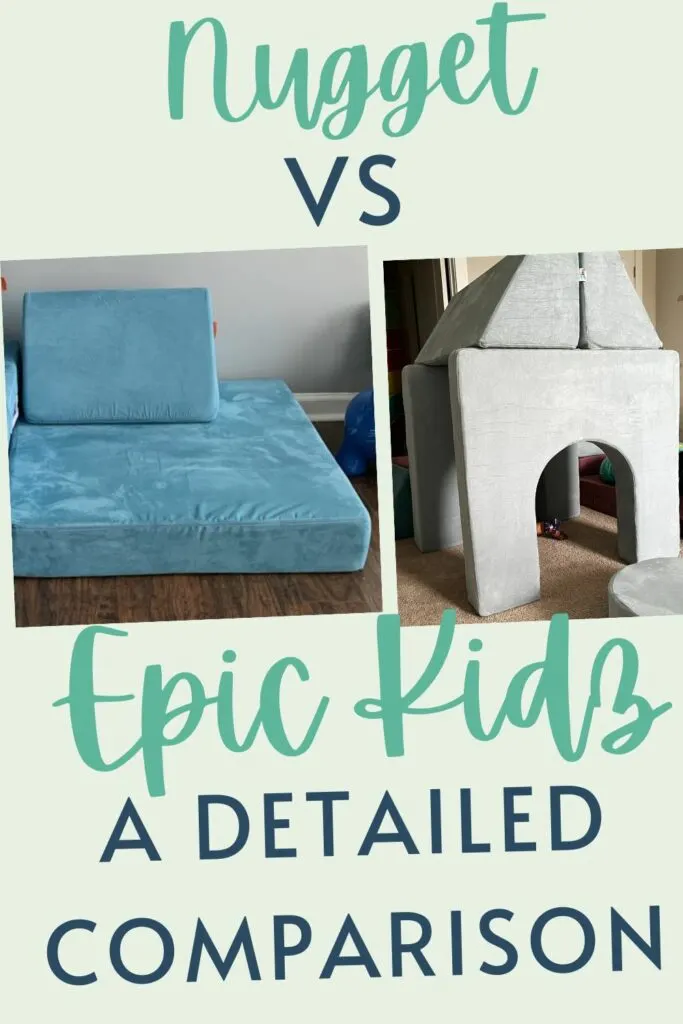 Barumba
Barumba is a Canadian owned and made 11 piece play couch.
Each set includes both arches and wedges, two super fun add-ons for kids.
Pieces include:
two arches
two semi-circles
two large rectangles
one large foldable rectangle
two triangle backrests
two small rectangle arm rests
My kids love the smaller pieces in this set because they are sized perfectly for kids to lift and move around without any help from adults.
I love that they include waterproof liners with every purchase!
Click here for my complete Barumba play couch review!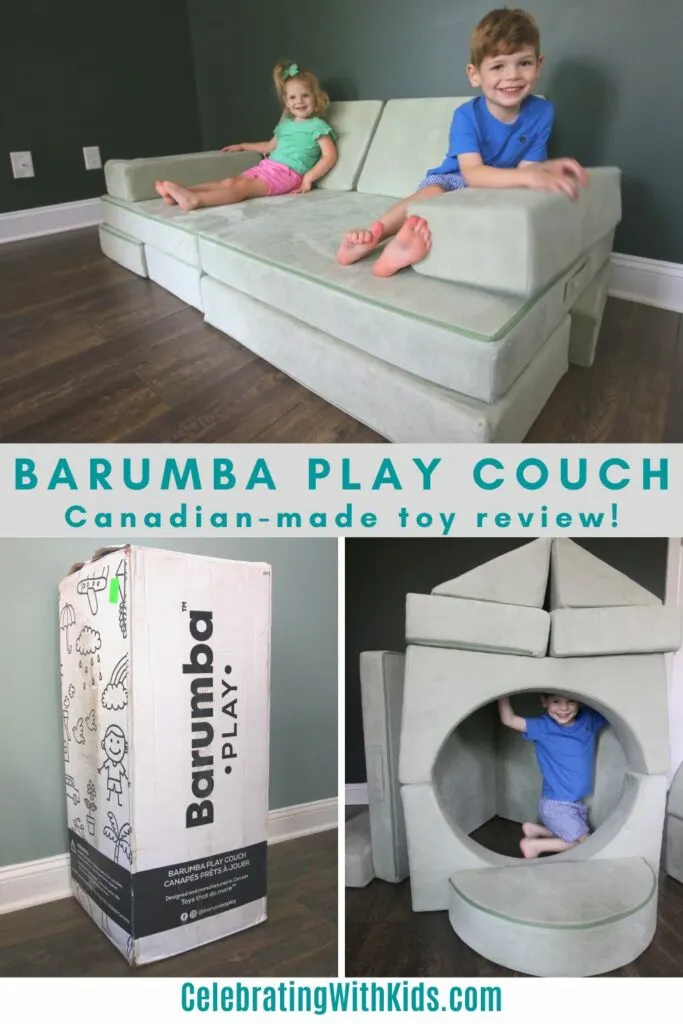 The Joey
The Joey is a super popular Nugget alternative, and it's Canadian!
The Joey comes with 2 triangles AND a half-moon shaped arm rest. It also comes with a waterproof liner.
Joey has a TON of add on options including:
wedges
semi circles
circles
sticks
Read my dedicated comparison of the Nugget vs Joey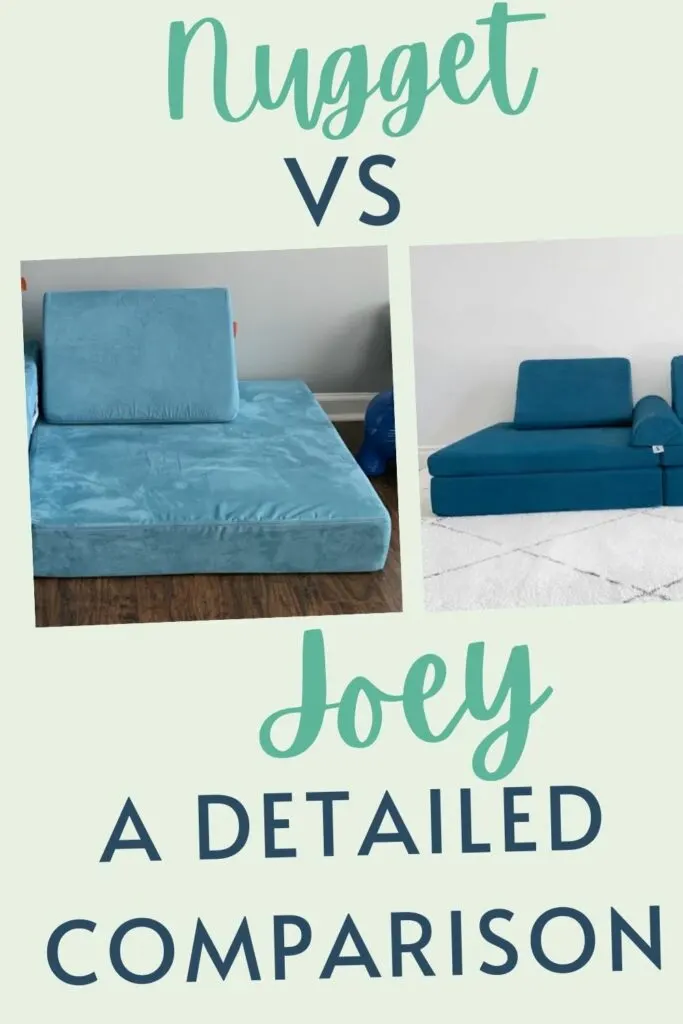 Cushy Couch
The Cushy Couch looks very similar to the Nugget, two folding rectangles and two triangles.
I love that they sell outdoor grade covers, perfect for camping or outdoor movie nights.
They also offer a lot of "expansion kits" with pieces like sticks and cubes!
It is slightly more expensive than a Nugget.
Read my full review of the Cushy Couch!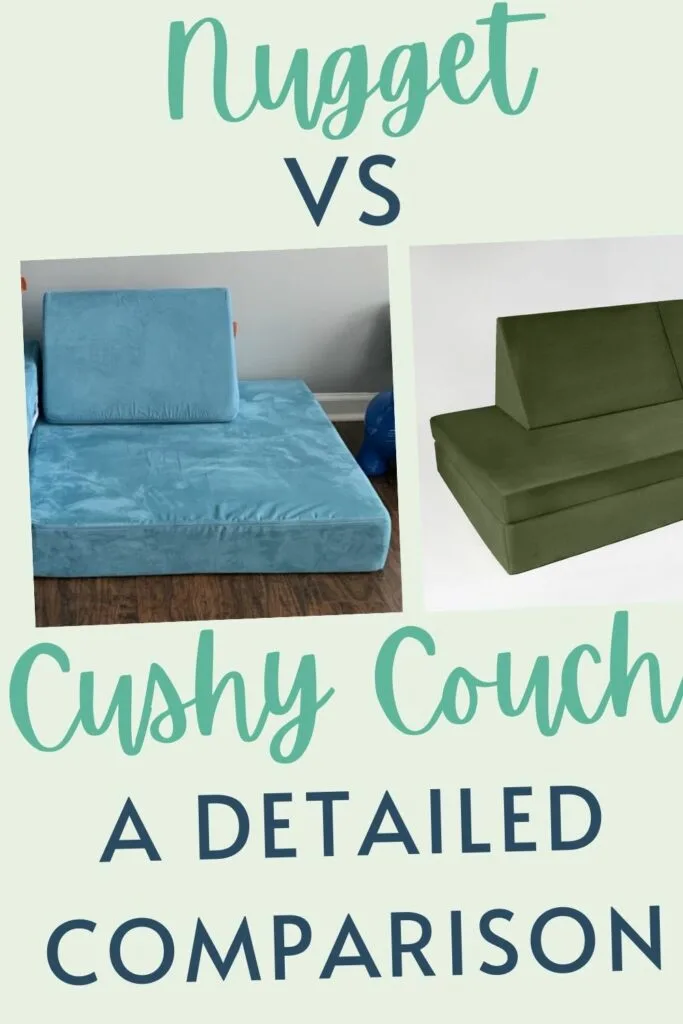 Kiddie Couch
The Kiddie Couch once again looks just like a Nugget. The fabric is waterproof which is awesome!
They also offer stepping stone and stick add on pieces.
I think the price is awesome considering these two bonuses.
Go Coconut
The Coconut kid's couch is very similar to the Nugget – there's a different shape to the triangle pieces.
I love that it comes in a lot of beautiful colors and seems to be high quality materials.
However, it is quite a bit more expensive than a Nugget!
Here's our full review of the Go Coconut!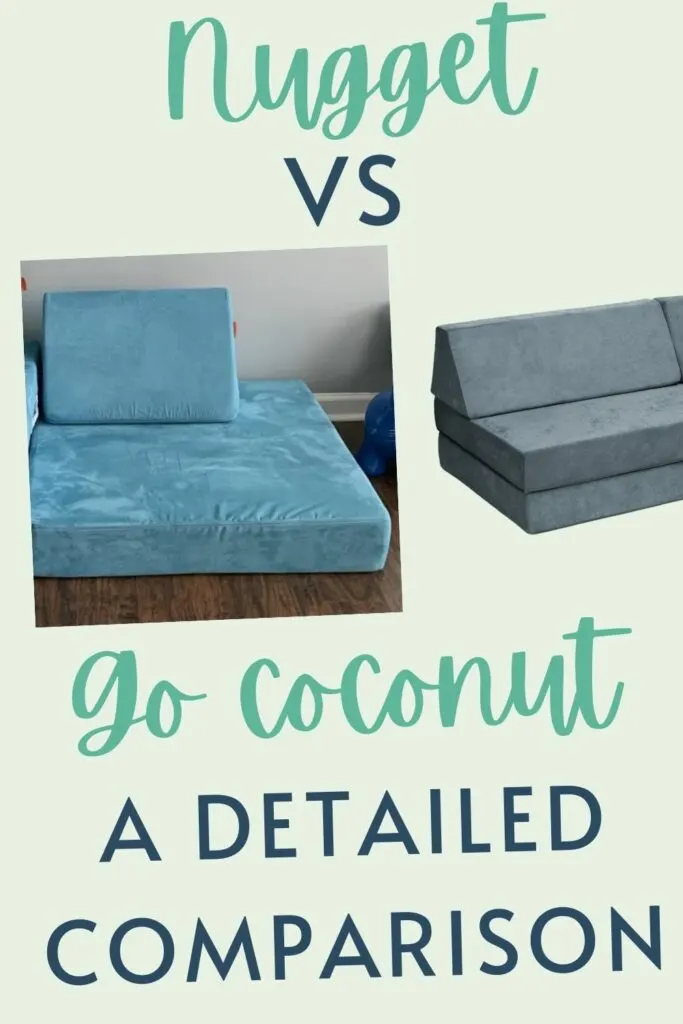 My Puffin
The puffin play couch has gone out of business and is no longer available.
The Puffin play couch is cool because you can get it in microsuede or vegan leather.
The triangle pillow pieces are really more like wedges, which seems nice for lounging (but not as great for tower type builds).
It is significantly more expensive than a Nugget, so that's something to keep in mind.
The Luna
The Luna has gone out of business and is no longer available.
The Luna is another interesting kids couch option.
In addition to the traditional 2 rectangle bases and 2 triangles, there are additional pieces INCLUDED at no extra cost. It's 2 square beams and 2 circle pillows.
This set seems really awesome for obstacle course type builds!
I think it is a fantastic value for the price!!
My Couchy Couch
My Couchy Couch is the final Canadian kids couch option.
It once again looks a lot like a Nugget, but with flat top triangles, which could be interesting to build with!
They are ready to ship and priced very comparably with the Nugget!