Markers everywhere? I feel ya! Here are the best marker storage ideas to keep them all in one place and keep them from drying out.
I love that my son loves coloring! It's a great "busy time" activity and I love seeing him get creative.
What I don't love is markers rolling all over the floor, cap free, drying out, making a mess.
Since the markers aren't going anywhere any time soon, I instead decided to come up with some smarter organization ideas.
Here are some of my favorite marker organization ideas!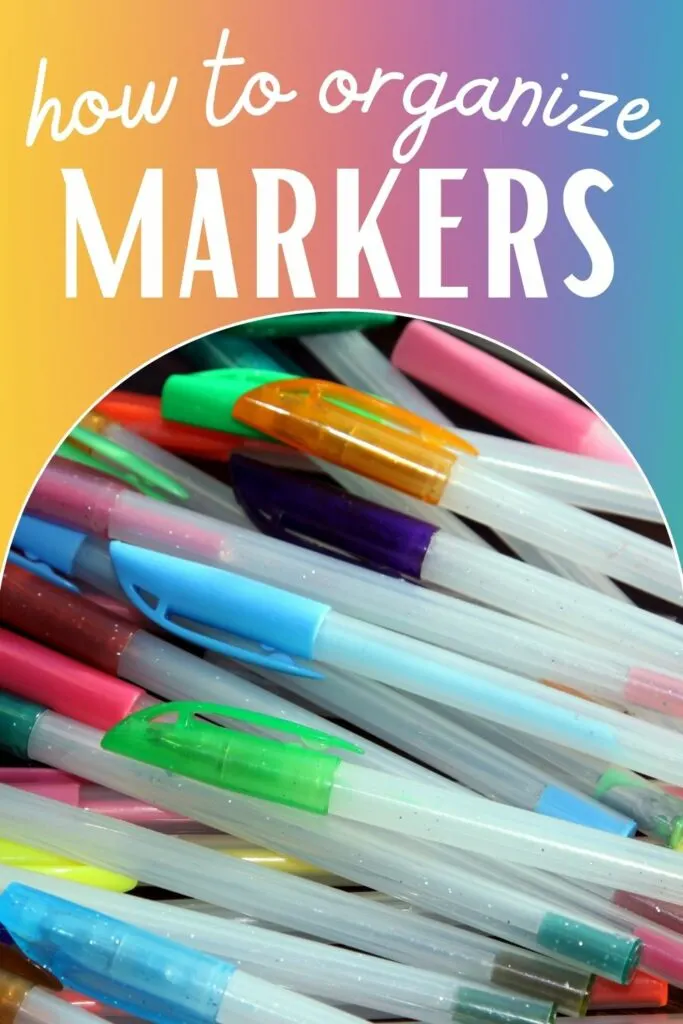 What is the best way to store markers?
Ideally, you will have some sort of horizontal marker storage in your crafting area. Storing markers and pens vertically is best!
How do you organize a lot of markers?
You can organize a lot of markers by color, by thickness of the tip, or by type or brand of marker. Store your pens together in the way that your kids like to use them, so the ones that go together can easily be grabbed all at once!
If you have a LOT of markers, consider dividing them up. You may want to pull out the favorites or most favorite markers and store them at fingers reach – in a cup, jar, or marker block.
Then, put the rest in a larger bin, box, or bag that is stored on a shelf somewhere to be pulled out when the serious coloring time comes around.
Should you store markers vertically or horizontally?
You should store markers vertically with the cap pointing down. Markers stored with the tip pointing up are more likely to dry out because of the ink flowing away from the tip. Markers stored horizontally won't have this problem!
How do I make marker storage?
Here are a few ideas for DIY marker storage!
Keep them in the box they came in
OK, so this might not be realistic, but the easiest way to store markers is to keep them in the box that they came it.
The packaging is usually designed to perfectly fit the markers, making it the ultimate pen storage system.
Clear bin w dividers
Clear bins with dividers make it really easy to see everything in your marker collection at once.
Check out this caddy style bin for a simple, portable marker storage option.
This bin with dividers is also really great for using as a marker case.
Big zipper bag
I really love these reusable zipper bags for all of my kid's art supplies. This won't store them vertically, so if dried out markers are a problem, it might solve it.
But, they are great for holding tons of markers (or any supplies), storing vertically in a bin, and grabbing to take anywhere with you!
Plus, I love that the zippers are simple enough that my 2 year old can get them out and put them away all by himself.
Stacked bins
Another great option is these angled bins. They are just angled enough that the tip of the markers can point down to help keep them from drying out.
This is a great option for having lots of markers right at hand for kids who love to color all day long.
Wood block with holes in it
You can get a wood block and drill holes in it or purchase one premade.
The big con of these is that they don't hold very many markers. However, if you have a smaller collection, they are super cute and smart vertical storage.
In jars on a lazy susan
My final idea for storing markers is to put them (cap side down) in jars on a lazy susan. You can sort them by color or size. This is a great storage option if you have the shelf or tabletop space!