Taking your kids pumpkin picking? Here are the best tips for pumpkin picking with kids to have a great time and get some beautiful photos!
Fall is such a fun time of year. Summer is winding down and it's the beginning of the build up towards the holiday season.
It's kind of hard to get into the Fall vibe around here, honestly, because the temperatures are often still in the 90s.
One thing that REALLY makes it feel like fall is heading to the pumpkin patch.
We love agri-tourism activities in general and really love kid friendly ones. I assume that as our kids get older we will do more and more of these types of things.
Be sure to check out my guides for strawberry picking & blueberry picking with kids!
Anyways, pumpkin picking is such a blast. While you won't spend a long time actually picking (compared to berry picking) these family farms usually have tons of activities to make a whole day of it.
So, set aside a morning, do some research (ask neighbors or friends on facebook for a local suggestion!), pack every one up and have a fabulous family day at the pumpkin patch!
Once you get home, keep the pumpkin excitement up with this preschool pumpkins unit study!
Best time to go to a pumpkin patch
Pumpkin patches are usually open for the month of October. A middle weekend in October is going to be the most popular – and most crowded – time to go to a pumpkin patch with kids.
If you have the flexibility, try to go first thing in the morning. The weather will probably be more cool and you will be the first there, avoid lines, and get your pick of fresh pumpkins.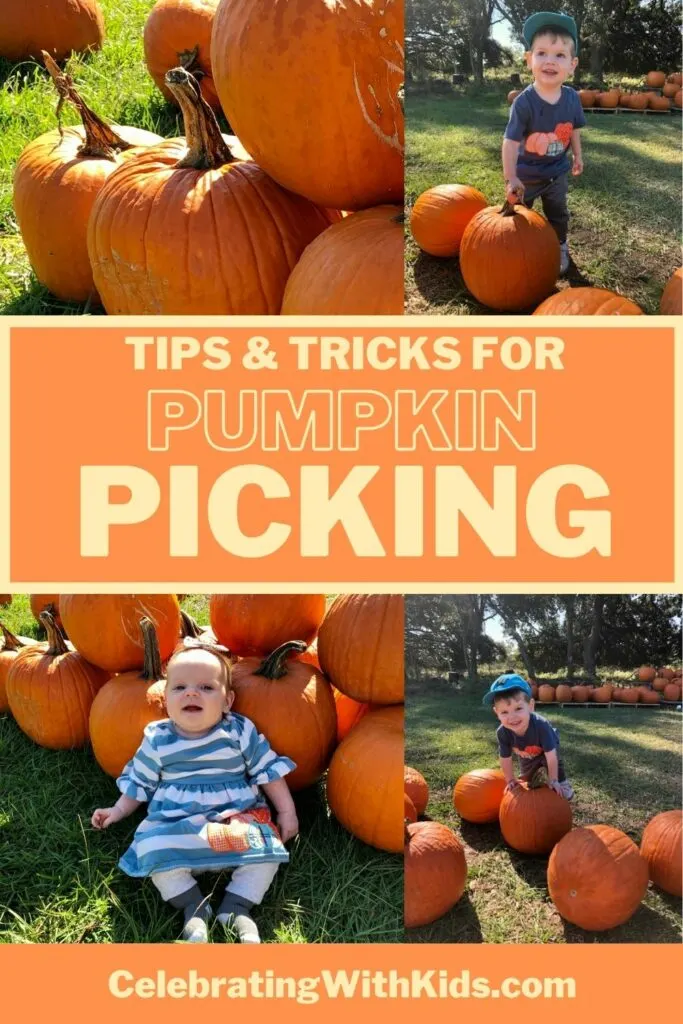 Tips for going to a pumpkin patch with kids
Research your local pumpkin patches
Find a great patch that's not only family friendly but has a lot of activities included. Some you must pay admission, others you just par for each activity.
Some common pumpkin family farm activities include:
Corn maze
Wagon ride
Petting zoo
Face painting
Train rides
Pony rides
Pumpkin activity like painting or carving
Zip lines
Cow trains
Arrive early
If you arrive early in the day, the fields will be fresh and it will be less crowded!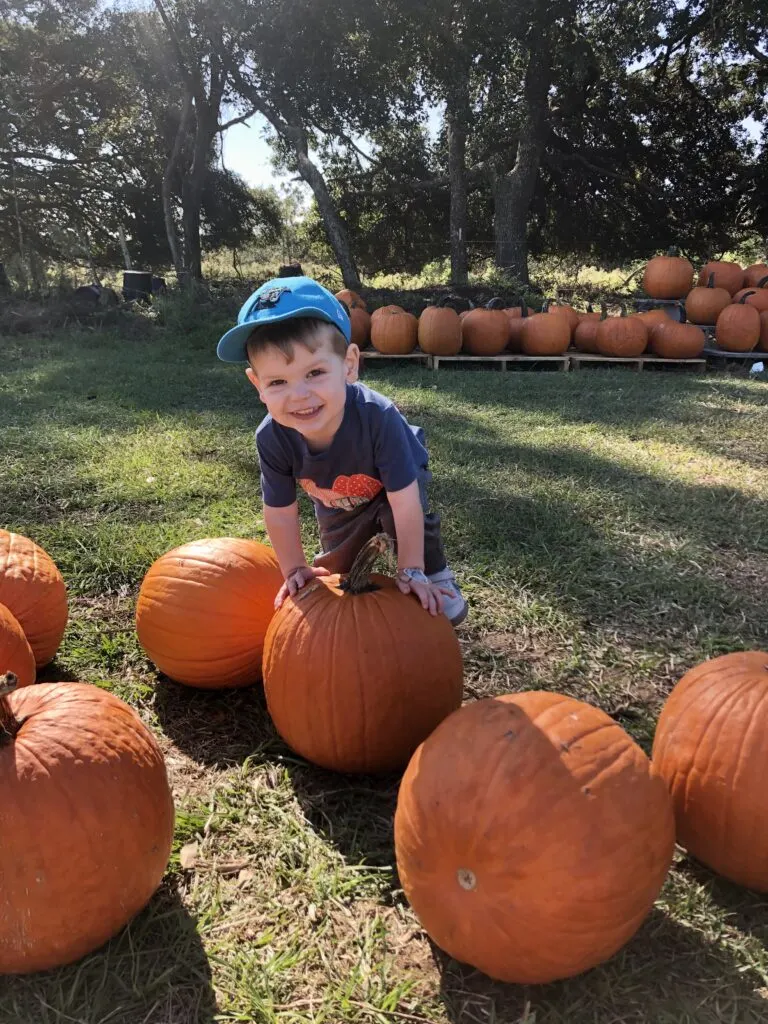 Bring cash
Some pumpkin farms are cash only. Be prepared that there will be lots of little hidden costs – games or rides or other upgrades – and have cash ready to go.
Pack water & snacks
This is a general going-anywhere-with-kids rule, but bring everyone (adults included) water and a snack. You might be there a while!
Wear comfortable shoes
Pumpkin patches can be muddy or mucky and you'll be walking a lot. Dress appropriately!
Let your kids pick the pumpkin
It's tempting to search for the very perfect pumpkins. But, for the purposes of a kid's fall festival pumpkin farm day, let them pick.
You can give them guidance – when we see one with holes or damage we tell our son a deer took a bite out of it, and he laughs and laughs and picks another one.
Letting them pick – within whatever parameters on size or cost you set – makes them feel extra special and empowers them as kids!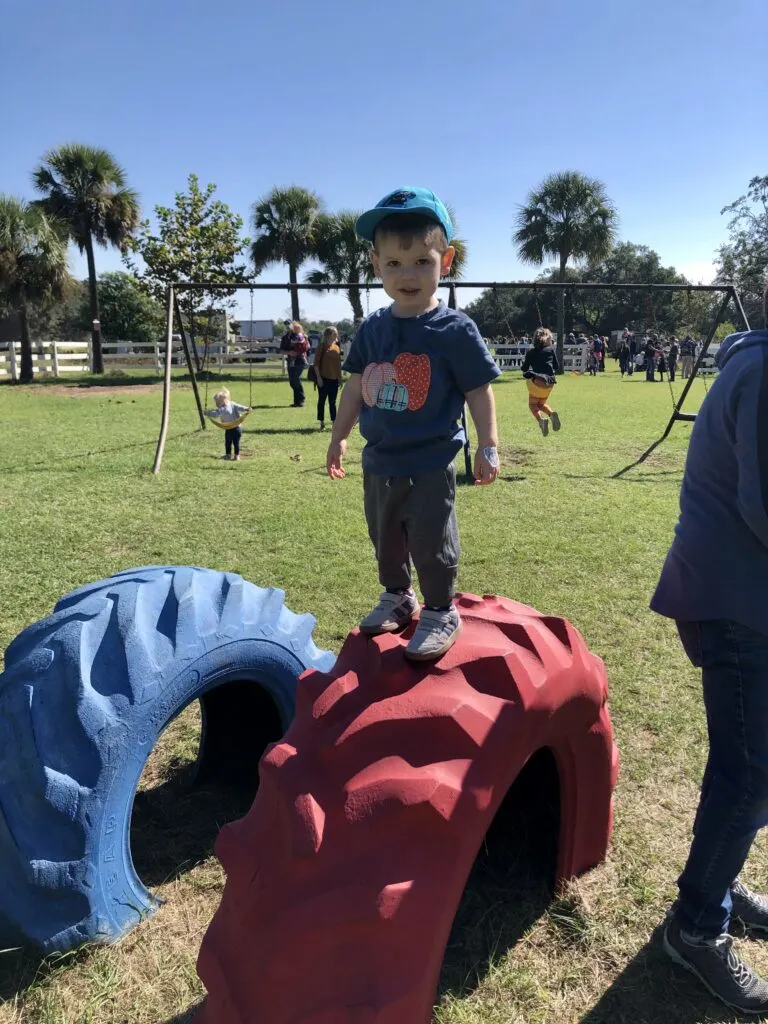 Take pictures
Bring your camera (your phone is fine but this is a great chance for an actual camera if you have one) and take a ton of pictures!
Set little kids on top of or in front of pumpkins. Have older kids stand in front of corn stalks. Get the sibling picture! Pose them on any hay bales or photo props the farm has set up.
If I've learned anything, it's that you can't go back in time and get a picture. Take the picture while you can!
Wash your hands
Your kids might be digging in the dirt, petting farm animals, touching railings, messing with food… lots of gross stuff.
Look out for hand washing stations and always bring hand sanitizer and/or hand wipes.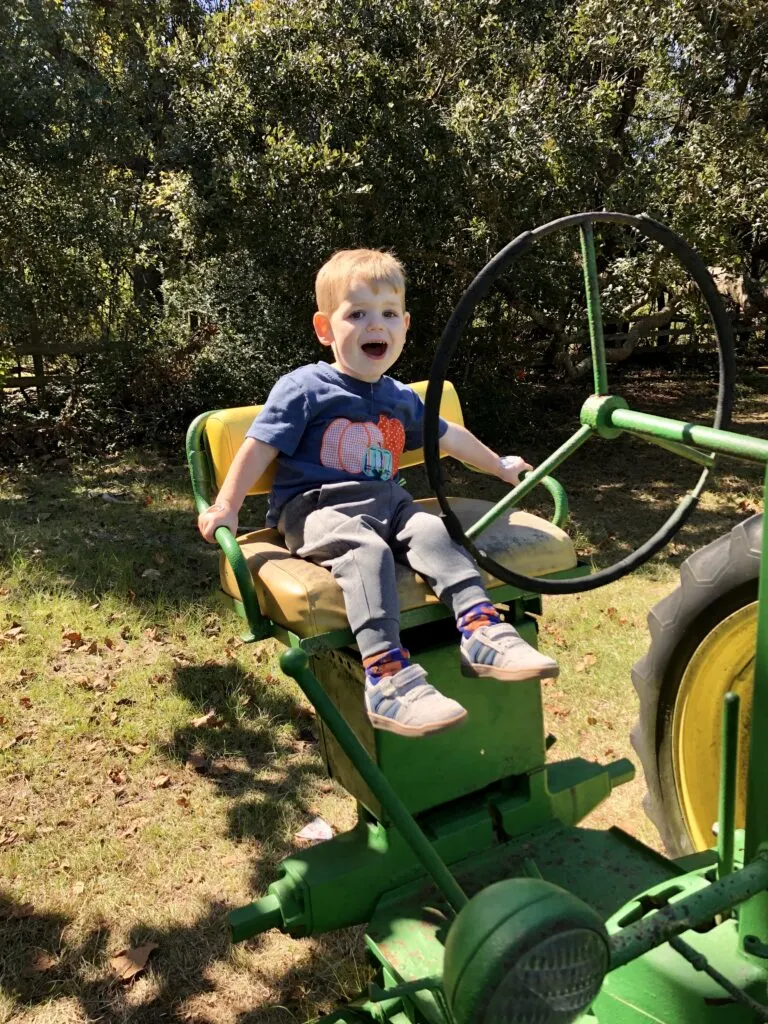 Don't rush
If you choose a farm with a lot of activities, it's easy to spend several hours there. Set the time aside. Don't rush. Enjoy and soak up the fall season, it only comes once a year!
Pumpkin Patch Outfits
If you want to get pumpkin patch pictures with your kids, you might want special outfits! There are a few options:
Plaid, corduroy, and other fall fun fabrics
Shirts with pumpkin patterns or pumpkin applique
Solid color earth tones – dark green and brown looks great!
Denim blue looks great next to pumpkin orange
Layers always photograph well and look fall appropriate
Avoid solid orange next to the orange pumpkins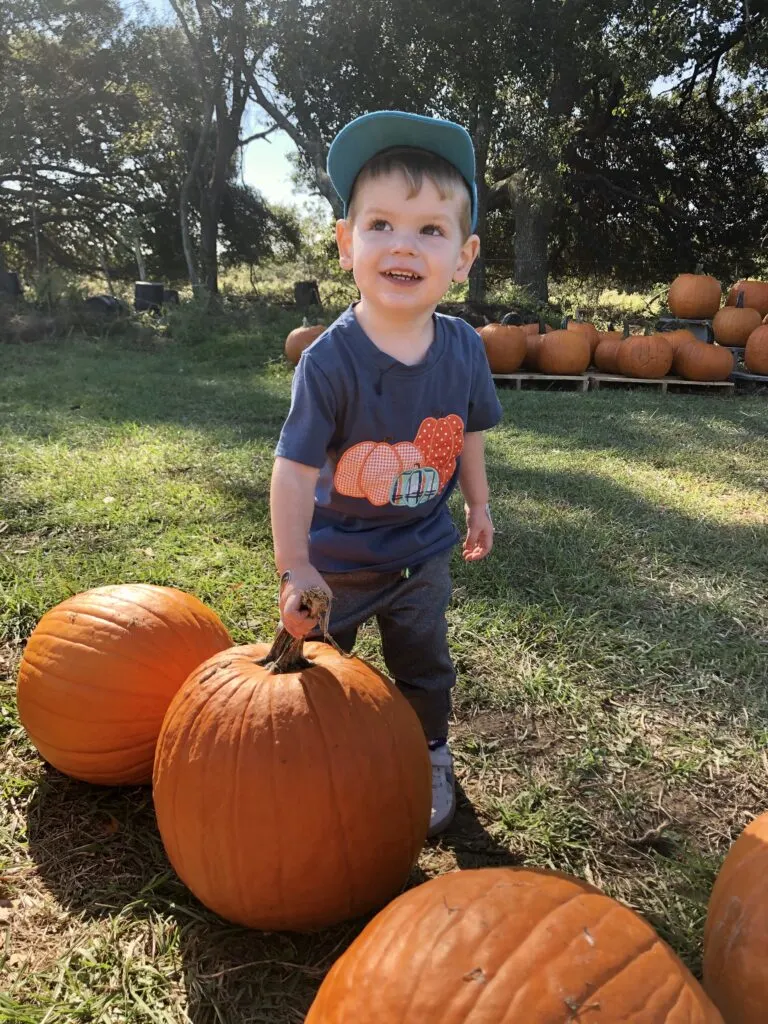 Pumpkin Patch Ideas for Toddlers
Toddlers will have a blast running around the pumpkin patch!
You don't need formal preschool pumpkin activities for kids. Depending on your kid's age, you can use the pumpkins to practice naming colors and counting, as well as naming animals and the sounds they make!
What's your best advice for having kids at a pumpkin patch?