Want to take your kids blueberry picking? Here's what to expect and how to plan to go blueberry picking with kids!
We love doing outdoor activities and any trip to a farm is a big treat for our two year old.
We recently discovered that there is a blueberry farm less than 15 minutes from our house, so we had to go take a visit and do some u-pick blueberry picking!
We also enjoyed strawberry picking so I knew that my 2 year old would love it.
We learned a lot on our berry picking adventure so I'm excited to share tips and tricks for blueberry picking with kids with you here today!
When is blueberry season?
Blueberries are ready to pick in the summer time! Here in South Carolina, it's usually the month of June. The further North you are, the later it will be in the summer!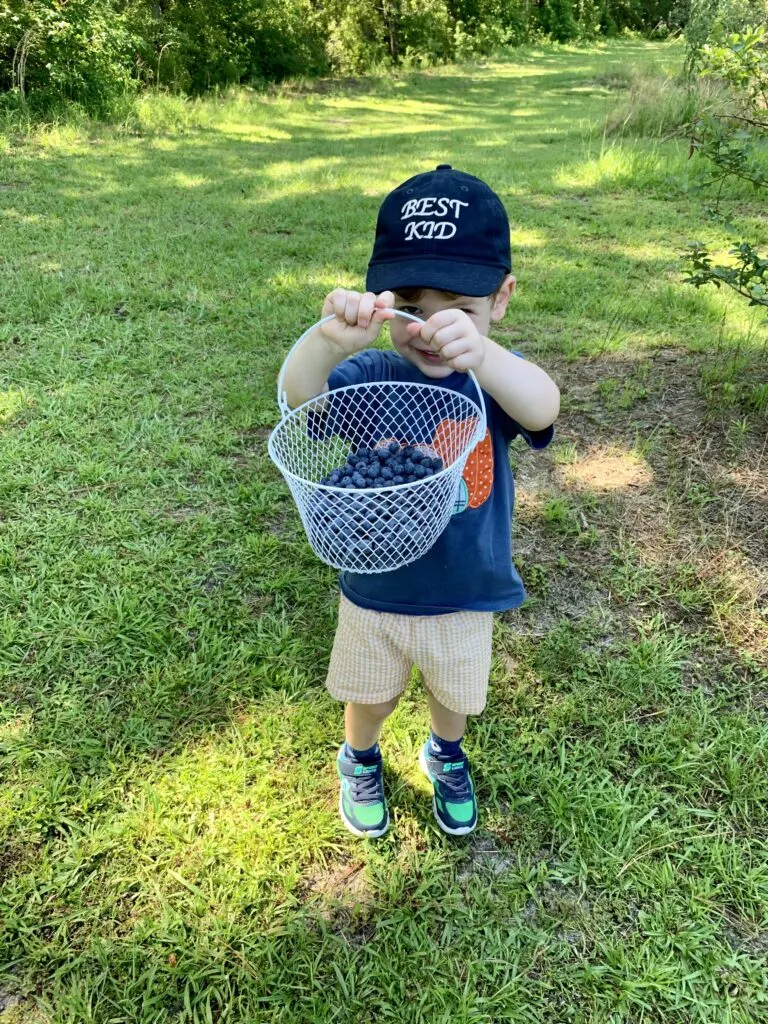 Can kids pick blueberries?
Yes, kids love picking blueberries! The big thing to keep in mind is that blueberry bushes can be six feet tall or more – so kids just won't be able to reach up high without help.
Is it fun to pick blueberries?
Picking blueberries is really fun! It's a great way to spend an hour or so and kids really enjoy running around and eating the berries.
It's also a great way to support a local farm and get the freshest possible berries that you can take home and enjoy for up to a week.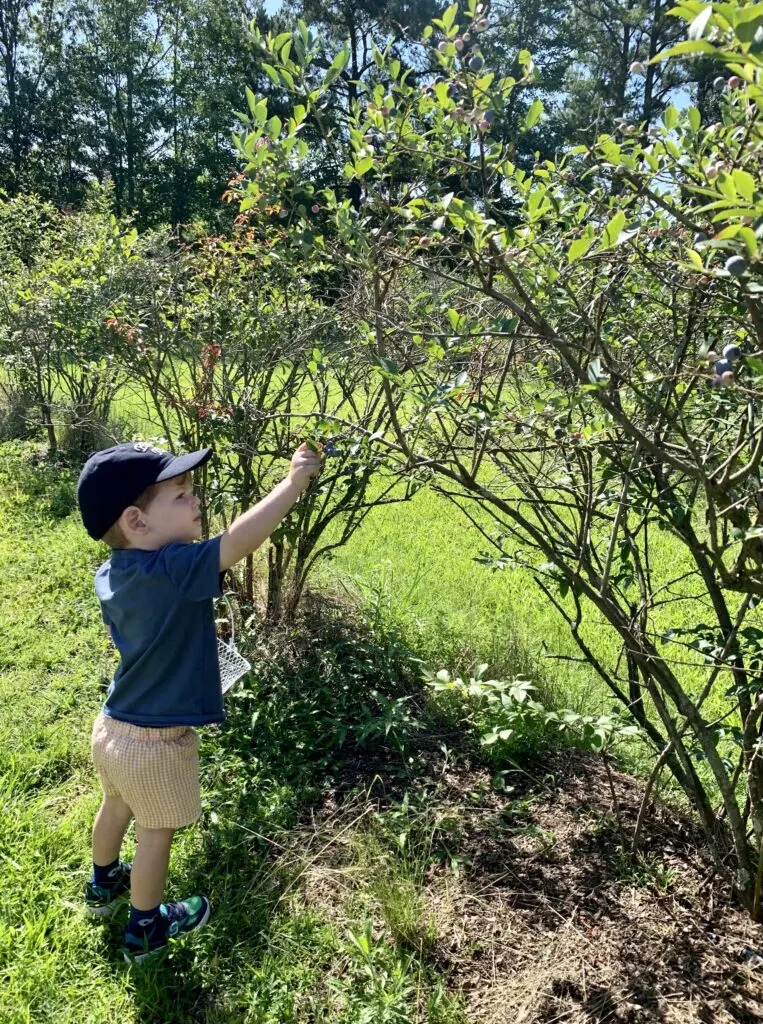 What to wear when picking blueberries?
I suggest wearing close toed shoes, a hat, and sunscreen when blueberry picking. It's super hot here so we always do shorts and a t-shirt, but dress appropriately for your weather. Just be sure to dress comfortably!
Dress kids in clothes that you don't mind if they get a little dirty. Half the fun of being on a farm is letting kids run wild and free, and you don't want to worry about them dirtying their best whites!
What should I know before picking blueberries?
You should call ahead to the farm and make sure you are familiar with their location, hours, set up, and any specific rules that they have. Ask if they are cash-only and if they provide buckets and bags or if you need to bring something special.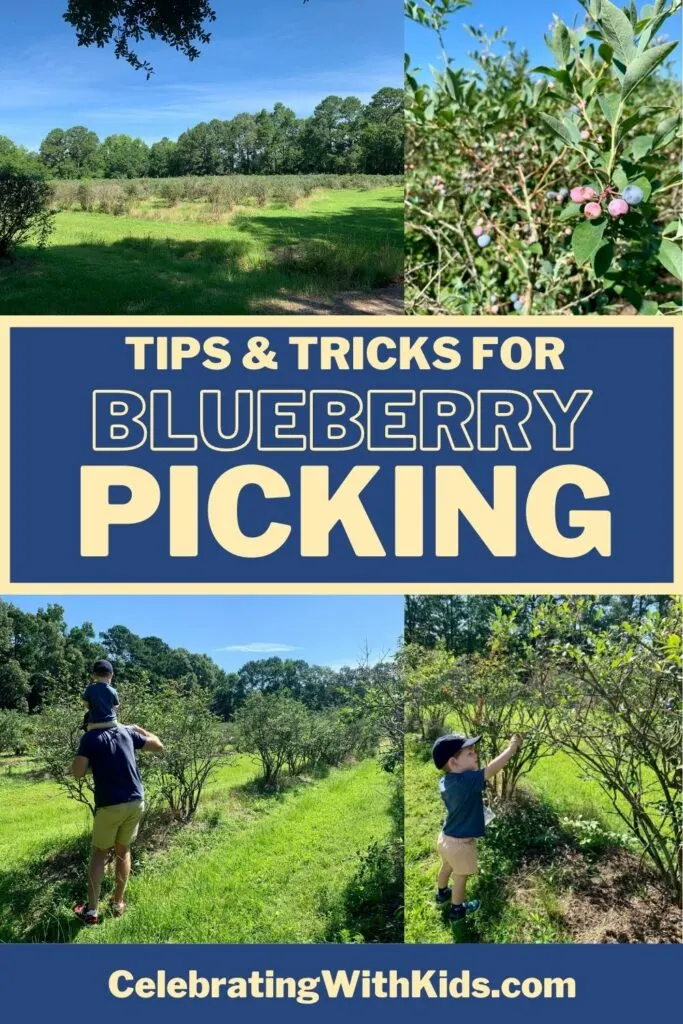 Tips for Blueberry Picking with Kids
Look for a family-friendly farm
I think that the most important thing for blueberry picking with kids is to be sure that the farm is family friendly.
A big thing for that for me is to be sure they are OK with kids eating berries in the field because – let's get real – it's impossible to stop them.
You can also take a look at their facebook page or call and say you want to bring your kids and should be able to quickly see if they like having kids there or not! You want to be welcome and not feel in the way.
Pick the right day & time
This is so important! The bushes are going to be much more picked over – especially the lower branches kids can reach – at the end of the day on a weekend or the morning after a popular day.
Consider going at a time like Wednesday morning or first thing Saturday to avoid crowds and have the most berries.
Also, think about the weather. First thing or last thing of the day are coolest, since most blueberry patches are in direct sunlight.
Wear close toed shoes
Blueberries are often grown in sandy soil which is home to lots of ants and fire ants. Wear close toed shoes and watch out!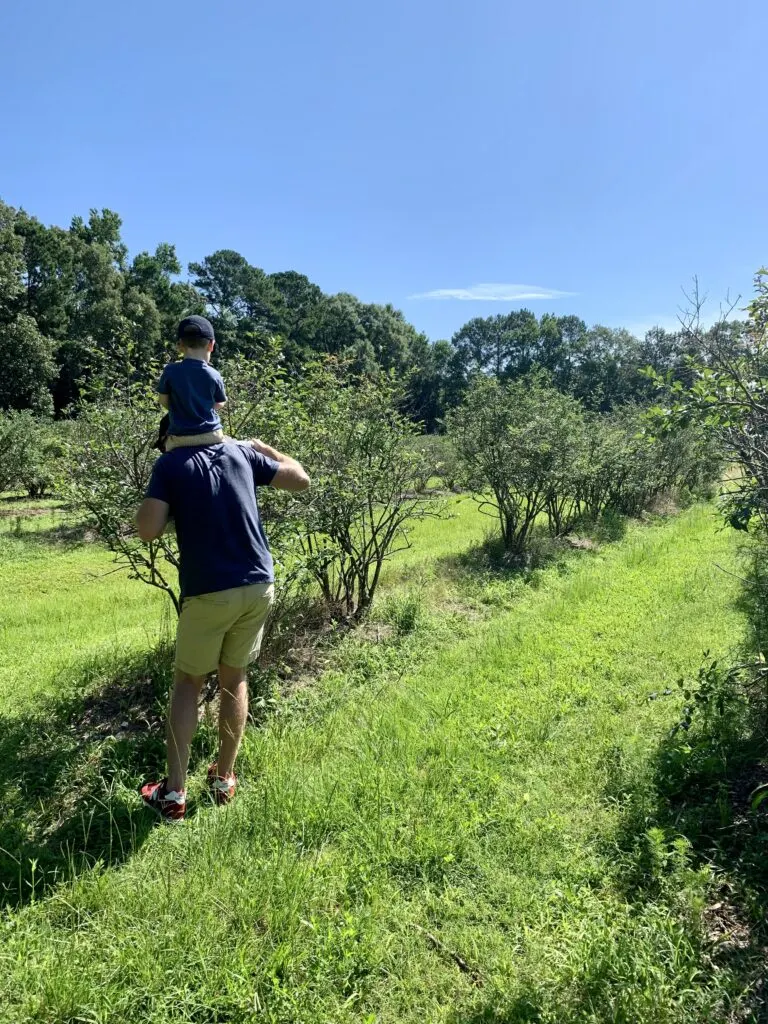 Bring someone tall if you can!
Blueberry bushes can be over 6 feet tall and a lot of times the good berries are on top. If you have a tall friend or family member, bring them along to reach the good stuff!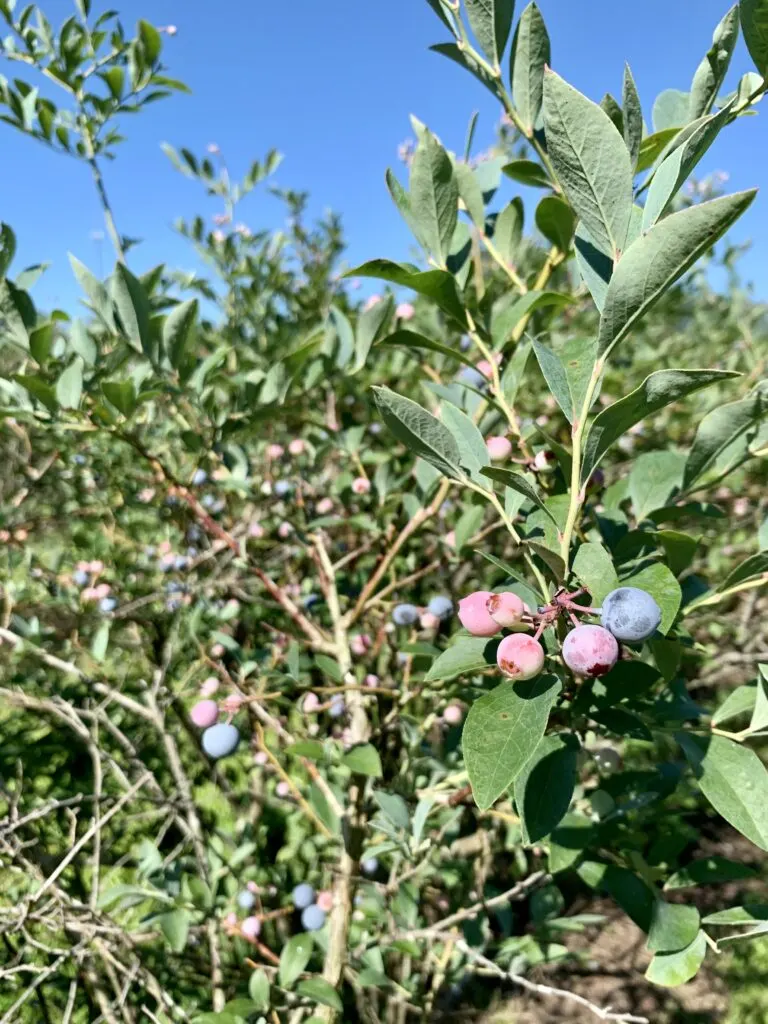 Focus on the blue berries
Teach kids to leave the red berries and pick the blue. The berries tend to grow in clusters and we found if you gently pull on the clusters, pretty much only the ripe blue ones fall off.
Bring water + bug spray
It can get very hot in the sun and also there might be mosquitoes. Come prepared with bug spray or buggy bands and water for everyone! A picnic blanket is good for those who might need to sit down, too.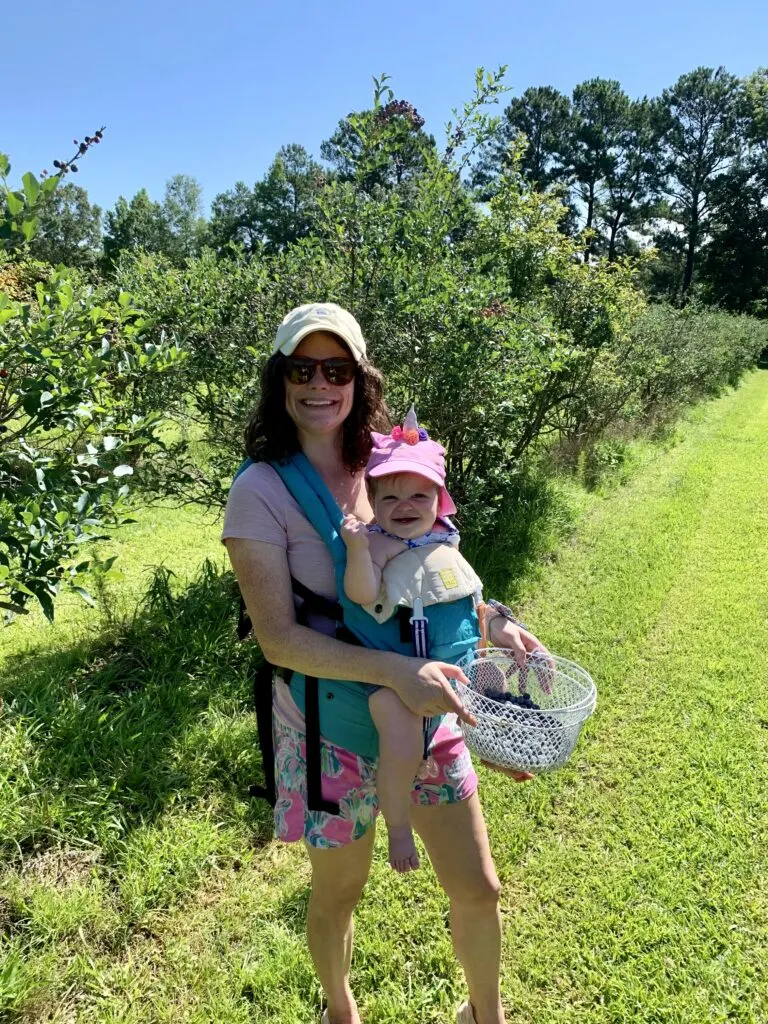 Stroller vs baby carrier
If you have a small kiddo, debate a baby carrier or a stroller. Our farm actually suggested a stroller so she'd be protected from thorny branches, but I hate pushing the stroller on bumpy grass.
However, she did get hot and sweaty strapped on my chest. You have to do what you prefer but either option is rough honestly!