Want to take your kids strawberry picking? It is so so fun! Here are my best tips for successful strawberry picking with kids and toddlers.
Strawberry picking is one of my favorite childhood memories. It always fell around my birthday so it felt extra special.
I was a picky eater, and strawberries were one thing I would really eat a lot of.
I had so much fun and such happy memories, that of course I want to recreate these memories with my kids!
Here's my best tips for blueberry picking with kids, which is actually pretty different from strawberry picking.
When is strawberry picking season?
Strawberry season varies by location but is typically late April to early May here in South Carolina. I grew up in North Carolina and always went strawberry picking on my birthday the first week of May.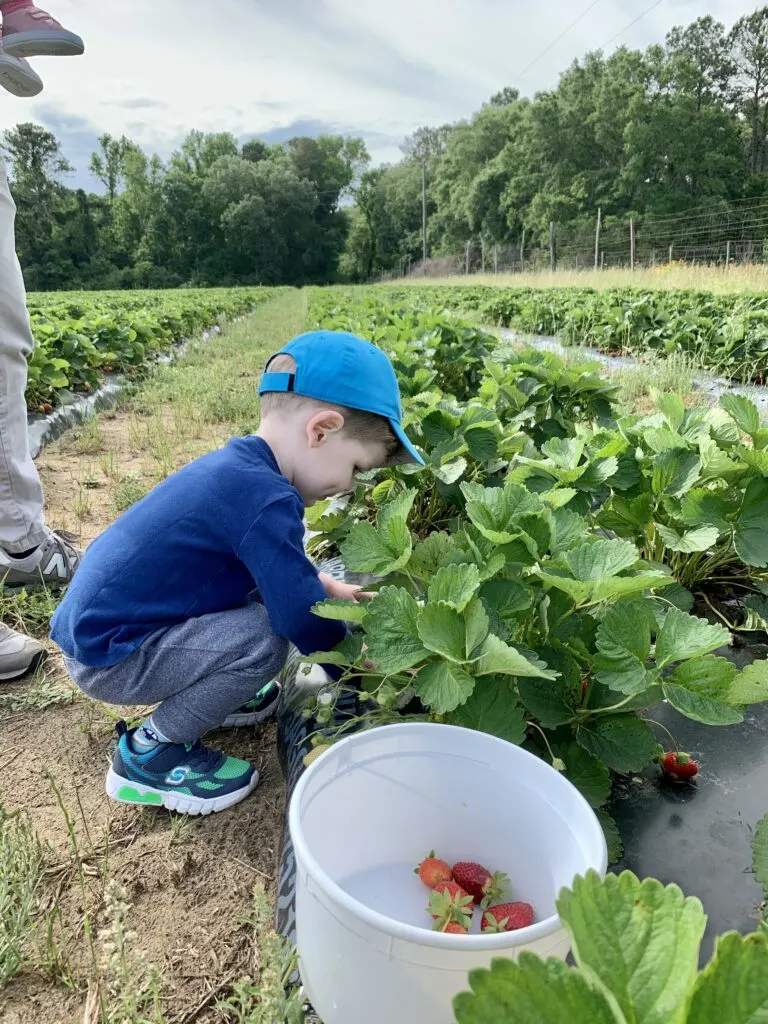 What to wear strawberry picking?
It's so tempting to dress your kids in adorable outfits to go strawberry picking. Maybe something monogrammed with little berries?
I'm all for it – but don't put them in anything that can't be washed.
Because they will be dripping red juice and digging in the dirt and having fun! If it is going to stress you out, leave it at home!
Otherwise, dress for hot weather. Don't forget sunscreen, hats, sunglasses, and bug bracelets!
If you have a baby, I suggest wearing them on a baby carrier to make it easier!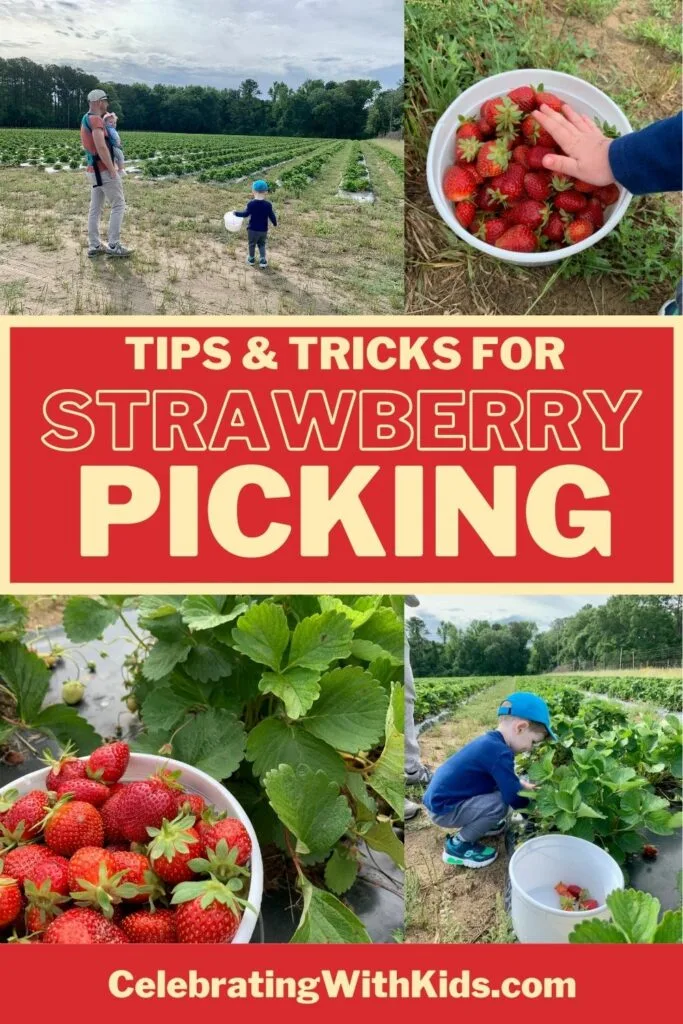 Tips for strawberry picking with kids
Pick the right day and time
It is SO important to go berry picking at the right time. Obviously, your kid's nap schedule is what you really need to work around.
But, if you have flexibility, go for an off time. We went this year on a Wednesday morning and we were the only people there!
If you have to go on a Saturday, just be prepared for it to be more crowded.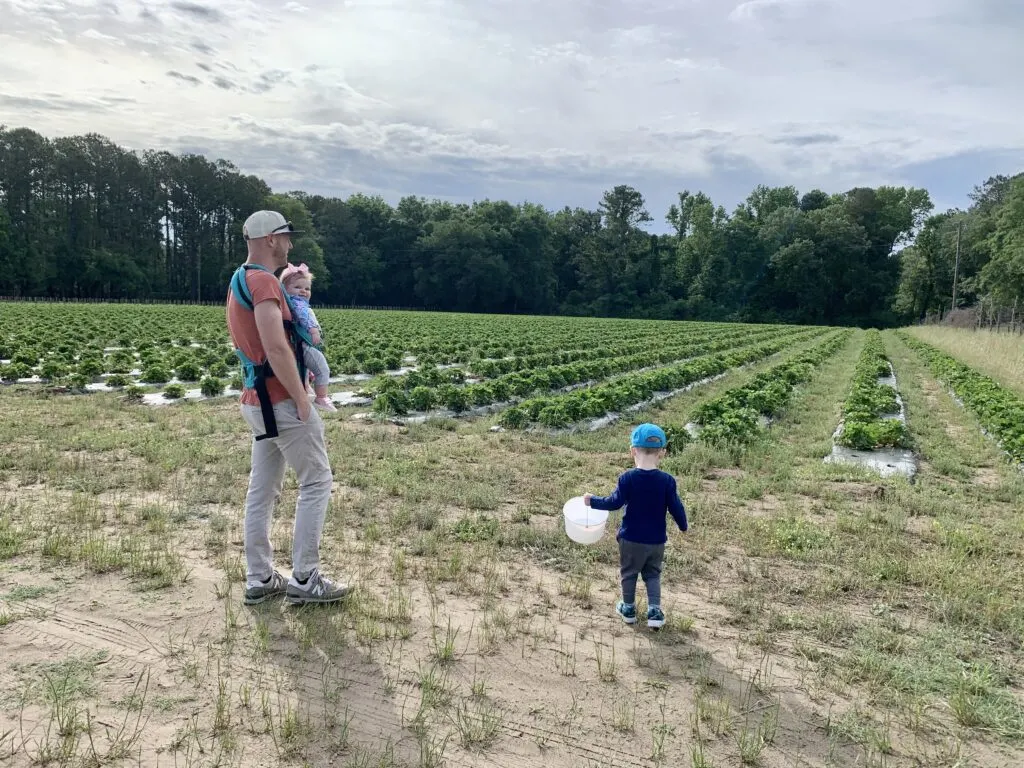 Call ahead – bring basket, credit cards, organic, stroller
Call ahead or see if your strawberry patch has a facebook page.
Find out if you need to bring a bucket or if they provide them.
Find out if they accept credit cards (or venmo!) or if you need to bring cash. Bring extra cash because they might have a little farmers market or sell other great produce, too!
If you are concerned about organic produce, ask in advance!
Finally, ask if it's a long walk from the car to the fields. If so, depending on your kids, you may want a stroller. Beware that most strawberry fields have narrow rows which aren't super stroller friendly.
Prepare to get hot
Berry fields are out in the bright sun with zero shade. Be prepared to get hot. Wear the right clothing for heat and don't forget sunglasses.
Bring water bottles and snacks for everyone, too! Little hand held spray fans are great for older kids.
Teach your kids the "right" fruit to pick
Our two year old had a great time pointing out which berries were green, which were red, and which were mushy! I was so impressed that he picked 95% only good strawberries.
We told him to leave the green berries for the animals and he LOVED that! Older kids you could better explain how green berries turn red.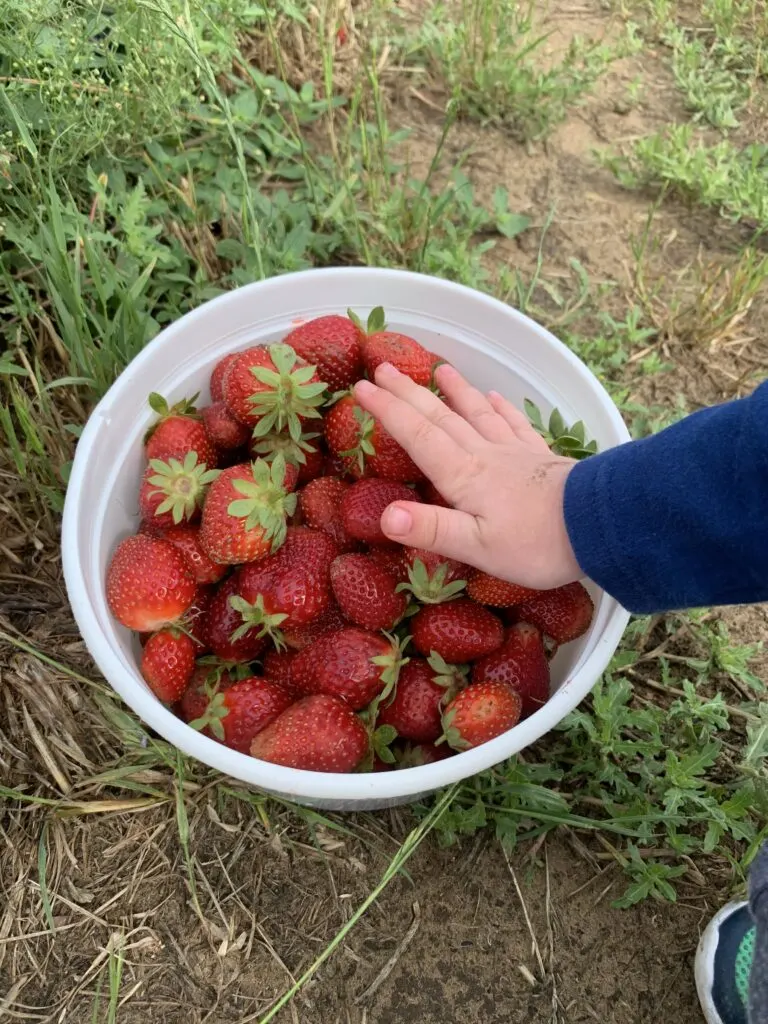 Pick more berries than you think you want
I say pick a lot of berries! They are so much better than those at the strawberries and this is your chance to pick your own fruits – enjoy it! You can always freeze extras.
Make a day of it
Don't be in a hurry. Don't have plans right afterwards. As it goes with kids, they might last two minutes or they might want to stay for an hour. Let them set the pace!
How to keep fresh strawberries fresh
When you get home, immediately wash your berries with a mixture of water with a splash of white vinegar.
We then chopped them all up immediately. It takes a while but is worth it. Put them in a contain with a tight lid.
Eat by the bowlful!
After 2-3 days, when they start getting mushy, bag whatever is left and put it in the freezer. They are great in smoothies or can be thawed for baking or putting on top of ice cream!
Strawberry picking with toddlers and kids is SO fun! Do you have any great tips?