Are you a new parent wondering what to do with your baby all day? It's extremely overwhelming! Here are some ideas to help your days pass more quickly and with more fun!
I'll never forget when our first child was born, sitting in the hospital, waiting to be discharged.
The pediatrician who was rounding on us asked if we had any more questions and my husband said "yeah, well, I guess just… what do we do with him?"
It sounds kind of wild (and I think we all laughed) but there is something about leaving the hospital with your first child that is completely bewildering.
And it was fine when we had family staying in our home, but eventually they all left. My husband went back to work, and there I was, alone with this tiny stranger.
Do you need to play with your baby all day?
You don't need to entertain your baby every second of the day. As long as they are in a safe place – like alone in their crib, or laying on a quilt with a safe toy, they will be okay.
However, they might get fussy if you ignore them for too long! Always stay nearby. And have a paci on standby (or not! But probably yes 😀 )
I returned to work at the end of my maternity leave and my husband took a few weeks to be home with the baby. I remember him keeping a note in his phone of their activities.
He said he did it because otherwise he felt like he had nothing to report at the end of the day. But it was an overwhelming list in four minute increments that would be mind boggling to anyone who hasn't been home alone with a newborn baby.
So, I thought that it could be helpful for me to gather up some of the activities that worked for us. I get it, you're sleep deprived, you feel guilty for being on your phone, but you're kind of bored of "playing" with your baby.
Let's make it more fun and slightly structured (in an easy going way)!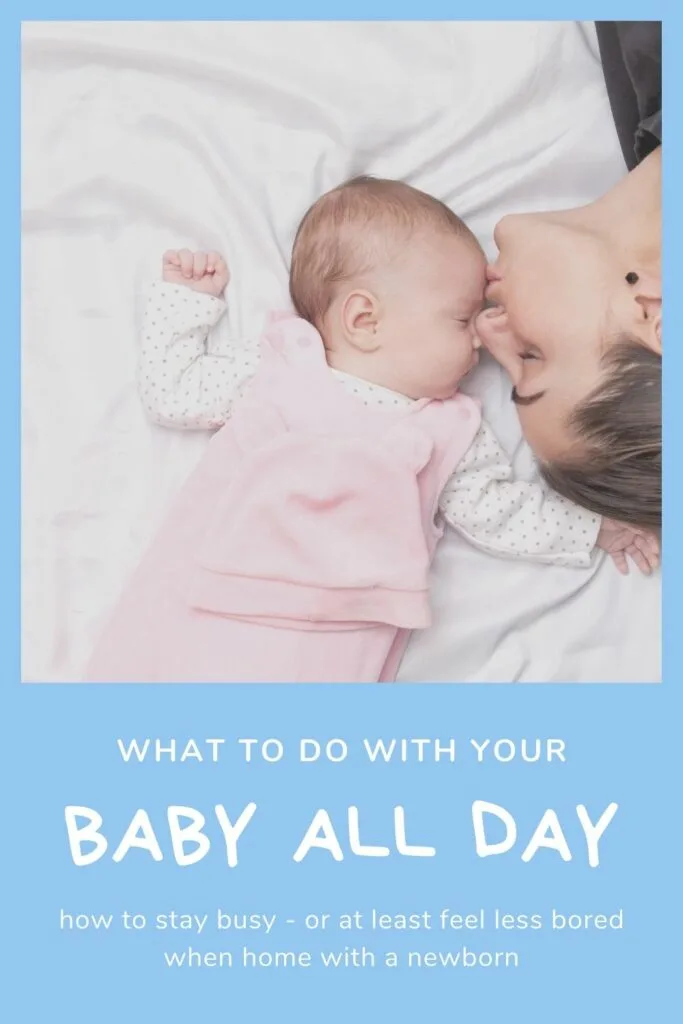 What to do with your baby all day
Get on a schedule
If you haven't already, I suggest working on a schedule for a baby. It doesn't matter if you are bottle feeding, breastfeeding, or a mix.
Setting a schedule will give you a slight sense of control and will give you more confidence in planning outings (even just a walk around the block).
You can use any methodology you prefer, but newborns usually settle themselves into a 2 to 3 hour cycle of eat, play, sleep.
Once you get confident with that cycle, you can focus on doing things for yourself while they sleep (like laundry, cleaning up, or staring blankly at the wall) and set up some playtime activities for the play time.
If you are OK with trying to adjust your baby's eating schedule, this is the book I used to get my kids on a good routine and sleeping through the night by about 4 months old. It worked twice for me and was painless!
Go outside
I have had 2 babies. One was extremely easy going. The other was… not. I love them both but the fussy baby sure did humble me.
One thing that both of my babies loved is going outside.
This could be in the stroller (here's my favorite stroller), strapped into a baby carrier, or just laying on a blanket in the shade.
Going outside calmed down my newborns when they were fussy and made me feel a little more relaxed, too.
Tummy time
Doctors will tell you that you should start tummy time as soon as you bring a baby home from the hospital.
What is tummy time? It's simply putting your baby on their stomach on the ground. Usually on a blanket or a quilt.
Spoiler alert: babies hate tummy time. My baby is 9 months old and STILL hates being on her stomach.
But, tummy time is important for helping babies to develop their muscles to roll, push up, and crawl.
I found it easiest to set a timer and stick it out, even if they are fussing. You can also play a song and say they have to stay for the duration of a song.
Give them a bath
Baths are a good way to soothe (many) fussy babies. Run some warm water, get a wash cloth, and gently dribble water onto them. They love this for some reason and will stare and coo!
In general, babies can get dry skin if you bathe them too often, so extra "fun" baths can be done without soap, just water!
Talk to your baby
I feel like having babies gave me this horrible habit of narrating everything I do. Don't worry, once they are talkative toddlers you will lose the habit as they talk so much you can't get a word in!
I liked to narrate my activities to my baby. I personally try not to use a "baby voice" as that irks me but I just sort of talked to him like he was my friend. My silent, potato-shaped friend.
Read books
I know it sounds silly to read to a newborn but my son really loved looking at books. He especially loved touch and feel books from a very young age and also went wild for anything with photos of other babies on it. This book was a big favorite.
In general, go into reading to your baby with low expectations. It's mostly about setting up a routine (like a pre-nap book) at this point.
Black and white cards
I know, it's weird to show your newborn flashcards. I remember my mom thinking I was seriously deranged that my baby was going to learn animal names at 2 months old. But, it's not about learning the animals (haha).
Babies LOVE high contrast black and white images. These cards are double sided and seriously interested both of my kids! We could spend a solid 15 minutes looking at these, which if you have a baby you know is magic!
Listen to music
Babies love music and let me let you in on a secret: it doensn't need to be baby music. There is plenty of time for wheels on the bus soon enough.
Play music you actually like and dance them around the room. Sing to them. Clap your hands and shake a toy around. Smile and laugh. Enjoy yourself!
Blanket time
Not to be confused with tummy time, though it can be combined with tummy time, babies usually like blanket time.
Lay out a blanket and lay your baby on their back on it. Give them a toy and put toys around them, especially the annoying light up musical toys you probably got as a gift.
Play some music, lean back, and take three minutes to yourself. Let them "play" independently just a bit.
You can do this on a play mat with a mobile, too. Just follow your baby's lead.
Baby Yoga
Ok don't worry – YOU don't have to do any yoga here. Let's get real – I had 2 C-sections in 2 years. No yoga done here.
I actually did this youtube video a LOT with my first kid. Not so much when I had a toddler running around. It's just stretching them on the ground a bit. It was fun and always killed some time in what felt like a productive way.
Take photos
I'm sure you're doing this, but take photos. Take videos. They grow so quickly.
Put them on Amazon photos or Facebook or somewhere that will send you "this day in history" notifications in the future. You will treasure them.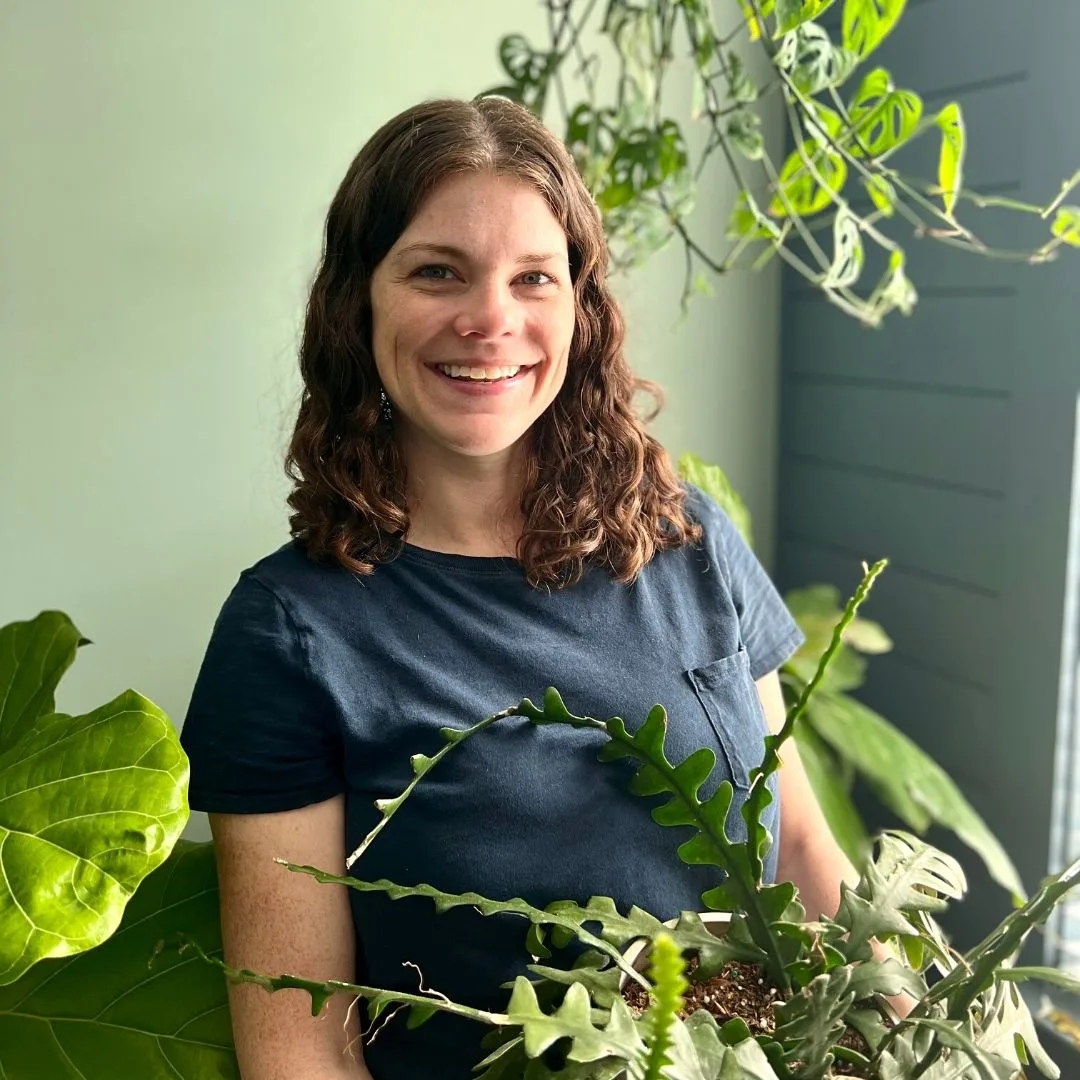 Hey there, I'm Morgan, the creative mind behind CelebratingWithKids.com! As a parent of two lively little ones, I've made it my mission to turn ordinary days into extraordinary adventures, sharing playful activities, thoughtful toy reviews, and delightful printables to help families celebrate every moment together. 🎉👨‍👩‍👧‍👦🎈