Curious about the Mockingbird single-to-double stroller? We were one of the first on the waitlist and are so excited to review our new Mockingbird double stroller for you today. Be sure to scroll for the video!
Excited for the Mockingbird Double Stroller? We are too! We are expecting our second child in August. We have had the Mockingbird single stroller for over a year and love it.
So, it was perfect timing that they just released a double stroller!
Mockingbird Double Stroller
This stroller is a single-to-double expandable stroller.
That means that you can use it as a single stroller by itself or purchase an add-on seat to turn it into a double.
You will need to buy a second seat kit to have 2 seats. Or, it can hold a carriage bassinet.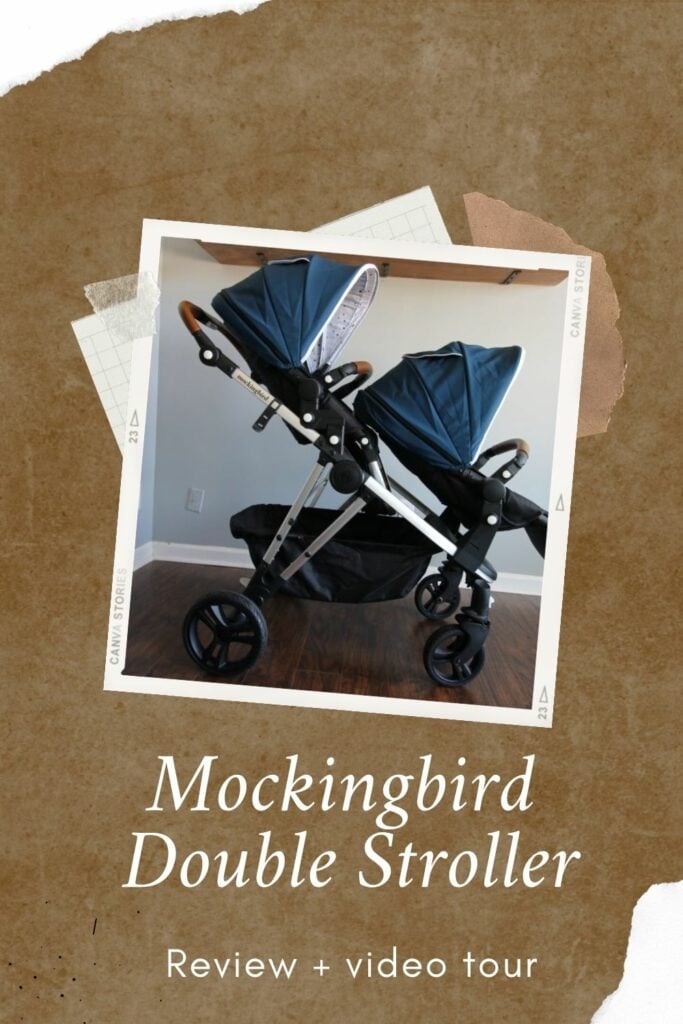 Can I turn my existing single Mockingbird stroller into a double stroller by purchasing a second seat kit?
NO! This is so important! The second seat kit doesn't fit the old stroller.
We compared them side-by-side and determined that the bar that holds the basket under the seat is in the way of where the second seat adapter has to clip on.
If you think there is any chance that you will have a second child, pay the extra $50 for the double stroller.
You can NEVER go back and turn the single into a double.
The double stroller functions as a single stroller 100% perfectly without a second seat. There are no extra adapters, slots or pieces.
Just buy the double! Then, if you do have a second kid, you can purchase the second seat kit at that time.
How do I know if my Mockingbird stroller is single or double?
Squat down and look into the basket under your Mockingbird stroller. Turn your head to the left. There's a sticker on the bar. It should say MOCKINGBIRD STROLLER or MOCKINGBIRD DOUBLE STROLLER.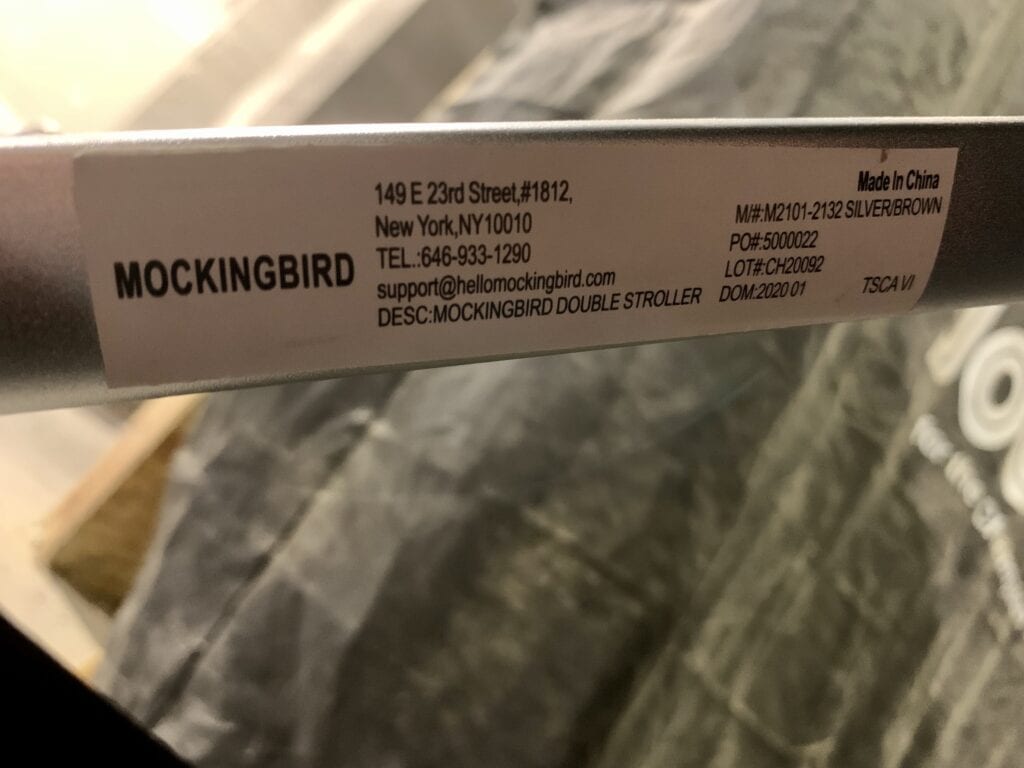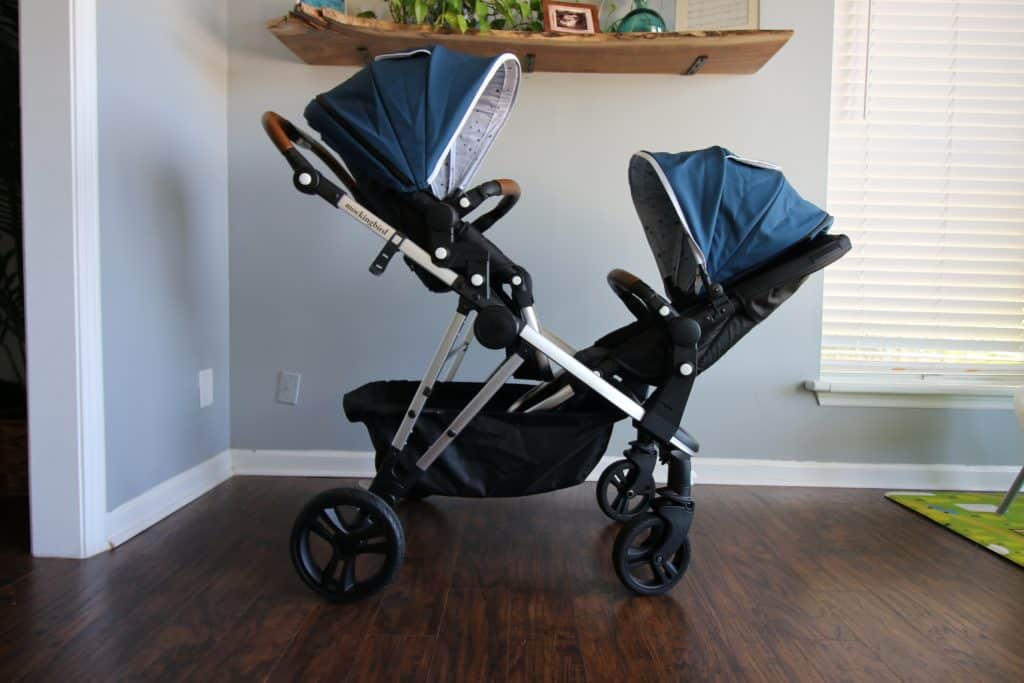 Mockingbird Stroller Basics
The Mockingbird stroller is a super high-end looking and functioning stroller, but priced much more affordably than comparable models.
It is a full size stroller, perfect for your growing family.
Some of my favorite stroller features are:
Huge storage basket – deep enough to fit a yoga mat. Tons of storage space!
Rubber wheels with great shocks and an extremely smooth ride.
UPF 50+ canopy with peek a boo flap and zippable mesh.
Removable sunshade to help protect your baby where the canopy leaves off.
Adjustable footrests that unzip to dump crumbs.
Leather handles (that really make this thing look expensive)
Adjustable handlebar – great for super short or tall people.
Foot brake that is super easy to use.
Is Mockingbird all terrain?
Definitely not. It rolls very well on sidewalks, OK on dirt or gravel paths. It's very hard to push in "off roading" type situations. We once pushed it through the dunes of Kiawah at the PGA championship in the heat with two sleeping babies. It was…. rough.
What is included with the Mockingbird Single-to-Double stroller?
Here is a complete list of what's included with the Mockingbird Single-to-Double Stroller:
Stroller frame
Stroller Seat (1)
Wheels
Canopy
Bumper Bar
With the 2nd Seat Kit, you get the following:
Upper Adapters
Lower Adapters
2nd Seat
What configuration options does the Mockingbird Single-to-Double stroller have?
Mockingbird officially boasts 19 configurations, but that involves angles of the seats. In my opinion, there are 4 main configurations using 2 standard seats:
Both facing forward (away from parent)
Facing each other (face-to-face)
Both facing backwards (towards parent)
Facing away from each other (butt-to-butt)
Now – let's be clear – some of these configurations are better than others. Due to the location of the seats, some configurations limit the angle the seat can be at.
Also, some configurations, you have to adjust the foot rest so it's folded up.
Your best bet is to watch our video to see what we mean. We walk through all four of these configuration – and show the carriage bassinet in use.
Can the mockingbird stroller hold two car seats?
Yes – you can stack 2 car seats, with both kids facing backwards towards the parent!
Can you fold Mockingbird stroller with bassinet?
No, you need to take the bassinet off prior to folding your Mockingbird stroller.
Does Mockingbird stroller lay flat?
Mockingbird seats recline to lay pretty flat, but for complete flatness you will want the bassinet or infant insert.
Does the mockingbird stroller work for twins?
Yes, the Mockingbird double stroller can work for twins! This stroller will accommodate 2 car seats or 2 infant inserts, but not 2 bassinets. It works great for 2 toddlers, too!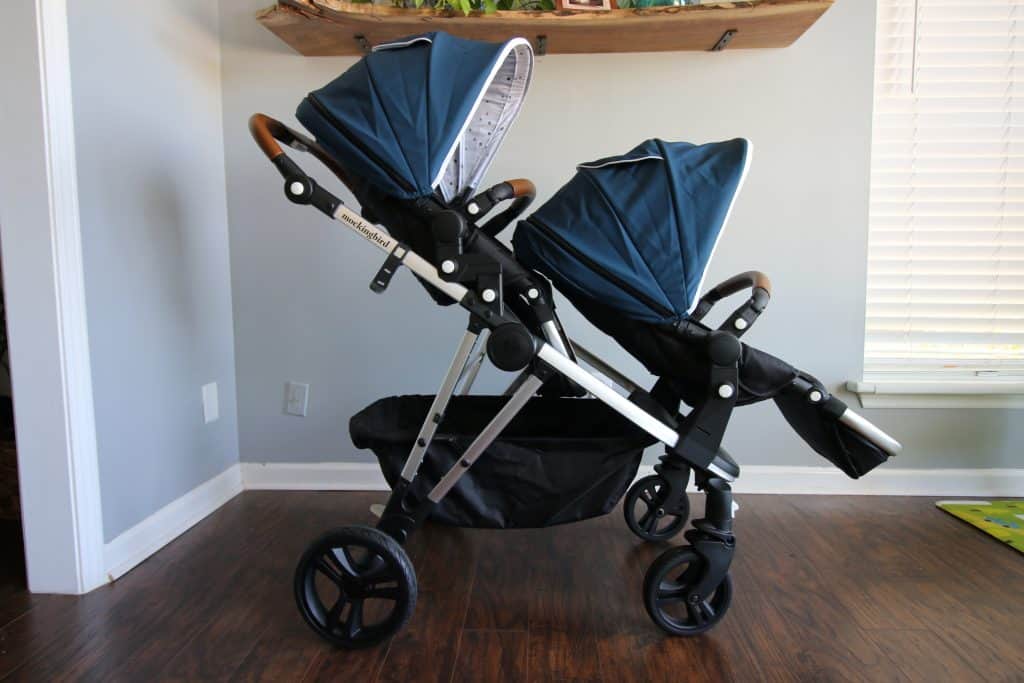 Are there any cons to the Mockingbird stroller?
When we reviewed the single Mockingbird stroller a year ago, I found 3 cons. 2 of them have been resolved!
The first was the lack of double option. Obviously, the new double stroller solves that!
The second problem was that the peekaboo window flap blew around in the wind. They were anti velcro because it was so loud it woke babies (not my baby, haha, but that's what was said).
But, they must have gotten complaints, because all Mockingbird stroller canopies feature a set of magnets on the peekaboo window, to hold it open or closed.
The only problem that I had with this stroller is that it did not come with a cup holder. You can purchase velcro-on models. We have this one by Baby Jogger.
I have one more complaint to add since writing the last review – and it is also on the accessory train!
I really wish that there was a snack tray option for the kiddos. Now that Luke is a toddler, he loves snacks in the stroller.
Mockingbird suggests a third party velcro on model, but I'd like a molded plastic tray to snap into the safety bar slots.
Minor problem and not a deal breaker for me!
Here's our complete guide on how to fold a Mockingbird stroller.
Is the mockingbird stroller bulky?
Honestly, yes, the Mockingbird stroller is bulky. But, I have some news for you – all double strollers are bulky. If you are looking at similar models, they are all cumbersome to fold and lift and put in the trunk of your car. But, it's doable, and its only for a few years of your life (hopefully!)
Does Mockingbird double stroller fit in trunk?
The Mockingbird fits in the trunk of an SUV when folded. It may or may not fit in a small sedan. I have to fold one of the back seats flat in our Toyota Yaris to fit it in. Removing the second seat when folded helps it fit easier.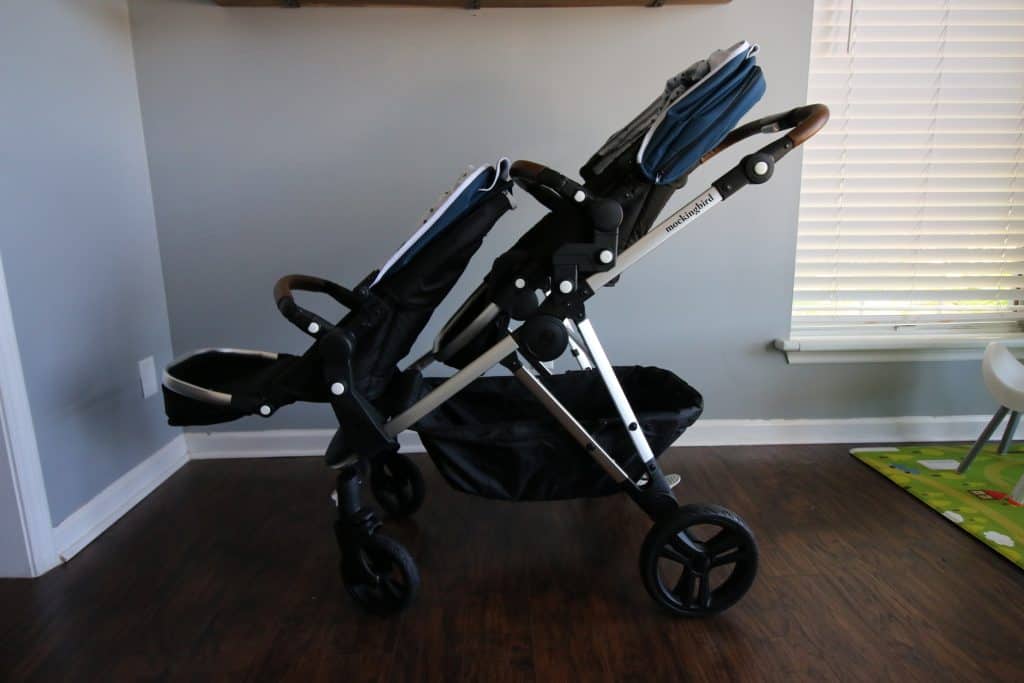 What seats are compatible with the double Mockingbird stroller?
You can fit two seats on your single-to-double Mockingbird, in combinations of:
You can read all of the car seats that work with the Mockingbird here.
Click here to read our Mockingbird Carriage Bassinet review!
Here's photos showing how to recline the seats!
What colors does the Mockingbird stroller come in?
The Mockingbird double stroller comes in:
Black, Sea, or Sky fabric
Black or Penny leather handles
Windowpane or Watercolor Drops liner
What accessories are available from Mockingbird?
As I mentioned, some 3rd party accessories work with Mockingbird. Here are their official accessories: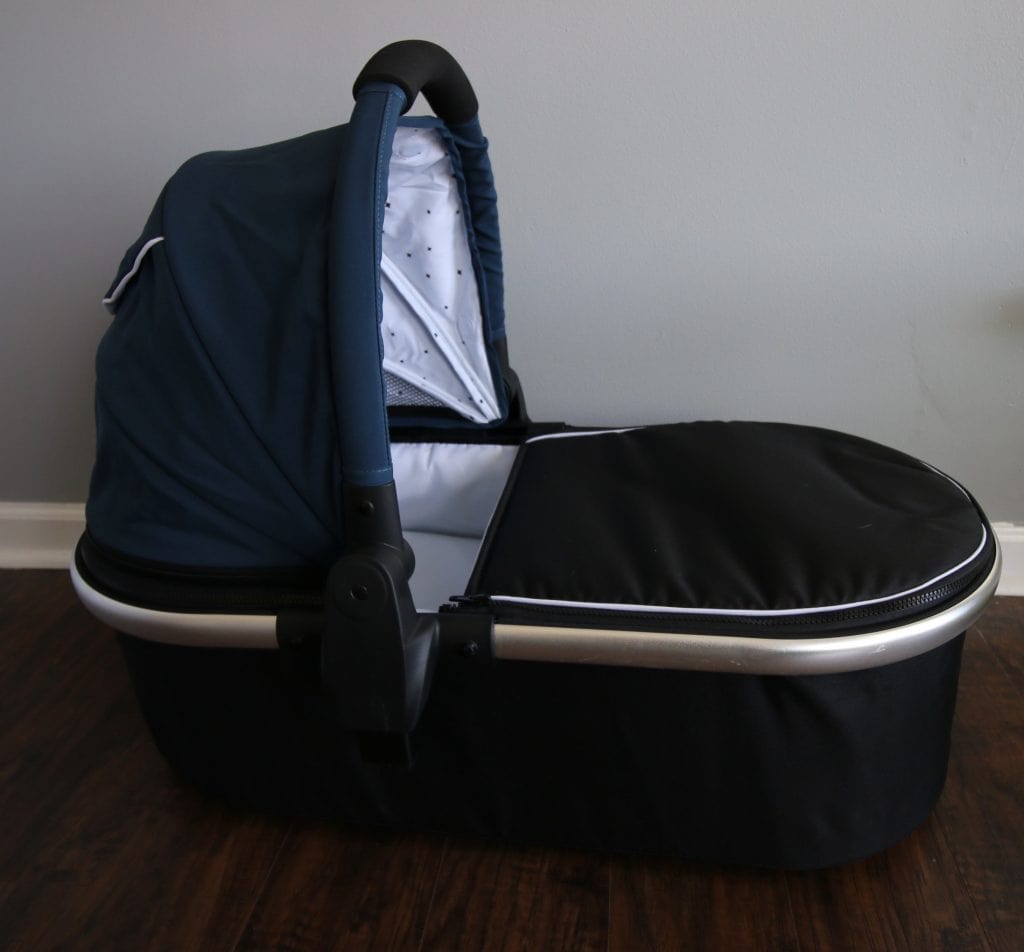 How much does a Mockingbird Single-to-Double Stroller cost?
These strollers are $395 on their website. They do not run sales so no need to wait around!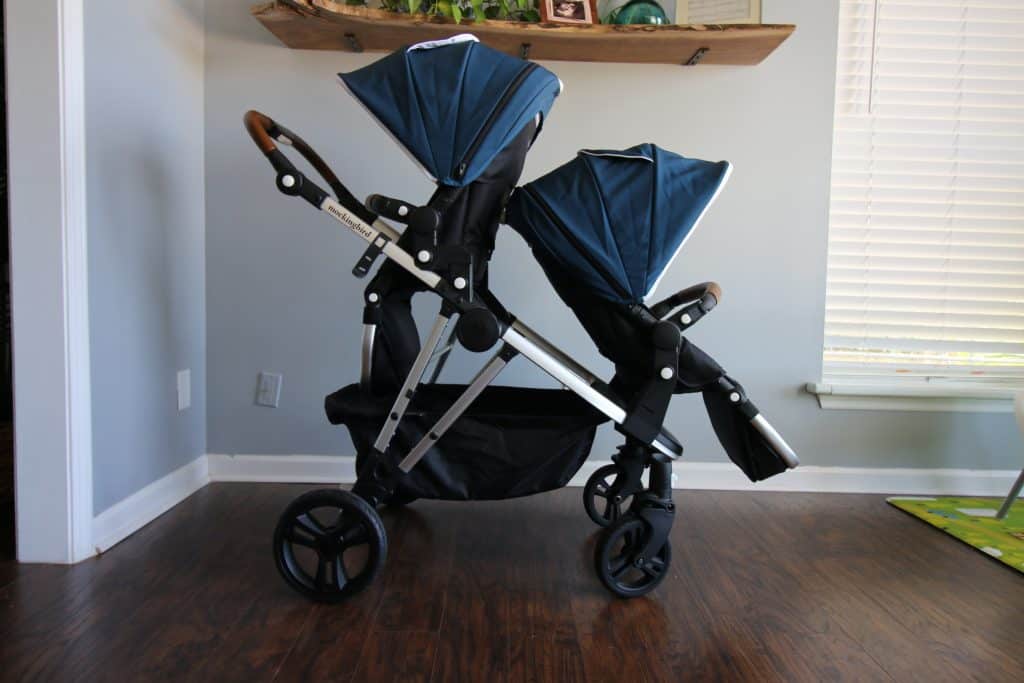 Where can I buy this stroller?
The only place to buy a Mockingbird is from them directly. They do not sell through Amazon, Nordstrom, or any other stores. This helps to keep their costs down.
Currently, Mockingbird only ships to the United States.
Click here to buy the Mockingbird Double stroller!
Where can I try the mockingbird stroller?
Mockingbird is now available at select Target stores! Search online to see if your local store carries a sample that you can test out!
Is Mockingbird made by UPPAbaby?
No, Mockingbird is it's own company!
Mockingbird Double Stroller Review Video
Click here to watch our video review on YouTube!
You can read our Mockingbird stroller review here!
What car seats are compatible with a Mockingbird stroller?
The Mockingbird is a great stroller and we are so excited to have the double version! Are there any more questions that we can answer for you?