Considering a Mockingbird stroller? Here is our honest, non-sponsored Mockingbird stroller review!
It is common folklore amongst new parents that a great way to put your baby to sleep is to push them around in the stroller. Well, the joke was on us, because when Luke was six months old, he had spent two consecutive months screaming bloody murder every time he was put in the stroller.
I was at my wit's end. I felt so very trapped. People told me to get out of the house more, but I was terrified of rolling him around Target and him screaming the whole time. He wasn't sitting well enough for sitting in the shopping cart and it is getting too hot to wear him in the carrier.
So, we decided to try a new stroller.
The Mockingbird Stroller
We wanted to do a full Mockingbird stroller review for anyone considering one. I discovered Mockingbird via a targeted Instagram ad. I know, I am a sucker. But, it really appealed to me.
The Mockingbird stroller looks like a really high end stroller. It has a sleek look and leather handles.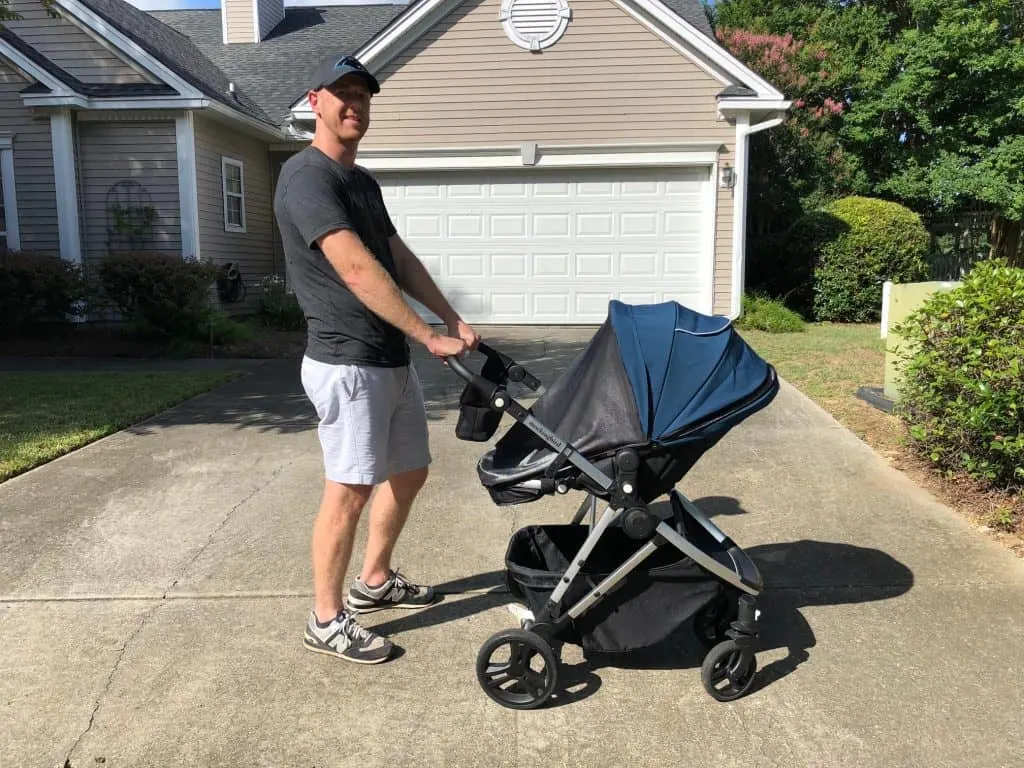 The seat
One great feature of the Mockingbird stroller is that the seat can be positioned to be rear facing or forward facing. We had a theory that Luke might like to rear-face in order to see us while he was riding.
The seat also reclines into several positions. He can sit up or lie back at several angles, which is great if he's sleeping. The foot rest area for your child also can change angles and has a very unique zipper at the bottom that lets you dump out crumbs.
It is also compatible with most car seats and you can purchase a bassinet attachment if you have a small baby. Luke is much too XL for any kind of itty baby seat now, clocking in at almost 20 pounds and 7 months old.
Here are all of the car seats that are compatible with the Mockingbird stroller.
Click here to read our Mockingbird Carriage Bassinet review!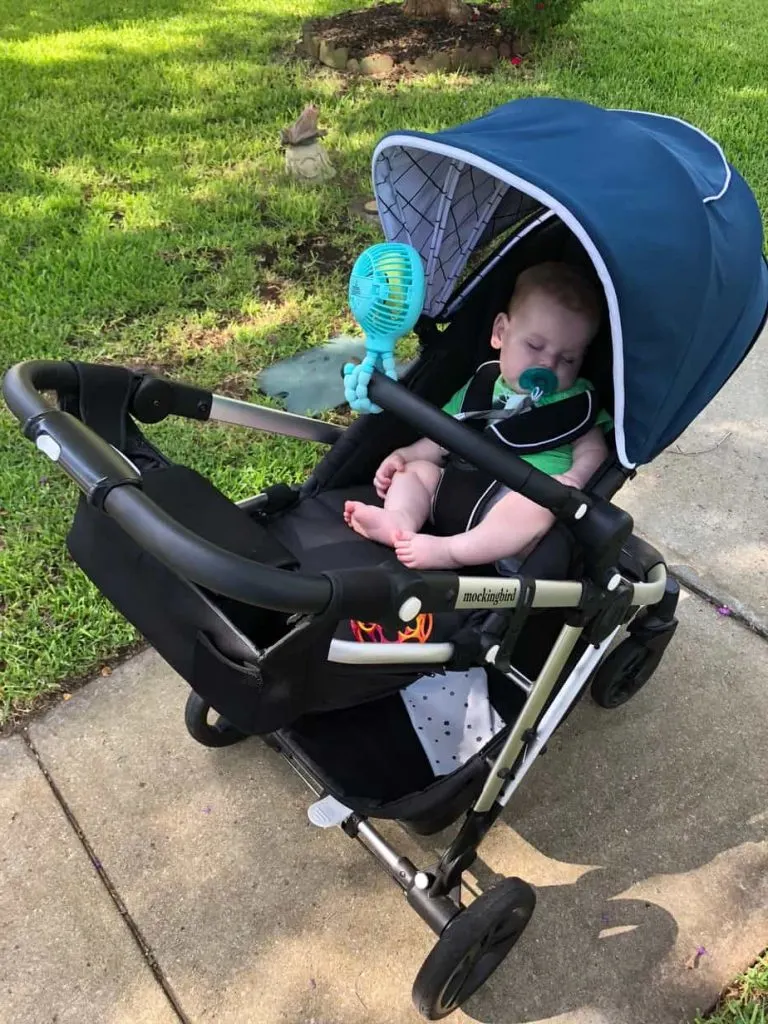 The wheels
The Mockingbird stroller rolls really well, especially compared to our old stroller! it is not an "off roader" by any means, but the wheels are rubber and there seems to be shocks/something that makes it feel really smooth over bumps.
The storage basket
Another thing that I love about the Mockingbird stroller is that the storage basket underneath is really roomy. It is a big upgrade over our old stroller and I love that I can really easily throw in our huge diaper backpack with lots of room to spare. It's deep, wide and long. We joked that the video has a drawing of a yoga mat and other mom accessories, but they really will fit!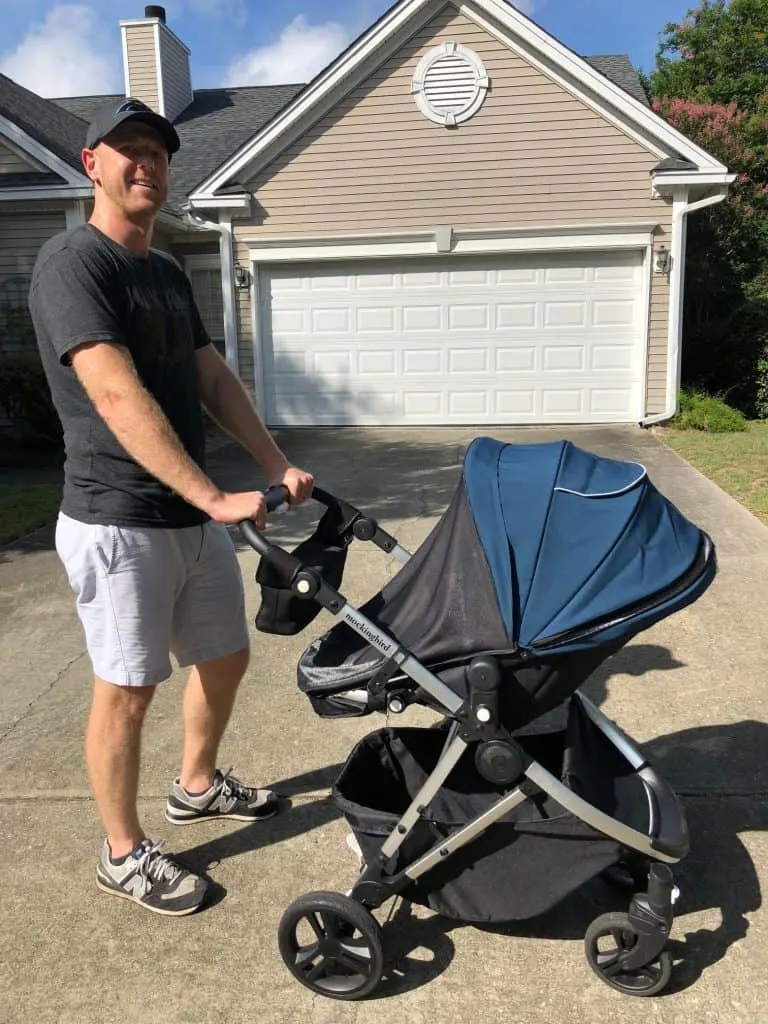 The sun shade
The regular folding shade on the Mockingbird stroller is a lot smaller than our old stroller. We were worried about him getting the sun in his eyes.
However, the Mockingbird stroller also comes with a sun cover. It took us a bit to figure out, but it actually sticks to the folding shade with magnets and two loops.
Once you figure it out, it is really easy to put on and pull off. The shade also comes with a zipper on the back that you can open up to allow ventilation through a mesh screen.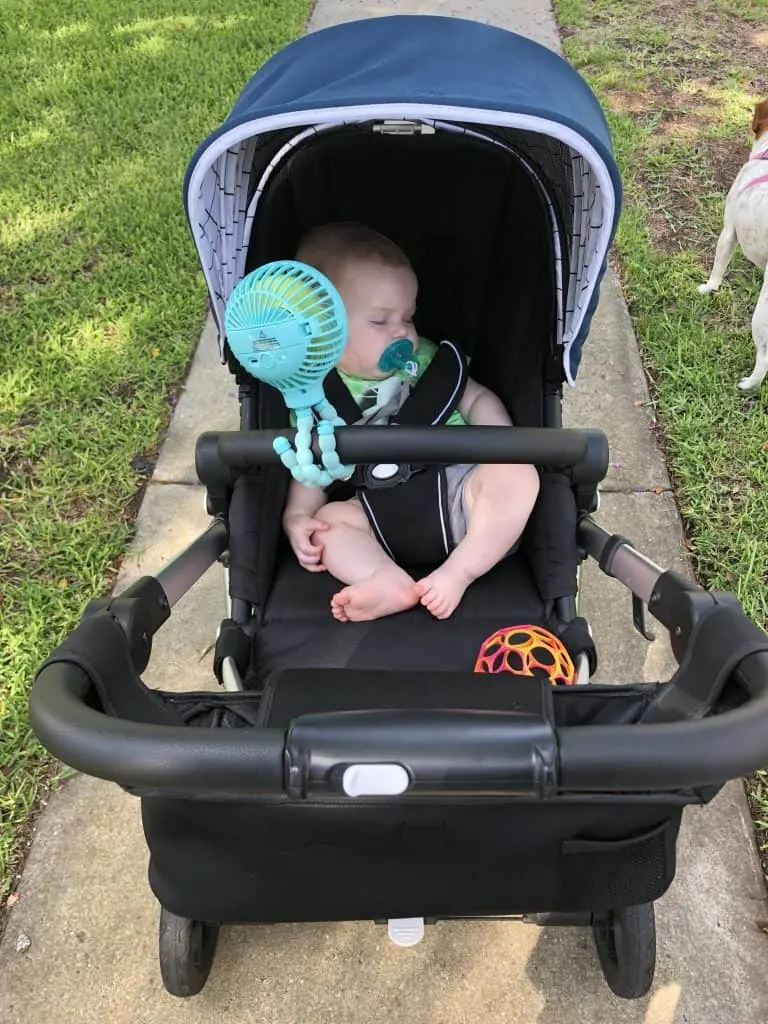 Size and foldability
The Mockingbird stroller actually seems really big, but that's compared to the one we had that Luke didn't like. Compared to some of the standard multi-stage strollers we originally looked at, this is really small but very roomy for baby and storage.
The Mockingbird stroller also folds really easily. It has a simple mechanism for folding down on the handle with a latch and button. Then you unfold it simply with a small clip on the side.
The con with folding is that the seat has to be in the forward-facing position. Since Luke is riding rear-facing right now, we have to flip the seat around every time we fold it up for the car. This takes about 2 seconds, but it's a little less than ideal.
Here's our complete guide on how to fold a Mockingbird stroller.
The price
The Mockingbird stroller retails for $350. That's a lot of money, but it is significantly less than the comparable looking strollers that we saw on the market.
The Mockingbird website states that by selling direct-to-consumer, they cut out the middle man (like Amazon or Buy Buy Baby) and are able to pass that discount on to the shopper.
Also, it's $350 flat. That includes the taxes and shipping, so there's no additional surprise cost.
The 30 day guarantee
The biggest selling point for us to give the Mockingbird stroller a try was that it has a 30 day no-risk guarantee. We decided to give it a try, and if Luke still screamed in it, we could return it and get our money back. Luckily, he LOVES it.
We are really happy with our Mockingbird stroller. We honestly bought it planning to probably return it within 30 days and decided within a week to keep it.
The cons
There are a few cons to this stroller that I did want to bring up. One that may or may not be important to you is that it cannot change into a double stroller. If you have twins or two kids really close together, this might not be the stroller for you.
UPDATE – Mockingbird has released a double! Read about the Mockingbird Double Stroller here!
I also actually dislike that the peek-a-boo canopy flap doesn't velcro down. It can get blown up in the wind, letting sun in on the baby's head. This is pretty minor as it's easy to flip it back down with your hand, but a little annoying when they are rear-facing and the flap is on the far side of the seat. I have seen some reviews that prefer it without velcro and say velcro noise wakes their sleeping baby, so that is just a personal preference. I suppose I could add velcro if I really wanted to.
The stroller does not come with a cupholder or any kind of storage for the stroller-pusher. We were able to velcro on an accessory we already had, but it's not standard with purchase.
Mockingbird stroller vs UppaBaby
I have never personally had an UppaBaby Vista stroller, but I have gotten a ton of questions about how they compare. So, I gathered the stats to compare them for you.
| | | | |
| --- | --- | --- | --- |
| | Mockingbird Stroller | UppaBaby Cruz | UppaBaby Vista |
| Unfolded size | 32″L x 25.5″W x 44″H | 37″L x 22.3″W x 40.5″ H | 36"L x 25.7"W x 39.5"H |
| Folded with seat size | 20″L x 25.5″W x 35″H | 17″L x 22.3″W x 36″H | 17.3"L x 25.7"W x 33"H |
| Folded without seat size | 13″L x 25.5″W x 30″H | 13″L x 22.3″W x 36″H | 16.8"L x 25.7"W x 33"H |
| Weight frame + seat | 26lbs | 21.5lbs | 26.6lbs |
| Bassinet Included? | No | No | Yes |
| Bumper bar included? | Yes | Yes | Yes |
| Max weight | 50lbs | 50lbs | 50lbs |
| Colors available | 3 | 8 | 12 |
| Works as double? | No | No | Yes |
| Forward and rear facing? | Yes | Yes | Yes |
| Basket weight limit | 25lbs | 25lbs | 30lbs |
| Price | $350 | $549 | $899 |
You can see how the stats compare. On paper, they are really comparable, but the price is significantly less for the Mockingbird.
Click here to check out the Mockingbird stroller on their website!
I hope this Mockingbird stroller review was helpful to you. Overall, we really recommend the Mockingbird stroller. There are a few minor inconveniences, but compared to what else we've seen and used, this is a winner. Also, Luke would recommend the Mockingbird and that's all you really need to know.
Looking for more baby gear? Be sure to check out our Snoo Smart Sleeper review!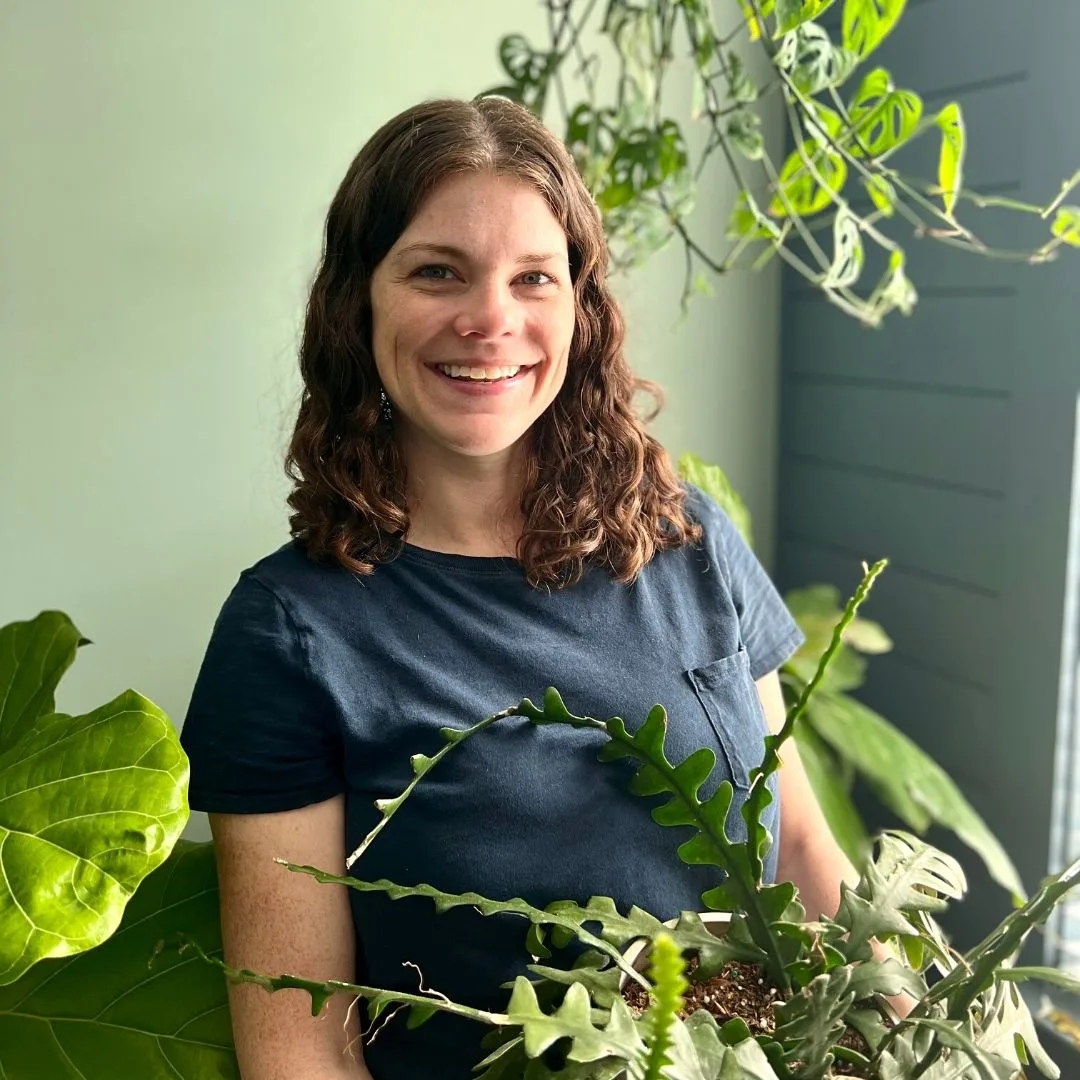 Hey there, I'm Morgan, the creative mind behind CelebratingWithKids.com! As a parent of two lively little ones, I've made it my mission to turn ordinary days into extraordinary adventures, sharing playful activities, thoughtful toy reviews, and delightful printables to help families celebrate every moment together. 🎉👨‍👩‍👧‍👦🎈