Ready for a new baby? Swaddles are something you will probably buy! Let's talk about how many swaddles do I need for my baby?!
When you are getting ready for a baby, there's a lot of gear to accumulate. Some of it is obvious but some things are a bit more vague.
New born swaddles are one of those things. Can you swaddle a baby? It's a mysterious burrito wrap that the nurses in the hospital will teach you!
What is a swaddle?
A swaddle is a thin blanket that is wrapped tightly around a newborn baby. This tight blanket makes them feel cozy and like they are back in the womb.
Swaddles can be wonderful and help many new babies sleep better and stop crying.
Newborns have a startle reflex that causes them to sort of throw their arms out and heads back. It's wild to see! Swaddling them helps to control this and keep them calm.
Are receiving blankets and swaddles the same thing?
There is a difference between a receiving blanket and a swaddle. Receiving blankets are usually thicker, warmer blankets. More blanket-like, for lack of a better term. Swaddles are very thin muslin and used for tight wrapping, not so much for warmth.
You can use a receiving blanket to swaddle a baby, assuming that the size is appropriate. Swaddles aren't great to use as blankets, they just aren't that warm.
Uses for swaddle blankets
If you are like me and end up with a lot of swaddles, here are some ideas for how to use them:
Lay on the ground as a mini play mat
Breastfeeding cover
Burp cloth
Wipe up baby mess (in a pinch)
Sun shade
Here are some ideas for how to use swaddles when your kids are a bit older and don't need to be swaddled (even for toddlers and older kids!)
Use for fort roofs (very lightweight)
Baby doll blanket
Lightweight blanket
Photo backdrop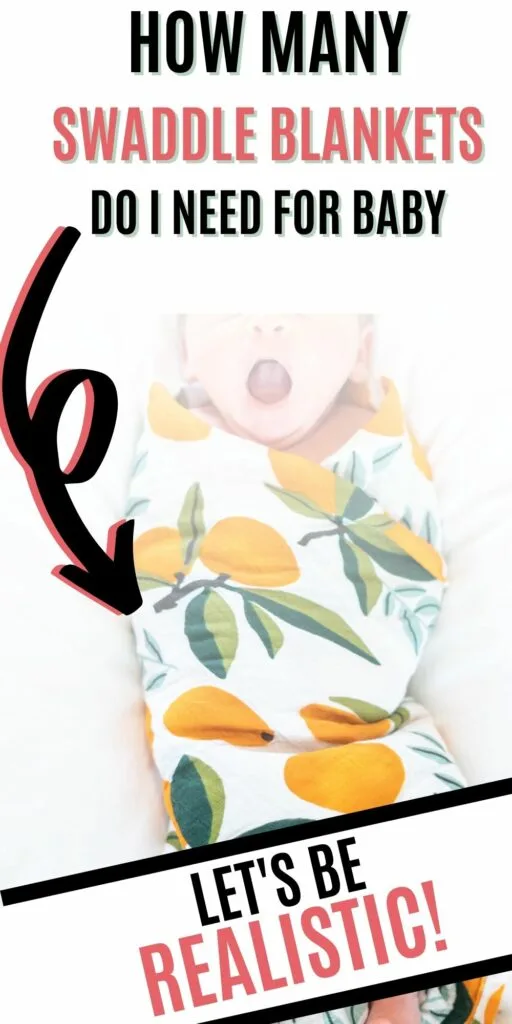 How many swaddles do you need?
Baby can only use 1 swaddle at a time, so 1 is all you really need. However, it's great to have a couple of extra in case they are dirty. Swaddles aren't washed between uses like clothes, but they can get thrown up on or similar baby mess on them.
I caution you against getting too many swaddles in advance. You may decide you prefer a sleep sack or zipper or velcro swaddle instead of a blanket. Don't get too invested!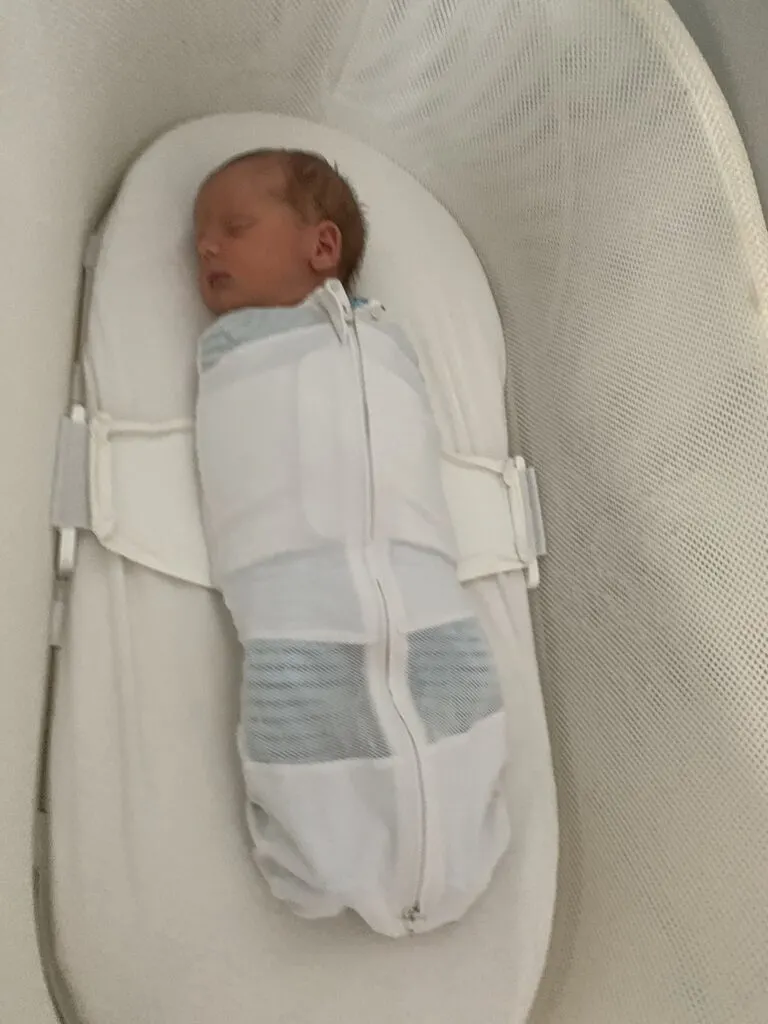 How many weeks should you swaddle a baby?
It is safest to stop swaddling a baby when they can roll over. This is usually between 2 and 4 months of age.
How long does it take baby to adjust to no swaddle?
It takes most babies 1-2 weeks to adjust to new sleeping conditions. Consider transitioning to a sleep sack or other sleep wrap that is safer for older babies if they are struggling with the transition.
How many swaddling blankets do I need?
I think your best bet is 3 muslin swaddle blankets. That gives you some wiggle room incase one gets thrown up on or another is in the wash.
Swaddles often come in 4 packs. I'd say 1 4 pack is plenty.
However, know that you are likely to get lots as gifts. They are easy, generic gifts. We got some single swaddles paired with matching stuffed animals, pajamas, or just by themselves as shower gifts.
Also, I'd suggest asking friends with older babies for hand me down swaddles (or borrow them and then return when baby is older). They are used for such a short period of time!
How many swaddles to register for?
I'd register for just 1 4 pack of swaddles. If you want more, consider a pack of zipper or velcro swaddles, too. Expect to get additional muslin blankets as off-baby registry gifts.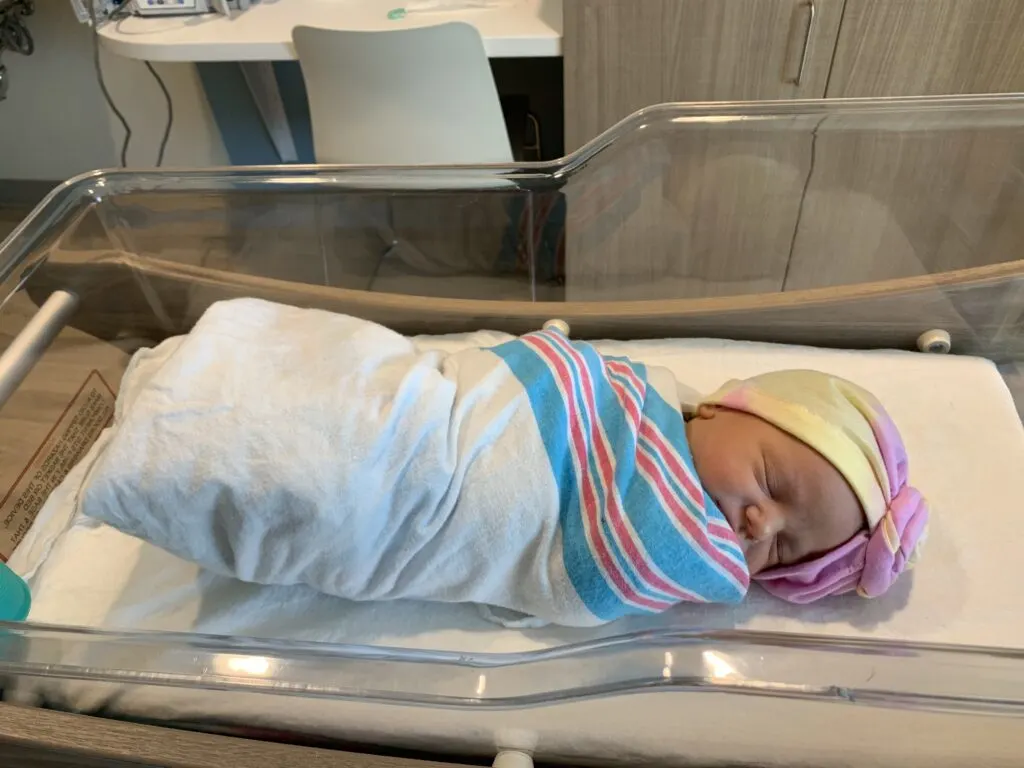 How many swaddle blankets do I need to pack for the hospital?
If yo have a special, beautiful swaddle, pack that for hospital photos. This might have their name on it, a favorite animal, or match a hat or outfit.
Otherwise, don't bother! The hospital has tons of baby blankets and they will even send them home with you. You don't want your blankets getting lost in the hospital laundry!