This is an honest and unsponsored Snoo Review based on our 13 months of experience with it.
UPDATE – we officially used our Snoo for a total of 13 months and 2 kids and then sold it to another family. We LOVED our Snoo and wholeheartedly recommend it. Here's our review!
I recently shared a picture of our bedroom on Instagram and it spewed a whole slew of DMs asking how we are liking our Snoo. So, I figured that meant that it warrants its own blog post.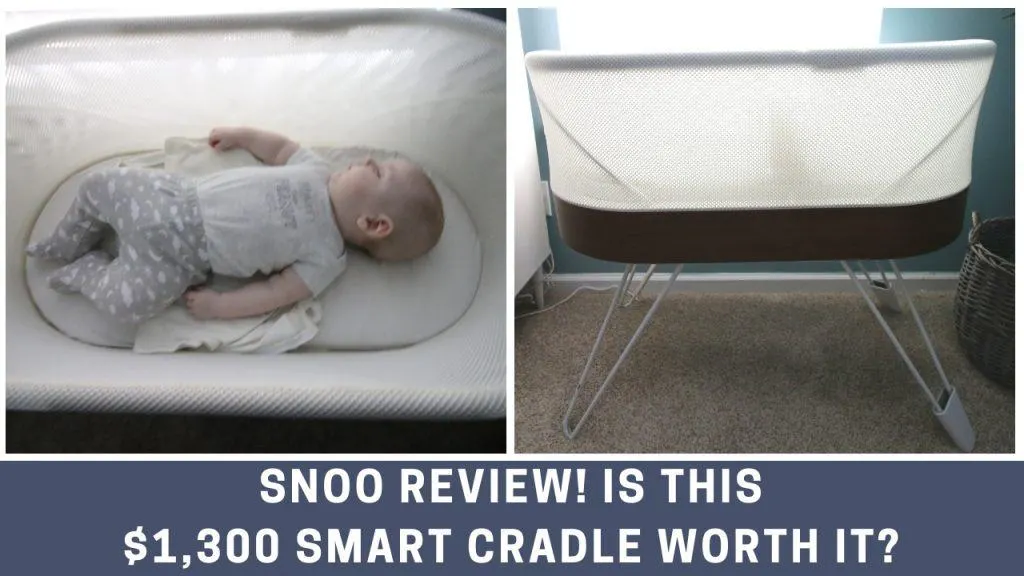 Snoo Review
What is a Snoo?
A Snoo is a smart high-tech bassinet. It plugs into the wall and is supposed to help babies age 0-6 months sleep better at night. It is based on the research of Dr. Harvey Karp and his 5 S's to sleep success. The Snoo uses swaddle, shush, and swing.
How does it work?
The Snoo provides white noise and a gentle rocking motion to help to soothe your baby into thinking that they are still in the womb. It follows the 5 S's of calming your baby.
The Snoo requires a swaddle sack. The sack clips into the bassinet (required for the vibration to work). Zip up your baby and push the on button.
The Snoo will gently rock them and play white noise. If your baby cries, the Snoo senses it and begins to play the white noise louder and rock the baby harder.
This is meant to soothe them back to sleep so you don't have to get out of bed. If they don't stop crying after a couple of minutes, it cuts off and assumes there is something that your baby needs from you.
The Snoo is supposed to be the "safest baby bed ever made." This is because of the swaddle sack holding the baby on their back, which is considered the safest sleeping position.
There is a mobile app but we honestly do not use it. I just push the button on the side of the cradle and then crawl into bed 🙂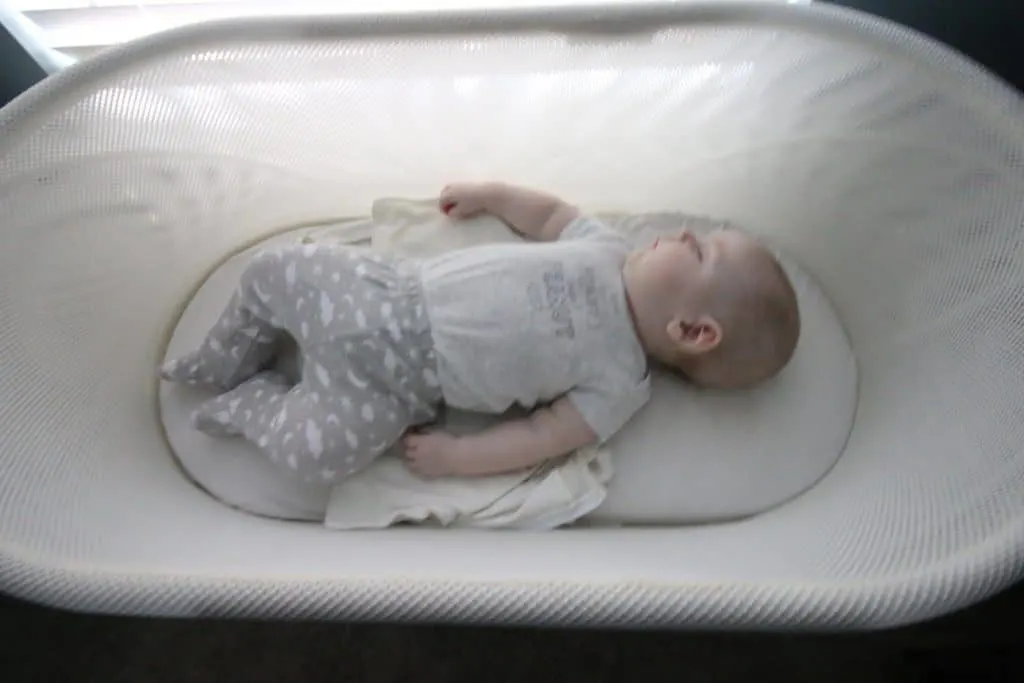 Does it work?
It's hard for me to say for sure. But, Luke is a fantastic sleeper. He has been sleeping through the night since he was 7 weeks old. It is hard to say if that is due to the Snoo or if he's just a wonderful baby.
Luke has slept in the Snoo since birth, so we have nothing to compare it to.
With that being said, it doesn't not work, and it definitely does what it says it will do – plays white noise, rocks him, and helps to calm him.
Do you like it?
I love our Snoo! It got us extra sleep, made our kids sleep easier, helped soothe them in the middle of the night, and honestly looks beautiful in our room.
Pros of the Snoo:
How it looks. It is very modern and beautiful. This may not matter to everyone but as a home decorator, it mattered to me.
The white noise. I've gotten quite addicted to it. It's better than having a separate player, too.
The constant, base level rocking is great for helping to soothe him.
The Snoo app is cool for monitoring sleep patterns.
It gives you peace of mind that your baby is sleeping in a safe environment.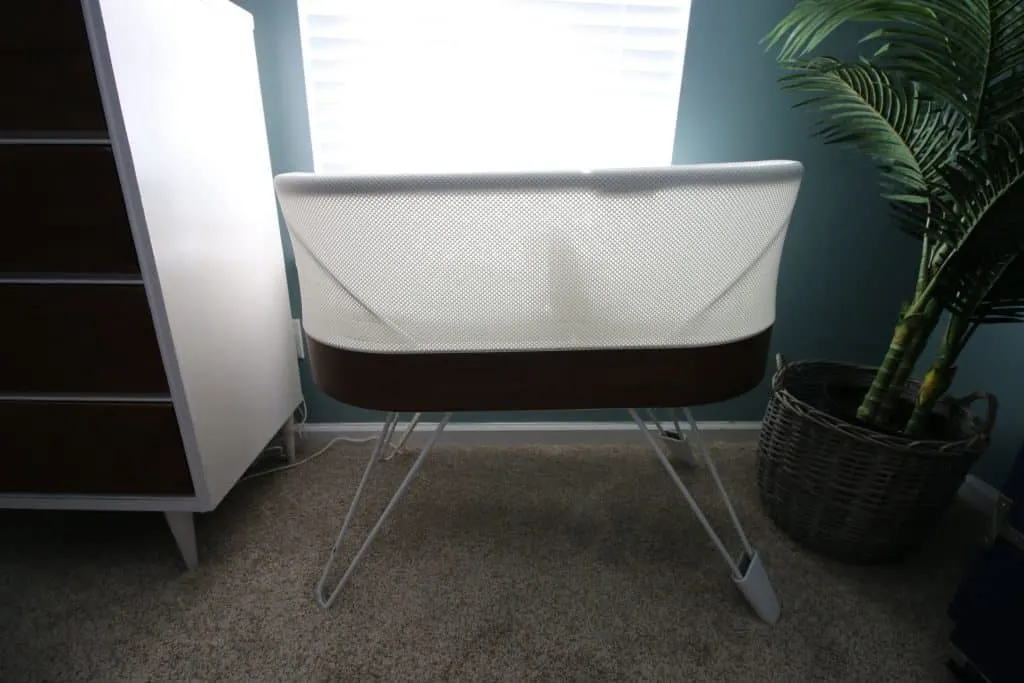 Cons of the Snoo:
When the Snoo escalates the rocking, it freaks me out. Especially when he was really little, it felt like it was shaking much too hard and his head was going back and forth, so we stopped it before it got to that point. If I am being honest, we have only let it escalate a few times ever. We usually pick him up instead.
I am slightly worried about transitioning him to the crib since he is used to being rocked and swaddled all night long. We are going to do that step-by-step and might even share a post on it if you are interested.
It's pretty huge. Deceptively huge. It is not at all portable.
You will only use it for six months – max. At 4 months, Luke is already looking pretty large in there! When he is napping in it without the sack, he touches three sides.
Obviously I hate the price, especially considering how long you use it for.
You don't want to sleep train your baby until they are out of the Snoo, which can make early month sleep regressions hard.
Why is it so expensive?
Snoos are $1,300 full price! Yikes, I know. I think they are priced that high because they are an unnecessary, luxury item. They are definitely targetting high-earner households with this product.
However, I have two tips for getting a Snoo at a discount.
Snoo bassinet used
I would never pay full price for one. We purchased ours second hand via Facebook Marketplace. I set an alert for a Snoo in any city where I had a friend who would go pick it up for me. After several close calls, I found one one hour away from my sister! Persistance and promptness is key in purchasing a used Snoo.
I also found quite a few Snoos on eBay. Just pay attention to shipping costs – local pickup would be the most cost-efficient way to do that!
Snoo discount code
The Snoo is worth it, but a discounted Snoo is even more worth it.
If you are set on a new Snoo, still don't buy it full price. Sign up for their emails – they have discounts for every major or minor holiday! They will even hold it and ship it close to your due date so you can still have the 30 day money back guarantee.
Rent a Snoo
They now offer Snoo rentals directly from the Happiest Baby!
What are the Snoo accessories?
Snoo Sacks – these are the sleep sack swaddles that you wrap your baby in. It has to be clipped in for the Snoo to operate. We got 2 in each size, small, medium, and large. Our baby is rather average sized and we found small = 0-1 month; medium = 2-3 months; large = 4-6 months
Fitted sheet – The fitted sheet covers the mattress that vibrates/sways. We have 3 fitted sheets. I would get at least 2 in case of baby messes.
Leg lifters – These are little feet that you added on to two of the Snoo's feet to raise your baby's head about an inch up. This is to help with acid reflux. Our Snoo came with them so we used them!
Happiest Baby book – If you are going to commit to a Snoo, definitely read the book about the Philosophy behind the technology. It's a easy read. I was surprised how many of the doctors in the hospital and at the Pediatrician office referenced it and the 5 S's.
Do I recommend a Snoo?
Yes, I do. But – and this is a big but – only if you can afford it. I do not think that it is a "must have". Please do not open a credit card to buy this thing. However, if you have the money to burn, have a generous relative, or can snag a deal, you won't regret it!
Looking for more baby gear? Be sure to check out our Mockingbird Stroller review!