Want to buy a Nugget comfort kids couch and wondering if it can replace a sofa in your home? Let's talk about if you can use a Nugget as a couch!
Nuggets are a wildly popular kids toy. But, they are HUGE!
If you have a small playroom – or no playroom – you might be considering replacing your sofa with Nuggets!
You wouldn't be the first to do so, but let's chat logistics!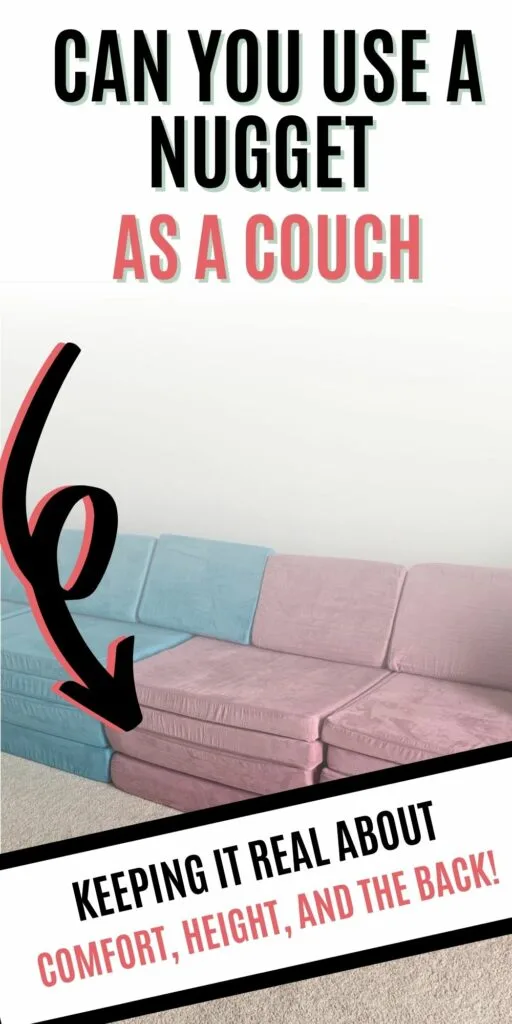 Can you use a Nugget as a couch?!
Yes, you can definitely use a Nugget as a couch!
The most common way to use a Nugget as a couch is by stacking thick rectangle and then thin rectangle. But, there are a few problems with this.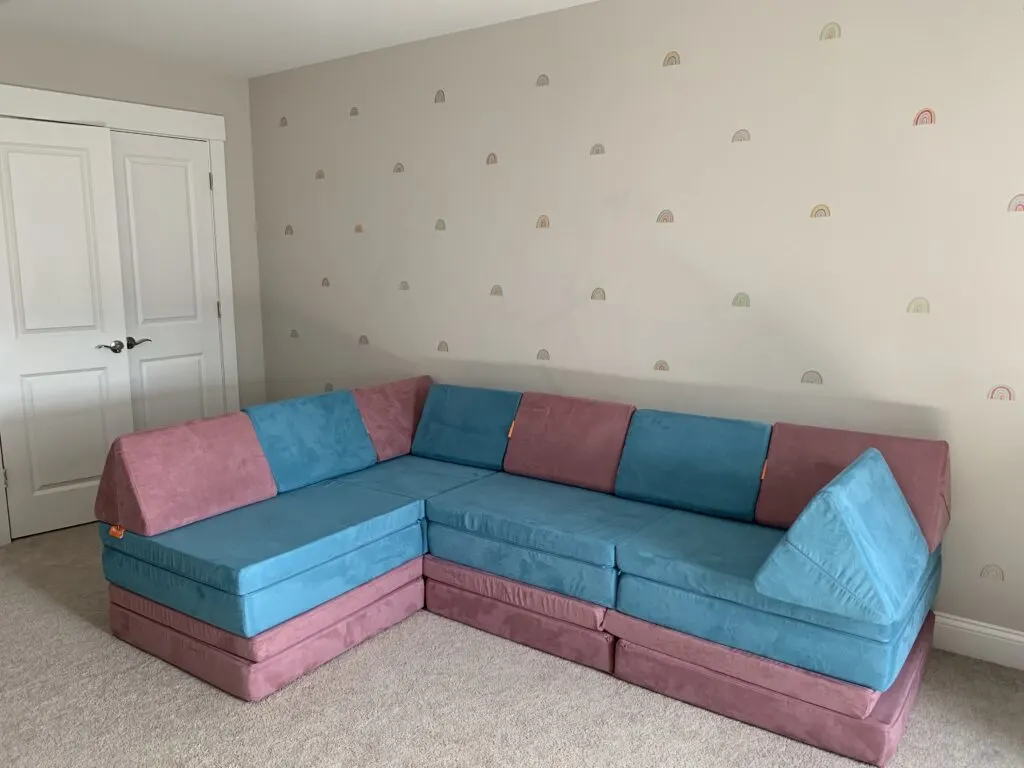 The height of a Nugget couch
#1 is the height of the cushions. The two stacked rectangles only add up to 8.75 inches tall.
To put that in perspective, a standard couch seat is at least 15 inches.
So, for a "normal" height couch, you will need 2 Nuggets stacked. You want to stack them thick – thin – thick – thin. Two thins in a row get pretty woobly.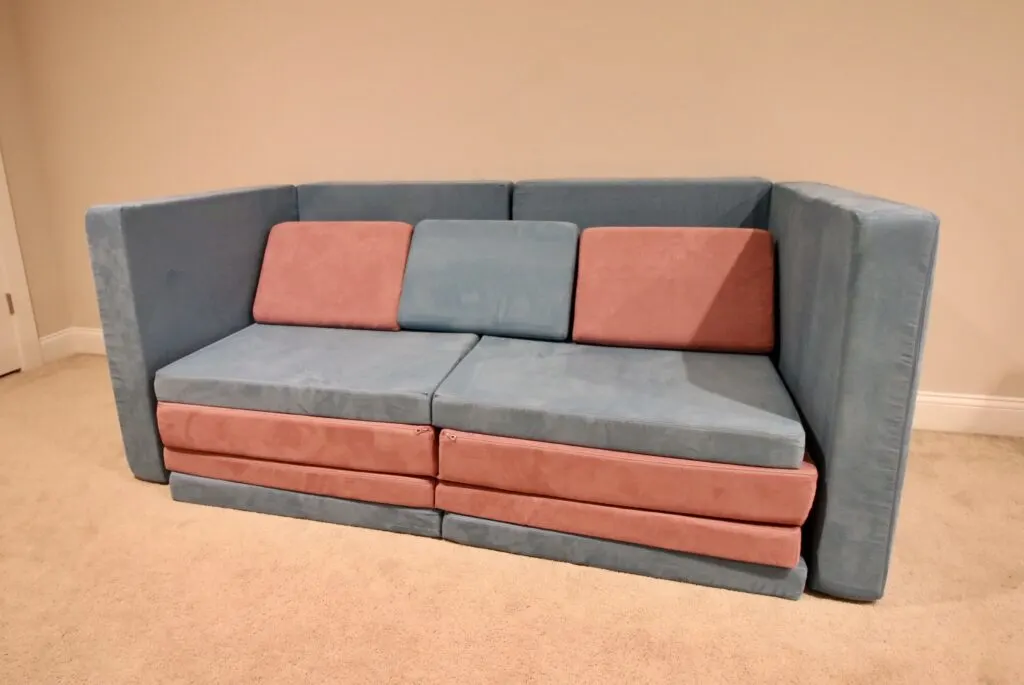 The back pillows
The other big issue with using a Nugget as a couch is that the triangle pillows aren't super comfortable as back pillows. The angle is off and they come pretty deep into the seat.
This is easily remedied as you can just add other cushions or pillows.
BUT I will add you really need the couch to be up against a wall, or your pillows will slide right off when you lean against them!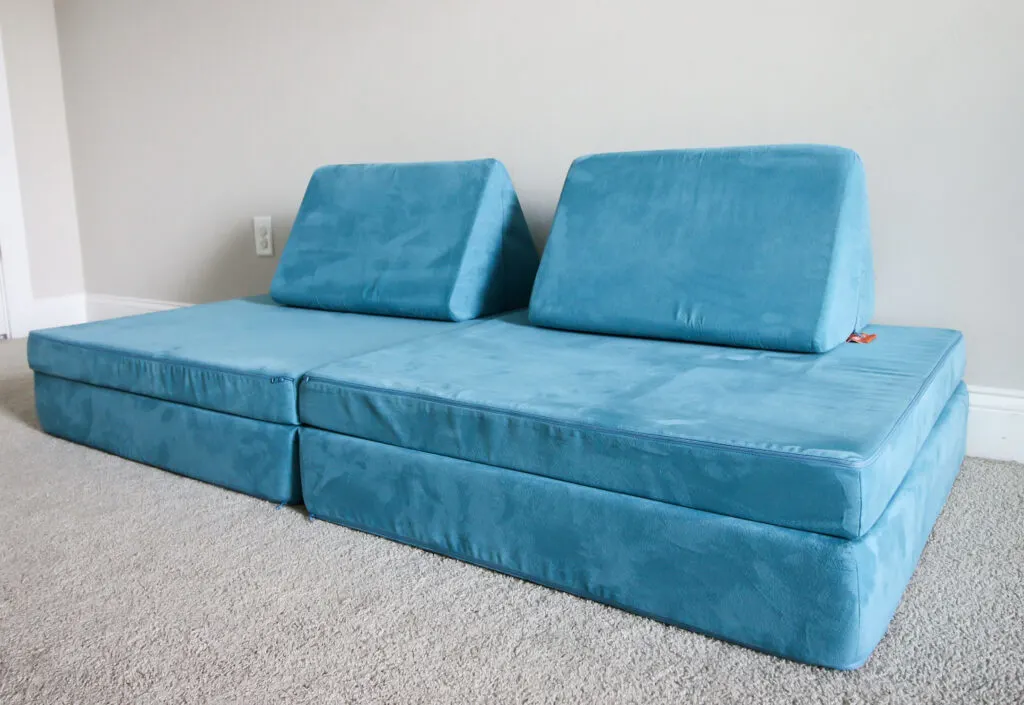 How many Nuggets do you need to make a couch?
I suggest 2, 3, or 4 Nuggets for a comfy height couch to sectional couch!
Is a Nugget comfortable?
The foam of a Nugget is OK, seat wise. It's better than a cheap couch, not as great as a high end couch. In the end, it's foam!