Trouble keeping your Nugget builds up? Here are my best tips for how to make Nugget builds sturdier!
We love building with our Nugget kids couches (ahem we have four) and have shared a ton of Nugget configuration ideas.
However, I see a lot of people complaining that their builds are not stable or fall easily.
So, today I am rounding up my best advice for making your Nugget builds more stable and secure!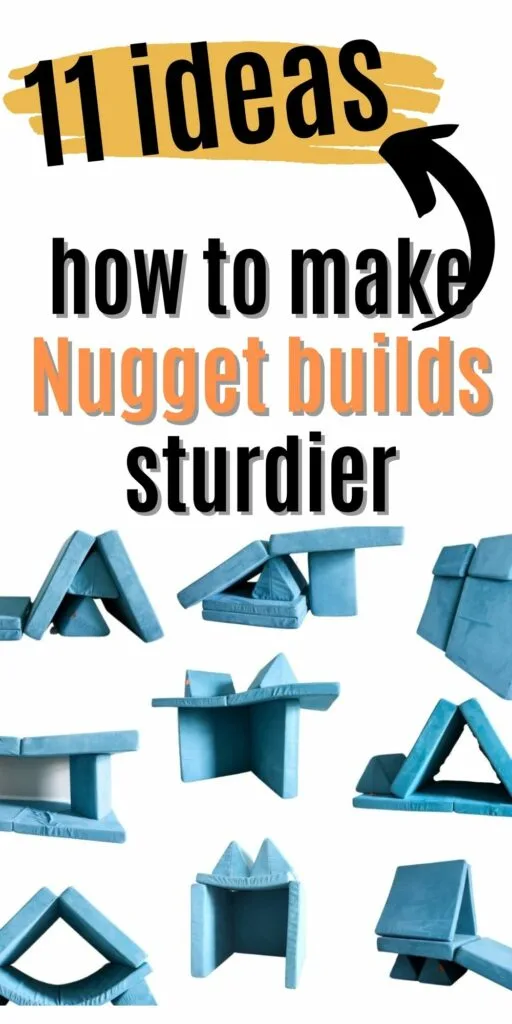 How to make Nugget builds sturdier
Give the foam time to expand
If your Nugget is fresh out of the box, know that it takes some time for the foam to expand and firm up!
Get more Nuggets
Haha if you are frustrated with your one Nugget, but it really is easier to build with more than one. See above, we have 4.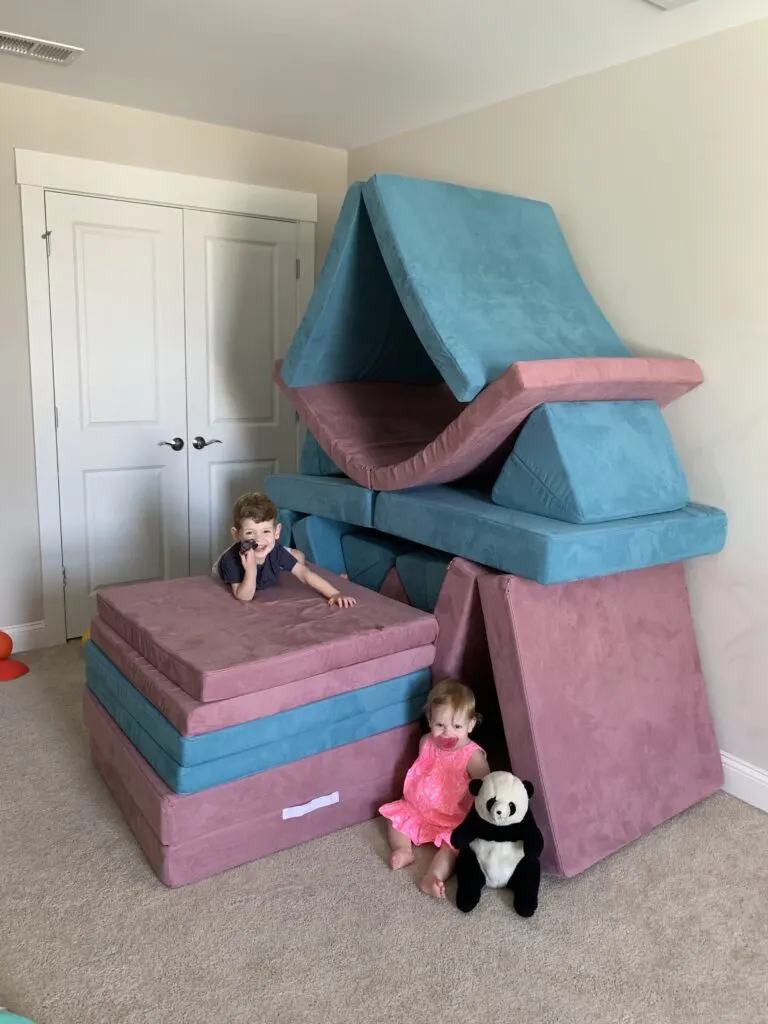 Get a rug
If the problem is that your Nuggets are sliding and collapsing, and you are on hardwood, try building on a rug. Friction helps hold it up.
Build with the thick pieces, thin pieces for landing
Nuggets come with 2 base pieces – a thick and thin piece. The thick piece is for building, the thin is more soft for sitting on, a base, or a triangular roof.
If you try to climb on the thin piece it will 100% fall, even a tiny baby will crash it.
This is why more Nuggets = better builds. More thick pieces means more support!
Put triangles under folded nuggets
Fold a thick piece in half and put 2 triangles under it for extra support. You can sub in cushions or anything firm (pikler triangle even).
Flip the flat piece
If you have a flat base piece that keeps collapsing, flip it upside down. The direction of the seam/folding part matters.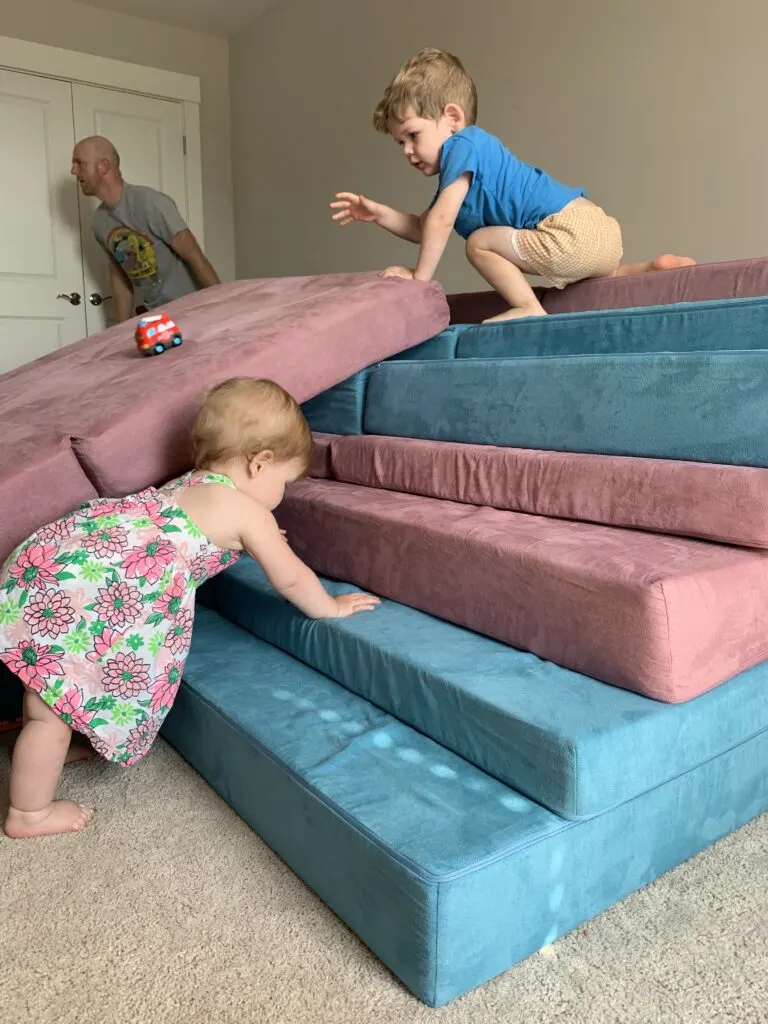 Do the stair build
This stair build can be built with 2+ Nuggets and is sturdy enough to hold our entire family of 4 at once!
Build against a wall
I often build up against a wall for added stability.
Note that zippers WILL scratch and leave paint on your walls. It magic erasers off.
Use a couch or ottoman for support
Lean on a couch or ottoman for extra support!
Make crashing part of the fun
My 3 year old LOVES crashing builds. He thinks it's hilarious. He goes on top and crashes down. I don't love re-building 100 times in a row, but he laughs and laughs. Sometimes, you just have to lean into it.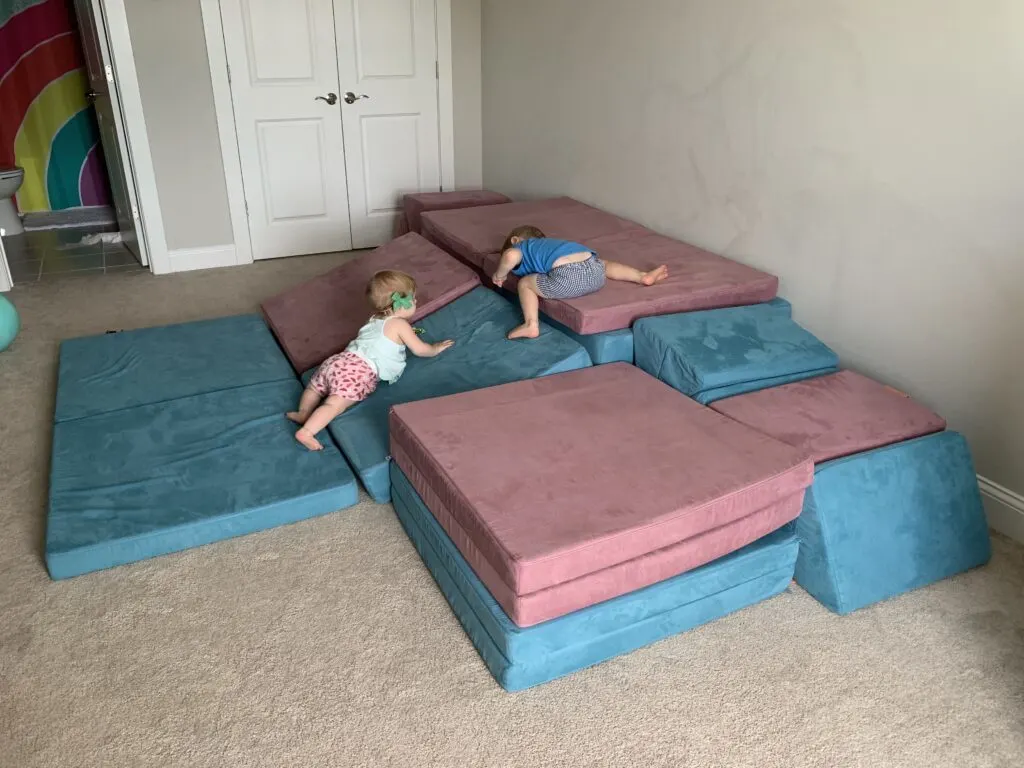 Keep it simple
If elaborate builds aren't working and you are frustrated – keep it simple and low to the ground. It's a toy – it's supposed to be fun!