Looking for Nugget couch fort configuration ideas? Here are some of our favorite Nugget builds to make fun forts to climb in and on top of!
We are obsessed with our Nugget comfort couches! They are our favorite place to play, hang out, build, and play rough and tumble with our two kids.
One of my personal favorite things to do with our Nuggets is build a fort. I was a big fort builder as a kid – we thumbtacked sheets to the wall and made some REALLY big ones!
Now my kids get to re-live that feeling, but with the benefit of Nugget cushions to make fort building fast and fun.
You can build a fort in your playroom, living room, or kids rooms. Think about the big existing things in your space – like a bed or couch – and try to incorporate them rather than work around them for a big fort!
Read our full Nugget play couch review!
We actually have 4 Nuggets, but we do a lot of builds that are made from just one or two!
Here are our favorite Nugget fort ideas!
Be sure to check out our Nugget obstacle course ideas and Nugget slide ideas!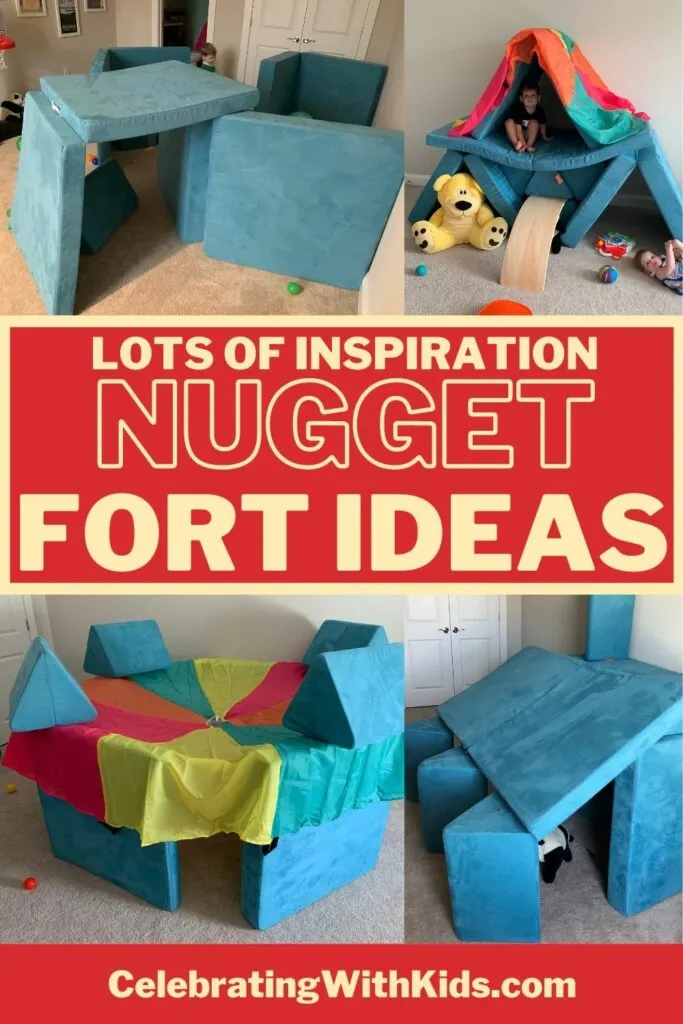 Nugget couch fort ideas
Here are some of my favorite Nugget configurations and builds for making a fort!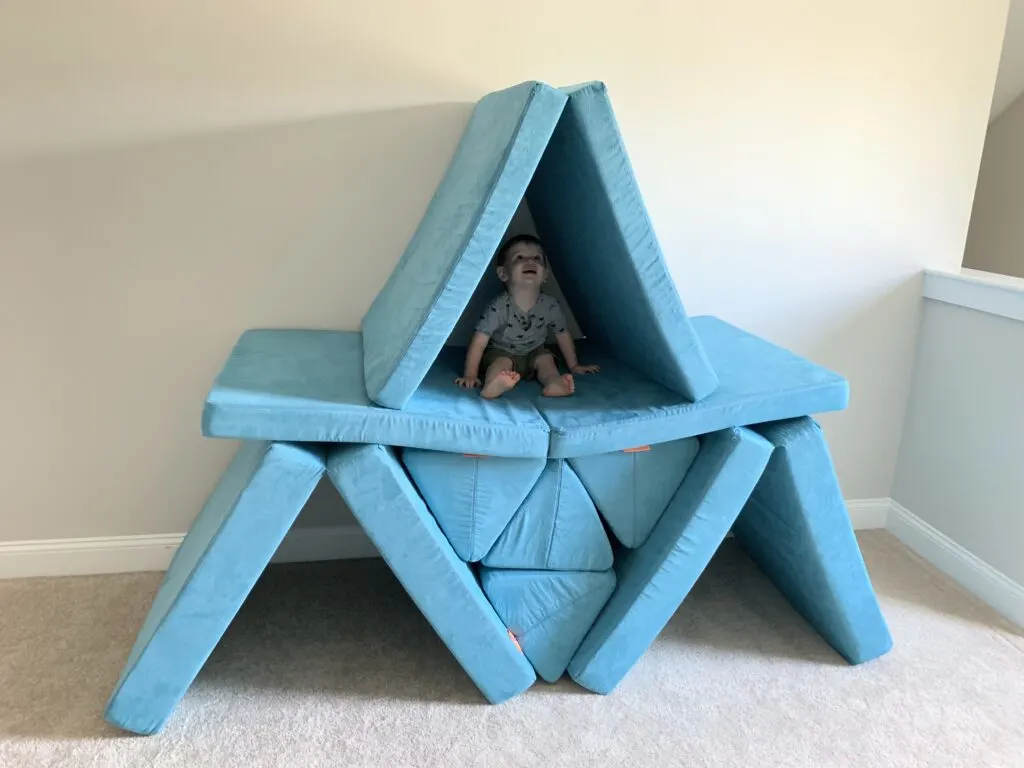 This pyramid is my very favorite two nugget build. It has 3 "caves" in it – two below and one up high.
It's actually surprisingly sturdy. You can see below that we like to pair this with a wobble board as a ramp up!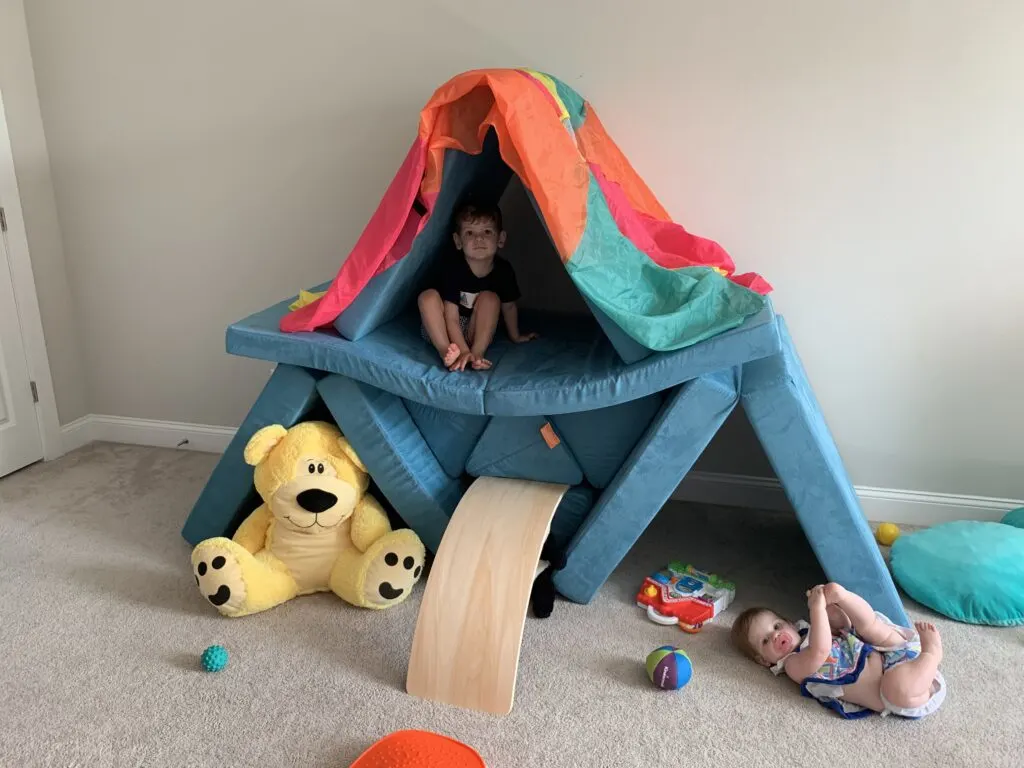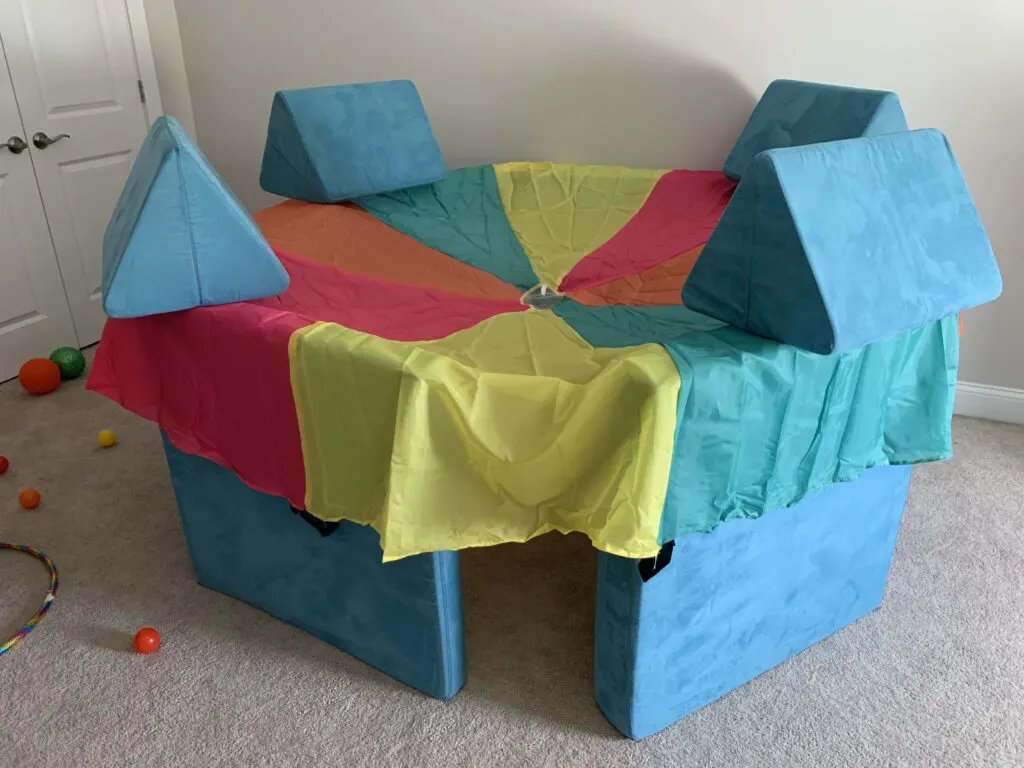 The easiest Nugget fort configuration is to put the big cushions on their sides and form a "room." This could be with any number of Nuggets. You could include the back of a chair or couch, too.
Then, drape it with a lightweight blanket or sheet. I actually love using a parachute because it's so lightweight, round, and has a mesh breathable center so it doesn't get too hot in there!
You can put the triangle foam pieces on top to hold the sheet in place.
This is a super fun rainy day activity and great for imaginative play, reading, or just crashing and rebuilding over and over (my son's favorite game.)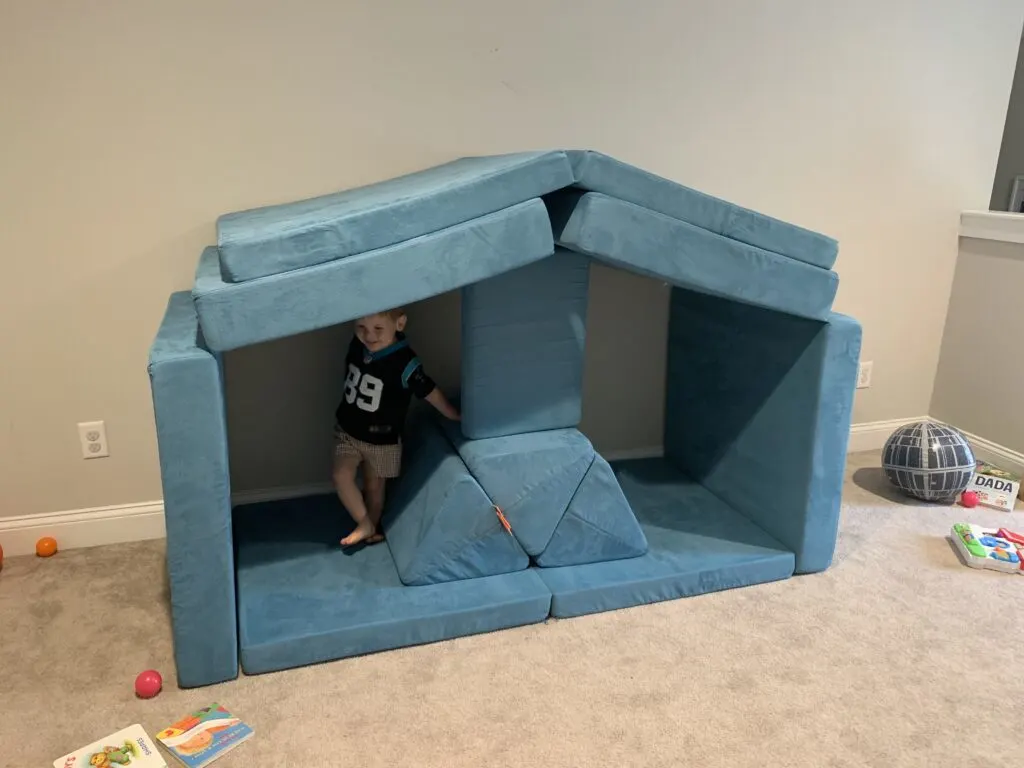 This is another favorite two-nugget fort. You can see the two different configurations of the middle triangle pieces above and below.
The stacked vertical triangles (below) is taller so more space but less stable. If you have an extra triangle piece, that can help with stability, or build against a wall.
Here are my tips for making nugget builds more stable!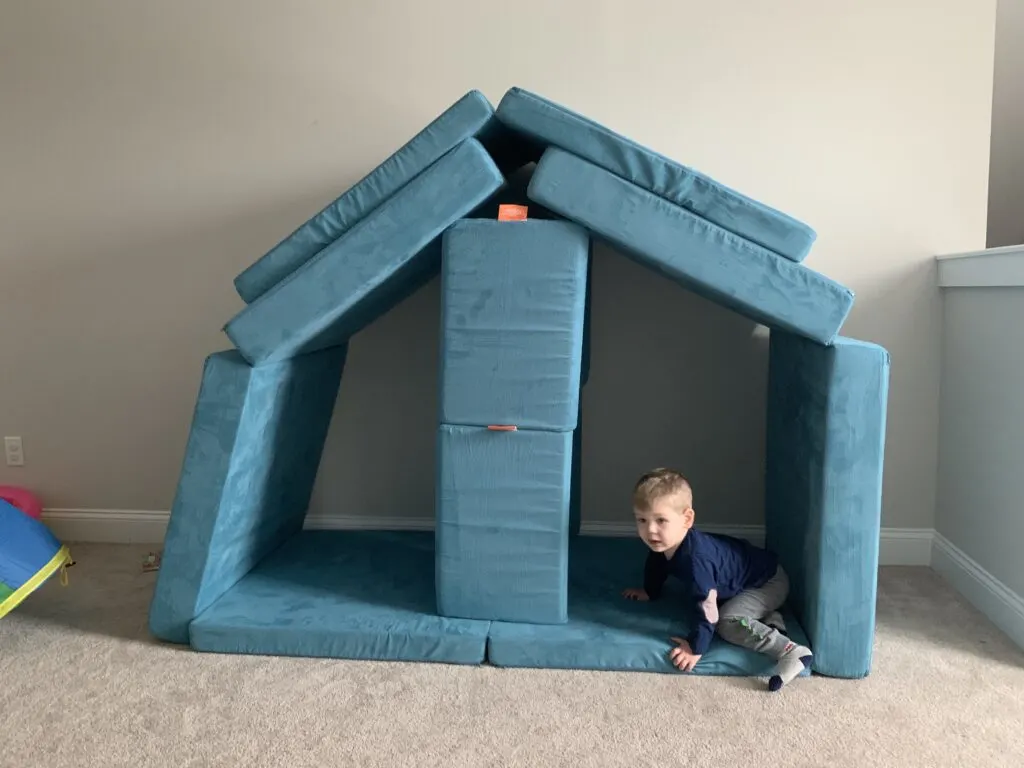 This lean-to style fort is another great one. If you only have one nugget you can easily use a couch for the back wall or replace the roof pieces with a sheet or blanket.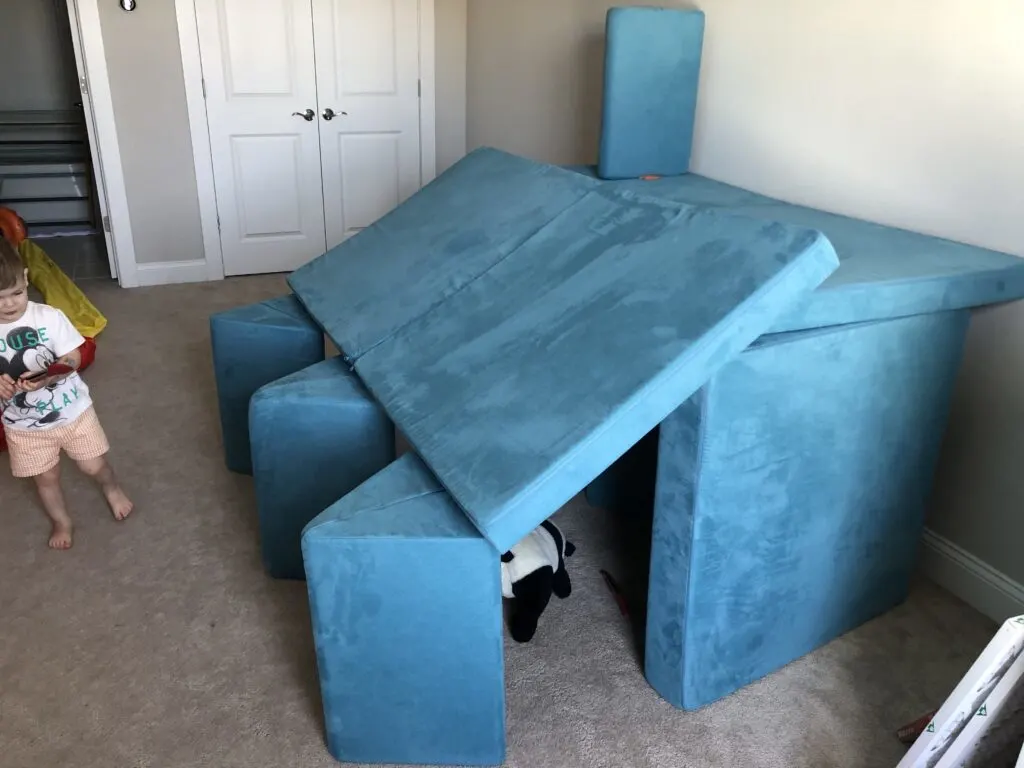 The below fort had a sheet "roof" at one point but it fell off before taking this picture. We get hot with a roof on!
Just lay Nuggets on their sides and create a bit of a maze! Don't forget to add pillows to get cozy inside.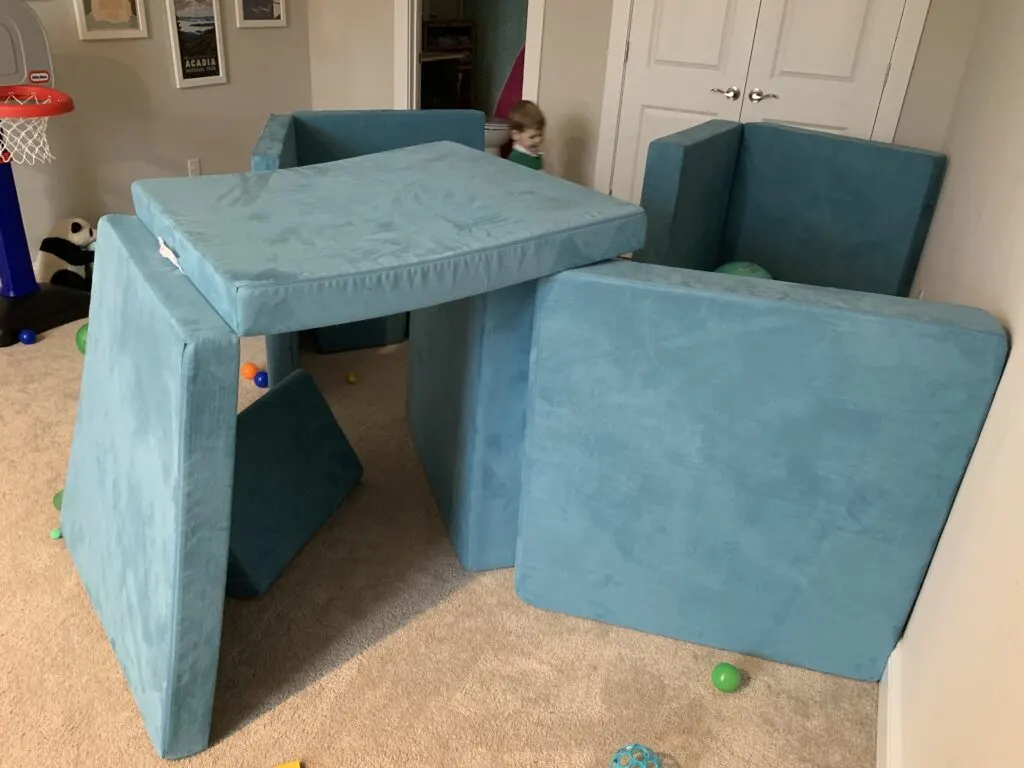 The easiest Nugget fort ever – the tunnel!
My cat's favorite, but perfect for crawling babies, too!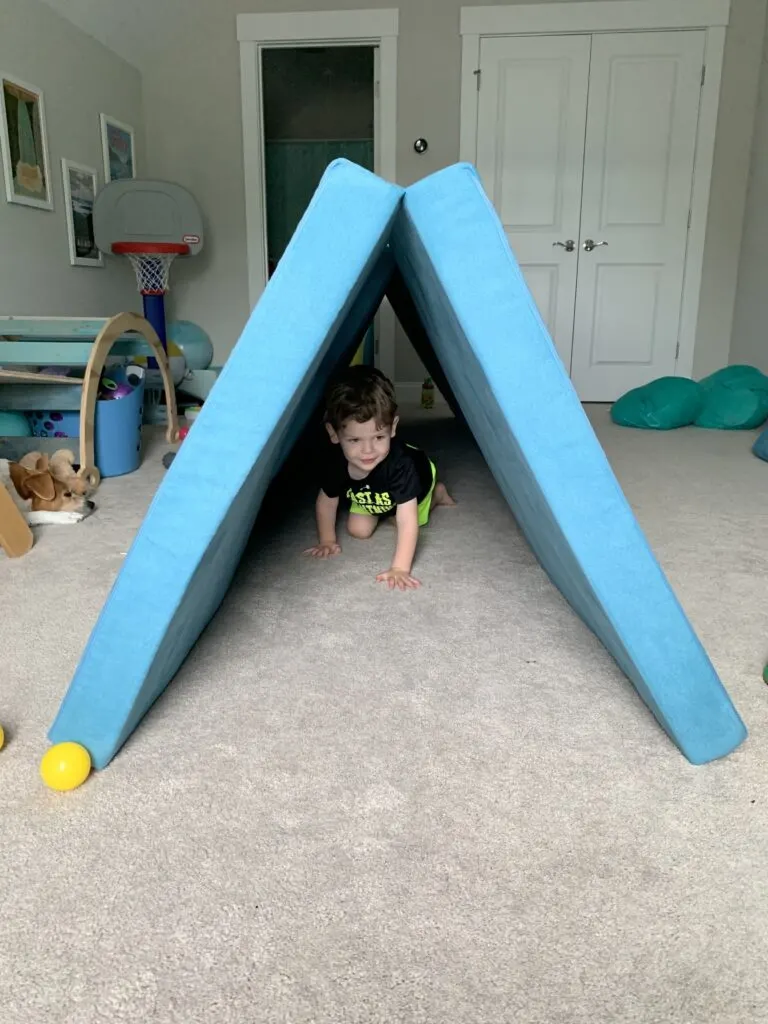 Here's another two Nugget double fort with a ramp in between for climbing!
It's also great for sliding or throwing balls down.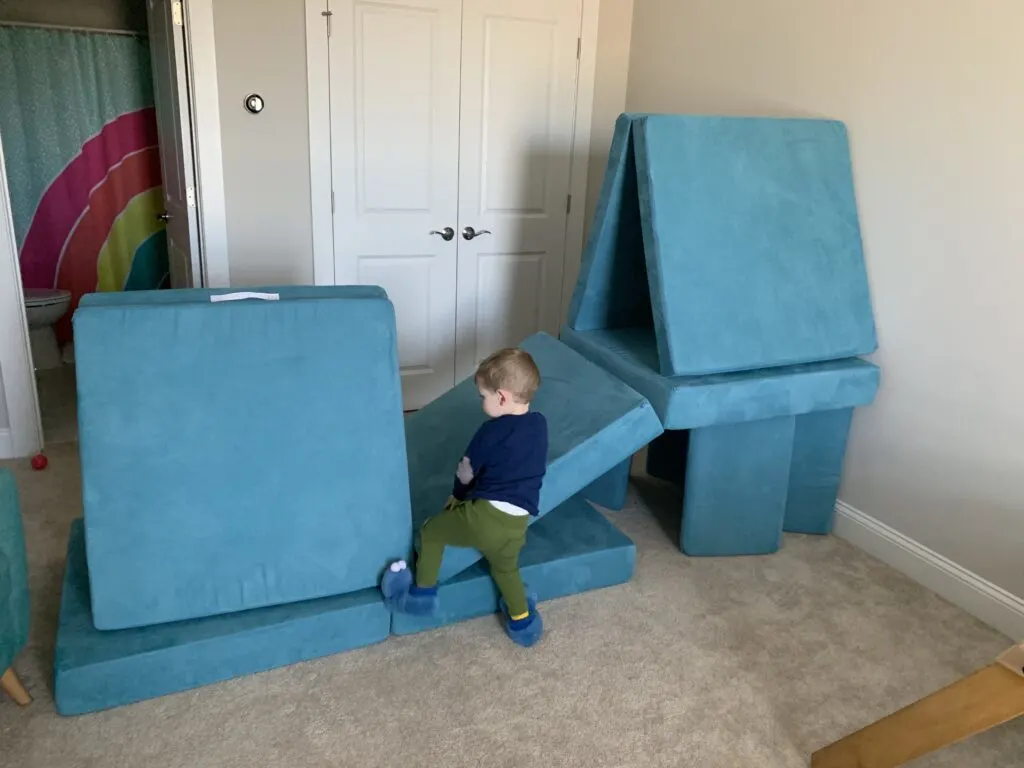 You can also build more of a "house" style Nugget fort. My son loves crawling in the below one, having me close the "door," and then he crashes it while he's inside it. Weird but he loves it!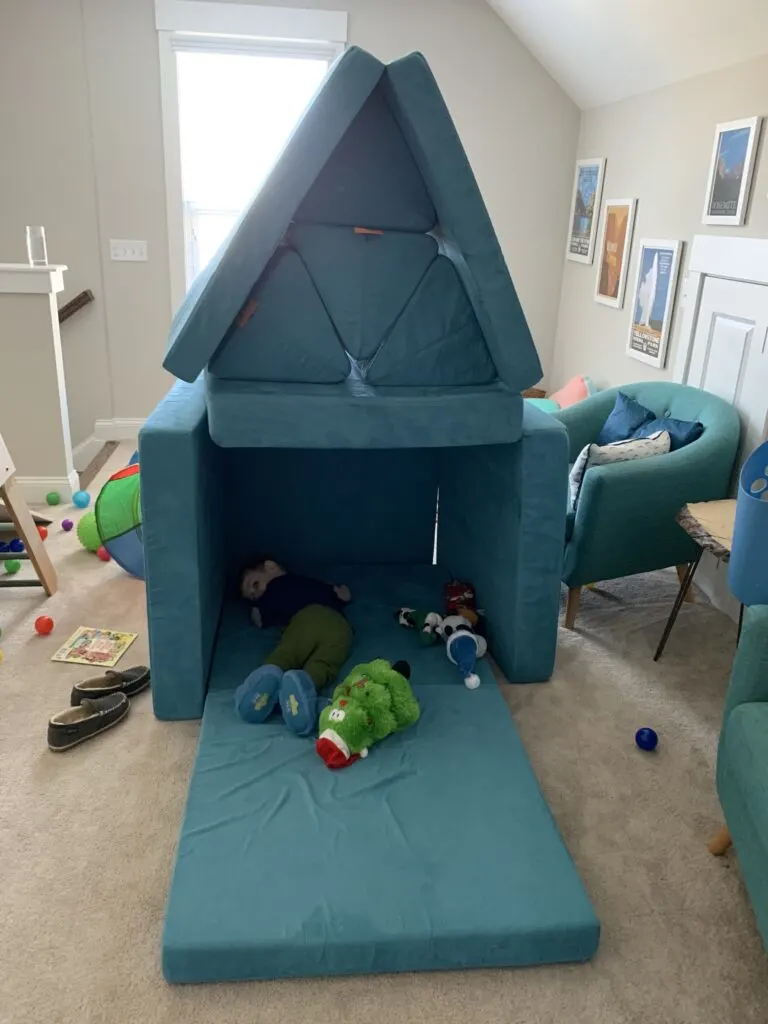 Here's another great two Nugget build, which I love to pair with a wobble board. Pet steps would work great too!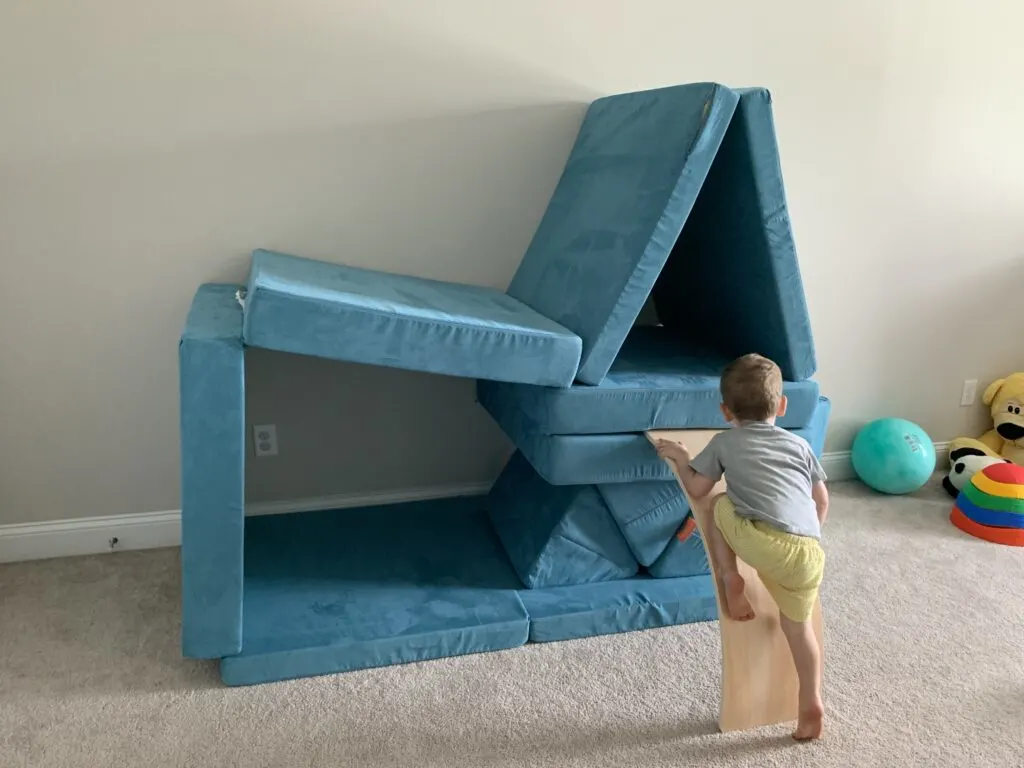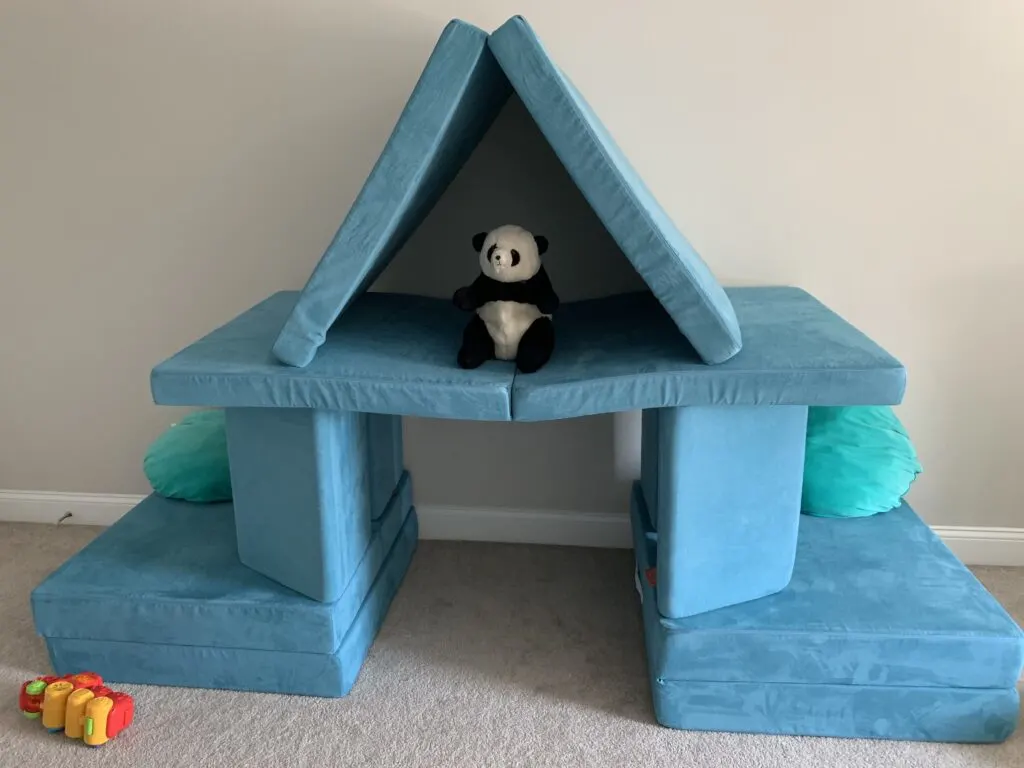 This build looks really cool and is a nice tall lower fort, but the top level is NOT stable to hold anything heavier than Phil, the stuffed panda.
Just a warning, if your kids like to climb up – they will be disappointed.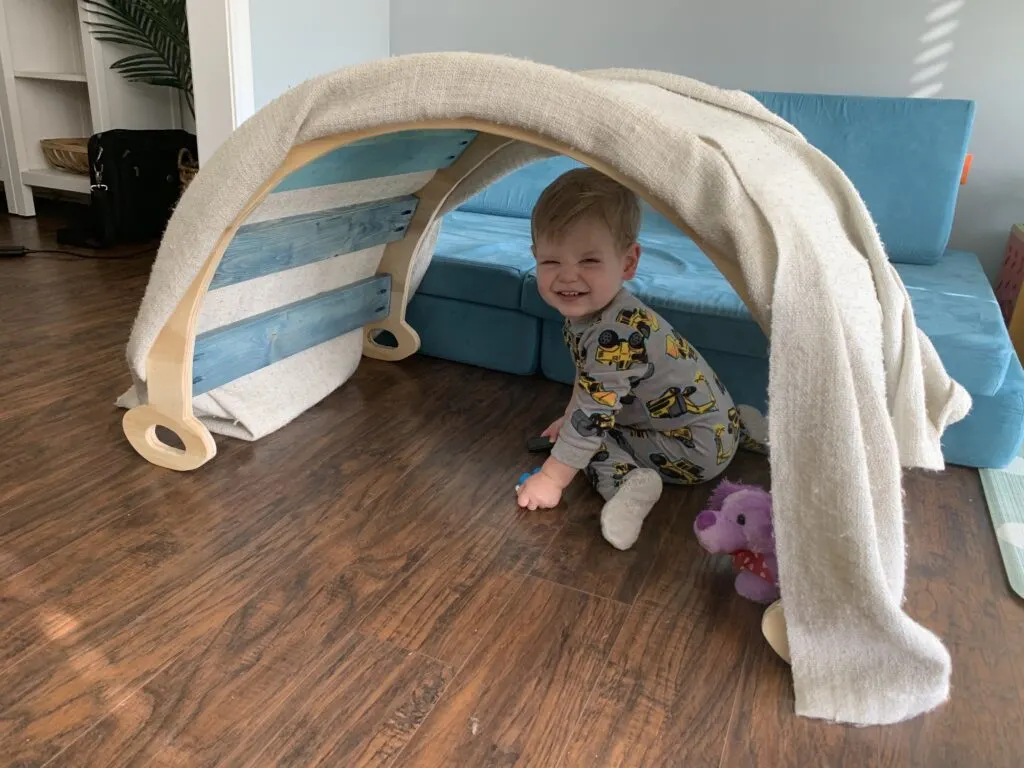 If you have a pikler triangle or arch, throw a blanket over top for an instant "cave" style fort!
What's your favorite Nugget fort building ideas?