Wondering if a Nugget kids couch is safe? Let's talk about the toxicity of the materials used to make a Nugget!
We love our Nugget kids couch, but if you are considering purchasing one, you may have questions about the safety or toxicity of the materials used to make them.
Let's talk about what is used to make a Nugget!
Be sure to check out our complete Nugget review and our top Nugget alternatives suggestions!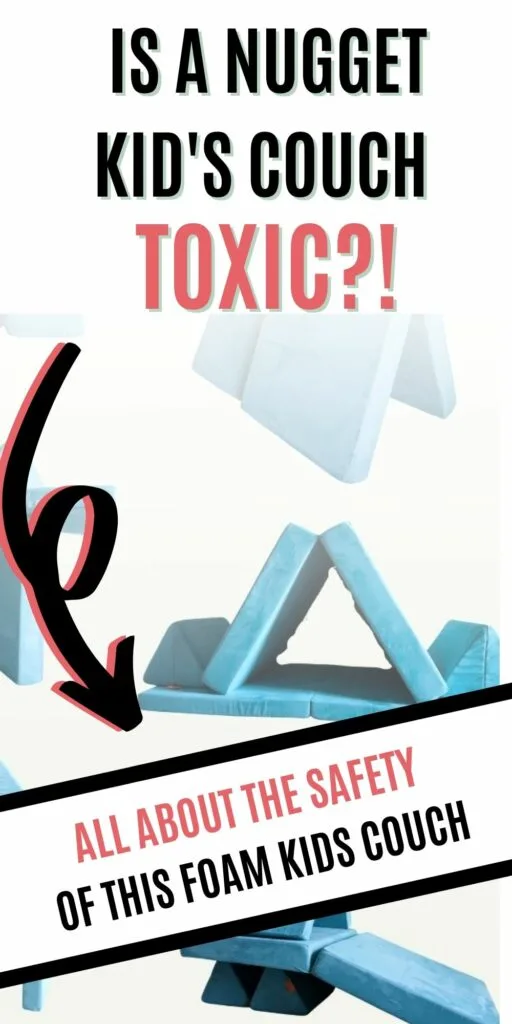 Is the Nugget toxic?
The foam
Nugget foam is open-cell polyurethane foam. Polyurethane foam off-gasses, or releases little particles into the air that you will then breathe in.
However, that off-gassing is said to be extremely minimal and not dangerous. This is the same foam used for many pillows and mattresses, laid right next to your face for 1/3 of your life!
The foam is CertiPUR-US certified to exceed safety standards. It is mercury, lead, and formaldehyde free and made with minimal VOCs.
The covers
Nugget covers are microsuede. Compare the brushed vs double brushed microsuede covers here!
Microsuede can release phthalates, especially when heated. Never put your Nugget covers in the dryer! Here's my guide to cleaning Nuggets!
Nugget chooses not to waterproof their cushion covers, which reduces on chemicals sprayed on the fabric. Nuggets pass California's TB-117 fire safety regulation.
Is the Nugget Greenguard Certified?
Yes, the Nugget is Greenguard Gold Certified, meaning it meets or exceeds their standards for chemical emissions.
Where is the Nugget factory?
Nuggets are made in the USA! All Nuggets are made in Butner, North Carolina. They were founded by UNC Chapel Hill students and have stayed close to home!
The fabric is from Vietnam, China and El Salvador. The foam is produced in Mt. Airy, North Carolina!
Is the Nugget couch safe?
You have to use your own personal judgement when deciding what materials are safe for your home! But, Nugget has done a lot of work to make their kids couches as safe and non-toxic as possible!
Any more questions about the toxicity of a Nugget couch?!